Super Status Bar: Android Status Bar Replacement With Customizable Background
Hardcore Android users who have a special craving for customizing their beloved device to the extreme must have rejoiced upon the arrival of recently reviewed StatusBar+ – a free Android app that lets you customize your status bar to give it a WP7 style look. For those who wish for a bit more, here's a handy status bar replacement and it comes from XDA-Developers member FireZenk. Super Status Bar lets you replace the layout of the status bar with it's own classic layout but more importantly, it lets you replace the your status bar's background with an image of your choice.
Yes, you heard it right! With Super Status Bar, you can place a custom image (or a chunk of it) as a custom background for your Android's status bar and give an altogether revamped look. What's best about Super Status Bar is that it works on both rooted as well as unrooted devices.
Once installed, just launch Super Status Bar on your device and check the Enable option to replace the custom status bar with the app's default classic layout. To use a custom background image for your status bar, tap on General (under the Settings menu), check the Custom Background option, tap on Select Image, pick a preferred image from your gallery, crop it using the on-screen control (optional) and finally hit the Save button.
In order to apply customized layout settings, tap on Advanced option (from app's settings screen) and select Custom from the drop-down list. You can easily switch between classic and custom layout from this screen.
Remember, in case Super Status Bar is activated/enabled on your device, you need to tap on the notification bar to launch the notifications panel (dragging not supported). While the app worked almost flawlessly on our HTC Desire Z (running CyanogenMod 7) in landscape as well as portrait orientation, we couldn't get desirable results on any of our devices running MIUI custom ROM as the app – rather annoyingly – keeps displaying duplicate status bars (the custom status bar on top of the Super Status Bar).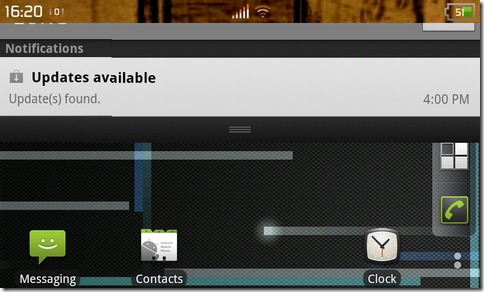 Remember, the app is still in testing phases and supports just a handful of features mentioned above. However, going by the developers word, we can expect the future releases of Super Status Bar to bring a lot more features such as customizable icons and an active notifications counter (wow!).
Download Super Status Bar for Android