Texty For Android Lets You Sync, Send & Receive SMS On Your Computer
While you're busy working on your computer, attending to a barrage of incoming SMS can prove to be quite a hassle. Texty for Android, in combination with its extension for Google Chrome, turns your computer into an SMS gateway that makes sending and replying to text messages quick and painless. The app syncs your contacts, incoming and outgoing SMS over the web with its Chrome extension, allowing you to send and receive SMS from within Google Chrome.

As of this writing, the app is available as a private beta on the Android Market and the extension is available for download on  You can download both the extension and Android app but to have access to them, you'll have to apply for a beta invite.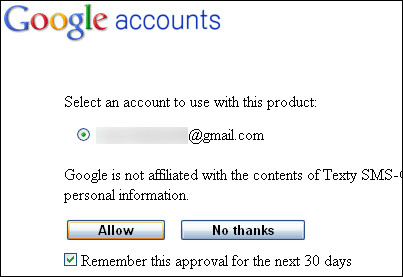 You must be logged in with your Google account on both the app and the extension to begin syncing contacts and SMS from your phone to the Chrome extension. By default, the app syncs sent and received SMS between your phone and the Chrome extension. You may disable this feature from Menu > Settings > SMS Text Syncing. You will still be able to send SMS from the extension.
One feature that we would like to see incorporated is the option to restrict syncing to Wi-Fi only. Said feature is particularly useful for those who plan to use the app at home only.

As the extension extracts all contacts affiliated with the registered Google account, you don't need to type in the whole number of a contact while composing a new text message. Simply type the first few characters of the contact's name or number in the Send to field and it will provide you with suggestions.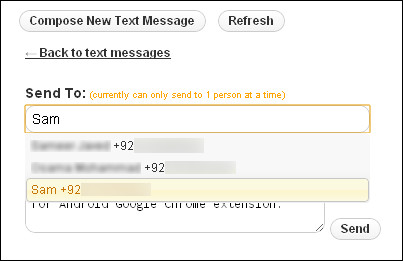 The extension automatically asks for your permission to sync contacts after you log in for the first time. You may do so manually later from Options > Force Sync w/ Google Contacts.
The option to send text messages to multiple contacts is yet to be incorporated. Also, you can't select contacts directly from the contacts list. Although not completely necessary, the latter feature would be a welcome addition.
For each SMS that is received on your phone, the Chrome extension displays a pop-up from within which, you can send a quick reply. Pop-ups are displayed with a delay of slightly over a second on a user-specified corner of the computer screen (bottom-right corner as per default settings).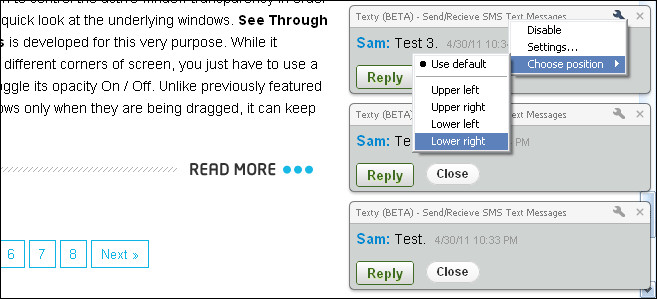 SMS threads are arranged in tabs within the extension's simple interface, where each tab is titled with the name or number of the contact. You may delete a whole thread or selective messages within a thread.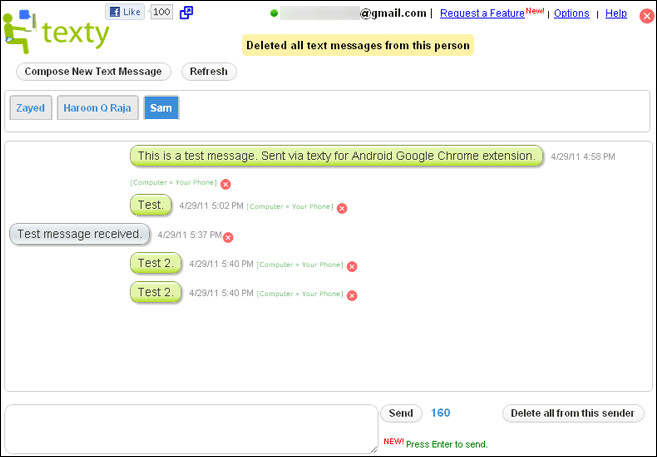 Except for the odd instance where an SMS failed to reach its destination, we found the app to work like a charm during our test-run (tested on an HTC Desire running MIUI 1.4.29). Our opinion? Texty is more than just an accessory. The app actually does increase productivity, saving you loads of time and effort while you're busy working on your computer. But don't take our word for it. Try it out for yourself and feel free to leave some feedback in the comment section below.
You can grab it from the Android Market for free via the provided link or QR code. You will still, however, need to be invited to the beta release to have access to the app and its Chrome extension. A link to the online registration form is provided below.

Download Texty
Download Texty Extension For Google Chrome