Unlock Samsung Omnia 7 i8700 With Samsung Professional Tools
Samsung Professional Tools Version 9.9.7 by SPT team allows you to unlock your Samsung Omnia 7 i8700. Windows Phone 7 handsets are the hottest topic of discussion among tech fanatics, and this procedure will definitely open ways for some new and useful developments.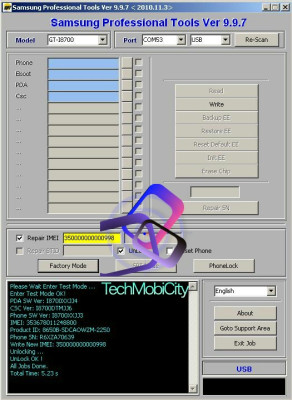 Editor's Note: This guide is now obsolete as ChevronWP 7 easily unlocks any Windows Phone 7 handset regardless of the make. You can head to ChevronWP7 post here and download the tool to free your phone.
Here is the step by step guide on unlocking your Samsung Omnia 7 with direct Unlock method aka USB cable unlock.
Please note that we haven't tested this hack ourselves and can not verify the usability of this software. The post has been written for reference purposes only, and extensive research by the user is advised before applying this unlock method.
The first step is to download SPTCARD997 utility from here and save it on your desktop [or wherever you prefer].
Once done, turn your Omnia 7 on and dial ##634# followed by press call. This will land you in the Diagnosis Mode.
Once in the diagnosis mode, dial #7284 and this will take you further in Modem and USB Diagnostic.
Once this is done, tap on OK in order to confirm the reboot device prompt.
Once done, extract the Rar file you earlier downloaded and run the application file. This is will install SPT on your computer.
Once this is done., you will be prompted to install Samsung drivers along with some archives. Install them all and wait for the process to finish.
Now connect your phone to the computer and launch the SPT shortcut on your desktop.
In the application window, select i8700 as model number followed by selecting the correct model diagnostic serial port.
After this select unlock from drop down menu and checkmark Factory Mode.
And there you go! your Samsung Omnia 7 i8700 is now unlocked. In case the phone asks you for code even after unlock, enter 00000000.
[Via TechMobiCity]