Use Odin To Root Samsung Galaxy S i9000 Running Android 2.3 Gingerbread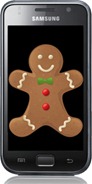 Its only fair that Samsung's most powerful Android device to date should be on Android 2.3 Gingerbread. While Samsung has announced that they would be upgrading the Galaxy S to Gingerbread, custom Gingerbread ROMs for the device are already available.
An unrooted Samsung Galaxy I9000 running a Gingerbread is pretty much like the Jedi's without their light sabers or Master Yoda with no control over The Force. What're you waiting for? Read ahead on how to use a simple procedure to root your device.
Disclaimer: Please follow this guide at your own risk. AddictiveTips will not be liable if your device gets damaged or bricked during the process.
Prerequisites:
Procedure:
To begin, download the above mentioned .tar file onto your PC.
Now turn off your device and wait for 30 seconds before moving to the next step.
Enter download mode by pressing and holding the Volume Down + Power + Home Key for a good 3 seconds.
Once you've entered Download Mode, run ODIN on the PC.
Now connect your phone to your PC via the USB interface.
In ODIN, click the 'PDA' button and browse to the '.tar' file already downloaded. Select that file.
Check the 'Auto-Reboot' option only.
Lastly click Start and wait for the process to complete. Once the process completes,  the phone will reboot.
As pointed out by one of our repspectable commntators, here is the procedure to fix non rebooting after 10 seconds option:
There's no need to do factory reset if the 10 seconds rebooting problem occurs.
Solution:
1) 10 seconds is enough to go to airplane mode – cca. 3s pushing Power button – and select Airplane mode
This way I kept my phone constantly turned on.
2) Turn on Settings->Applications->Development->USB Debugging
3) Follow these steps to install Gingerbread 2.3.4:https://www.addictivetips.com/mobile/install-official-android-2-3-4-xxjvp-gingerbread-rom-on-galaxy-s-i9000/
4) Follow these steps to root installed Gingerbread 2.3.4: https://androidadvices.com/how-to-root-galaxy-s-on-android-2-3-4-xxjvp-firmware/
5) Your a** has been saved, enjoy
Congratulations! You now have the Gingerbread rooted for complete access for the device!
The above method is confirmed to be working and tested by various users at XDA Developers forum thread.