ZeroPC Cloud Navigator Is A Cloud Service Aggregator For Android
ZeroPC Cloud Navigator is a free cross-platform cloud data aggregator for Android (and iOS) devices that helps users connect to their various online cloud storage and social network services and presents all data from these services through a conventional file explorer-like interface. Once you associate your accounts from various online services with ZeroPC Cloud Navigator, you can easily access, manage and share all content stored on each service.  As of this writing, ZeroPC Cloud Navigator supports syncing your personal notes, music, video and image files from itself, Facebook, Twitter, Google Docs, Picasa, Flickr, SugarSync, Dropbox, Evernote, Instagram, Amazon, Box.net and many more.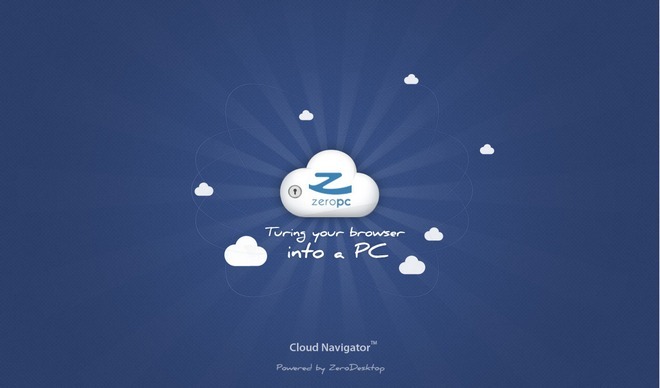 What "desktop file explorer-like interface" means is that even your Facebook contacts are represented by separate folders while your images, music/video files as well as notes from, say, Google Docs or Evernote are presented in the same dual-pane style that is found in Windows Explorer. This allows easy navigation between folders and underlying content.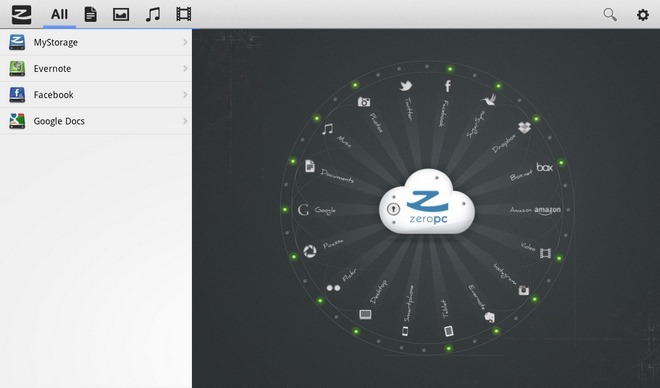 To start using the app, you must login with a ZeroPC account. Don't have one? No problem; you can avail the free in-app registration facility to get yourself a new account. Once logged in, hit the Settings button at the top-right of your screen to connect the app to services of your choice from under the Accounts Settings menu.
ZeroPC offers a hassle-free, user-friendly interface suited to a data management app. On the app's homescreen, just tap on a service to begin exploring all the data stored within it. The explorer provides separate tabs for All files, Notes, Images, Videos and Music.
If you know exactly what you're looking for, you may use the search bar beside the Settings button.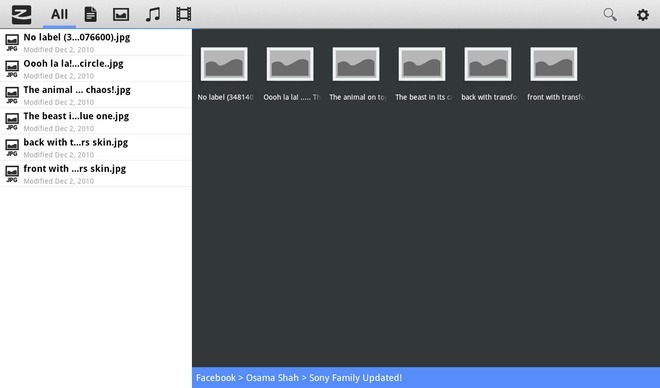 Although ZeroPC Cloud Navigator supports a more than sufficient collection of cloud services, it is a pity that it does not (as of now) support the largest online video streaming service of them all – YouTube. Windows Live users might also be disappointed about the lack of support for SkyDrive. That said, the app is nothing less than an excellent addition to the Market.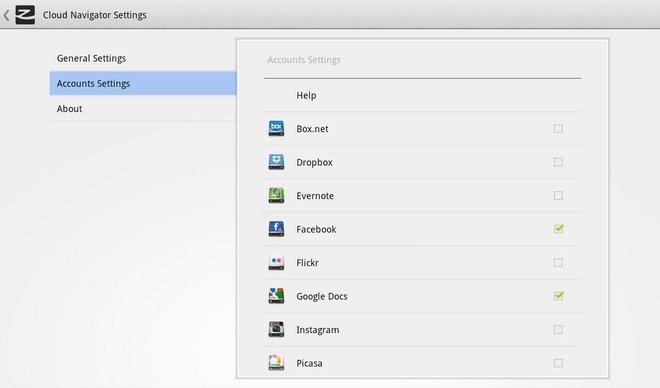 Below is a brief introductory video that demonstrates what makes ZeroPC tick.
ZeroPC Cloud Navigator works with Android 3.2 and up and iOS 5.1 or later on iPhone, iPod touch and iPad.
Download Zero PC Cloud Navigator for Android
Download ZeroPC Cloud Navigator for iPhone
Download Zero PC Cloud Navigator for iPad