We are reader supported and may earn a commission when you buy through links on our site.
Learn more
SolarWinds ipMonitor – Functional REVIEW 2021
Knowing what's going on on the network is probably one of the primary goals of many network administrators. After all, don't we all want to know what's going on with all the network devices, servers, and applications? To keep on top of what's happening with all the component of your network, you need some easy-to-use and reliable monitoring solution that tells you what's up, what's down, and what's not performing as expected.
SolarWinds ipMonitor is designed to deliver instant visibility into essential availability and performance metrics of your network environment. In addition, ipMonitor includes a built-in database and web server, so you don't need to install anything but ipMonitor itself—making it fast, lightweight, and affordable. Today, we're reviewing this great little tool from SolarWinds.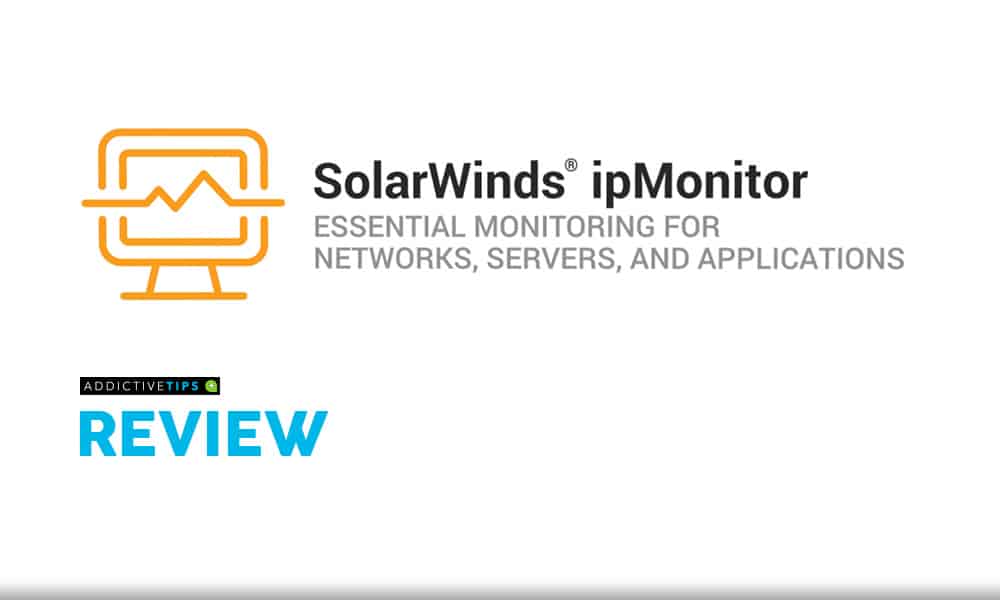 We'll start off by telling you about SolarWinds, the publisher of ipMonitor, in case you don't already know the company. Next, we'll briefly introduce the SolarWinds ipMonitor and give you a very brief overview of what it can do to whet your appetite. In the next part, we'll review in greater details most of the features of the product. We'll then discuss the pros and cons of ipMonitor as reported by users of the product. We'll follow with the system requirements for installing the product and provide you with some information about the tool's licensing and pricing. After that, we'll give you a tour of the product's installation and share our experience with you and conclude by giving you our impression of using the SolarWinds ipMonitor
About SolarWinds
SolarWinds is a common name in the network and system administration fields. The twenty-year-old company enjoys a solid reputation as a publisher of some of the very best network and system administration tools. and its flagship product, the Network Performance Monitor, consistently scores among the top SNMP monitoring tools. Most other tools from SolarWinds are among the very best in their respective class. And as if that wasn't enough, SolarWinds also makes a handful of free tools, each addressing a specific need of network administrator. The Advanced Subnet Calculator and the SolarWinds TFTP Server are two examples of those free tools.
Introducing ipMonitor
The SolarWinds ipMonitor is a relatively simple integrated tool which offers essential up/down and performance monitoring for networks, servers, and applications. The tool will quickly discover infrastructure and will recommend SmartMonitor settings which are designed to make setup simpler and faster. It also provides an easy-to-use web interface and network maps for clear, at-a-glance views of your environment. The tool can send customizable alerts and reports to help ensure you are the first to know about issues such as a down device. In addition to alerts, it also has automated remediation capabilities to minimize downtime.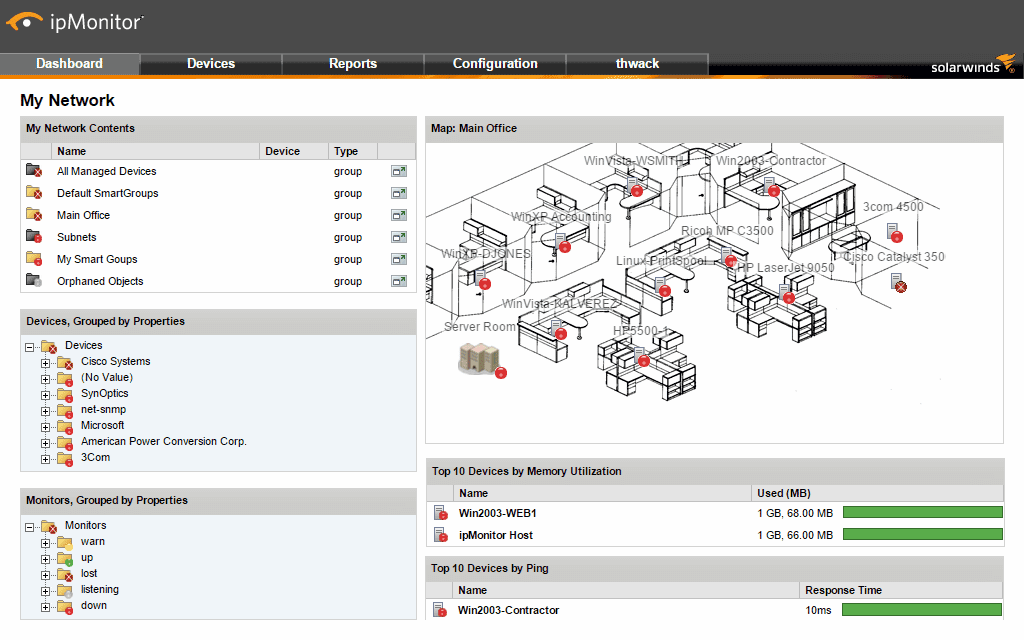 On the application monitoring front, the system can simulate end-user experience for web and other applications and it uses standard protocols such as SNMP and WMI for agentless, monitoring of applications and systems. The system includes its own embedded web server and database and it is designed for a simple, integrated installation experience without the need for installing separate components.
The SolarWinds ipMonitor web-based interface offers centralized and customizable summary views. It helps provide visibility into the health of your IT infrastructure. The tool supports drag and drop, and is designed to make it easy to add and remove elements from the view and help ensure you have the reports, statistics, and gauges you need—right at your fingertips. ipMonitor's dashboards make it easy to identify problem areas at a glance, letting you resolve issues quickly
Product's Highlights
Quickly discovers infrastructure and recommends SmartMonitor settings—designed to make setup simple and fast
Provides an easy-to-use web interface and network maps for clear, at-a-glance views of your environment
Sends customizable alerts and reports to help ensure you are the first to know about network issues or application failures
Minimizes downtime with automated remediation capabilities » Simulates end-user experience for web and other applications
Uses standard SNMP and WMI for agentless, monitoring of applications and systems » Includes an embedded web server and database, designed for a simple, integrated installation experience without the hassle or expense of installing separate components
Features of SolarWinds ipMonitor
Being an all-in-one solution, ipMonitor's feature set is impressive. While we can't give you all the details about each and every feature of the system. Here's a detailed overview of some of the most important features you'll find in the SolarWinds ipMonitor.
Easy-to-Use Web Interface With Centralized Dashboard Views
The ipMonitor web-based interface offers centralized, customizable summary views that can provide visibility into the health of your IT infrastructure. With support for drag and drop, it's designed to make it easy to add and remove elements from the view to help ensure you have the reports, statistics, and gauges you need—right at your fingertips. ipMonitor dashboards also make it easy to identify problem areas at a glance so that you can resolve the issue quickly.
Built-In Reporting with NOC Dashboard
ipMonitor is intended to deliver a full-screen NOC view that will knock your socks off, providing easy-to-view status reports with drill-down into groups and monitors in your environment. Additionally, from the ipMonitor reporting interface, point and shoot zoomable reports can give you the ability to view data for a specific time period or event—a feature that is particularly useful when you are trying to troubleshoot issues and identify the root cause of failures.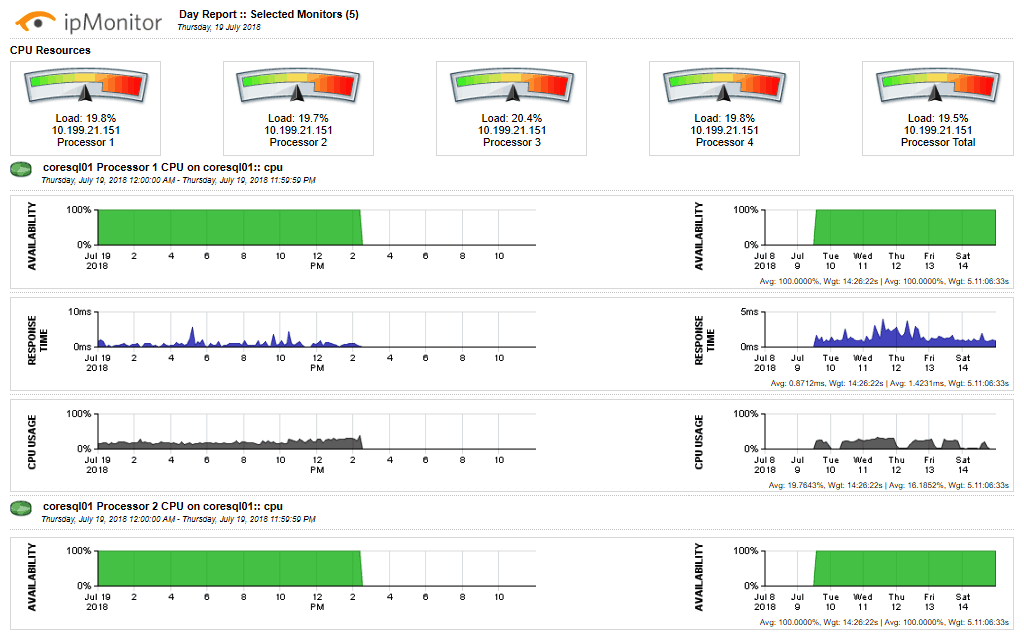 Lightweight Installation
ipMonitor includes a fully integrated database and web server, helping eliminate additional costs that can be inherited through a dependency on third-party databases or web servers. ipMonitor is designed to be a self-reliant monitoring solution that preserves the integrity of your data and makes sure that you are the first to be alerted of service interruption before it affects your end users.
Wizard-Driven Setup & Express Device Discovery
It's hard to believe, but true. ipMonitor can be installed and operational in typically in minutes, using a slick Startup Wizard that guides you through the automated discovery and alert configuration process so that you don't have to lift a finger. Plus, the new and improved Discovery Wizard is intended to provide a multitude of scanning methods, including IP address range, DNS zone, host import, and network neighbourhood. The Discovery Wizard is designed to enable faster network scanning and discovery and returns detailed network data, including device classifications and layer-3 topology information. ipMonitor can make getting started automatic, fast, and easy.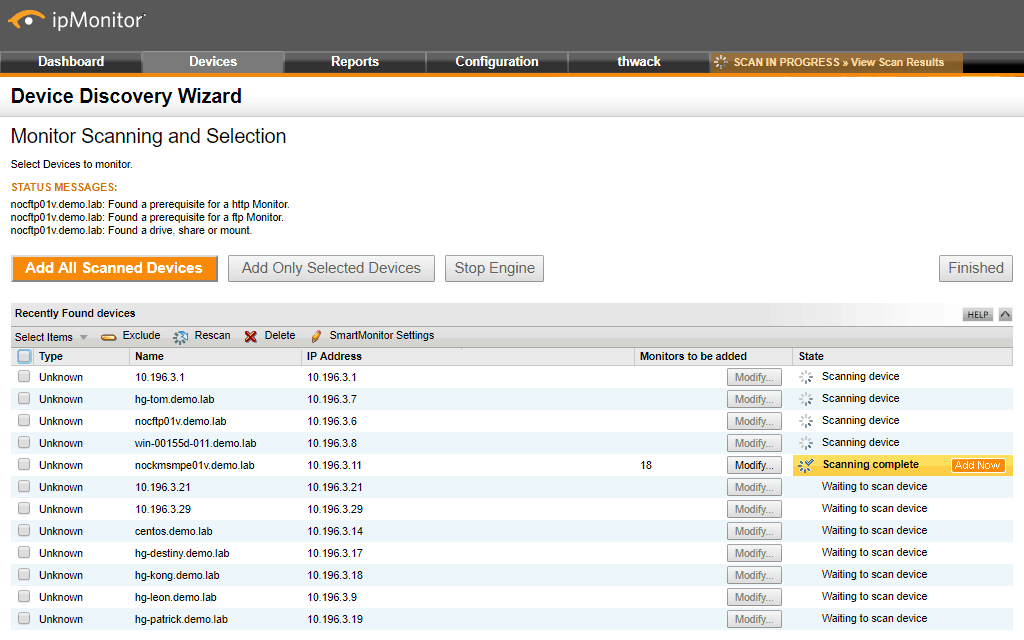 Out-of-the-Box SmartMonitor Recommended Settings
The ipMonitor solution's unique SmartMonitor technology suggests optimal monitors and data collection settings for almost everything on your network—which can save you time and help reduce the need for you to navigate the murky waters of configuring settings by hand. SmartMonitor technology leverages the collective experience of our SolarWinds engineers to help ensure that you receive network coverage quickly, and with the most advantageous network monitoring settings.
Dynamic Network Mapping
ipMonitor can auto-discover network devices and create rich network maps that can be customized to show the connection between elements or to add nested elements. Maps help to enable you to visually monitor network health with dynamically managed status indicators that offer drill-down capabilities for quicker problem resolution.
Enhanced Device Grouping for Easy Management
ipMonitor helps to make it painless to manage lists of devices and their logical organization with enhanced grouping and nested grouping capabilities. Plus, SmartGroups is designed to allow dynamic grouping of devices and monitors based on user-defined filters. A centralized view of device and monitor groups is displayed in an Explorer-style tree format that offers one-click navigation to the properties and settings for that element, helping to make it easier and faster to manage groups of devices.
Automatic Alerting
ipMonitor offers more than 14 different types of notifications to help ensure that you are the first to know about network issues or application failures. Alerts can be as simple as receiving an email or text message on your cell phone, or as comprehensive as writing to Windows Event Log files.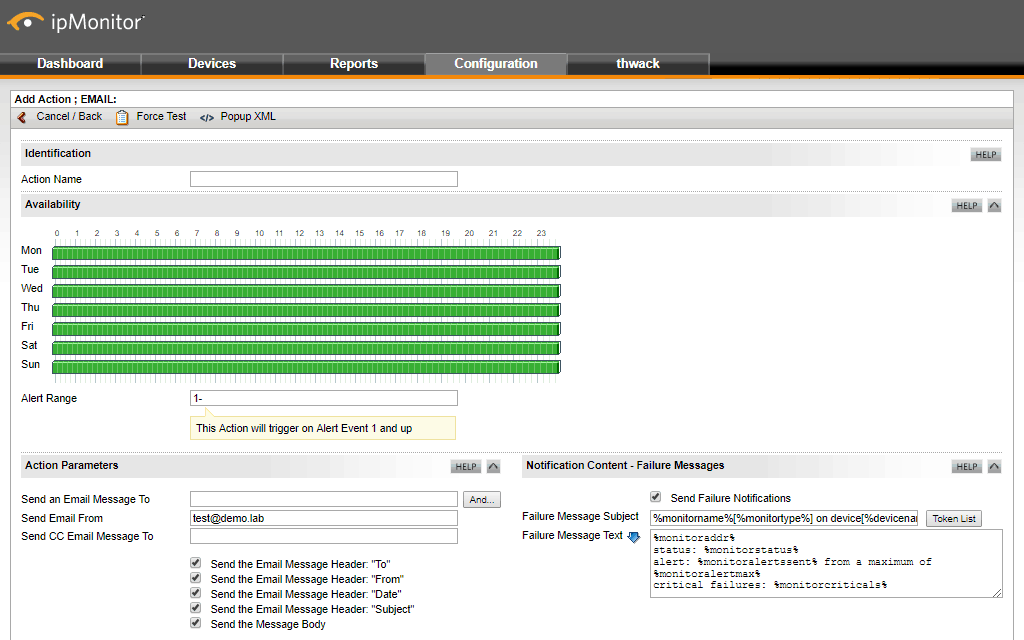 Automatic Recovery
ipMonitor can be easily configured to take corrective actions to restore services if a failure occurs, including restarting failed applications, restarting Windows services, rebooting servers, and executing scripts. ipMonitor helps minimize downtime by automating remediation steps.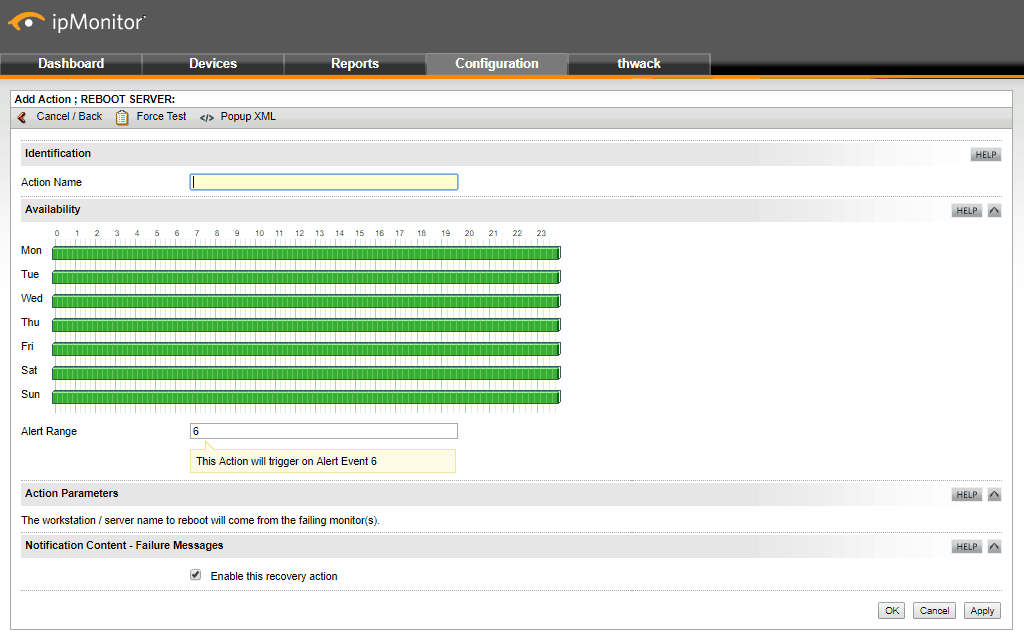 True Remote Administration
SolarWinds ipMonitor is designed to be a safe web-based interface that allows users to scan their network, configure monitors, or take corrective action from any supported browser. You can monitor your infrastructure from virtually anywhere with an internet connection —freeing you from the office.
User Experience Monitoring
ipMonitor can show your users the love—even the high maintenance ones. Going beyond basic availability checking, ipMonitor is designed to give you complete visibility into the quality of an end user's experience. In fact, ipMonitor can mimic a user's behaviour by performing synthetic transactions. You'll be alerted to issues before your users notice a blip in the availability of business-critical applications, like email, web, or database services.
Pros And Cons Of The SolarWinds ipMonitor
We've searched the web to see what other users of the SolarWinds ipMonitor thought of the product. We've assembled this list of the most common pros and cons as reported by users of the product.
Pros
Configuration is simple and easy.
Menus are clear and simple to follow.
Alerting is straightforward to configure.
The product leverages SNMP to monitor the up/down status of all components.
It has a simple and easy to use interface.
Log file capture and analysis are quick and accurate.
Cons
Distributed roles and responsibilities can be a little too confined to a determined box.
The product could benefit from a feature-rich reporting tool.
The user interface looks a bit antiquated and could use a revamp
More complex types of monitoring would be welcome
System Requirements
The system requirements for this tool are rather simple. It should be installed on a computer with at least a 2.0 GHz CPU. A single core will be enough. The machine's memory should be at least 512 MB and it should have 240 MB of free hard disk space. This package will run on almost any computer.
Software-wise, most modern versions of the Windows operating system are supported, including Windows 8, Windows 2012 (.net Framework 3.5 required), Windows 10, Windows Server 2012R2, and Windows Server 2016.
A web browser is required to connect to the user interface. Any version of Microsoft Internet Explorer version 11 or later will work as will the two most recent versions of Firefox and Chrome
Licensing And Pricing
Prices for the SolarWinds ipMonitor start at $1 495 for up to 500 monitors. This one-time cost includes the first year of maintenance. For those who'd prefer to try the tool before purchasing it, a free 14-day trial is available.
Our Installation And Configuration Experience
Installation is done using a simple wizard and it takes only a few minutes to complete. Once you're up and running you simply point a browser at the proper port (as chosen during the setup process) and then go through the SolarWinds ipMonitor Getting Started wizard, the second part of the setup process.
The easiest way to go is with the automatic device discovery process. In addition to the usual IP address range search, you can also tell the SolarWinds ipMonitor to search a DNS zone (thereby interrogating a DNS and try to contact all hosts mentioned therein) or the Windows Network Neighbourhood. Alternatively, you can also give it a static hosts file.
Once you've chosen how to search, you can provide the various sets of credentials–such as Windows logins and SNMP community strings–that the SolarWinds ipMonitor will need in order to poll the various systems it comes across. Something worth noting at this point: to enter credentials you must either be connected by HTTPS or have the browser running directly on the ipMonitor server. It won't let you enter credentials over a non-secure link. Despite understanding the desire to be seen to be secure, we found it perhaps somewhat of an overkill to forbid connections from machines in the same LAN subnet.
Once you've provided all the necessary credentials, the SolarWinds ipMonitor uses them to do its magic and scan each machine it finds and to see what services are running on each and what system parameters are available for monitoring. Although the graphical user interface is entirely browser-based, it makes good use of dynamic HTML to make it feel very much like a desktop application, with spinning progress icons and all the bells and whistles. While this is not at all uncommon these days, it still shows in a very eloquent way how SolarWinds cares about its users.
The Bottom Line
The SolarWinds ipMonitor seems to make an excellent job of finding all there is to find out about servers. For example, it found that a multi-purpose server had FTP, HTTP, IMAP, POP, SMTP and SNMP services running and that it had a single CPU, 4 Gb of RAM and a single hard disk. Needless to say that it is precisely what was actually present on the server. For each service it finds, The product defines a monitor. Once the discovery is completed, you can select which monitors you actually want and disable the ones that you don't. Every device discovered is then added to the All Managed Devices list.
From this point on everything is super simple and very intuitive. Consider it like being on cruise control or autopilot. You have a familiar two-pane display, with a hierarchical list of things on the left-hand side and a detail pane on the right. The latter can be viewed as a simple list or, if you prefer a nicer view, as a dashboard which gives a much more graphical (and therefore intuitive) picture of what's going on.
While we're talking about the dashboard let's dig a bit deeper. The SolarWinds ipMonitor's dashboard is the product's home screen. This is where you'll usually start working with the tool. It is a collection of user-definable widgets that you can add, remove and move around as you see fit. This is a very popular approach these days, and quite rightly so because it lets you customize your monitoring tool to better fit your needs instead of forcing you to use the arbitrary design-time opinion of a developer who has no clue about what it is that you're trying to do.
As expected, the SolarWinds ipMonitor can report on the state of your network both in real time via automated alerts and on-demand through an extensive list of built-in reports. The alerting system can be configured to send different types of alert to different individuals. It can even take account of individuals' working hours which can be very useful. Like the dashboard, the reporting engine is highly customizable and it generates attractive and informative results. The only issue we had with it ts the impossibility of emailing PDF reports although both PNG and GIF are available.
We liked the SolarWinds ipMonitor mainly because it does what it's supposed to do. Its GUI is very attractive and usable, and it has clearly been designed in consultation with system and network managers. Clicking on something takes you to where you'd instinctively think it should take you, and it's very simple to change the settings to better suit your needs.