We are reader supported and may earn a commission when you buy through links on our site.
Learn more
Best National Criminal Background Check (Review) in 2021
Do you ever worry that someone in your life might have a criminal past? If so, you are not alone.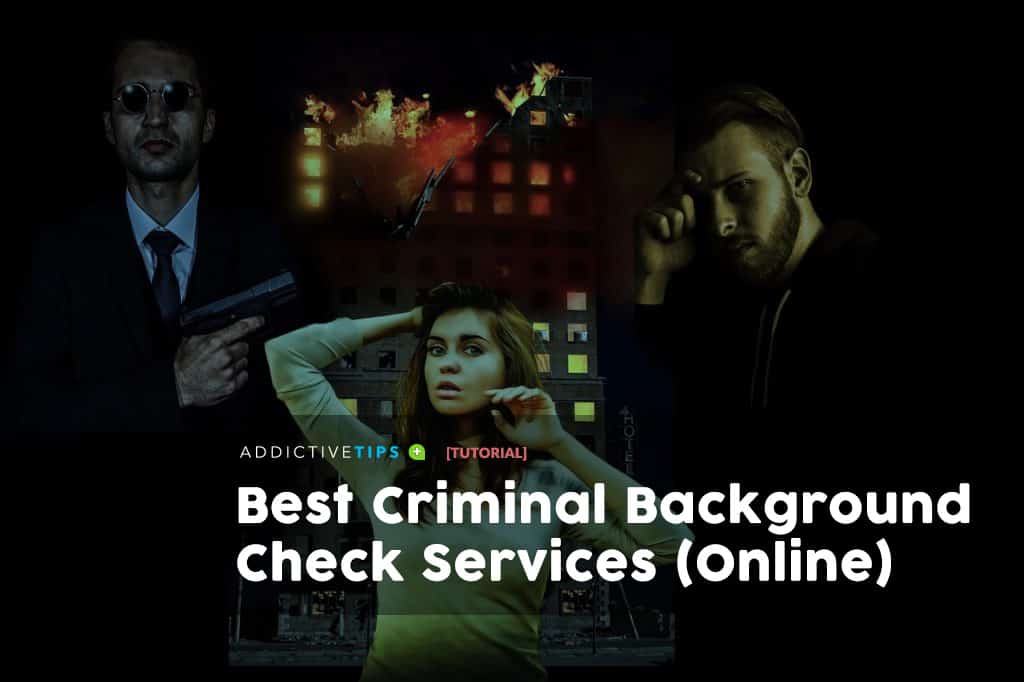 It's normal to be worried
Many Americans share the same concerns.
Who is this guy your daughter has started dating and how can he afford such a nice car?
What's the story behind the guy that moved in next door all by himself despite being in his fifties?
Why do the police keep visiting the house down the street?
When unsavory characters come into your life, worrying is a perfectly natural response, since you want to ensure the safety of your loved ones. Thankfully, there is an effective way to find out about someone's criminal history: by running a national criminal background check online.
Online background checks can be run on anyone to uncover the details of their criminal past. The websites offering these services source their information from the public record in a manner that is quick, efficient, accurate and affordable. In this article, we'll teach you everything you need to know about running a national criminal background check. We'll also provide recommendations for the best services to use.
Search Over 1 Billion Public Records
Run a comprehensive background check on ...
An online background check is the most efficient, accurate, and affordable way to find out about a person's criminal history. So, which site should you use? There are a lot of background checking websites out there and some are considerably better than others. Making the choice can be a hard one, but that's where we can help.
How we tested
We have tested all of the major sites, so you don't have to. And we have also applied user feedback to help us identify the most effective criminal background sites. This feedback has indicated to us that the best sites usually need to fulfill the following criteria:
Detailed Research – Different sites offer varying levels of research. But when it comes to a criminal check, you want to be sure that every possible data source has been checked. So, all our recommended sites are guaranteed to offer high-quality and in-depth criminal records research.
Accurate and Comprehensible Reports – The final reports are vital, but they can get very confusing especially if someone has multiple offenses to their name. But the best sites will deliver reports which are simple to read and understand while containing all the relevant information.
Fast Results – When it comes to criminal background checks, you don't want to be left awaiting the results for extended periods of time. Response times can vary with different sites, but the best of them offer basic results in just a few minutes. They should also be able to deliver a full character profile in no more than 4 or 5 working days.
Search Customization – Users want a site to be able to deliver accurate criminal records data even if they only have a minimal amount of information about a subject. And the best background checking sites can deliver just that.
Usable Dashboard – The online dashboard is how most users manage searches, access reports, and see other data. But the design and usability of dashboards can also vary a lot. The best sites all offer dashboards that are intuitive to use and well-designed.
Mobile Apps – Everyone wants to access online services on mobile devices these days, and many background checking sites have obliged with dedicated apps for all major platforms.
Good Customer Support – If your search returns results you don't understand, or you encounter any problems with your search, you will need a reliable and helpful customer support service to be available.
Best national criminal background check service
We have identified four background checking sites in our testing and user feedback suggests they fulfill all of these criteria. However, readers should be aware that even though each of these sites is one of the best around, none can guarantee their results are always 100% accurate.
There is always a margin for error when running a background check and every now and then mistakes will happen. But each of these sites can boast an enviable track record, high user satisfaction rates, and performed extremely well in testing. As a result, we are confident that they will deliver accurate results far more often than not and we have no hesitation in recommending each of them.
Based on our extensive testing we found these to be the best national criminal background check services.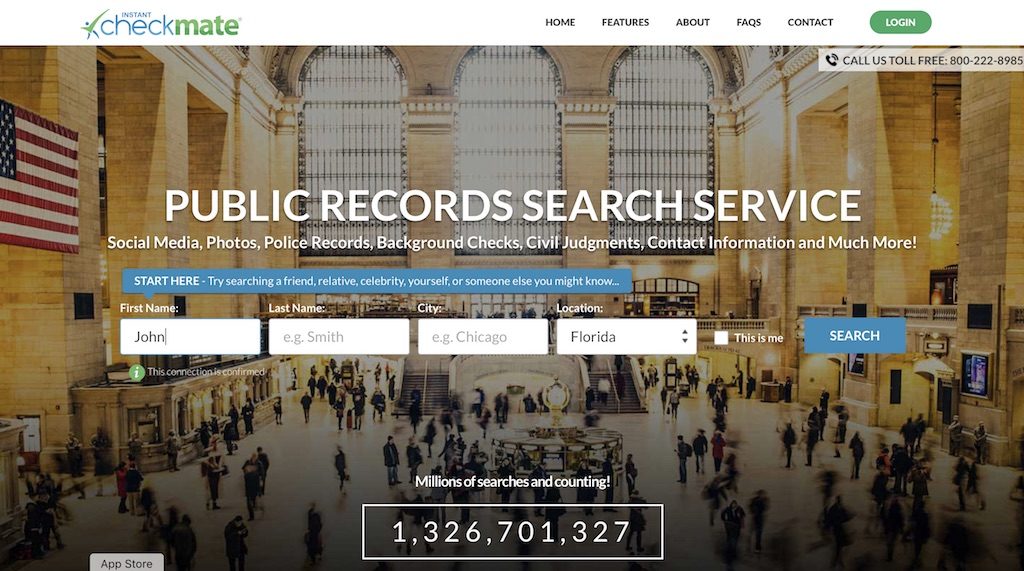 Another great site for criminal background checks is Instant CheckMate. Their service is also available in two tiers, with data such as criminal records, sex offender registers, marriage and divorce records, details of relatives, address history, and any public social media profiles all accessible at their basic level. Further information, including detailed court records, financial history, driving licenses and weapons licenses, require users to pay a little bit more for their premium service.
While CheckMate only offers dedicated software for Android, anyone (including iOS users) can access their exceptional online dashboard to manage and view their search data. Final reports are easy to follow and jam-packed with useful information. If you ever run into an issue or have a question regarding your search or results, rest easier knowing that customer service is available 24/7. Overall, Instant CheckMate is a powerful ally when scoping out potential villains in your life.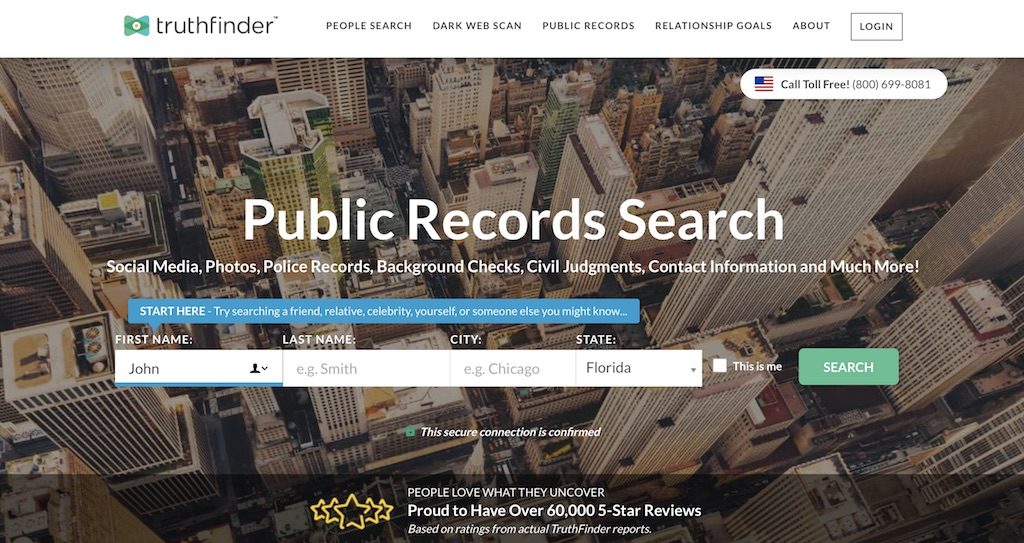 TruthFinder has earned its name as an effective method for uncovering the criminal reality lurking behind neighborly facades. This company will search through millions of records to provide a complete profile of your suspect, which can include criminal and court records, along with sex offender registers, driving records, personal information, and information about known relatives. There's also a premium service that covers further details like education history, voter registration records, weapons and other licenses held. TruthFinder even offers a deep web research service which searches through more online sources and social media profiles than any other site.
Final reports are clean and simple to read despite the depth of information provided. When conducting the search, you can stay in the loop by accessing your data via a slick online dashboard or the dedicated Android app. Any problems you may run into can be quickly solved with a toll-free call to their 24/7 customer service line.
4.
Intelius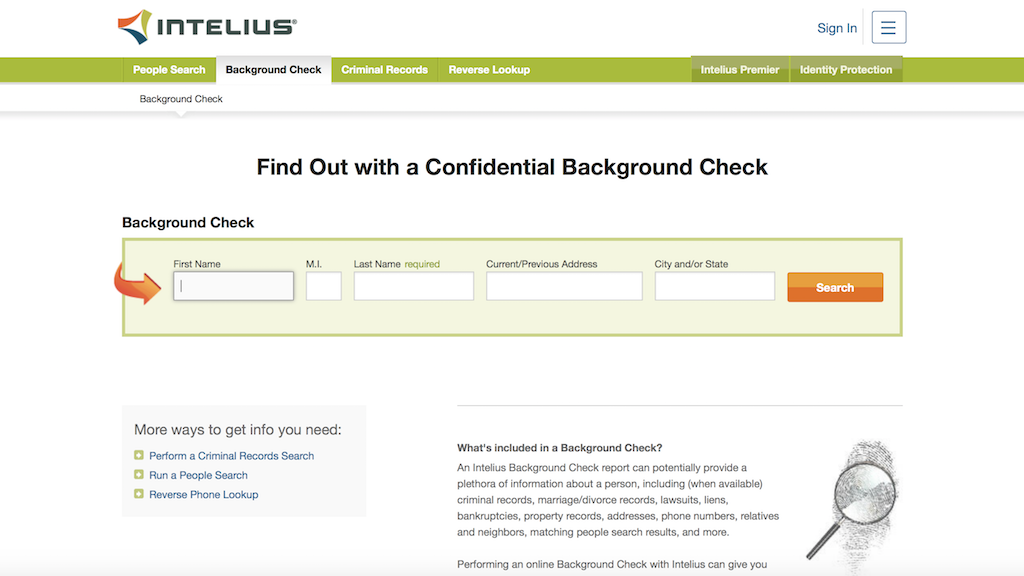 Our final recommended criminal background checking site is Intelius, which boasts an impressive range of capability. For a nominal fee, they will search through criminal data sets to provide a person's full contact details, address history, sex offender register details, financial history, property records, educational history, and more. Their results are comprehensive, and easy to parse within their attractive final reports.
Intelius offers a sleek online dashboard, along with dedicated apps for both Android and iOS devices to make accessing your search data on the fly a breeze. Our only sticking point with this provider is their rather rudimentary customer service (though, we did really appreciate their online troubleshooter service). Intelius has run more than 50 million background checks since they started and, as one of the most affordable sites on this list, represents incredible value in the quest to uncover the criminal truths of those around you.
---
How to tell if someone is a criminal
On TV, identifying the bad guy often seems easy. It's probably the shifty-eyed character who keeps to himself, or the flashy personality with endless disposable income but no obvious job. But in real life, people are rarely so one-dimensional. Dodgy-looking characters may actually be pillars of the community, while your quiet, amiable neighbor might be hiding monstrous intentions. Whatever your assumptions may be, without hard data on hand, you can bet on getting it wrong.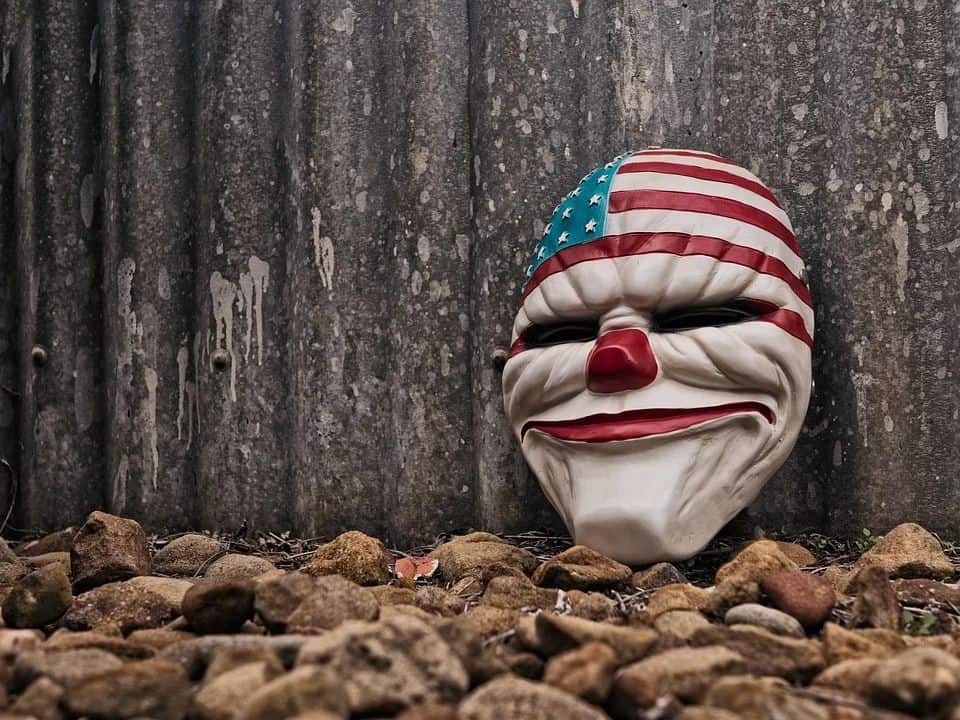 These days, however, it's trivially easy to obtain the information you need to form a more complete understanding of a person's character. After all, criminal records are kept in the public domain, to be used by law enforcement and private citizens alike to the betterment of society at large. Yes, you have the same right to this data as any government agency!
But, it's not always a simple matter of finding what you're looking for. Archives tend to be rather overwhelmingly complete, making sifting through it all a daunting challenge. Online background checking sites, however, make short work of this effort thanks to their advanced search methods. So, if your suspect has moved states or otherwise tried to fade into the background in order to obscure their criminal past, you'll be able to correctly identify them, and quickly too.
Search Over 1 Billion Public Records
Run a comprehensive background check on ...
Criminal background checks, what they reveal?
All criminal records are a matter of public record. This is partially to help law enforcement keep an eye on former offenders. But it is also to give regular American citizens the right the know exactly who is living in their neighborhood. And you can find out almost everything from a person's criminal past if you have access to the relevant data. Some of the details you can find include:
Where and when they were arrested
What crime they were charged with
Whether that crime was a felony or misdemeanor
The name and region of any court they have stood trial in
What sentence they have received
Whether they were convicted, acquitted, or the case against them was dismissed
Any mugshots were taken of them
Which jail they were held in
If they are on the sex offenders' register
Even if a person was arrested for an offense but never charged, a background check can tell you the details. Dedicated services have ready access to criminal records data from across the whole country. This means that even if a person has moved state, you can still find out about what offenses they committed elsewhere.
And don't worry if you don't know much about the person you are suspicious of. If you use an online background checking service, it is possible to run an accurate search based on the most minimal amount of information. Even a partial name search can usually turn up accurate information.
Conclusion
One of the most popular applications for online background checking services is to look into an individual's criminal history. After all, there is a vast trove of very revealing data out there that is publicly available, if unwieldy to sort through manually. Our recommended background checking sites make short work of this task, and render a comprehensive profile of your suspect in short order. While these criminal background checking services won't break the bank, the peace of mind they provide is hard to put a price on.
Have you ever used a background checking site to find out about someone's criminal past? What sort of information did it uncover? Were you surprised by the results and the level of detail they were able to find? We always enjoy hearing the views and opinions of all our readers, so why not share them with us using the comment box below?