We are reader supported and may earn a commission when you buy through links on our site.
Learn more
How to Run an Advanced Background Check
In the information age, it's never been easier to gather a bit of intel on someone you know (or even someone you don't). Facebook profiles, Instagram feeds, Twitter posts and even simple Google searches all are valuable data sources you can tap to piece together some insight into a person's life. But, what if you want a more complete picture?
Beyond common online sources, there is a veritable treasure trove of personal information freely available in the public domain. Much of this exists in Government archives, which hold data on virtually every citizen in the US. Despite the vast potential within this body of information, actually combing through it all makes finding that needle in the haystack look trivial by comparison.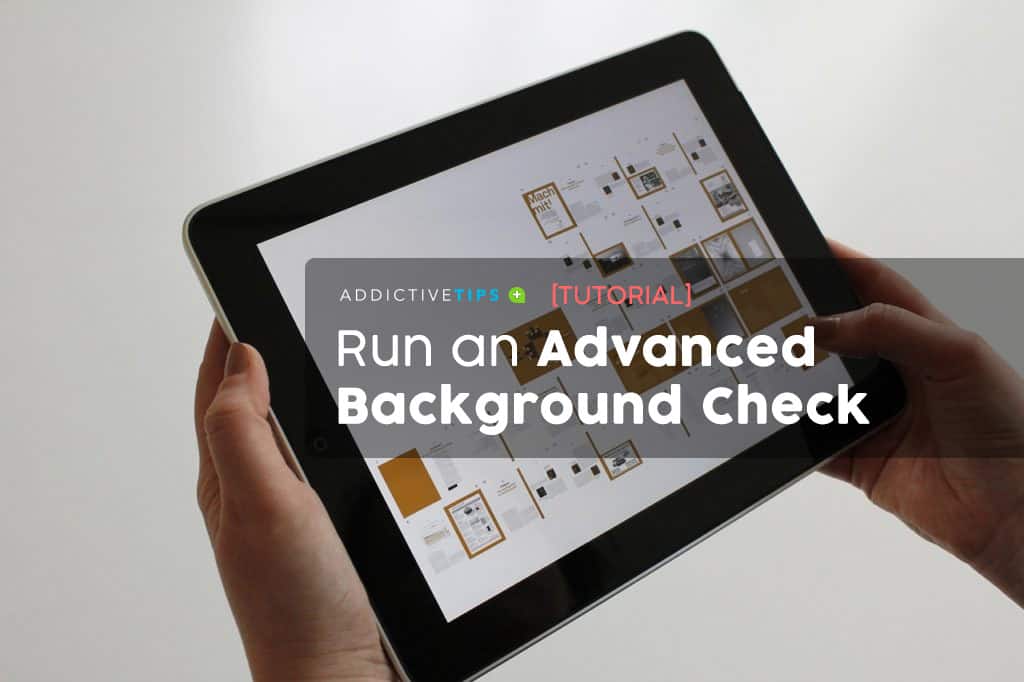 Advanced background checking sites employ the latest research technology to parse massive amounts of data in just a short time. What's more, the most reputable services have access to just about every publicly available repository imaginable. These powerful searches are used to produce a final report, which compiles findings about your search subject in a clear and easy-to-digest format. Not only are these searches completely confidential, they're affordably priced for the average Joe or Jane. Whether you're trying to track down a long-lost friend or family member, the job is made an order of magnitude easier with a background checking site.
Today, we'll teach you how to run an advanced background check, then share some of our favorite services to help you do so.
What Can I Find out by Running an Advanced Background Check?
Advanced background checking sites have access to a huge range of data, but of course everyone wants to know what information they can expect to receive. The truth is that there is no definitive answer to this. Each site will generally have access to the same pools of information, but are likely to access them in different ways.
Search Over 1 Billion Public Records
Run a comprehensive background check on ...
Equally, every subject search will turn out different results. Not everyone has a big social media presence or a criminal record to unearth. But broadly speaking, when you run an advanced background check, the results you can expect to come back include:
Subject's full name and contact details
Previous addresses
Marriage, family, and relationship details
Employment records
Financial records
Criminal and court records
Records of any military service
Driving records
Details of any licenses held
Any information posted publicly on the internet or social media sites
This is not an exhaustive list by any means. Some searches will turn up a lot more information than this, while others yield a bit less. Regardless, the best advanced background checking services are capable of returning useful information on just about every US citizen.
How Long Does an Advanced Background Check Take?
One of the primary advantages of using an advanced background checking site is the speed with which they can provide results. Manually searching through public data archives can take days, if not weeks. But these sites use the latest online research technologies to do the job much faster. In fact, a typical search can generate basic results in just a few minutes. That means that much of the data highlighted in the previous section can be looked at just moments after you enter your search details.
There is some data that can take a little longer to track down, of course. The best example of this is court records. Regardless of criminal convictions, if your subject has appeared in court, there will be documentation of that event. However, these records have often not been digitized or made available online.
This means that to access them, a background checking site needs to send a runner to the courthouse or local records office to dig them out manually. The best sites do offer this service (sometimes for a small additional fee), but it can take a few days to carry out. Usually, the site will claim to be able to generate full reports, including this kind of data in around 4-5 working days. Our testing suggests these claims are about right.
What to Do Before Conducting an Advanced Background Check
The actual process of using an advanced background checking site is a relatively simple one. But to get the best possible results, and to ensure you have carried out all due diligence beforehand, there are a few simple steps that we advise all readers to go through first:
Write Down What You Already Know 
It is always a good idea to take a little time with a pen and paper (or your computer) to think about everything you already know about the person you want to check. There are a couple of reasons to do this. Firstly, it might jog your memory for the information you are looking for in the first place. Secondly, advanced background checking sites ask for information upon which to base their searches, and the more you have available, the quicker and more accurate their search is likely to be. The sort of things you want to think about include:
Name
Any previous names  used
Date of birth
Place of birth
Any previous known addresses or contact details
Names of their spouse or children
Where they went to school/college
Where they work
Don't panic if your list of information feels incomplete. If you are looking for family or friends it could be long, but if your subject is a stranger, there may be very little content at all. Most sites can still deliver good results with minimal input. But the information you can think of, the better.
Google It
Using the information you have compiled in step one, try running a few Google searches yourself. Search engines will not return the same level of detailed information as an advanced background check, but they can still find out useful things. Just looking for someone by name is unlikely to generate much useful information unless their name is particularly unique. But by using combinations of the information you already know, it is possible that you may find something useful.
Scour Social Media
After Google, the next place to look is social media. Again, try using combinations of searches putting together information that people might have put up on their profiles. Major networks like Facebook, Instagram, and LinkedIn are the best place to start, but if you don't find what you want there, try the less obvious ones like YouTube, Reddit, Pinterest, Tumblr, and Snapchat. Think about mutual friends and acquaintances who might have information on their timelines too.
In all likelihood, you'll still have an incomplete picture of what it is you're looking to uncover about your search subject, even after all this effort. That's precisely the gap advanced background checking sites look to fill. Read on for our recommendations on the best services to use.
The Best Advanced Background Checking Sites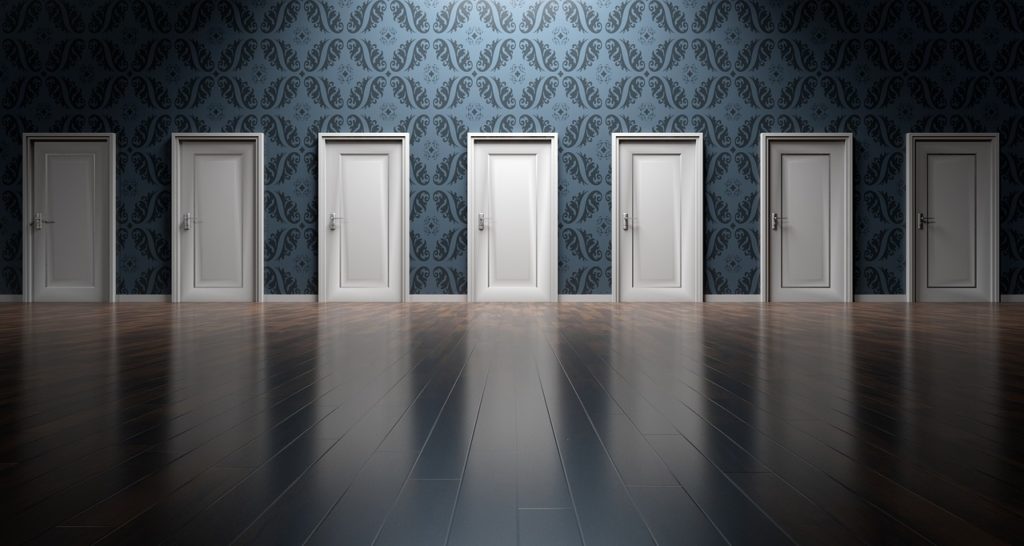 The choice of which advanced background checking service to use can seem bamboozling. The growing popularity of background checks has seen dozens of these sites emerge. While competition is undoubtedly good for driving up standards and keeping prices low, it can make the choice of which site to use a very difficult one. This isn't helped by the fact that many sites look extremely similar and all claim to be the best in the business.
Here are a few clear criteria that you can look for to help identify the best overall background checking sites:
Fast Results – In today's fast-paced society, speed is of the essence for any service. The best sites deliver basic results in just a few minutes, and a full report in no more than a few days.
Detailed Research – When paying for an advanced search, you don't want to compromise on the level of detail returned. Go for a site which searches through as many different data sources as possible.
Accurate and Comprehensible Reports – All the information unearthed is presented to users in a final report. It's crucial that this report gives accurate, detailed results that are nevertheless easy to read.
Search Customization – The best sites can generate accurate results even on the basis of even a minimal amount of information provided to them.
Good Customer Support – While most sites strive for simplicity in their end-user experience, you may still have a question or concern about the search process or its results. Always choose a company which provides readily available customer service.
Usable Dashboard –Most sites have a dashboard feature where users can manage their searches and results. It is important that this interface be easily navigable and intuitive in its design.
It is these criteria on which we have based our testing of all the main advanced background checking sites. We have also factored in user feedback too. The result is that we have identified three sites which we believe offer a level of service that users these days are looking for. None can guarantee 100% accurate results every time, but each boasts high user satisfaction ratings and offers the best possible chance of finding the information you are looking for.
So, to run a background check, all you need to do is take a look at our recommendations, choose your preferred one, click on a link to visit their website, and follow the simple onscreen instructions to sign up. Our three recommended sites are: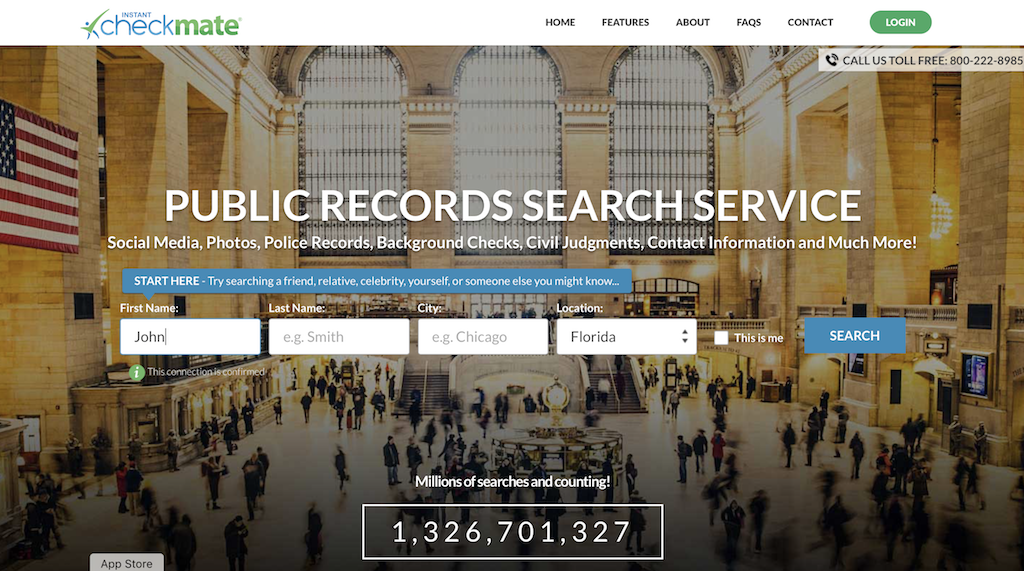 Instant CheckMate is an appropriately named service, owing to the speed with which it conducts in-depth background checks. With well over a billion searches conducted to date, you can count on your investment returning some valuable data on your search subject.  Like many of its competitors, Instant CheckMate offers two tiers of service. For a nominal rate, you'll get results from criminal records, marriage and divorce records, details of relatives, address history, social media profiles, and more. For a little more, they will also look into things like financial history, driving licenses and weapons licenses.
CheckMate's final reports are impressively detailed while remaining dead simple to read and understand. This ethos is mirrored in their slick, full-featured dashboard, which grants instant access to your search data. Android users also have the option of a dedicated app. With 24/7 customer support, you'll never be left wondering what a data point means or how to use a specific feature of their service.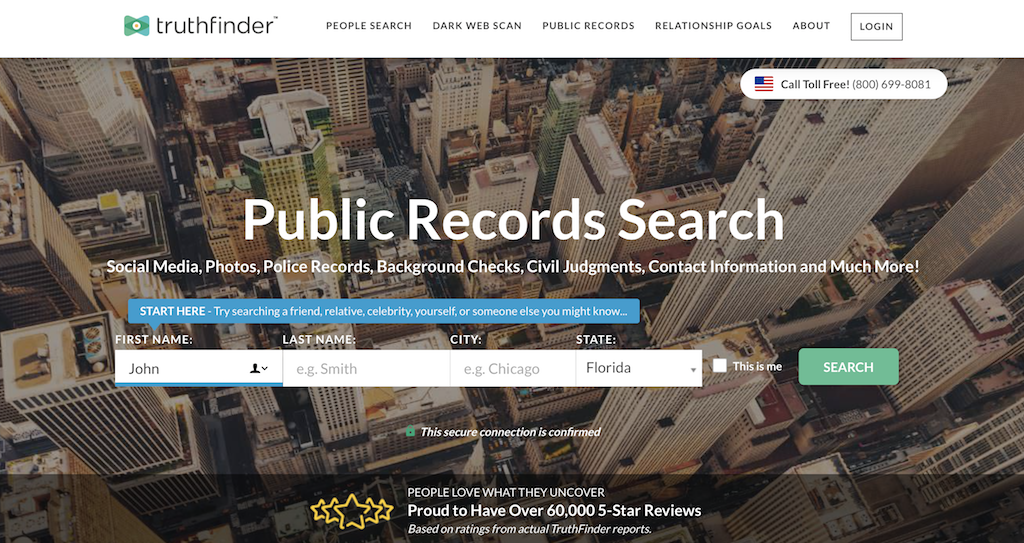 Among all the sites we tested, TruthFinder stood out for its exceptionally deep searches. They claim to search through millions of public records, and the results we saw made it hard to argue this assertion. For an extra fee, TruthFinder will conduct a unique-on-the-market deep web research service, which dredges up all sorts of information from past social media posts, archived content, and much more.
Like so many other advanced background checking services, TruthFinder also breaks their offerings into two pay grades. The first searches criminal records, driving records, personal information, and details of immediate family and friends, while the premium level goes even deeper into education history, voter registration records, weapons licenses, and more.
TruthFinder delivers their results in a well-designed and very clear final report. Their online dashboard is also simple to use, even for beginners. They also offer a great Android app (iOS users can still make full use of the online dashboard from within Safari browser). Perhaps best of all, their customer service really delivers, with 24/7 support available on a toll-free number.
3. Intelius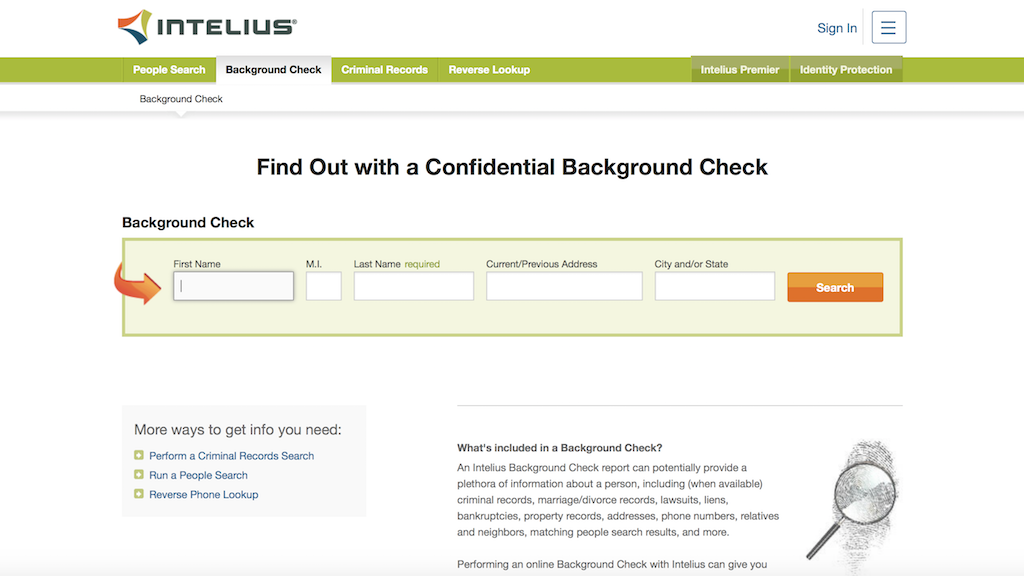 Intelius is a highly rated service with a proven track record of uncovering useful search data. Data like contact details, address histories, criminal records, sex offender registrations, financial histories, property records, and education are all fair game for this company's deep-penetrating research service. With over 50 million searches completed, Intelius is easily one of the most reliable advanced background checking services on the market.
The all-important final report offers exceptional detail while remaining readable and clear. Navigating the online dashboard is a breeze with its straightforward design ethos, which extends to Intelius' dedicated applications for Android and iOS. The only possible sticking point is customer service, which doesn't offer the round-the-clock live support of its competitors. There is, however, an excellent troubleshooting guide which we found to be adequate for all of our questions and concerns.
Why Do Background Checking Sites Charge a Fee for Accessing Public Data?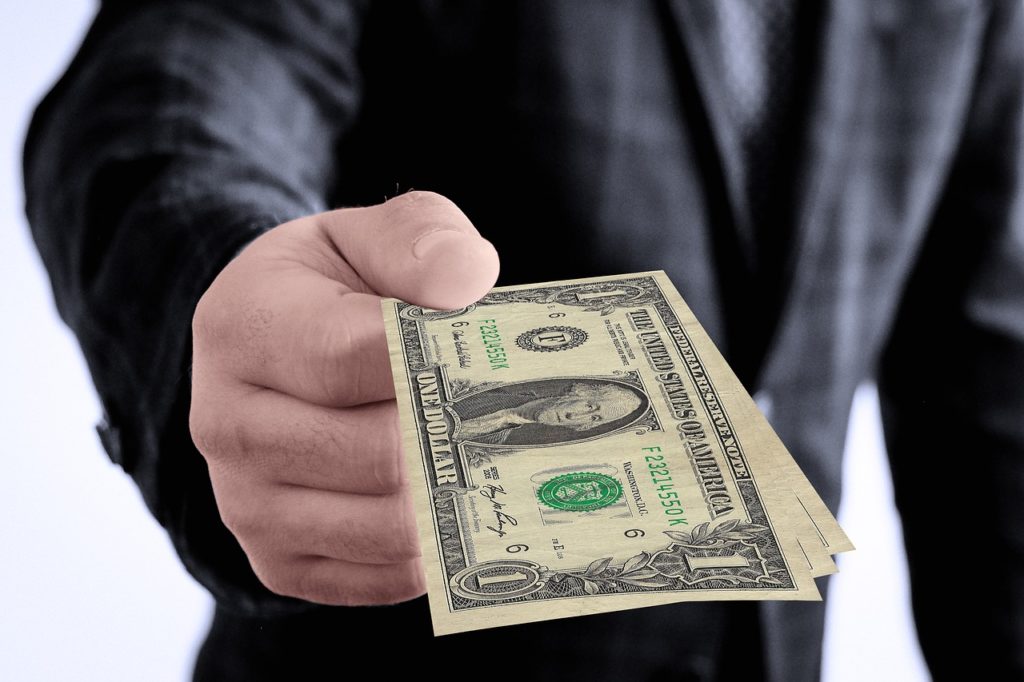 Eagle-eyed readers have probably noticed that there are some free background checking sites available. After all, if all the data sourced by paid service exists in the public domain, why not just go for a free service?
It's a little-known fact that public archives, while open to anyone, charge an access fee to search through their repositories. What's more, background checking services employ real human beings who demand compensation for their hard work. If a site claims to run background checks, you ought to get very suspicious about what the catch is.
More and more hackers are looking at background checking sites as an opportunity to make profits. There have been fake sites set up with the intention of harvesting user data or planting malware onto user's devices. Even if a free site doesn't have malicious intentions, they will likely return results you could have easily recovered from a simple Google search, wasting your time (and filling your screen with ads).
Paid services don't cost much, and the value they provide is real. If you're looking into a background check to size up a potential criminal or sex offender, for instance, the peace of mind gained from accurate information transcends price to become truly invaluable.
Conclusion
There are many reasons you might want to run an advanced background check on someone, and thankfully there exist many solid options on the market to make it happen for a reasonable price. All of our recommendations offer a deep research service with fast turnarounds, slick interfaces, and attentive customer support. Through these services, you can build a complete profile of virtually anyone in the US in a matter of minutes.
Have you ever thought about running an advanced background check on someone? What were the concerns that you have? If you went ahead, how did you find the experience? Did you use any of the sites we have recommended here? How did they perform? We always welcome the thoughts and experiences of all our readers, so why not share them with us using the comment box below?