We are reader supported and may earn a commission when you buy through links on our site.
Learn more
Identity Guard Review (2019) – Empowering Users to Have Full Control
Can't figure out which identity theft protection service is right for you? Wondering what people think of Identity Guard, one of the leading forces in online ID safety? Our full Identity Guard review investigates everything you need to know about this service from top to bottom.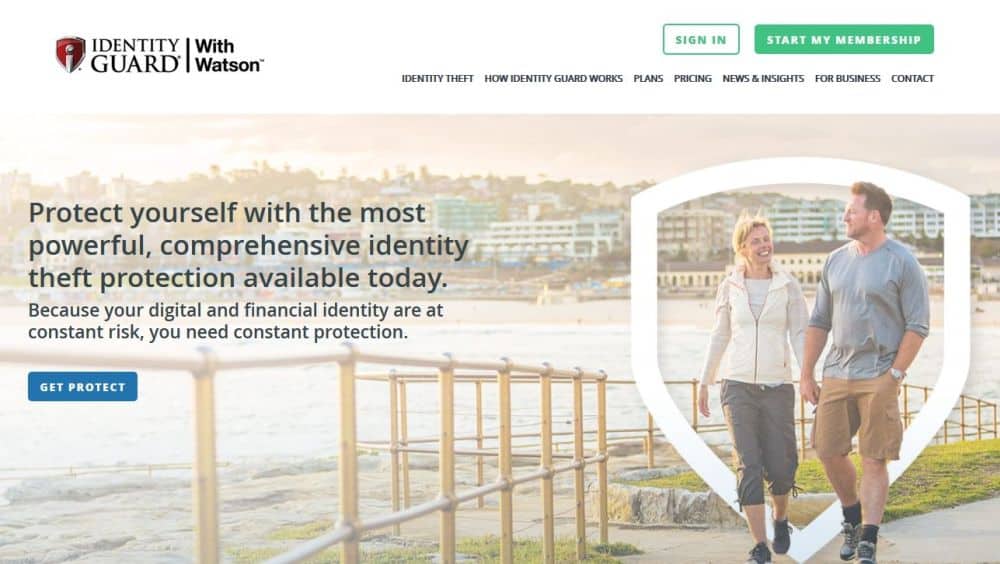 This Identity Guard review will take a look at the company's main privacy features, including subscription plans, price, identity data reports, monitoring and alerts information, and more. We'll first evaluate the service quality, then let you know how the service measures up to the competition.
It doesn't matter if you're new to online security or if keeping your identity secure has been on your priorities list for years, Identity Guard is one of the best resources for preventing ID theft and monitoring your privacy information online. If you're looking for an affordable and effective solution, Identity Guard might just be the company for you.
What does Identity Guard do?
Identity Guard offers comprehensive identity theft protection that covers both personal and financial information. This includes full monitoring and alerts that create a powerful early warning system fueled by artificial intelligence algorithms that scour billions of data points for vulnerabilities. Identity Guard likens it to an identity protection radar.
Basic features
In the past, keeping your identity safe was as simple as hiding your driver's license or passport from prying eyes. Today, every activity we do online leaves a detailed trail of data, all of which can lead right back to our personal ID. Identity Guard aims to provide comprehensive monitoring services that keep track of where your information appears so you can take action as soon as something suspicious goes down.
Here's a quick overview of the main features offered by Identity Guard:
Scanning – It's impossible to fully prevent identity theft. The next best thing is to monitor millions of data points at once to detect threats as they occur.
Alerts – The faster you find out about a threat, the better you can protect yourself. Identity Guard delivers quick alerts 24/7, including financial alerts, dark web scans, and data breach alerts.
Recovery – Even if your monitoring and action efforts fall through, Identity Guard can help you get back on your feet. The service will work with experts to restore your ID, all backed by a $1 million insurance policy.
Watson
Have you ever heard about IBM's Watson computer, the AI system that has been shattering computing records for several years? Watson is one of the first commercially available services that puts natural-language question answering to work, and it's currently being used for analyzing cancer treatment data, forecasting the weather, and improving building code safety.
Identity Guard also puts the Watson system to use by tasking it to monitor countless millions of data points. This includes dark web credit card scanning, social security number breaches, and personal data across the surface web. With Watson working behind the scenes, Identity Guard can deliver some of the best ID monitoring services around, all thanks to the power of artificial intelligence.
Other features
Identity Force aims to be as comprehensive as possible. In addition to the services listed above, the company also provides the following features for its clients:
Identity monitoring and alerts
Constant scanning for leaked ID information
Risk management reports
Safe browsing tools
Anti-phishing mobile app
Monthly credit score (with Total subscription plan)
Address monitoring (with Total subscription plan)
3 bureau credit monitoring (with Total subscription plan)
Tax refund alerts (with Total subscription plan)
Using Identity Guard
Beyond its effectiveness behind the scenes, it's important to evaluate an identity protection and alerting service for its overall ease of use. If it's a pain to create an account and set up your own monitoring system, you'll be less likely to make full use of the alerts, over all. Let's take a closer look at Identity Guard's interface and sign-up process to see how easy it is to join.
Joining Identity Guard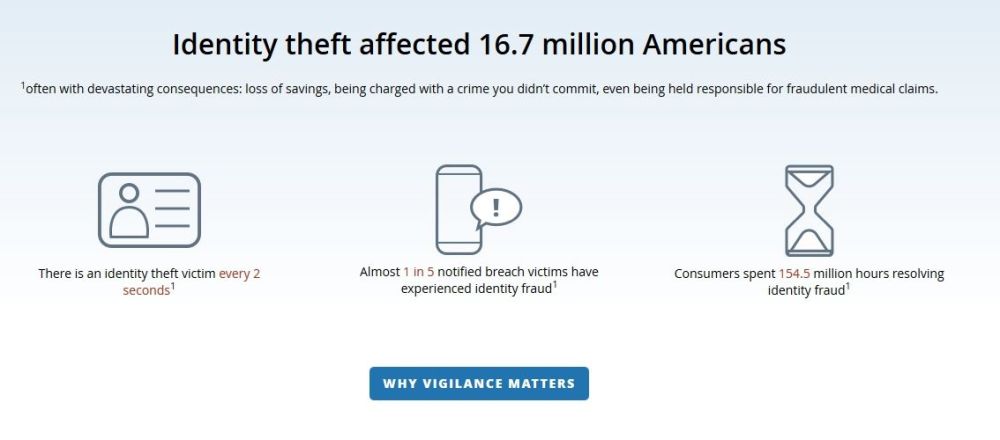 Using a service like Identity Guard feels like a big step. Before joining, we recommend protecting your Internet connection with a secure browser, then finding a reliable VPN to lock down your network with strong encryption. You should also do this process at your home, not on a public device or smartphone.
Your first step will be choosing a subscription tier. Visit the Identity Guard website and click the green "Start My Membership" button. We were a little put off to find six different plans, each with confusing names that do little to describe their benefits. We'll outline them in more detail below, but for now, if you just want protection for yourself at the lowest cost possible, go with Value.
Identity Guard takes something of an inverse approach to account creation. Instead of signing up first, then providing your details, you'll add all of your information right up front, then complete the process by filling out billing information. This can be confusing for first time users, especially given the complexity of the company's plan structure.
Click the button beneath the plan you want to try and you'll be taken to the next information screen. Fill out all of the boxes across the next several steps, including your name, e-mail, social security number, date of birth, and home address. At the end you'll enter payment details and begin your subscription, at which point Identity Guard will start scanning for your ID information to keep you safe.
The entire setup process takes about 5-10 minutes to complete, a little longer than most of the competitors. Identity Guard is also cagey about its trial program, stating that "some" plans offer free trial periods, but never stating which ones include the feature. Regardless, you can cancel your subscription at any time, so you won't be overcharged for the service.
Identity Guard dashboard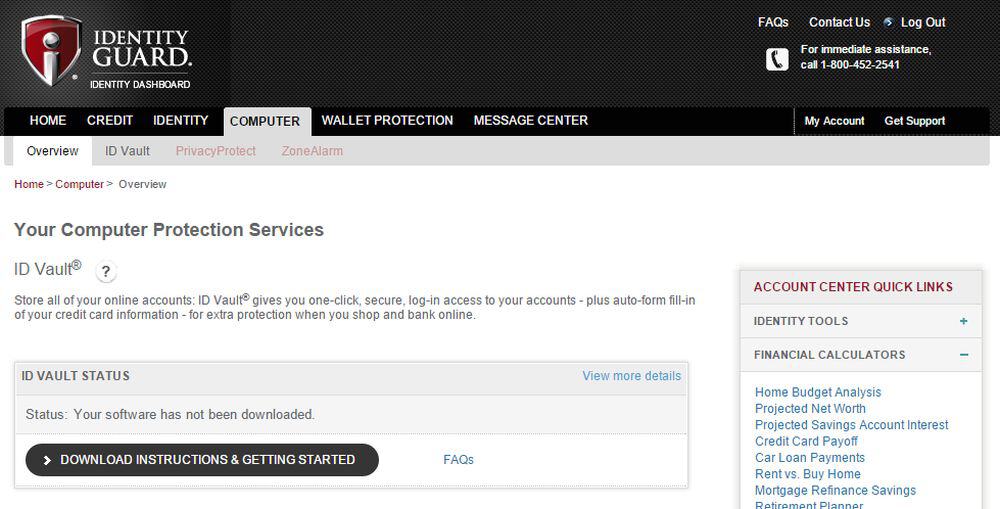 Once you've joined Identity Guard, it's time to dig in and get things working for you. Depending on your plan you may need to add bank account details to monitor credit reports and the like, but otherwise you should be ready to begin.
The main dashboard starts with your message center. Here, Identity Guard gives you tools to view or filter notifications relating to your identity scans. Below that are additional features you can activate or purchase for your account. Tabs at the top separate out identity and financial information into separate sections, just in case you want to focus on the essentials.
Setting up alerts is largely handled automatically, so you really don't have to do anything apart from joining the service. While the dashboard itself feels a little cluttered and poorly labeled, Identity Guard renders most of that neutral since it handles just about everything without requiring your intervention.
Identity Guard also offers a mobile app users can install for on-the-go monitoring, notifications, and reaction plans. The app features a similar layout as the web-based interface, though without most of the advertisements pushing plan upgrades and new features.
Plans and pricing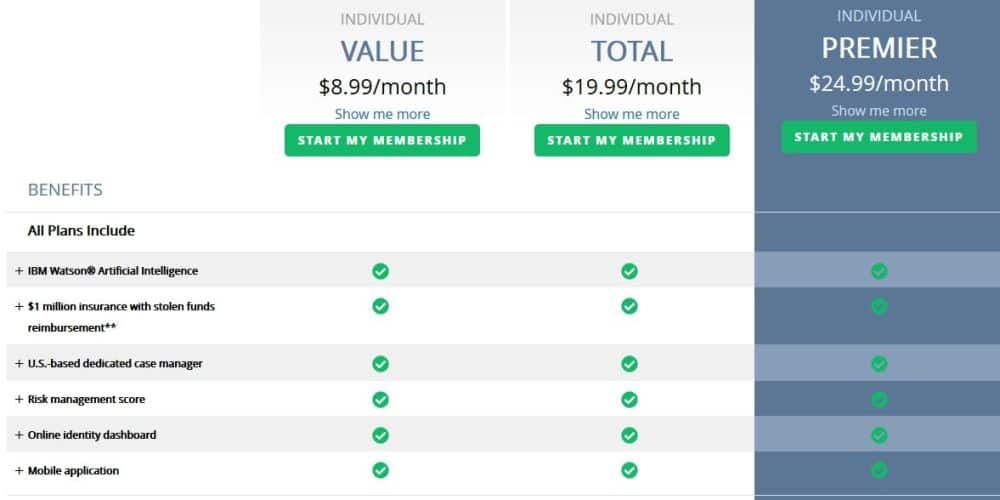 Paying for an identity monitoring service is another major issue. With everything from VPNs to background checking services and encrypted data storage on your plate, keeping privacy-aware apps as part of your daily routine can add up quickly. For this reason, finding an affordable ID scanning service is often a top priority.
Identity Guard divides its plans into two broad types: family and individual. The former offers scanning and alerting services for multiple members of your family, all at a discounted price. The latter focuses on a single individual. Each of these types are further split into three sections: value, total, and premier. The foremost gives you all the identity scanning you need, while the latter two add on financial and credit report monitoring.
Here's a quick look at the Identity Guard plans lined up next to each other:
Value Family
Total Family
Premier Family
Value Individual
Total Individual
Premier Individual
Is Identity Guard's plan structure confusing? You bet it is. But once you move past the confusing layout and multiple prices you'll find they're remarkably affordable, especially if you're a single person looking for basic identity protection. The Value tier for an individual only costs $8.99 per month, with Total running $19.99 and Premier at $24.99. Family protection starts at $14.99, then moves to $29.99 and $34.99 for broader coverage. You'll be hard-pressed to find better rates than that.
Customer service
Keeping your identity secured is a complicated thing. It seems like something is always bound to go wrong, especially if an alert triggers and your information is discovered as part of a fraud. Identity Guard does a great job automating most of this process, but what if something goes wrong? Does the company provide adequate support to keep you out of trouble?
The first place people turn to when issues arise are the support pages and FAQs. Here, Identity Guard provides only the most basic features, outlining a few questions relating to account creation and membership upgrades/cancelation. There's no search function, and no comprehensive database of information, just a dozen or so questions and stark answers.
Outside of the built-in FAQs, Identity Guard offers only one avenue of customer support: telephone calls and e-mails. There's no way to submit a support ticket or contact a live agent, you either have to e-mail your issue or try to get them on the phone. To make matters worse, customer service is only available during regular business hours, so if your identity is compromised at night or on the weekend and something crops up, you may be out of luck.
Despite its rather scant customer service options, Identity Guard does go out of its way to provide automatic, invisible alert and response systems, making human contact rarely necessary.
Can you trust Identity Guard?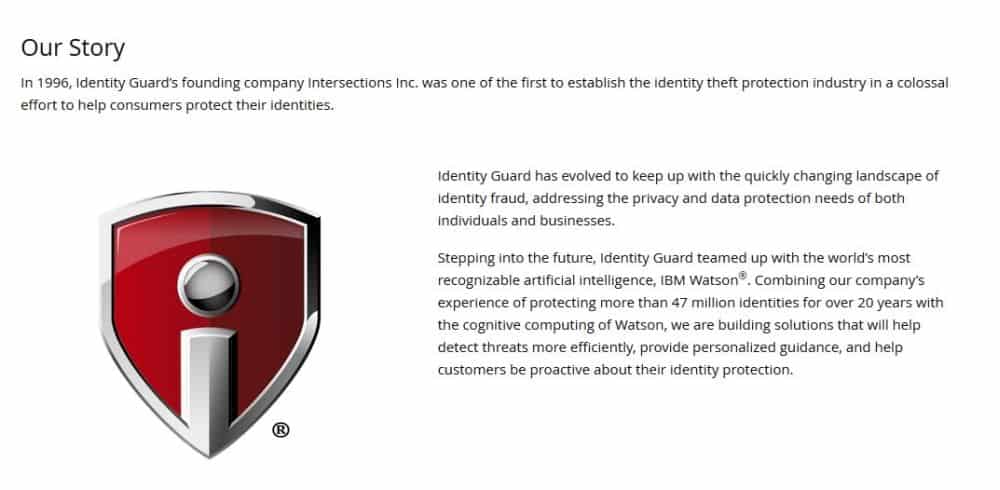 Identity Guard started in 1996 as one of the earliest identity theft protection services around. It helped both consumers and businesses protect their identities through breach monitoring and response systems, all ready and willing to take on the increasingly digital nature of our world.
As time went by, Identity Guard updated to stay with the times. The team partnered with IBM to access the Watson artificial intelligence to scan as many records as possible, providing incredibly comprehensive monitoring coverage for its users. This helped put the company at the forefront of innovation, and it has kept them there for years.
Identity Guard's mission is to empower users to have full control over their online identity. It's a well-established and well-regarded company that users across the U.S. trust with their information on a daily basis.
Verdict
Keeping track of such a monumental thing as online identification seems like an impossible task. Services like Identity Guard help ease that burden with fast, automated scanning and instant alert systems put into place to protect you 24/7/365. It's a great way to set background monitoring and forget about it, allowing you to rest at ease knowing someone's got your back at all times.
Identity Guard is relatively easy to set up. It requires a lot of information up-front, meaning you'll have to enter plenty of personal details before even seeing your dashboard. Once your account is created, though, nearly everything happens automatically. You don't have to worry about creating alerts for every area of your life, Identity Guard and Watson are on the case.
The downside to Identity Guard is also one of its biggest upsides: subscription plans. On the one hand, joining Identity Guard is extremely affordable, with some of the least expensive plans on the market. Deciding which one to try can be frustrating, however, with so many features split off into different subscription tiers.
If you can navigate the sign-up process, Identity Guard is definitely worth the effort. It's one of the most affordable and powerful identity theft monitoring and alert services on the market, making it easy to keep your ID secure without lifting a finger.
Have you ever been a victim of identity theft? Have you used Identity Guard or a similar service? Let us know your experiences in the comments below!