We are reader supported and may earn a commission when you buy through links on our site.
Learn more
Instant CheckMate Review: Best Background Check Services
Instant CheckMate
Instant CheckMate offers a fast and accurate background checking service with very few drawbacks. Subscribers can access unlimited reports with results coming back instantly and information delivered to customers in a really user-friendly way thanks to their great selection of online tools.
Pros
Fast and accurate research service
User-friendly dashboard
Clear, easy-to-navigate reports
Great customer service
Cons
Pricing a little on the high side
Drawn-out search experience on home page
No iOS app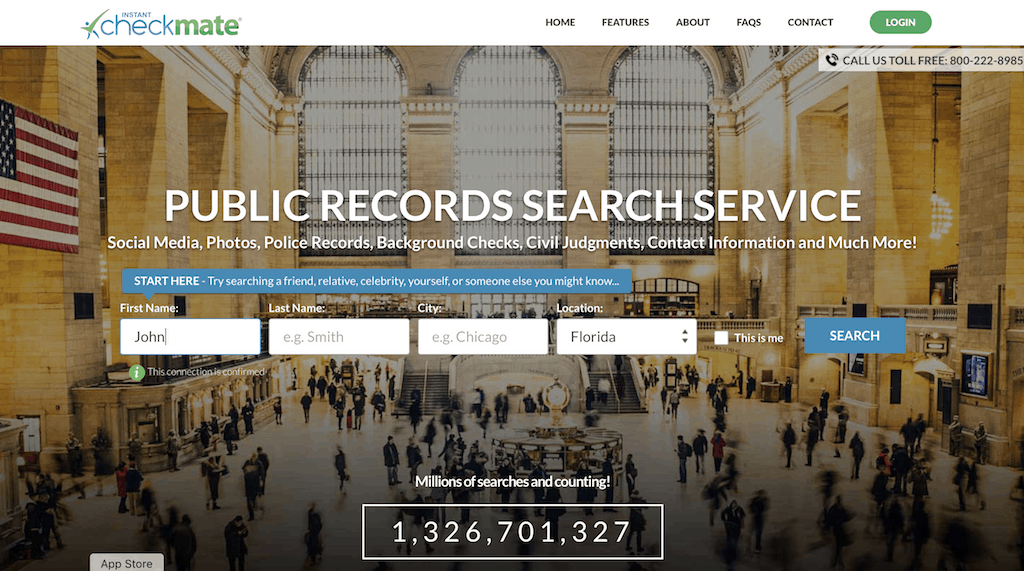 Instant CheckMate is one of the best known and highest-regarded background checking sites out there. It boasts one of the largest people search engines in the world, making use of it to fulfill their mission to help people "learn the truth about the people in their lives". The counter on Instant CheckMate's homepage tallies the 1.3 billion (and growing) searches conducted since the site began. But quality doesn't necessarily equate to quality, so how does Instant CheckMate actually perform in practice? In this review, we are going to tell you everything you need to know about Instant Checkmate.
How Does Instant CheckMate Work?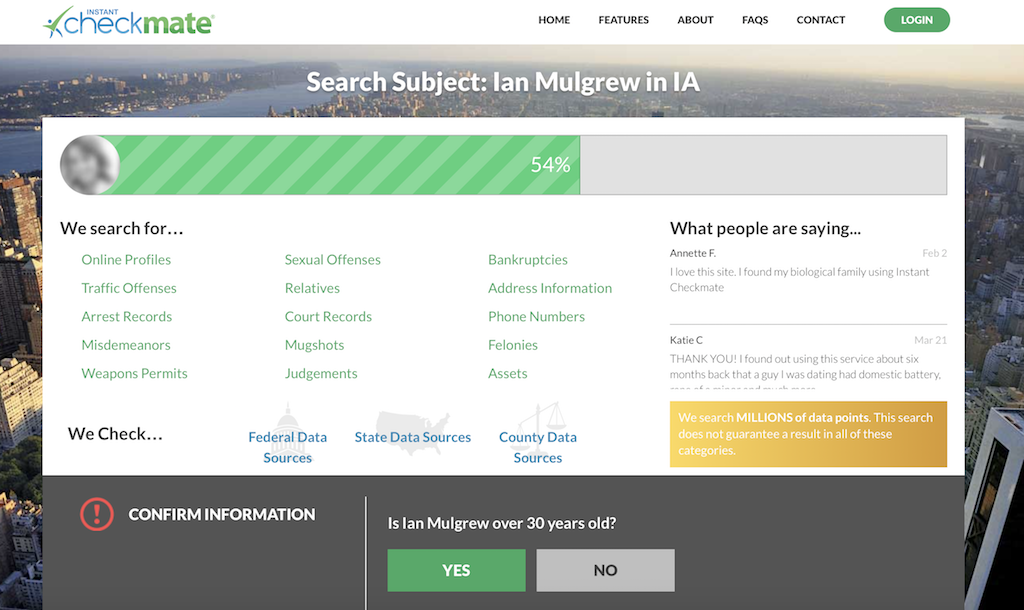 Instant CheckMate works a bit like a search aggregator. When someone enters the name or details of someone they want to find out more about, the site runs searches in the various public information databases it has access to, and then returns everything it finds in a simple, easy-to-read report. It really is as simple as that! For most users, the results they need will appear on screen in just a few seconds. For others, who want more in-depth or harder to find records, the process could take up to a few days longer.
Instant CheckMate is not an FCRA-verified background checking site, and thus cannot be used for running background checks for employment or credit checks. On the other hand, CheckMate is free to source a far greater variety of data than services bound by FCRA compliances.
All you need to do is enter a name and whatever other data you may have, and Instant CheckMate will do the rest for you.
Instant CheckMate Subscription Packages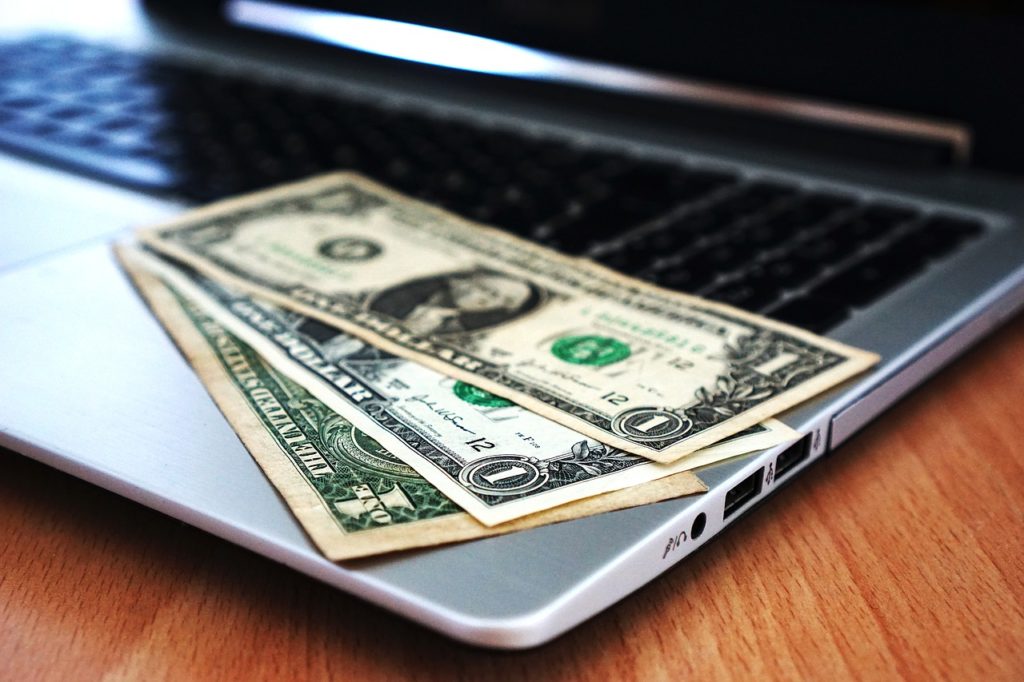 If you want to sign up to Instant CheckMate's service, there are a number subscription packages for you to choose from:
Trial Membership – A trial membership will set you back just $1 and give you access to the full service for 5-days.
Standard Membership – A standard membership package will give you access to unlimited reports, each containing plenty of information for just $22.86 a month.
3-Month Standard Membership – A 3-Month Standard Membership package will give you a discount on the 1-month package. You will be billed $44.58, which works out to $14.86 a month.
6-month Standard Membership – A 6-Month Standard Membership package will also give you a discount on the 1-month package. You will be billed $59.16, which works out to a mere $9.86 a month.
Premium Reports – If you want to access a premium report on one of your searches, which contains even more information, you will need to pay an additional fee of $19.99 each.
PDF Fee – Instant Checkmate also charges a one-off fee of $1.99 to provide PDF copies of all its reports.
Instant CheckMate doesn't appear to have a standard refund policy. A look at their terms and conditions states that they handle refund requests on a case-by-case basis "with the ultimate goal of complete customer satisfaction." You are also required to sign up online too. Instant CheckMate cannot currently open up accounts over the phone,via email, or through mail-in requests.
One important subscription feature to note is that Instant CheckMate takes payments for all subscriptions up front. It also has a policy of automatically renewing accounts unless users contact them to explicitly end their subscription. They claim that this policy is for 'user convenience' but a look through user feedback suggests that there have been a few occasions where users have found their account being debited even when they thought they had cancelled. In most cases, Instant CheckMate appears to have refunded the money taken, but it is nonetheless an annoying (though preventable) situation.
What Information Does a Basic Instant CheckMate Search Provide?
When you run a background check through Instant Checkmate, the dashboard will generate an instant report which contains all the information they have found. There is a handy navigation bar on the right-hand side of the screen which places this information into categories. Those categories are:
Timeline – Instant CheckMate can place the information it has found about a person in chronological order if you wish. You can click here to view this timeline.
Personal – The type of personal information offered includes full name, age, date of birth, astrological sign, photographs from social media, social security number, and current and former jobs.
Related People – This section links to people CheckMate has found to be related to the subject, such as family and close friends. It also lists likely associates, as well as detailing precisely how they are connected.
Contact – This section will include known cellphone and landline numbers, along with any email addresses linked to the subject.
Location – This section includes a map which highlights places where the subject of the search has connections. It also highlights addresses they are linked to, including a Google Earth image of the property and the dates that they lived there. It also lists possible neighbors of the subject at these addresses.
Criminal Records – If your subject has a criminal or arrest record local, state, or federal level, details of it are shown here. It also details whether any of their identified family members or close friends have a criminal record too.
Finances – This section includes details of any bankruptcies, liens, court judgements, evictions, and UCC filings on record.
Social – Details of the subjects Facebook account is listed here including usernames, user IDs, the web link, and any tags on the page. There are also details of their LinkedIn accounts, Google+ account, White Pages profile, and any other social media account that the person may have.
Business – Any business affiliations, corporate filings, or trademarks associated with the subject are listed here.
Licenses – Details of any possible Federal Aviation Administration (pilots) licenses, DEA controlled substances licenses, professional licenses, hunting licenses, and concealed weapons permits, are listed here.
Assets – This section will detail any properties owned by the subject. It will also provide current and previous mortgage details relating to that property as well as information on previous owners. There will also be details on any aircraft or vehicles owned by the subject.
Sex Offenders – This section lists any known sex offenders which may live close to the subject's principal address, as well as whether the subject themselves appears in any sex offenders registers.
Where Does Instant CheckMate Source Its Information?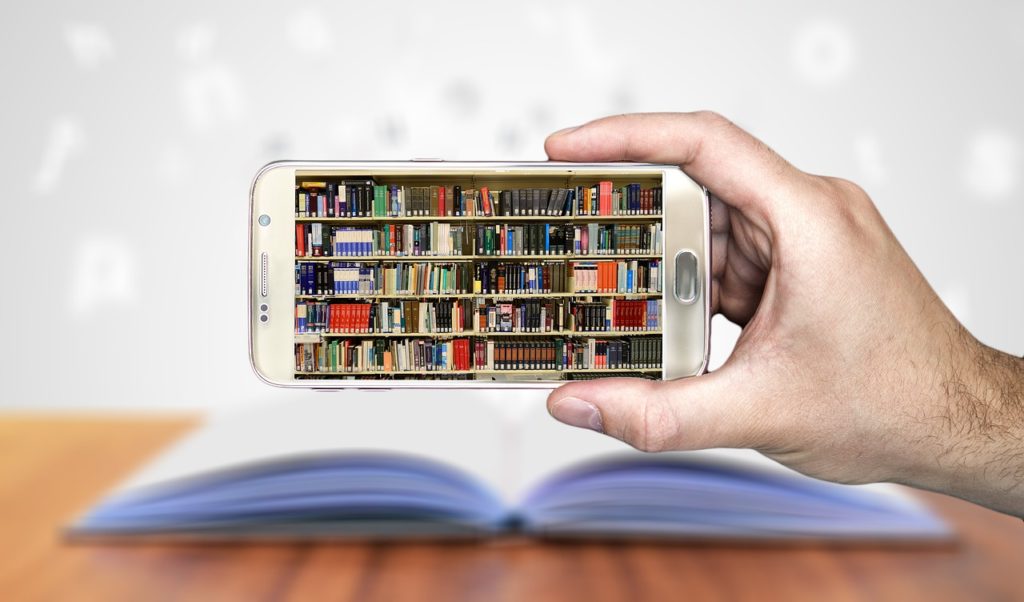 Instant CheckMate offers information from a comprehensive range of Government data sources, as well as a large number of social media sites. Amongst the data sources that are used in all searches are:
Voter registration
Civil judgments
Local police department records
State police records
Superior court records
Sheriff's records
Sex offender databases
Local census data
DEA licensing
FAA pilot licensing
Among the social media sites that Instant CheckMate will search are:
Facebook
Twitter
LinkedIn
Tumblr
MySpace
Pinterest
DateHookup
Google+
Instagram
How Does Instant Checkmate Perform?
First Impressions
When you first visit the Instant CheckMate site, it all looks very clean, simple, and professional. In front of a striking image of Grand Central Station, there is a selection of boxes where you are invited to enter the name, city, and location of the person you wish to search for. When you enter these details, you are sent to a search page, which shows you scrolling images of people's faces and a progress bar. It will ask you a few additional questions about the person you are looking for.
After entering this information in, the site will seemingly begin a search, continually alerting you that relevant data has been found. After about 15 minutes, this process will conclude, and you will be prompted to sign up for their service to view the report. What's odd is that when you do eventually sign up, subsequent reports are generated almost instantly. Clearly, this charade is intended to build anticipation prior to sign-up, but feedback suggests many potential customers find it frustrating to the point of being put off altogether. Given that one of Instant CheckMate's primary selling points is indeed near-instant results, this is a perplexing marketing tactic.
Thankfully, this somewhat negative first impression does not extend to the rest of the service. Read on!
The Dashboard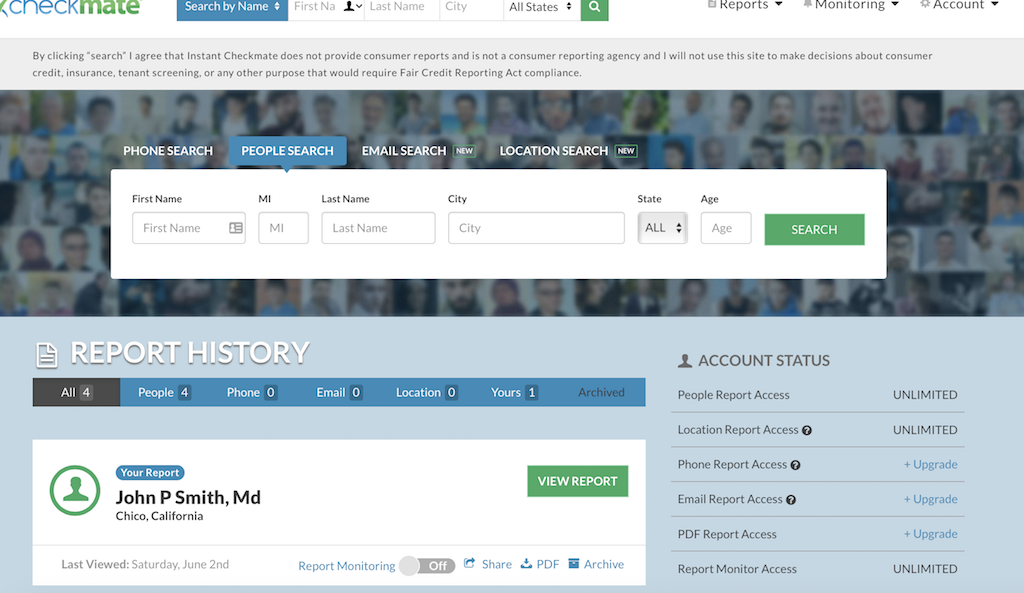 Signing up with Instant CheckMate is a really simple process thanks to their clear onscreen instructions which walk you through the entire process. Once you have set up your account you will find yourself on their dashboard. This will be your homepage for as long as you are a subscriber. It is a cleanly designed and easy-to-navigate space. At the top of the screen are the boxes to enter the details of the next person you want to check up on.
To the right are your account details and options to upgrade to some of Instant CheckMate's bonus features, and in the center of the screen is your report history. Here you can see all of the reports you have run so far, as well as a selection of recommended reports based on your last subject. It is very easy from the dashboard to view these reports, search through multiple reports, download and share reports, and more. At the very top of the page are the main menu options. This is where you can look for customer support, the FAQ section, and more options. It is a thoroughly impressive interface, and undoubtedly one of Instant CheckMate's strongest features.
Mobile Apps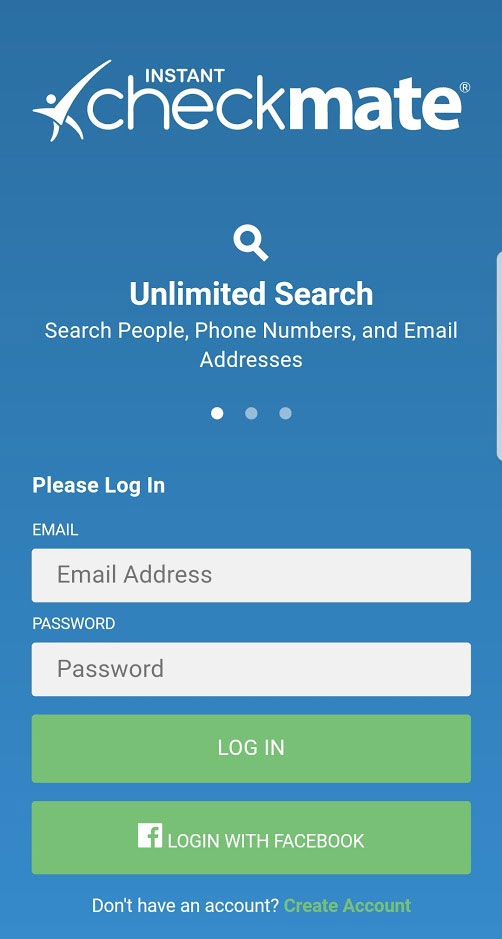 Instant CheckMate offers a dedicated app for Android devices. Like their dashboard, we found this app to be well-designed and intuitive to use. Like all reputable Android apps, Instant CheckMate's can be download from the Google Play store. You will need to have signed up for an account online first, but once you have your account details, you can log-in, view reports, and run new checks quickly and easily. There is not currently a dedicated app for iOS devices, and we hope to see improvement here in the near future. 
The Reports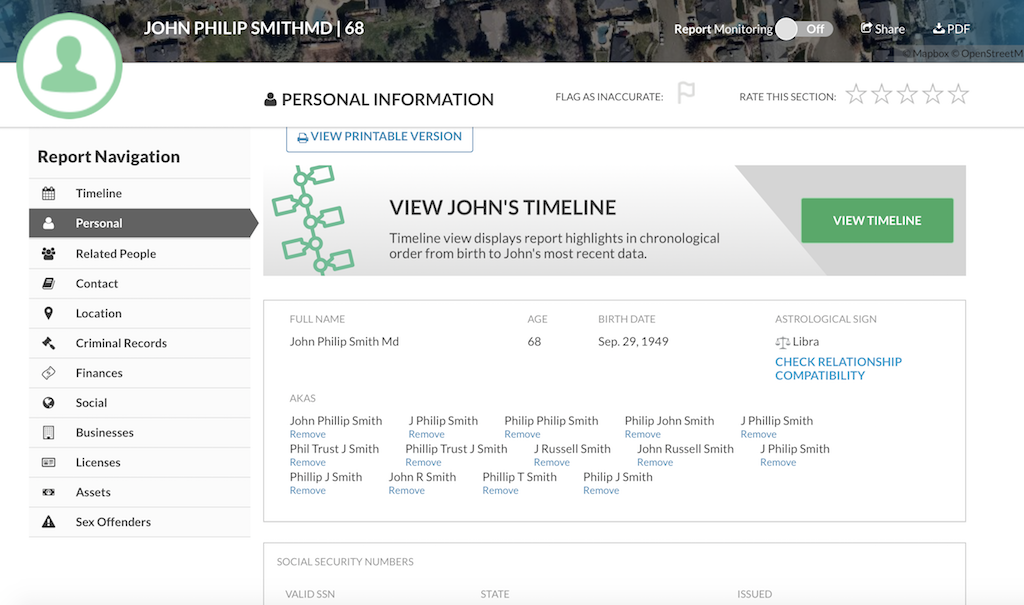 The reports themselves are dead simple to navigate, and very clear and pleasing to the eye too. At the top of the page are the subject's name and address details (in front of a Google Earth image of their address). To the left of the screen is a menu which lets you jump to a particular section of the report. In the center of the screen is the full report. The data it contains is detailed, but nevertheless well laid-out in clearly headed sections, with boxes used to separate data. It is also quite easy to share the report or download it as a PDF at any point while you are looking at it.
Accuracy
Instant CheckMate's research offers an impressive level of accuracy. In our testing, we found very few errors. Obviously, this can differ depending on who the subject being looked up is. Most of the errors we did encounter resulted from searches run on people with fairly common names, so perhaps this is more understandable. When you do encounter an error, Instant CheckMate is always keen for you to tell them. There are options for you to rate sections and leave comments throughout their reports, and you can remove data that you know to be incorrect too.
What Sort of Customer Support Does Instant CheckMate Offer?
The customer support service offered by Instant CheckMate is truly impressive. They have a Member Care helpline which is open seven days a week, from 5am – 10pm PST (8am – 1am EST). The staff manning this service are always really helpful in providing assistance with technical queries, service or account issues, and will even do their best with your report results too. We found that calls were answered quickly even at busy times, although of course if you are unlucky to pick a peak time, you may need to wait a little longer. You can email Instant CheckMate for advice, too.
Finally, there is also a fairly comprehensive FAQ section on the member's section of the website. This is well worth taking a look at before contacting the support staff directly, as it is quite likely you will find at least some of the answers to your questions here.
Is It Safe and Private to Use Instant CheckMate?
Using Instant CheckMate is 100% safe. Every background check run on the site is completely private, and it is impossible for the subjects of your search to find out that you have checked up on them. Ultra-cautious users will be glad to know that you don't even have to create an account to use Instant CheckMate. All you need to provide is your name and email address. You can also find out if Instant Checkmate holds records on the person or people you are interested in without even entering those.
To access the data they have found, you will need to subscribe to Instant Checkmate, but this is a safe process too. All transactions are protected by Norton Security, backed by a 128-bit encrypted connection to ensure that your payment is secure. If you are worried about Instant CheckMate retaining your credit card details, you can even ask to have your information removed from the site on its opt-out page.
Conclusion
We were extremely impressed with the all-round service offered by Instant CheckMate. Everything they offer on their site is clear and well-thought through. Their pricing is a little on the high side, but it does offer an unlimited number of reports, which means you can get information on hundreds of people even on their trial membership. We were pleased with the level of detail and accuracy in their reports too. Their dashboard and Android app both look great and perform really well, although the lack of an iOS app is a definitely a disappointment. Their website too is pretty neat, although all the drawn-out mock searching when you first arrive there is rather unnecessary.
All-in-all, Instant CheckMate is quite obviously one of the best Background sites around and, whatever your reason for wanting to run a check, it is a site you can depend on to do a top-quality job.
Have you used Instant CheckMate's background checking service? How did you find it? Did their reports and the information they found live up to your expectations? Which bits of their service impressed you the most? Were there any areas of their service which you were disappointed with? We always welcome comments and feedback from all our readers, so why not share yours with us today using the comment box below.