DriverPack Solution for Windows: Download, Install + How to Use
If your device drivers are old and obsolete, this can cause serious problems on your computer. For example, you might not be able to play a game due to your outdated GPU driver, or you might experience network connectivity issues because of faulty network drivers.
The easiest way to solve these errors is by keeping your device drivers up to date. Technically, you should be able to do this on your own by identifying the device type in Device Manager and by searching the web for newer versions.
However, it's risky, especially if you haven't done it before. You could end up installing an incompatible driver that will cause even more computer problems.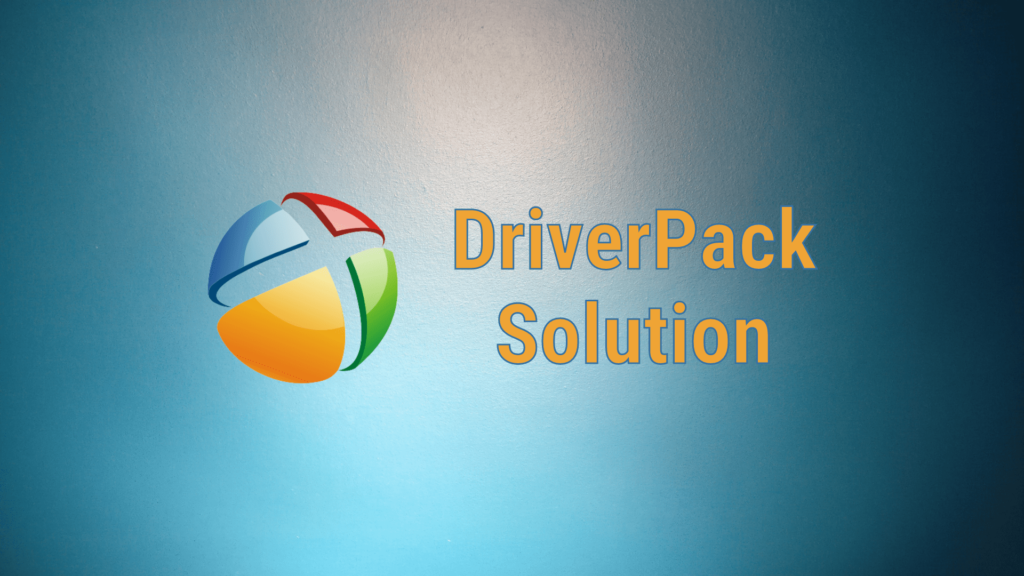 Instead of doing this, you can turn to a software solution that specializes in driver updates, such as DriverPack Solution. It's a popular tool in the user community as well as freeware and includes a huge database.
It automatically detects your outdated drivers and finds newer versions online, asking you to download and install them with just a couple of clicks.
How to download DriverPack Solution
You can get the DriverPack Solution download links from the official website. If you click the Install all required drivers button, you will download DriverPack Solution Online. It's lightweight and requires an active Internet connection to find newer drivers online.

If you're interested in DriverPack Solution Offline, then click Other DriverPack versions to get the network or full edition. DriverPack Offline Network has an offline database with network drivers and doesn't need an Internet connection.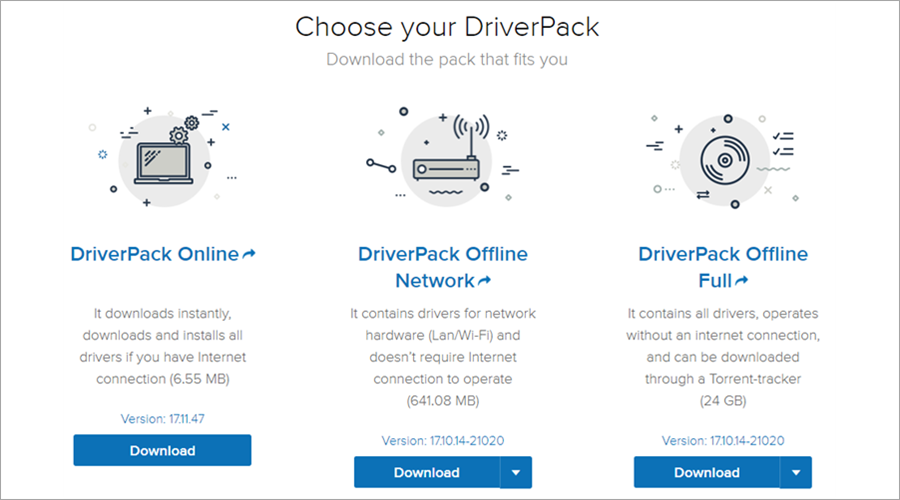 The full version is the largest one, contains all types of drivers, and doesn't need the online environment. It's ideal for updating computers without a working Internet connection.
How to use DriverPack Solution
By default, DriverPack Solution diagnoses your computer for problems and safely configures it without installing any drivers. It shows the exact drivers it wants to update on the right side. It's better to go with this option so that you can inspect everything up close.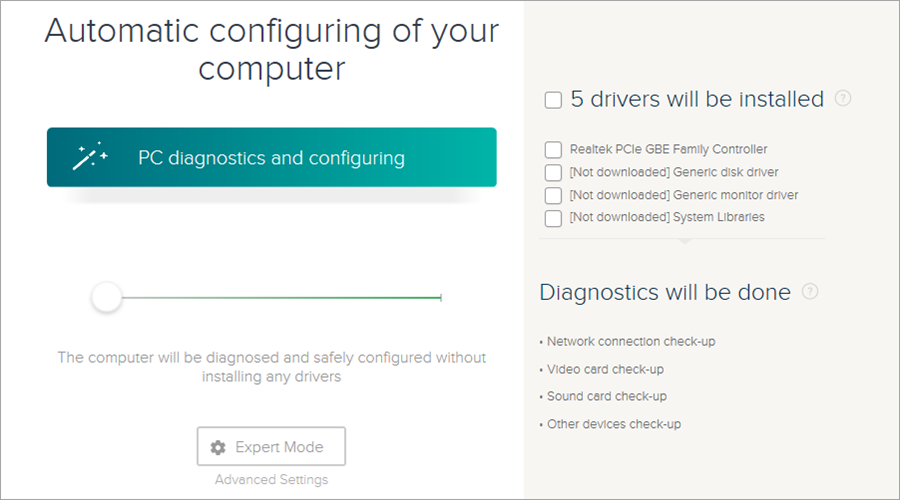 Instead, the application recommends going for the automatic option, which installs and updates all required updates. We don't really agree with this, but it's ultimately your call.
Meanwhile, skilled users can switch to Expert Mode to closely examine all drivers and select the ones to update while excluding the rest.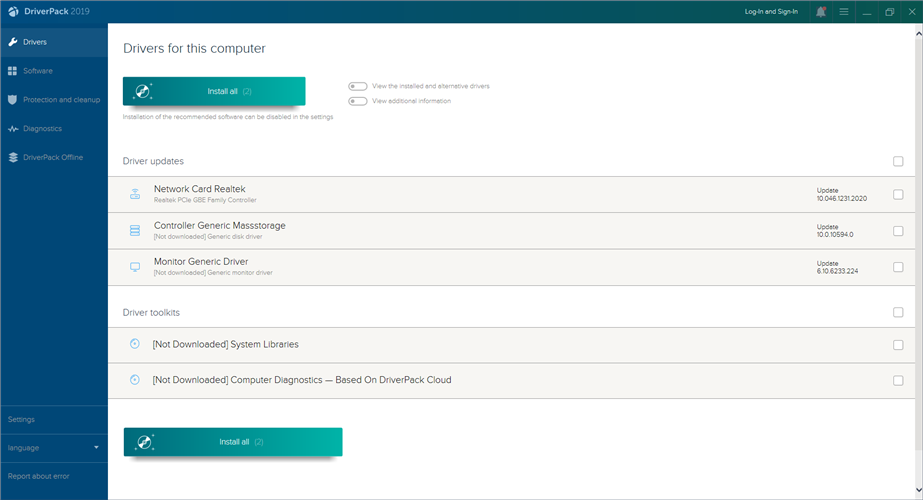 DriverPack Solution can also remove suspicious tools from your computer in the Protection and cleanup area. It has a Diagnostics section that collects data about your PC and displays it in a single place.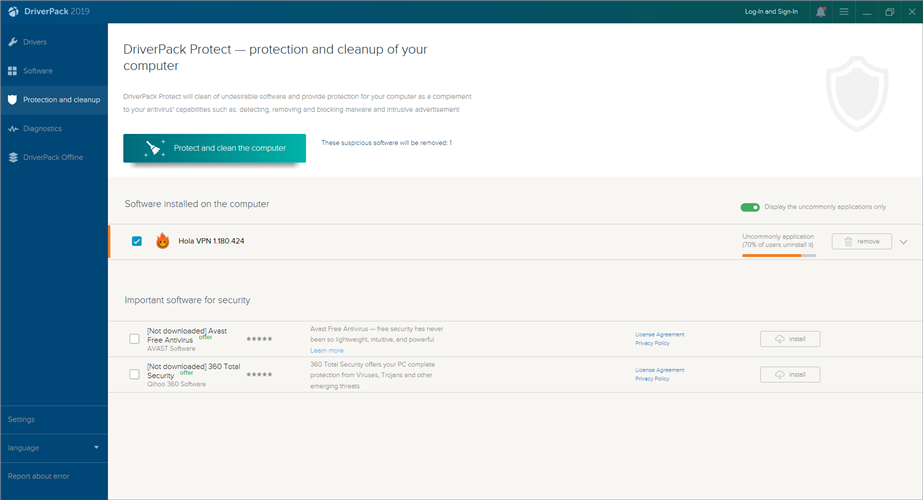 You can also change the interface language, create system restore points automatically, back up drivers, and prevent the app from auto-installing recommended drivers.
Is DriverPack Solution safe and legit?
It's pretty clear that DriverPack Solution mainly addresses inexperienced individuals who want to quickly update all their device drivers, without giving it a second look. Because of this, the entire process is automatic.
However, it can be easily perceived as intrusive since DriverPack Solution starts modifying your computer settings as soon as you launch it, and it can be difficult to stop the process. Most advanced users can't be pleased with it.
Furthermore, the interface is filled with third-party offers that get installed even if you accidentally click them, such as the Software section.
Some users have also reported that DriverPack Solution installs third-party applications without consent, which is definitely deemed as malicious behavior. It even triggers some malware reports, according to its VirusTotal report.
Conclusion
DriverPack Solution does a good job when it comes to detecting outdated drivers and installing the latest versions to get your computer working well again. It's fast, effective, and easy to use.
But it's impossible to overlook the bad behavior reported by users that trusted DriverPack Solution to not install unwanted software on their machines.