Add, Switch, And Change Workspace In Ubuntu Linux
Workspaces is one of the perks in Linux based systems that allows user to manage the open windows and running programs. You can consider workspaces as virtual screens which you can switch between at any time. You will get the same desktop, panels, and menu in every workspace. However, the main purpose of workspace is that you can run different applications and open different windows in each workspace. Whenever you will switch the workspace there will be no change to the applications running in the first workspace, they will keep running normally.
By default, Ubuntu launches two workspaces (named as Desk1 and Desk2). Lets see how we can switch from one workspace to another, its pretty easy.You will be able to see Workspace Switcher located in the Bottom Panel before the Trash icon, as shown in the following screenshot.

By default, there are two buttons in workspace switcher as there are total two workspaces, you can switch to second workspace (Desk2) by clicking the second button.
Now lets see how we can switch any particular application from one workspace to another. Right click the application and choose Move to Another Workspace. For example I moved Firefox to second workspace as illustrated in the following screenshot.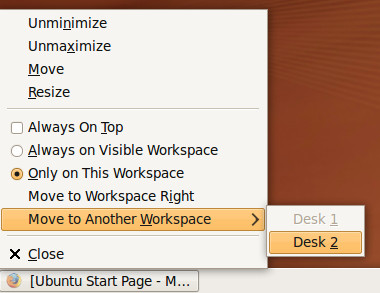 Isn't it simple ? Now lets explore how we can add further workspaces, right click the Workspace Switcher, and choose Preferences.
Now, Workspace Switcher Preferences box will be displayed, increase the column value to 3 and click Close.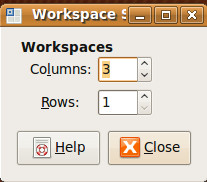 Now, you will be able to see third workspace added as well.

Enjoy!