The 7 Best Weather Apps For Linux
If you're a Linux user that cares deeply about the weather forecast, you should seriously consider installing a dedicated tool that can give an accurate readout. The trouble is, there are so many apps to choose from. Since there are just so many weather apps for Linux, we've decided to sort through them all and condense it down to the absolute best ones available!
Here are the 7 best daily weather tracking apps to install on Linux!
1. Cumulus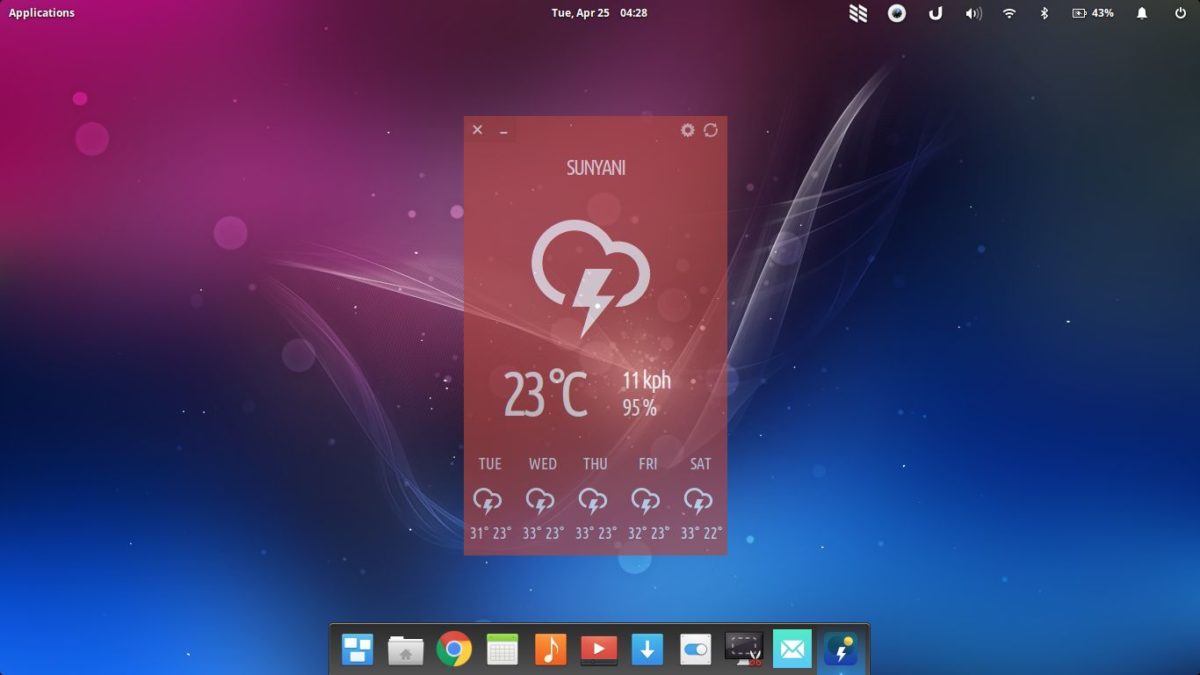 Cumulus is a beautiful weather application for the Linux desktop that delivers forecasts with the power of Yahoo Weather. Thanks to the app's minimalistic design, finding out today's weather on your Linux desktop has never been more comfortable.
The Cumulus app is readily available on Ubuntu and Debian-based Linux distributions via a Debian package. Alternatively, users can download a standalone binary for use on other Linux operating systems.
Notable features
Powered by Yahoo! Weather, one of the most popular places for forecasts online.
Because of its use of Yahoo, finding an exact location takes little effort.
Supports multiple types of temperature measurements. Specifically, Kelvin, Celsius and Fahrenheit readings.
Doesn't just show the weather at the current time of day. Instead, it also indicates a 5-day future forecast and today's climate.
Displays rain chances and wind speed.
Wind speed displayed in both Imperial and Metric units.
Open source and well supported on most Linux distributions.
Stylish user interface.
2. Meteo-Qt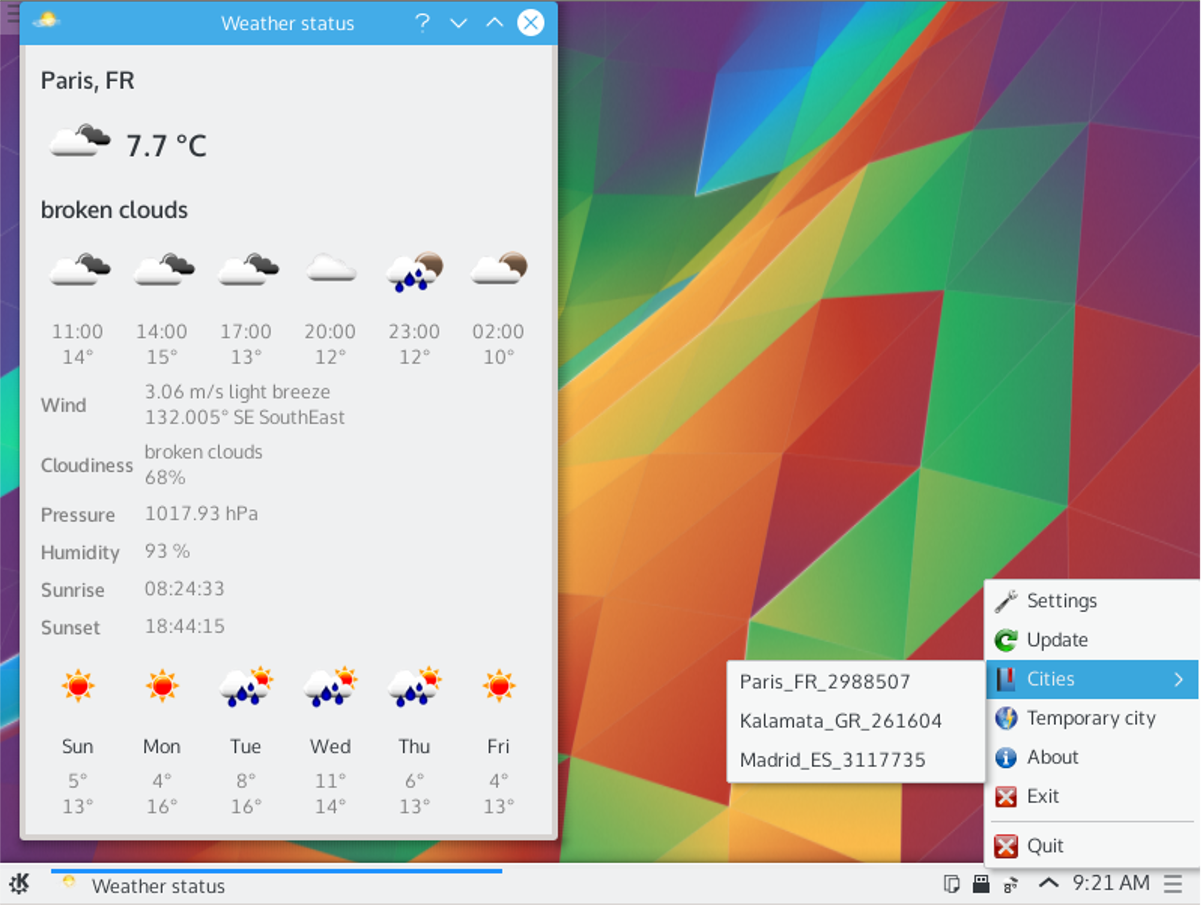 Those looking for an excellent weather forecast app to fit into the Plasma desktop need look no further than Meteo-Qt.
Meteo-Qt is a Qt5 weather application that makes heavy use of open source technologies to deliver a detailed 6-day forecast, complete with climate conditions, and more.
Notable features
Makes use of OpenWeatherMap.
Displays 6-day future forecast.
Shows chance of rain, sunrise time, cloudiness, wind speed and even air pressure.
Qt-5 based, so it fits in well with the KDE Plasma 5 desktop environment.
Highly customizable (font appearance, tray icon, and temperature readout).
Supports Celsius, Kelvin, and Fahrenheit.
Tool-tip notifications can quickly show the user weather conditions.
Support for AppIndicator and GTK, along with Qt5.
3. OpenWeather For Gnome Shell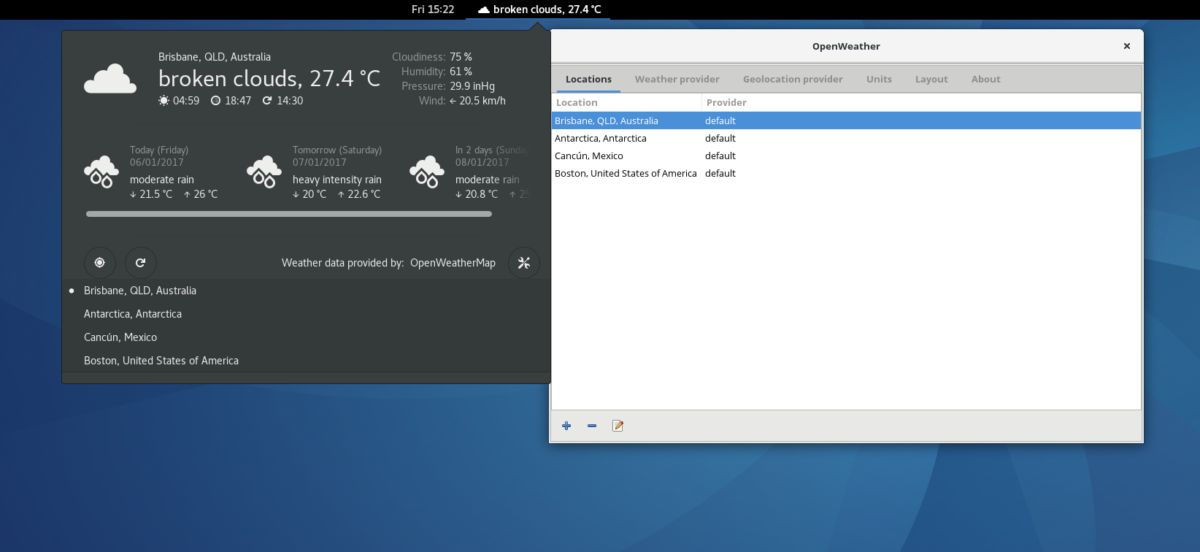 Gnome Shell has a very minimalistic design, so if you're in need of a weather application for your desktop, the OpenWeather extension has just what you need.
Don't let the fact that OpenWeather is a mere extension fool you; it's got some killer features packed inside.
Notable Features
Ability to show multiple weather locations at a time.
Users can change the forecast source (either OpenWeatherMap or Darksky).
Can use Gnome Shell's location feature to find the location instantly.
Support for both Celcius and Fahrenheit.
Shows cloudiness, humidity, sunrise/set, wind speed and pressure.
Simple user interface helps it blend right into the Gnome desktop.
Support for future forecasts.
4. WeGo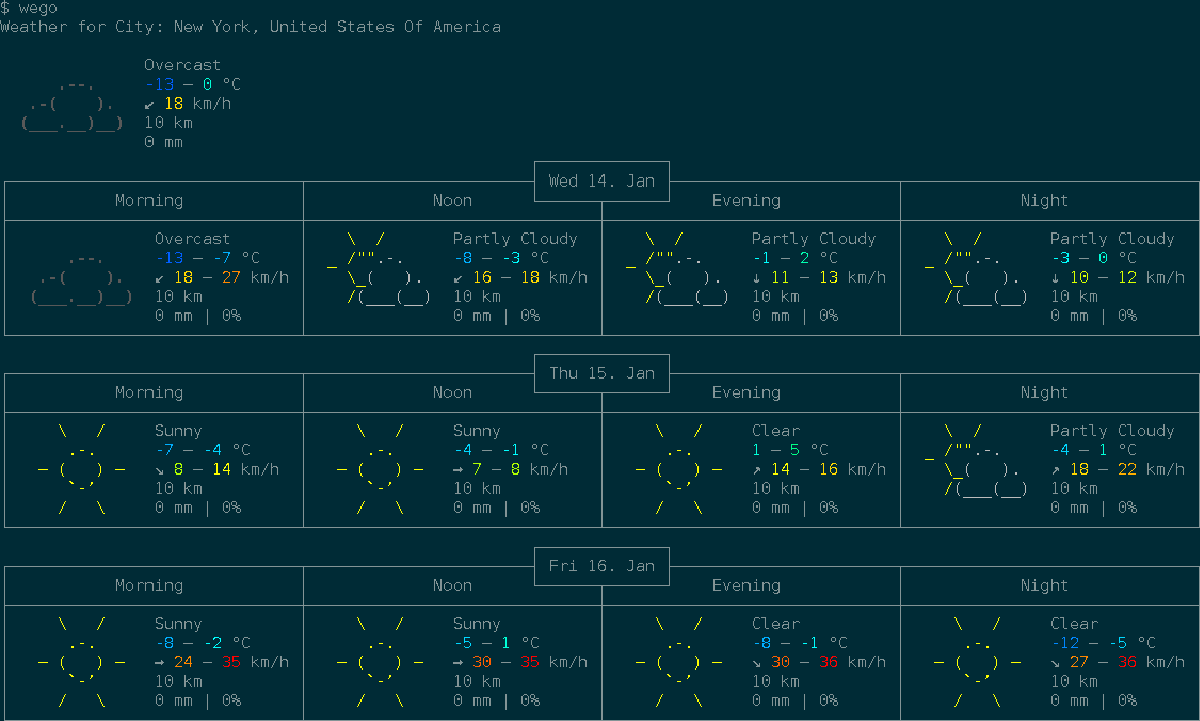 Need to check the local weather forecast from the Linux command line? Consider checking out WeGo! It's a terminal-based weather forecast application that can show a detailed, text-based (ASCII) readout of the weather.
Notable Features
Terminal-based means WeGo uses minimal computer resources.
Displays the climate for a single day, along with a 5-day future forecast.
Can connect over SSL for maximum security and privacy.
Can display wind speed, wind direction, the chance of rain, etc.
Built with Google Go makes installing it easy, no matter how obscure the Linux distribution.
Displays temperature in both Celcius and Fahrenheit.
5. My Weather Indicator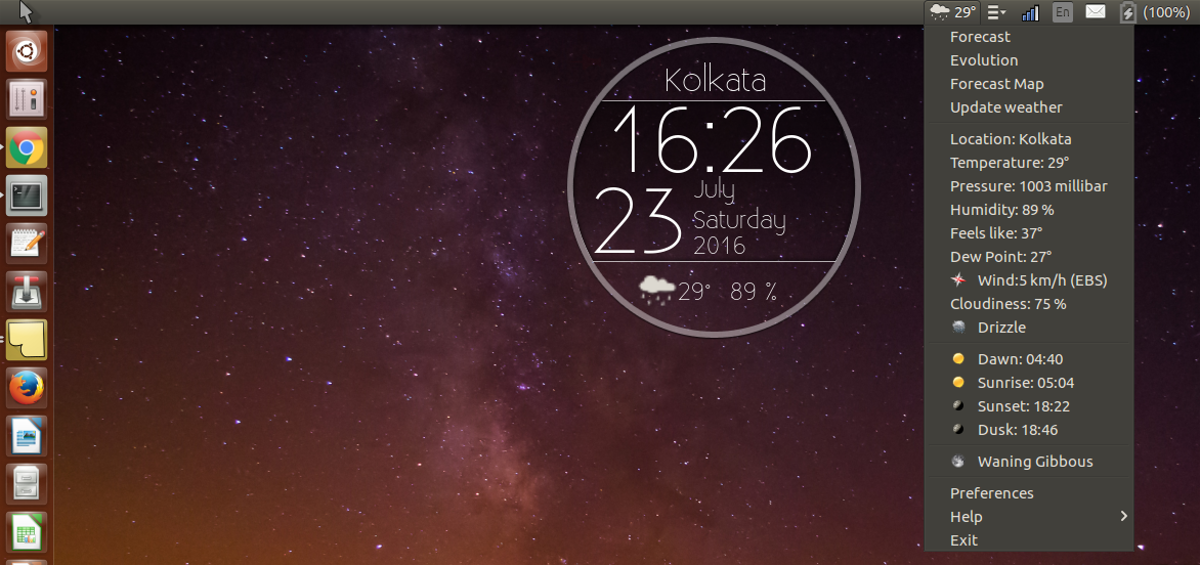 The My Weather Indicator app is an incredibly detailed weather forecast app for the Linux desktop. It features a 5-day weather report, accurate information about the sunrise, phase of the moon, the chance of rain and more!
Lots of other apps on this list have similar features, but what makes My Weather Indicator stand out is the sheer amount of information it provides. Those in need of a highly detailed weather forecast app on the Linux desktop need to check this app out.
Notable Features
Along with displaying climate conditions, My Weather Indicator tracks and displays the phases of the moon and sunrise/sunset time.
5-day futures forecast.
Shows daily forecast highs and lows.
Desktop widgets mean viewing the weather at a glance.
The user can switch forecast providers. Choice of Yahoo! Weather, World Wide Weather, and more.
Information on dew point, wind speed, wind direction, etc.
6. Coffee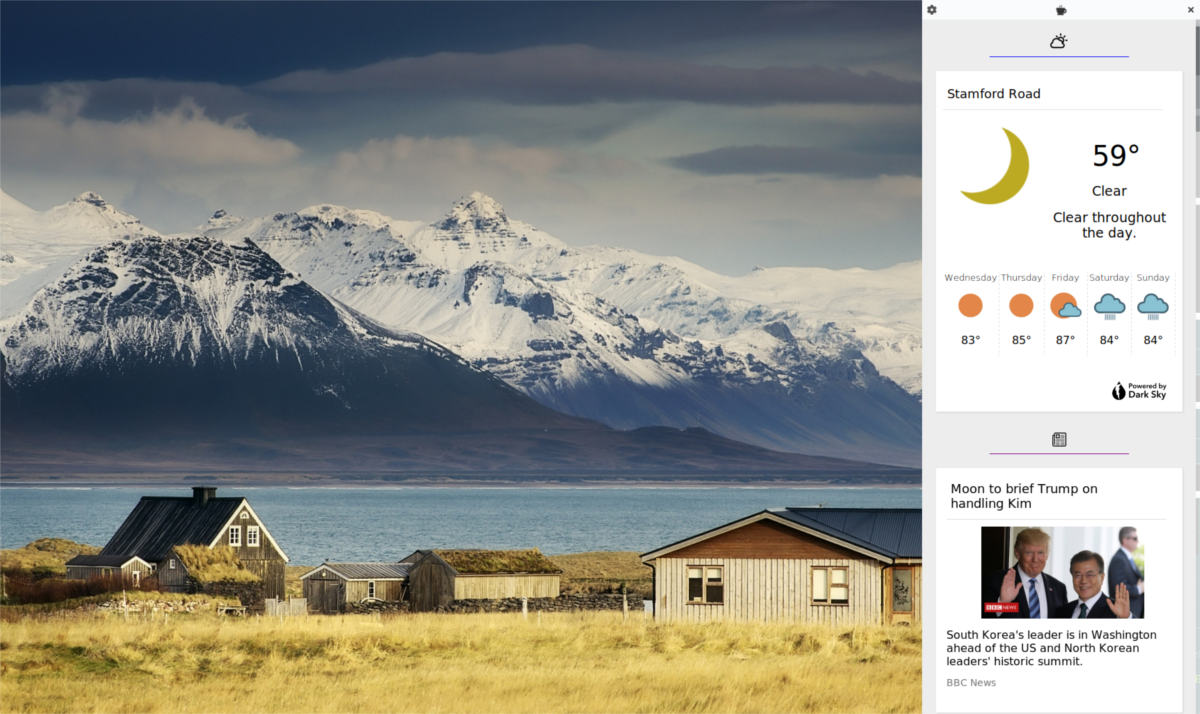 Lots of weather apps for Linux can show a futures forecast, the air pressure, wind speed, etc. — but how many of these apps can also display today's top headlines?
Introducing Coffee: it's an excellent little app that pulls news headlines from top sources and delivers them into a feed, and also manages to give a pretty good, accurate 5-day weather forecast that is easy to read.
Coffee is the perfect app for those that want more out of their weather tools.
Notable Features
Aside from displaying weather events, Coffee gives the user a constant feed of relevant news information (through BBC, Google, and other well-known sources).
5-day futures forecast.
Summarizes the day's weather in a very user-friendly way.
Makes use of tracking to detect your location (for accurate weather forecasting) automatically.
7. Temps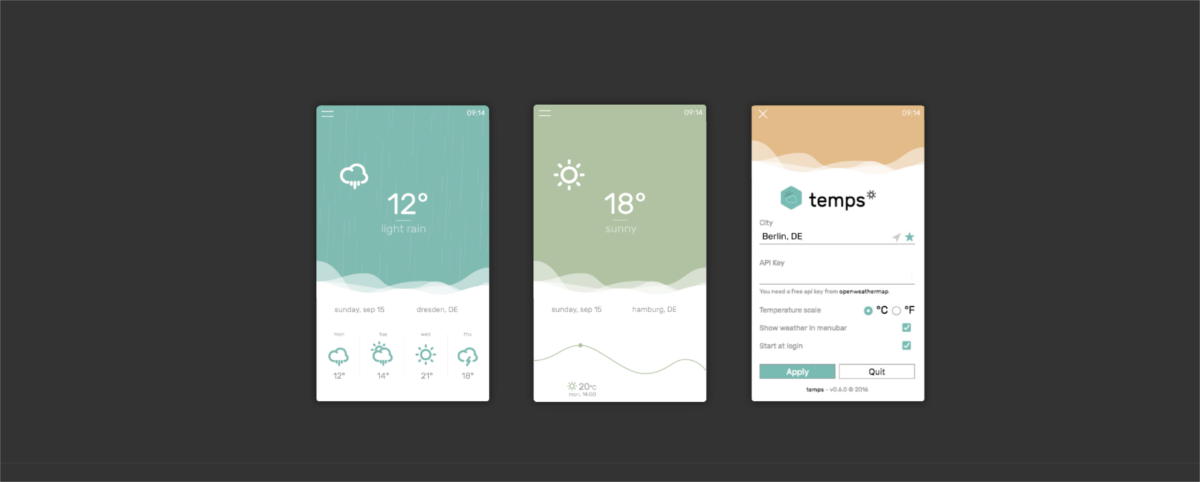 A lot of weather applications on this list have tons of features. However, if you're in need of a simple tool that tells you how hot or cold it is and nothing else, Temps may be one to try out.
Notable Features
Hourly weather forecasts displayed neatly in graph form.
4-day futures forecast.
Simplistic, easy to use interface.
Animations for weather events (snow, rain, and thunder).
Also available on Mac and Windows.