Blogilo Is A Windows Live Writer Style Blogging Client For Ubuntu Linux
Blogging clients provide authors the utility to easily write posts and add media content before publishing them on their blogs. One of the most widely used blogging client for Windows based operating systems is Windows Live Writer. Blogilo (formerly known as Bilbo) is a Linux based blogging client with many features similar to Windows Live Writer. For instance, it allows adding multiple blogging accounts to publish content online, support for fetching recent blog entries, allows saving posts as local entries, etc. Some of the other features include, a full featured WYSIWYG editor and HTML editor, support for uploading media files to a blog, support for adding images to post from your system, internal audio spell check, post preview in native theme style, support for Creating/Modifying/Deleting post, drafts and scheduling posts.
After installing in Ubuntu, Blogilo can be launched from Application –> Internet.
To add a blog account go to Blog –> Add Blog and enter the URLs, username and password of your blog in the Basic tab.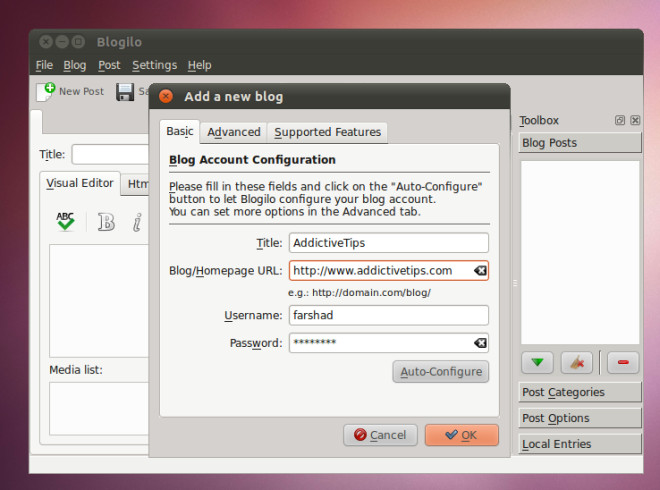 Optionally you can enter an API, e.g. WordPress, Blogger, MetaWeblog, etc in the Advanced tab. Blogilo support  Blogger, MetaWeblog, MovableType, WordPress, and Google GData (used on Blogspot.com blogs) APIs. The Supported Features tab displays an error report if an error occurs during the process of connecting to the blog.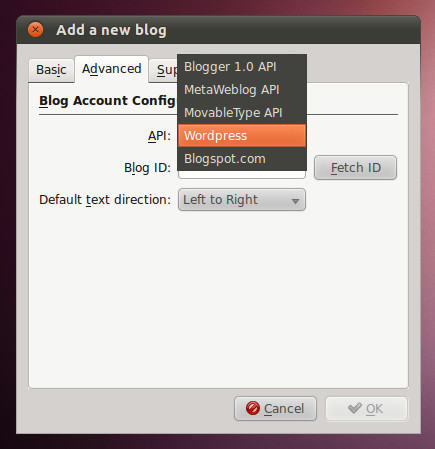 You can Submit written posts (Submit button), fetch recent posts from the blog, select categories (Post Categories button), enable comments and track back (from Post Options button), open the post in a browser (from Open in Browser button on top), create new /save posts  (New Post and Save Locally buttons) from the main interface.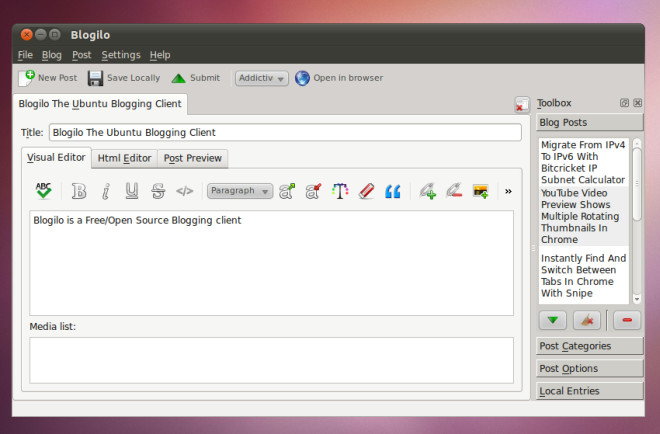 Advanced settings for Blogilo can be configured from Settings –> Configure Blogilo. The General tab allows enabling system tray icon, whereas, the Blogs tab can be used to add multiple blog accounts to Blogilo.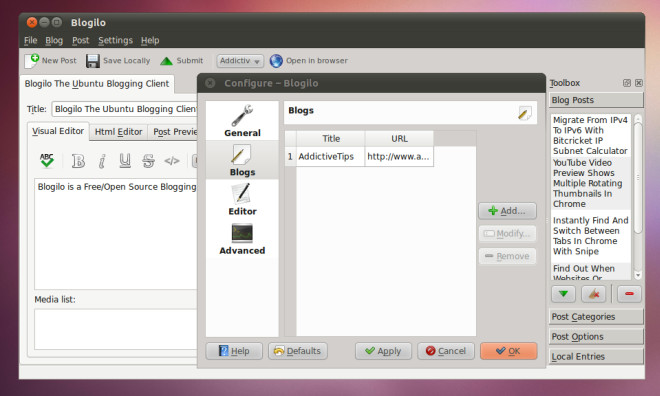 Spell check, post preview and URL caching can be enabled from the Editor tab. Whereas, the Advanced tab allows managing markup language attributes.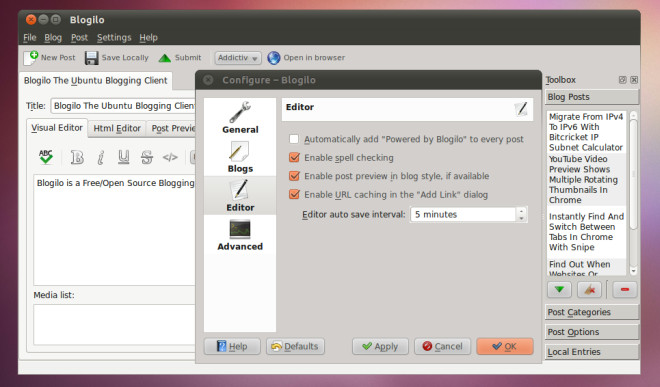 Blogilo is a useful blogging client for Linux users who wish to acquire Windows Live Writer style functionality in a Linux based blogging client.