FatRat Is An Advanced Download Manager For Linux, Supports HTTP(S), FTP, Torrent, And More
Recently we reviewed the GNOME based minimalist download manager Steadyflow, which supports HTTP, HTTPS, FTP and SMB. If you are looking for a more advanced download manager for Linux, then FatRat might just be what you are looking for. It is an open source download manager written in C++ and built on top of the Trolltech Qt 4 library. Some of the main features include Segmented HTTP(S) / FTP downloads, FTP uploads, support for SOCKS 5 and HTTP proxies, RSS feed support, BitTorrent support (including torrent creating, DHT, UPnP, encryption), RapidShare.com uploads, ink verification and folder extraction, MD4/MD5/SHA1 hash computing, and much more.
After installation, FatRat can be launched in Ubuntu from Applications –> Internet.  FatRat works from the system tray from where, upload and download speed can be viewed by hovering the cursor over the rat icon.

To start a new transfer from a common file, meta data file, URL or the clipboard, click on the Add (+) button. A  URL, file or clipboard content can be added to a initiate downloading/uploading process from the Add Special button.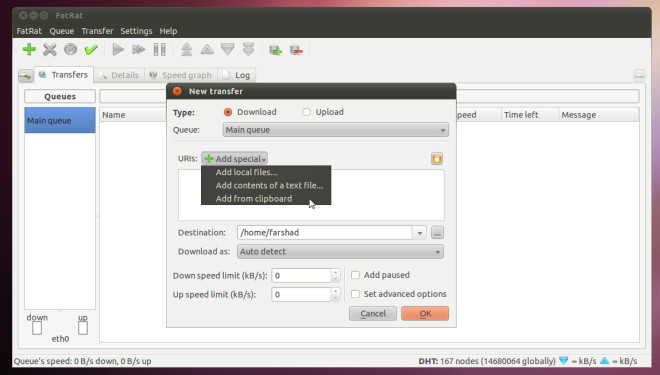 In the next step, choose a file type to download or upload, e.g. Bit Torrent, HTTP(S), FTP(S)/SFTP, etc or leave the option to Auto Detect and click OK.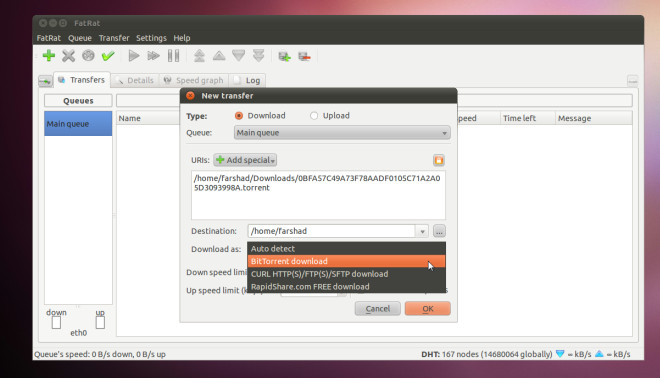 This will start the downloading or uploading process, depending on what you have selected. Multiple files can be downloaded and uploaded simultaneously. Common options such as start, pause, delete, open directory, etc can be accessed from the main interface or via right-click context menu.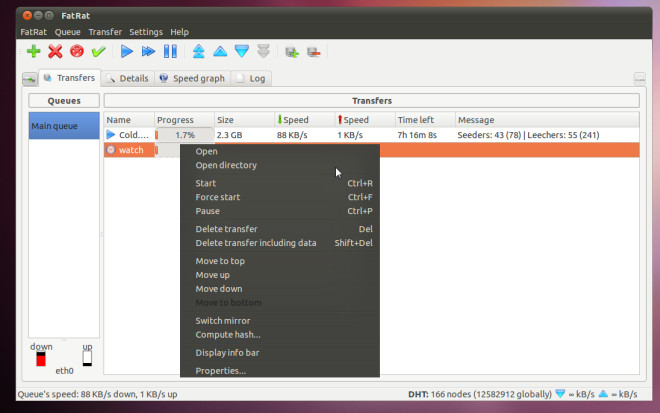 To access more advanced options, go to the Settings menu and choose Settings. From here, you can configure Bit Torrent related features, RapidShare, and CZshare or Jabber uploading /downloading (by logging into the respective user accounts). Additionally, network related information, subtitle search (via opensubtitiles.org), HTTP(S)/FTTP(S) settings can also be configured from the relevant options. The same features are also accessible from  the FatRat, Queue, Transfer and Settings menu(s) from the top of the interface.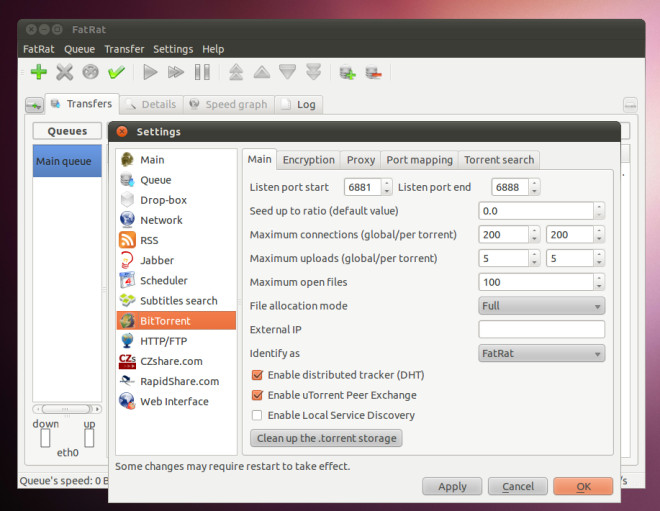 The Dropbox feature (not to be confused with the Dropbox web service), is a tiny widget, which stays on top of other windows and can be used as a drop target. For instance you can drag a link from a web browser and drop it onto the dropbox. This will open the "Add new transfers" window.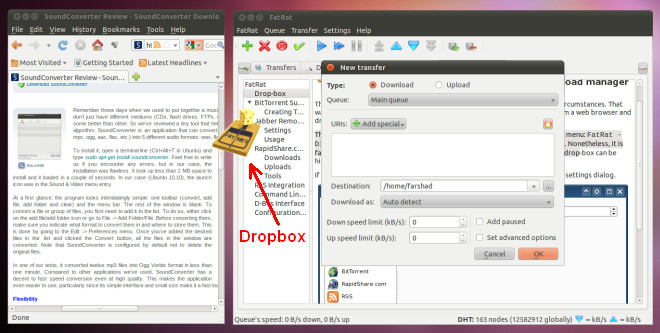 Certain features, such as, subtitle search and CZshare download/upload management options can only be accessed by installing the required plugins from the FatRat website or Ubuntu software center (for Ubuntu users). Likewise, FatRat can be integrated with the Chrome and Firefox browsers by installing the required extensions from the FatRat website.
It is available for Ubuntu, Debian, Fedora, archlinux, and other distributions.