Convert Audio Files From Many Formats In Ubuntu Linux With Sound Converter
Sound Converter is a GNOME powered desktop application for Ubuntu Linux users that converts media files into audio formats, such, as Flac, Ogg and Wav. You can convert Ogg Vorbis, AAC, MP3, FLAC, WAV, FLV, AVI, MPEG, MOV, M4A, AC3, DTS, ALAC, MPC, Shorten, APE, SID, MOD, XM, S3M, etc into the available audio conversion file types.
Sound Converter has a very simplified user interface. Just click on the Add File button, select the appropriate media file from any of your directories, and click Convert to start the conversion process. This will convert the file in your pre-defined file format. You can also add the whole folder from the main interface of this application via the Add Dolder button. After a conversion process is complete you can clear the list by clicking Clear.
In order to define a file conversion format and to configure more options, you can go to Preferences from the File drop down menu. In this section you can change the default folder path for saving your converted files, name titles for audio content, select the format that you wish to convert your files to and set bitrate levels.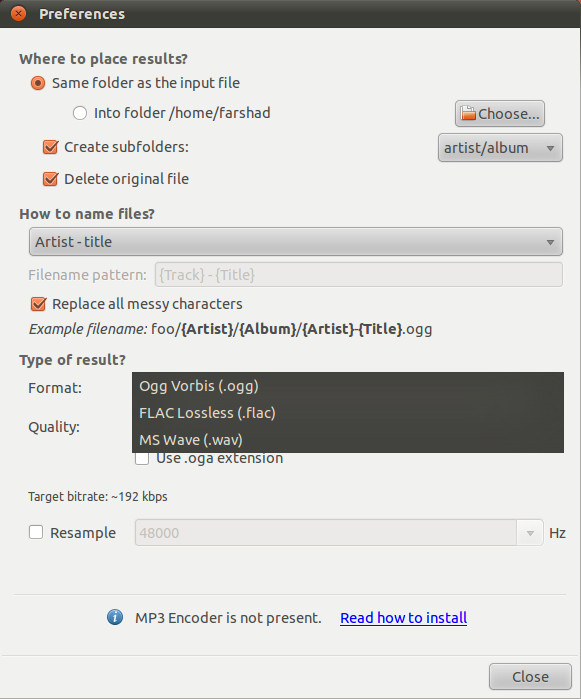 Sound Converter is a good software for quick and efficient audio conversion of your media content into specific audio file formats, but needs to support more audio output formats. This freeware was tested on Ubuntu 10.04.