KTorrent Is Lightweight Torrent Client With Nice Plugins For Ubuntu Linux
Many Windows and Linux users who download content via Torrents, use uTorrent or Azereus (now known as Vuze) Torrent clients. As we all know that the basic functionality of a Torrent Client includes using the downloading metadata file to initiate peer-to-peer exchange. When it comes to choosing between a Torrent client, users may opt for the lightweight uTorrent or go for the Vuze which has more dynamic options but is quite CPU intensive. KTorrent is a BitTorrent peer-to-peer network client for Linux users that is based on the KDE platform. It combines the qualities of Vuze and uTorrent in order to provide users with a lightweight and dynamic application to download torrents. Other than supporting the basic functions of downloading, uploading and seeding files on the BitTorrent network, it provides many more features such as plug-ins and scripts that add additional options for managing Torrents.
The main interface of KTorrent contains all the commonly used features that allows users to add/remove, view progress, seeds, chunks, peers, trackers, etc related to the torrent file(s). However, unlike other Torrent clients, users can also group torrents via the Custom groups option located on the left sidebar. IP filtering can also be conveniently done to block unwanted IP addresses (e.g. IPs known to be from malicious sources) via the IP Filter button.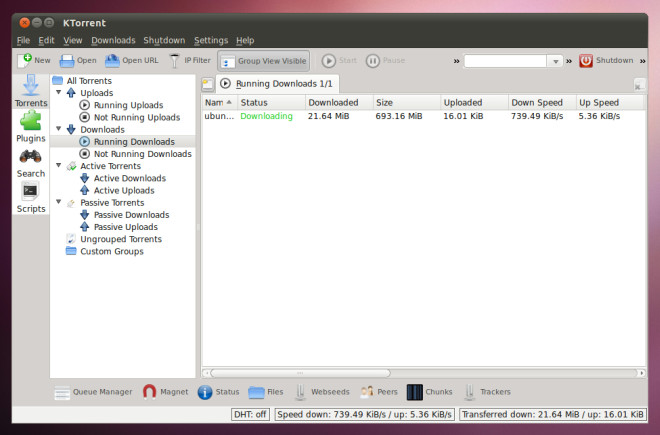 What makes KTorrent truly dynamic are its plugins. Although uTorrent has recently introduced a number of plugins to enhance functionality, KTorrent undoubtedly has more rich plugins than uTorrent. Some of these plugins include Bandwidth Scheduler ( to schedule upload and download  limits over a period of time), Statistics (Shows graphical stats regarding torrents), Syndication (supports RSS and atom feeds), etc.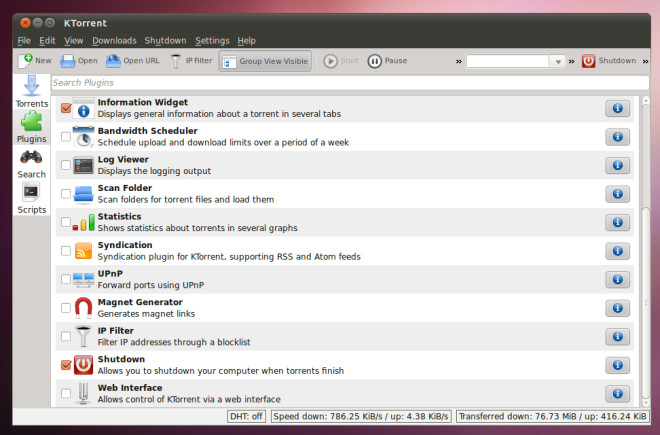 A number of scripts can also be added to automate tasks, get email notifications, etc. For example, Automatic Remove (script), automatically removes torrents when they finish downloading or seeding. This can be quite helpful in  avoiding bandwidth loss due to seeding a torrent file (such as for users who do not have unlimited downloading packages from their ISPs).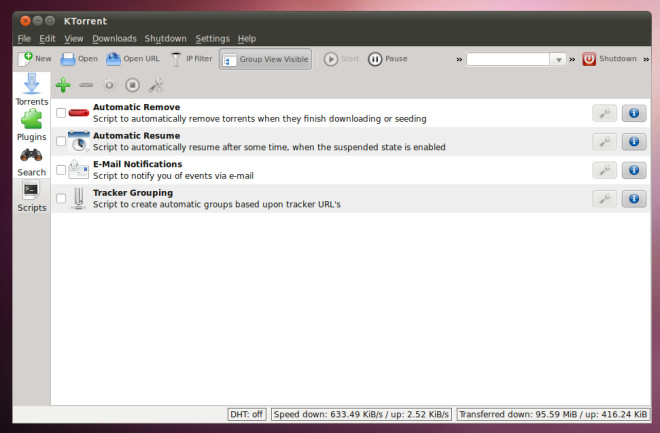 Like all other Torrent clients, Ktorrent resides in the system tray, from where users can also manage a number of common options.
Some other basic features of KTorrent include the following:
Supports HTTP and UDP trackers, along with tracker less DHT (mainline) and web seeds.
Provides alternative UI support including Web interface and a Plasma widget.
Allows Torrent grouping, adding speed capping, prioritizing downloads on the torrent file level and bandwidth scheduling (via Bandwidth Scheduler plugin).
Supports fetching torrent files from any local file or remote URL, RSS feeds (with filtering) or actively monitored directory.
Has an integrated and customizable torrent search engine.
Includes numerous security features like IP blocking and protocol encryption.
Allows disk space pre-allocation to reduce fragmentation.
Is compatible for uTorrent peer exchange.
Auto configuration for LANs like Zeroconf extension and port forwarding via uPnP.
Supports SOCKSv4 and SOCKSv5 proxy, as well as IPv6.