News – RSS Ticker Puts Latest News On Your Ubuntu Linux And Windows Desktop
We all know that RSS feeds are used to publish frequently updated content from the internet. News – RSS Ticker is an open source RSS feed ticker for Windows and Linux that delivers the latest news headlines from around the world to your desktop. By default, it comes with feed from the BBC website only.
To begin, hit the "?" icon before the beginning of the feed ticker. This will bring up File, Edit, Control and Help menus. Add feed subscriptions from File menu, configure preferences from Edit menu, and play, pause, reload, speed up and slow down the speed of feed ticker from Control menu.

To customize News – RSS Ticker, head over to "?" –> Edit –> Preferences. Options include, changing the ticker scrolling speed (dimension delay), font change, feed refresh time, clock appearance, opacity, font color selection, etc. To manually refresh the feed, click Get Current Feed button (in Preferences).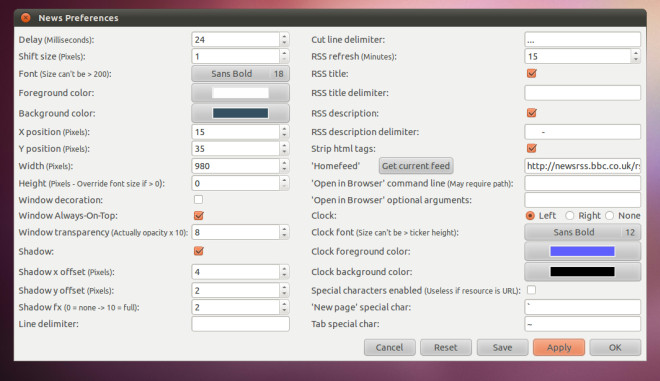 To change the default feed subscription, go to "?" –> File -> Open RSS feed and enter the feed title or URL. Once done, you can position it just below the taskbar and keep tab on latest news.

News – RSS Ticker is native to Linux based operating systems and has been ported for the Windows platform with MinGW. Hence, it works with both OS formats. We would recommend also having a look at Snackr which is a similar application but with more eye candy. It must be noted that since Snackr is an Adobe Air app, it will take more RAM than News- RSS Ticker which is developed natively for Linux.