We are reader supported and may earn a commission when you buy through links on our site.
Learn more
Best VPN For Argentina in 2021 (Full Review)
Tired of searching for the best VPN for Argentina? We've narrowed the field down to our top 6 providers proven to enhance Internet security and access for users in Argentina (or anywhere else in the world). Keep reading to learn why Argentinians specifically need a VPN, and how to configure your provider to solve these challenges.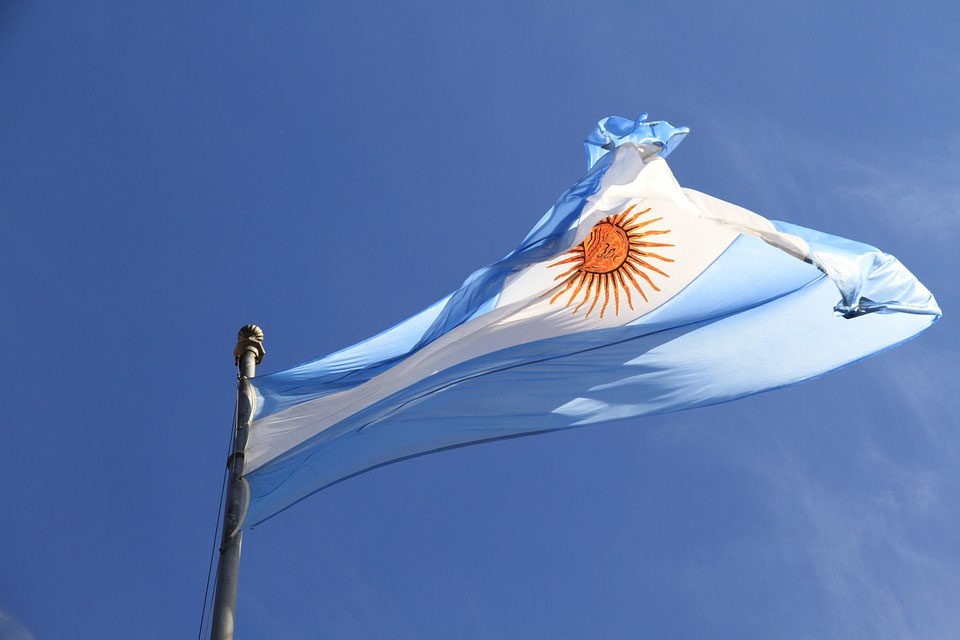 One issue for internet users in Argentina to be aware of is security. As there is only limited internet infrastructure in the country, some of the networks you may use to access the internet do not have the best security in place. Lax security makes it possible for hackers or cybercriminals to steal your data and cause you a lot of problems.
If you're an Argentinian looking to take control of your privacy online into your own hands, start by choosing one of the best VPNs for security:
NordVPN – Best VPN for Argentina – NordVPN is built for the modern realities of cybersecurity. It is the perfect tool for blocking out tracking by Argentinian ISPs, connecting to public Wi-Fi safely, and unblocking content worldwide.
Surfshark – A budget VPN that rivals the most trusted names in the industry, with powerful tunneling and unlimited simultaneous connections.
ExpressVPN – A premium VPN that sets the standard for speed. Now, its secure network is even faster with cutting-edge Lightway encryption.
PureVPN – Hong Kong-based VPN with tons of experience combatting the world's harshest internet censorship in China.
IPVanish – The old stand-by of torrenters, gamers, and streamers around the world. Exceptionally well-rounded.
VyprVPN – When you truly need to disappear online, fire up the unique Chameleon protocol to become invisible to censorship and surveillance.
To keep yourself safe when using the internet, it's highly advisable to use a VPN. This is simply a small piece of software you install onto your phone or computer, which encrypts the data that you send over the internet. This encryption makes it virtually impossible for anyone to access your data and therefore keeps you safe.
Below we'll go through reasons that you might want to use a VPN, then give you our recommendations for the best VPNs for Argentina.
30-days money back guarantee
Why Do Argentinians Need A VPN?
Here are just a few of the reasons that a VPN can be helpful for Argentinian Internet users:
Get Around Region Locks
You'll find one frustrating thing about using the internet in Argentina is that many sites will show you only a limited selection of content. Sites like Netflix, BBC iPlayer, Hulu, and Spotify are either not available in the country or have only a portion of their content available for users to access. This is due to licensing restrictions and is called region locking.
The good news is that you can use a VPN to access more content. When you use a VPN you connect to a server located in another country – for example, in the US or UK – and then you can use the internet as if you were based in that country. You just connect to a UK server and then you can watch BBC content as if you were in Britain. You can use this same trick to access content from all over the world.
Keep Your Internet Use Private
When you have a network in your home connected to the internet, then all the data you send over the internet is visible to your ISP. It's very easy for your ISP to be able to see, record, or track your internet use so that they can know which sites you visit and what you are typing into websites.
Even if this doesn't bother you, a big concern is government surveillance. If the government decides to investigate you, they can force your ISP to turn over all of the data they have on you. This means that the government can track everything that you do online. A VPN keeps you safe from this by encrypting your data in such a way that all external parties, including your ISP, can't see what you are doing online.
Download Safely
If you're going to download copyrighted content, especially if you're using torrents, then you need to be especially careful. It's a simple matter for your ISP to observe your traffic and see that you are downloading, and they could pass this information on to copyright holders or law enforcement. If you don't want to face a fine for illegal downloading, then you should use a VPN to cover your tracks.
READ: Best VPN for Torrenting
Improve Your Cybersecurity
Whenever you access a public wifi connection, you could be exposing your device to hackers. Other people who are on the same public network as you might be able to intercept and steal your data, such as your credit card information or your emails. To prevent this from happening, use a VPN whenever you connect to a public network so the encryption can stop anyone from peeking in to your data.
How Do We Choose A VPN For Recommendation?
The benefits of using a VPN are clear. However, when you come to choose a VPN provider, you'll notice that there are hundreds of them to choose from. If you're new to using VPNs, you might wonder which provider is the best and what kind of features you should be looking for.
To help you with this, we've compiled a list of our top recommended VPNs for Argentina. We choose these VPNs based on our experience with them in terms of the following key factors:
Fast connections. A good VPN should offer connections which are so fast that you barely even notice that they're there.
Servers in lots of different countries. To get around region locks, you need to connect to a server in another country. That's why we look for VPNs with plenty of servers available to use in many different countries, for maximum flexibility.
Easy to use software available for many different platforms. It's good to have software available for lots of different devices so that you can protect your phone, laptop, tablet, and more with just one VPN account.
Strong security. For the maximum security when using a VPN, we look for strong 256-bit encryption and a no logging policy to protect your privacy.
When we looked at all of these factors, here were our top VPNs for Argentina: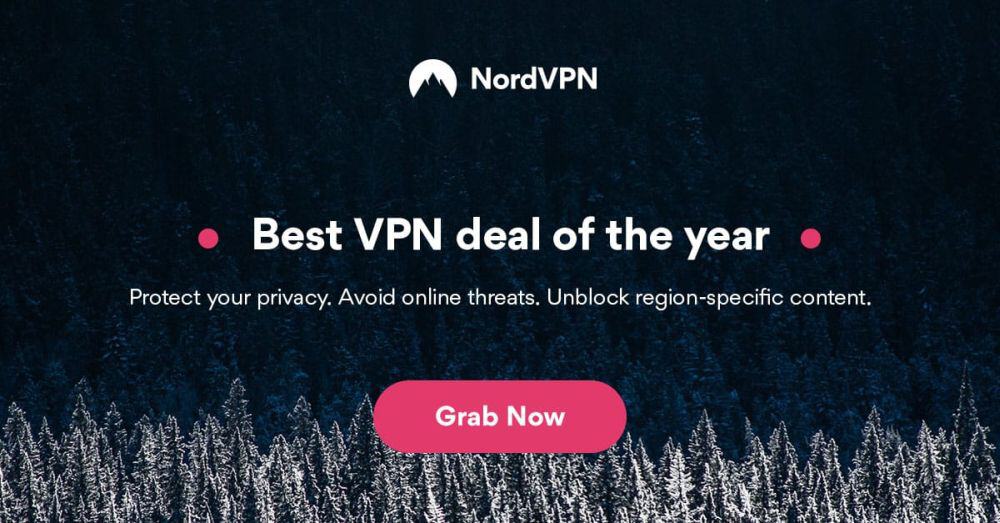 When your biggest concern is security and you want the safest VPN out there, then we recommend NordVPN. The special feature of this provider is a unique double encryption service in which your data goes through two separate layers of encryption for maximum security. Your data is encrypted and sent out from your device to a server as usual for a VPN, but then it is encrypted again and sent to a second server. Once the data arrives at the second server it is decrypted and sent on to its original destination.
These two layers of encryption make it virtually impossible for anyone to access or observer your data, which is why NordVPN is popular with users who are trying to avoid government snooping. In keeping with this high level of security, the encryption used is strong and there is a no logging policy. In addition, the service has a large network of nearly 5,800 servers in 60 different countries, and you can install the software on Windows, Mac OS, Linux, iOS, Chrome OS, Android, and Windows Phone devices.
Read our full NordVPN review.
Pros
SPECIAL OFFER: 2-yr plan (68% off - link below)
Extensive server park of over 5,400 different servers
DNS leak protection, kill switch
Strict zero logs policy on both traffic and metadata
30-day money back guarantee.
Cons
Can't specify City or Province in App.

Surfshark has a lot to offer to anyone, but especially those on a budget. It already offers some of the lowest subscription fees in the industry–but you can get it for even less by sharing your subscription with a friend. Yes, this is possible thanks to Surfshark's allowance for unlimited simultaneous connections–a consumer-friendly policy very few VPNs offer.
But don't think you're cheaping out; Surfshark offers top-shelf protections in the form of 256-AES-GCM encryption, blanket obfuscation on each of their 3200+ servers (in 65 countries), IP/DNS/WebRTC leak protection, built-in anti-malware and adblocking, and kill switch. And with jurisdiction in the British Virgin Islands, Surfshark offers a strong no-logging policy. This prevents your metadata from falling into the hands of Argentinian ISPs or government agencies.
Pros
Robust servers blast through geoblocks to access your favorite streaming sites
Unlimited server switching
Trial in confidence with a 30-day money back guarantee
Independently audited privacy practices
24/7 live chat ensures maximum uptime.
Cons
Overall, not much to complain about
Apps may be too simplistic for power users.
Read our full Surfshark review.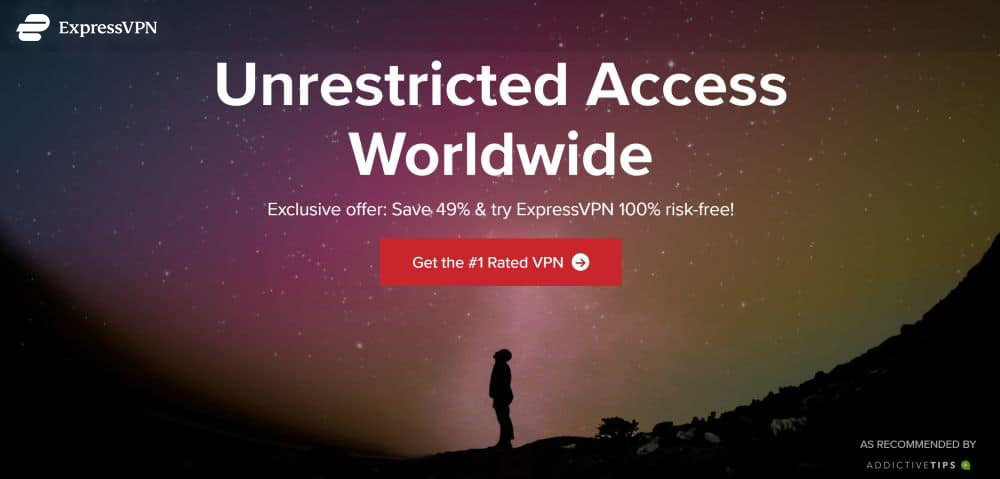 One of the biggest and most popular VPN services in the world is ExpressVPN. The service has a sterling reputation for both security and usability, and the reliable connections work around the world.
The ExpressVPN server network is very large, with more than 3,000 servers in 140+ locations in 94 different countries. This makes it dead simple to find a fast server for you to use, and gives you plenty of options for getting around region locks and accessing content from different areas of the world.
The strong security policies include 256-bit AES encryption which will be almost impossible for anyone to crack, and a no logging policy which means that your data will never be handed over to anyone else. The software is very easy to use, with simple illustrations for common actions but also plenty of extra settings if you need them. You'll find useful features in the software like a kill switch to prevent you from accidentally using an unsecured connection and a speed test to help you find the fastest server for you to use. The software can be installed on a big range of platforms including Windows, Mac OS, Linux, and Android.
Read our full ExpressVPN review.
Pros
Unblocking Netflix USA, iPlayer, Amazon Prime
Superfast servers (minimal speed loss)
AES-256 encryption
Strict no-logs policy
24/7 Live Chat.
Cons
Slightly more expensive than some other options.
For those of you who are new to the world of VPNs and want to find the simplest and most easy to use security package, then we recommend PureVPN. This service includes an effective VPN with strong 256-bit encryption and a no logging policy, plus access to a network of 2,000+ servers in over 140 different countries. The software is very easy to use and is available for Windows, Mac OS, Android, iOS, and Android TV, plus browser extensions for Chrome and Firefox.
In addition to the VPN, the PureVPN package also includes a host of other helpful security features. For example, there's anti spam measures to stop your inbox from being clogged up with unwanted messages. There's app filtering so you can restrict the use of certain apps over your network. And there is anti virus and anti malware protection so that you can stop your device from being infected with any malicious software.
All of this makes PureVPN a great choice for someone who wants a one-stop shop for all of their security needs.
Read our full PureVPN review.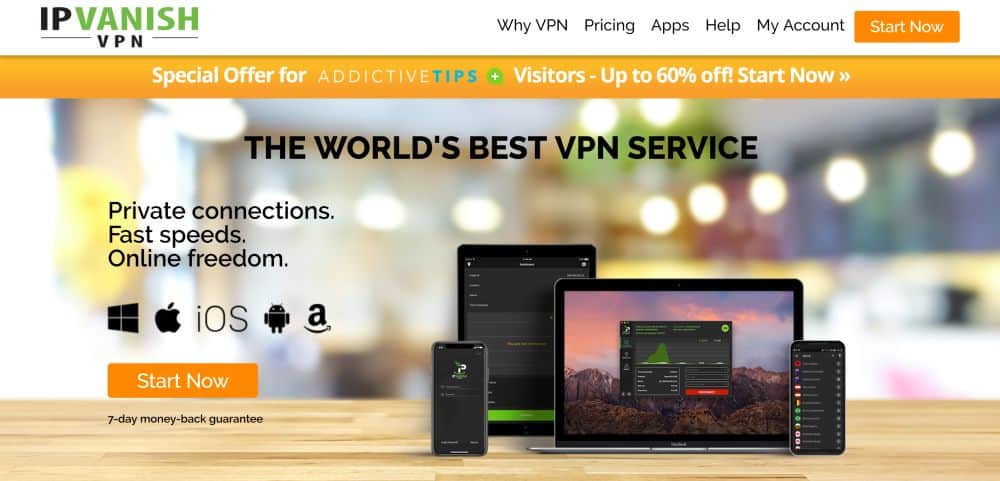 When you want the fastest VPN in the game so that you can download or stream large files quickly and smoothly, then we recommend IPVanish. Known for their reliability as well as their speed, they also have good security features such as strong 256-bit encryption to stop people from hacking into your data and a no logging policy to make sure that your data is kept private.
The IPVanish software is available for a variety of platforms, including Windows 7, 8, and 10, plus Mac OS, Linux, and Android. You get access to a large network of 1,300+ servers in more than 75 countries, so you can get around region locks with no problems.
Read our full IPVanish review.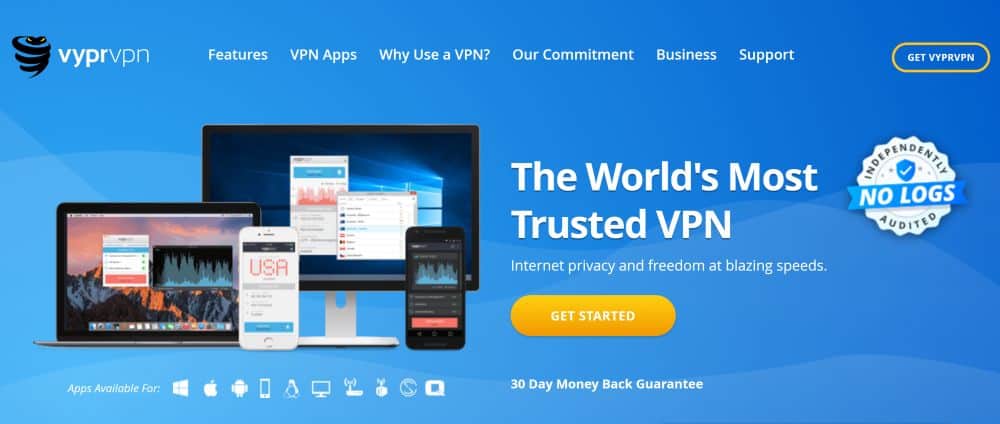 Sometimes, you'll find that certain networks won't accept VPNs. This is particularly common in China, but you find it in other highly restricted networks as well. In this case, you need a VPN like VyprVPN. This service can be used even on networks with VPN detection thanks to its special Chameleon protocol. As well as encrypting your data as usual, this protocol also encrypts the data's metadata – which is information about the origin and destination of the data packets. VPN detection tends to work by checking metadata for mismatches which could indicate VPN use and rejecting that traffic, but with the Chameleon protocol networks can't see your metadata and therefore can't reject the traffic. This means you can use a VPN even on networks which try to block VPN access.
As well as this clever feature, the service gives you access to more than 700 servers in 70+ different countries, and there's a no logging policy to protect your privacy. The VyprVPN software can be installed onto Windows, Mac OS, iOS, Android and your router.
Read our full VyprVPN review.
Conclusion
A VPN is useful for reasons of both convenience and security. When you want to get around regional restrictions to watch content from elsewhere in the world, a VPN can help you by connecting you to a server elsewhere and letting you browse the internet from there. This is particularly useful for video streaming sites like Netflix which have different content available in different regions.
A VPN is also an essential tool for keeping your device safe when you browse the internet. If you're going to use public wifi networks or if you want to stop your internet activity from being tracked, then a VPN is a simple way to protect yourself without restricting any of your internet use.
Users in Argentina can benefit from using any of the VPNs that we have mentioned above, each of which is reliable, secure, and reputable.
Do you use a VPN in Argentina? Which VPN service do you think is best? Let us know your thoughts in the comments below.