We are reader supported and may earn a commission when you buy through links on our site.
Learn more
How to Unblock Crackle: Best VPN in 2021 to Stream for Outside USA
Crackle is one of the best ways to stream blockbuster films in HD for free, but unfortunately users outside the USA must use a VPN to unblock the service. Today, we'll make the search for the best VPN for watching Crackle abroad a little easier, recommending several providers proven to beat geoblocks and deliver fast speeds.

Crackle is an ad-supported streaming service, so you can watch it at no cost. And it doesn't have just smaller or lesser known shows and movies available to watch. Because it's a Sony service, it has rights to stream a bunch of content including big Hollywood films from Sony Pictures Entertainment. That means that there are lots of movies that you can stream, legally, and for free. There's no subscription required so you can try the service out or watch it occasionally as you see fit.
Some of the categories of content available to watch include Action, Comedy, Crime, Drama, Horror, and Sci-fi, and you can watch well known films like 300, The Hobbit: An Unexpected Journey, or House of Flying Daggers. Plus, you can also stream TV shows like Seinfeld, The Shield, and Walker, Texas Ranger.
Fans of Crackle living outside the US can still get access, you just need one of these VPNs:
NordVPN – Best for Crackle – NordVPN is the world's premium site unblocker, particularly when they're located in the US. There are actual thousands of servers in America, spoiling you for choice in finding the fastest server for HD streams.
Surfshark – An outstanding choice for unblocking Crackle, with numerous automatic methods that yield consistent access to geoblocked content.
ExpressVPN – The classic choice for users streaming in HD thanks to its blazing fast network.
However, there's one problem: Crackle used to be available in lots of countries, including the UK, Germany, and Latin America. One of the big advantages of the service was that it had content in Spanish and Portuguese as well as in English, which made it popular in countries in South America. But in the last few years Crackle has shrunk down to focus on the North American market. Now Crackle is only available to watch from within the US.
But if you're outside of the US, you can still watch Crackle, and we're going to show you how in today's article on how to unblock Crackle.
30-days money back guarantee
Crackle Access And IP Addresses
If you're located within the US, all you have to do to watch using the Crackle service is to head to https://www.crackle.com/ and pick a show or movie to watch. But if you're outside of the US, the site won't load properly when you visit and you won't be able to play any videos from it. This is because of a technique known as region locking, in which some online content is only visible when accessed from particular geographic locations. Crackle is hardly the only service to do this, Netflix is also infamous for restricting its various content libraries.

Here's how it works: when you connect to the internet, you are assigned an IP address by your ISP. This is a string of numbers which refers to your specific device, so that any data you request can be sent directly to your device – like a postal address. Contained within this numeric IP address is information about your geographical location, as particular ranges of IP addresses are assigned to particular countries. So when you visit a website like crackle.com, the site can read your IP address and see that you are browsing from, say, Italy, and then restrict what content you can see based on this.
How To Use A VPN To Watch Crackle
In order to unblock Crackle, you need to make it appear as if you are browsing from within the US. You can do this by getting a US IP address, so when you visit the Crackle website it thinks that you are browsing from within the allowed region and shows you all of the content, letting you watch videos. And the easiest way to get a US IP address is by using a VPN.
A VPN is a piece of software which you install onto your device and which encrypts all of the data that your device sends over the internet. You use the VPN to connect to a server, and your encrypted data is sent to this server to be decrypted before being sent on to its original destination. The clever part is that the decryption means that your IP appears to originate from the server which you chose, not from your actual location. So you just need to connect to a server in the US and you'll be assigned a US IP address and you can watch Crackle freely, no matter where you are based in the world.
You can use this technique to unblock sites of all kinds, by connecting to a server in another country and making it appear as if you are accessing the internet from there. This lets you watch content from all around the world with ease.
Best VPNs to Unblock Crackle Anywhere
If you are in search of a recommendation for a specific VPN that you can use to unblock Crackle and other sites, then we have a few recommendations for you: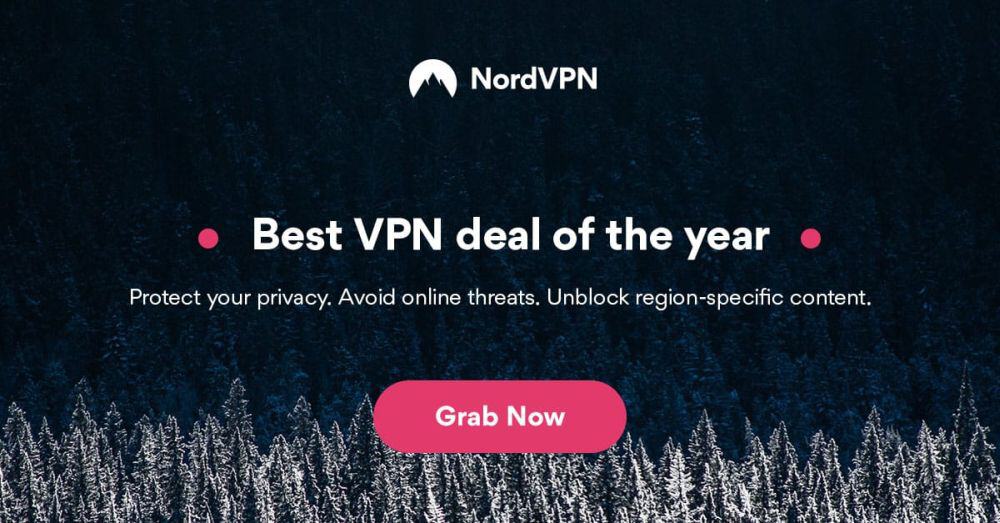 If you're looking for a VPN that will offer exceptional security as well as the ability to unblock websites like Crackle, then we recommend NordVPN. With strong 256-bit encryption and a no logging policy, it meets our requirements for security essentials. But on top of this, it has a killer feature in its special double encryption protocol. This double encryption works by encrypting your data once when it leaves your device and being sent to a server elsewhere in the the world, then the data being encrypted for a second time and sent on to another server for decryption. These two layers of encryption make it practically impossible for anyone to crack, even with the most sophisticated tools.
The VPN has a large server network of more than 5,100 servers in 59 different countries, with speeds sufficient for using to stream video. The software supports many platforms including Windows, Mac OS, Linux, iOS, Chrome OS, Android, and Windows Phone.
Read our full NordVPN review.
Pros
Unblocks US Netflix, iPlayer, Amazon Prime and other streaming services
Most VPN servers with different IP addresses
Up to 6 simultaneous connections
Based in Panama
Customer Service (24/7 Chat).
Cons
Not much
They can take 30 days to process refunds.

By far the newest VPN on this list, Surfshark has clearly paid attention to what works in the VPN industry–and taken care to avoid what doesn't. For one, they've done away with the arbitrary limitations on simultaneous connections; connect your Firestick, iPhone, PC, router, and anything else you want without having to keep track.
But more importantly for Crackle users, Surfshark "just works" to unblock US streaming sites abroad. Of their 3200+ servers in 65 countries, a huge portion is located in America, with both static IP and multi-hop connections also available. Moreover, these connections are guarded with the 256-AES-GCM encryption protocol. Blanket obfuscation and built-in smart DNS help you sneak past VPN blockers like Netflix's, as well.
Speeds are outstanding across their RAM-based network, which also serves to purge all your usage metadata so you never leave a trace behind. Of course, Surfshark also pledges never to keep logs, so your streams are totally private.
Pros
Break through harsh censorship to securely access social media and foreign news sites
Multi-hop connections readily available
IP, DNS and WebRTC leak protection plus kill switch
Logging policy independently audited and verified
Get help any time of day via email, phone, or live chat.
Cons
Server network is not nearly as expansive as major competitors
Apps may be too simplistic for power users.
Read our full Surfshark review.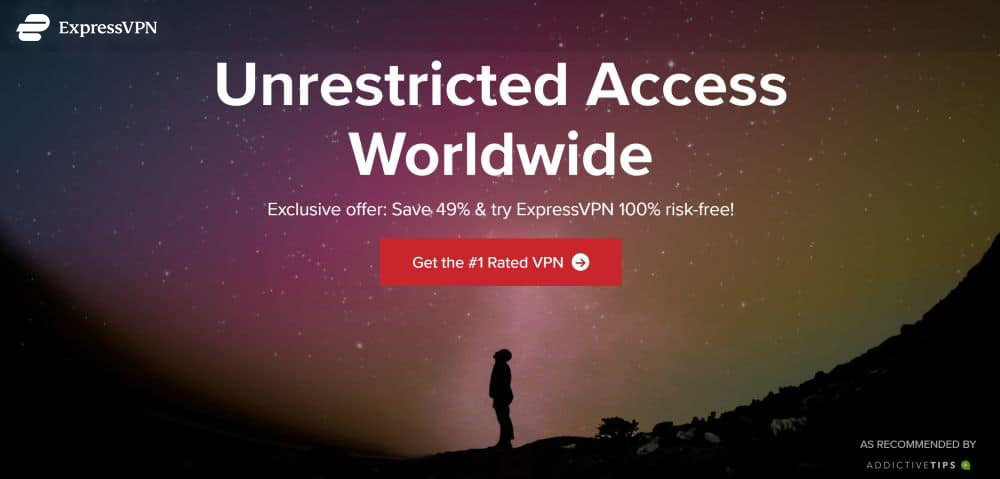 If you want speed, security, and reliability, then the VPN for you is ExpressVPN. This is one of the most popular services among serious internet users thanks to its extremely fast connections and strong 256-bit encryption with a no logging policy, which will keep your data safe and private. The massive server network consists of over 3,000 servers in 160 locations in 94 different countries so you'll have plenty of options for finding a server and you'll be able to unblock sites from all around the world.
The software has a bunch of extra features like a kill switch to prevent you from accidentally sending data over an unsecured connection and a speed test to help you find the fastest server available, and it can be install on Windows, Mac OS, Linux, and Android devices.
Read our full ExpressVPN review.
Pros
Unblocks US Netflix, BBC iPlayer and other streaming services
Fastest servers we have tested
Torrenting/P2P allowed
Keeps no logs of personal data
24/7 Customer Service.
Or Watch Crackle On Kodi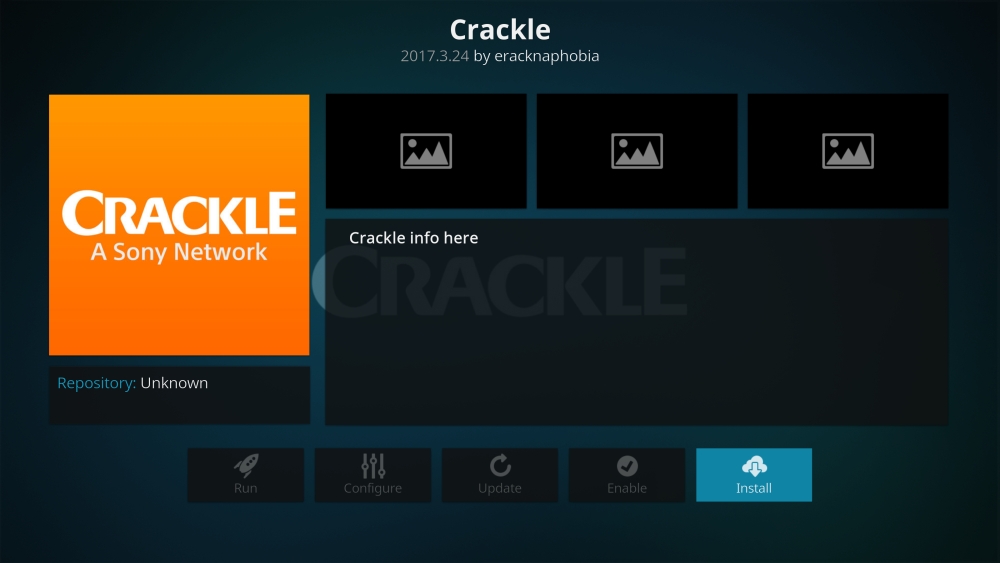 Another option for watching Crackle is to watch it through an add-on for Kodi. Kodi is a piece of free, open source media centre software which we love, and which is designed for organising and displaying your digital media files. (If you're keen on this sort of thing, you can also check out Plex).
But the software can do much more than that when you install add-ons. As the software is open source, anyone can write and share an add-on online, and add-ons can do anything from watching YouTube to listening to music. We're going to show you the Crackle add-on and describe how to install it so that you can watch Crackle through your media centre software as well as your desktop.
IPVanish – Best VPN for Kodi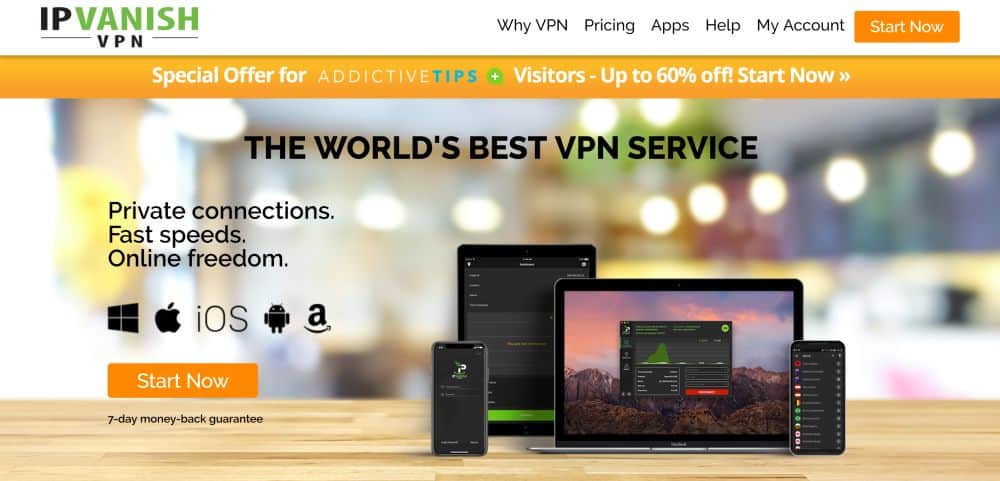 IPVanish is the VPN that we recommend for Kodi users thanks to its blazing fast speeds. This service is known for its lightning fast connections which are perfect for streaming high definition video, which makes them the ideal choice for Kodi users. But the service doesn't just offer good speeds – it also offers excellent security, as the VPN has 256-bit encryption and a no logging policy to keep your data safe and secure. The large server network of 1,300 servers in more than 60 countries means you'll be able to get around region locks of all kinds and browse the internet freely. The software can be installed on platforms including Windows, Mac OS, Linux, and Android, and it has advanced features like DNS leak protection, periodic IP address change, and DNS configuration.
Read our full IPVanish review.
With a VPN installed and connected to protect you when using Kodi add-ons, we can move onto installing and using the Crackle add-on for Kodi.
How To Install The Crackle Add-on For Kodi
Now we'll show you instructions for how to install and use the Crackle add-on for Kodi. Typically, when you install an add-on you would add the URL of a repository and download the installation files from there using the Install from Repository function in Kodi. However, in this case the add-on is not available in a repository. However, it is available to download as a zip files from GitHub. This means that you have to follow a slightly different procedure to install this add-on from others you have installed in the past. But don't worry, the installation process is still very simple. Just follow these steps to get the add-on installed:
First, go this URL in your web browser and download the zip file: https://github.com/eracknaphobia/repo.eracknaphobia/raw/master/repository.eracknaphobia.zip
Now save the zip file to your desktop or other easy to access location
Go to your Kodi home screen
Click on Add-ons
Click on the icon that looks like an open box
Click on Install from zip
Click on where it says Browse and navigate through your device's folders to find the zip file you just saved. Click on repository.eracknaphobia.zip
Now go to Install from repository
Go to eracknaphobia's Repo
Go to Video add-ons
Find Crackle and click it
You'll see a screen with information about the add-on. Click Install at the bottom
How To Use The Crackle Add-on For Kodi
Once you have the add-on installed to your Kodi system, here's how you can use it to watch movies or TV shows:
Start on your Kodi home screen
Go to Add-ons
Go to Video add-ons
Click on Crackle
Unfortunately there is no way to search for a particular movie, so we'll have to browse to find something to watch

This brings up a list of movies in alphabetical order. You'll see information about each movie like the title of the movie and its running length shown in the middle column, with a synopsis of the film on the left and the poster for the right on the right. Once you've found the movie you want to watch, click the title and the movie will begin streaming
Conclusion
Crackle is a streaming service that you should get to know if you don't use it yet. It lets you stream TV shows and movies, legally and for free – including some big name movies that you would normally expect to be a paid only service. However, despite the fact that it used to be available for free in the UK, Latin America, and Canada, now the place from which you can access all of the content on Crackle is the US. This means that viewers from outside the US wouldn't normally be able to use the service.
However, there is a way that viewers from outside of the US can watch Crackle, and that's by using a VPN. A VPN lets you get around region locks like the one used by Crackle to unblock the site and watch the content from anywhere. Once you have a VPN set up it's an easy matter to connect to a server in the US, then you can visit the Crackle site and watch as if you were accessing from within the US.
Alternatively, you can also try the Crackle add-on for Kodi if you want to watch through your media centre software. The add-on is very easy to use and easy to navigate through, and you can navigate with a remote control which makes it perfect for sofa viewing.
Have you tried watching Crackle from outside of the US? Which method have you found to be most effective? Let us know about your experiences in the comments below.