We are reader supported and may earn a commission when you buy through links on our site.
Learn more
Best VPN for Scotland – Protect Your Privacy with These VPNs
With the expansion of cybersurveillance by the UK government plus looming Brexit uncertainties, it's never been more important for Scottish netizens to secure their own privacy online by using a VPN. If you're not sure where to start, today's guide reviews the top providers trusted throughout Scotland for their anonymizing features.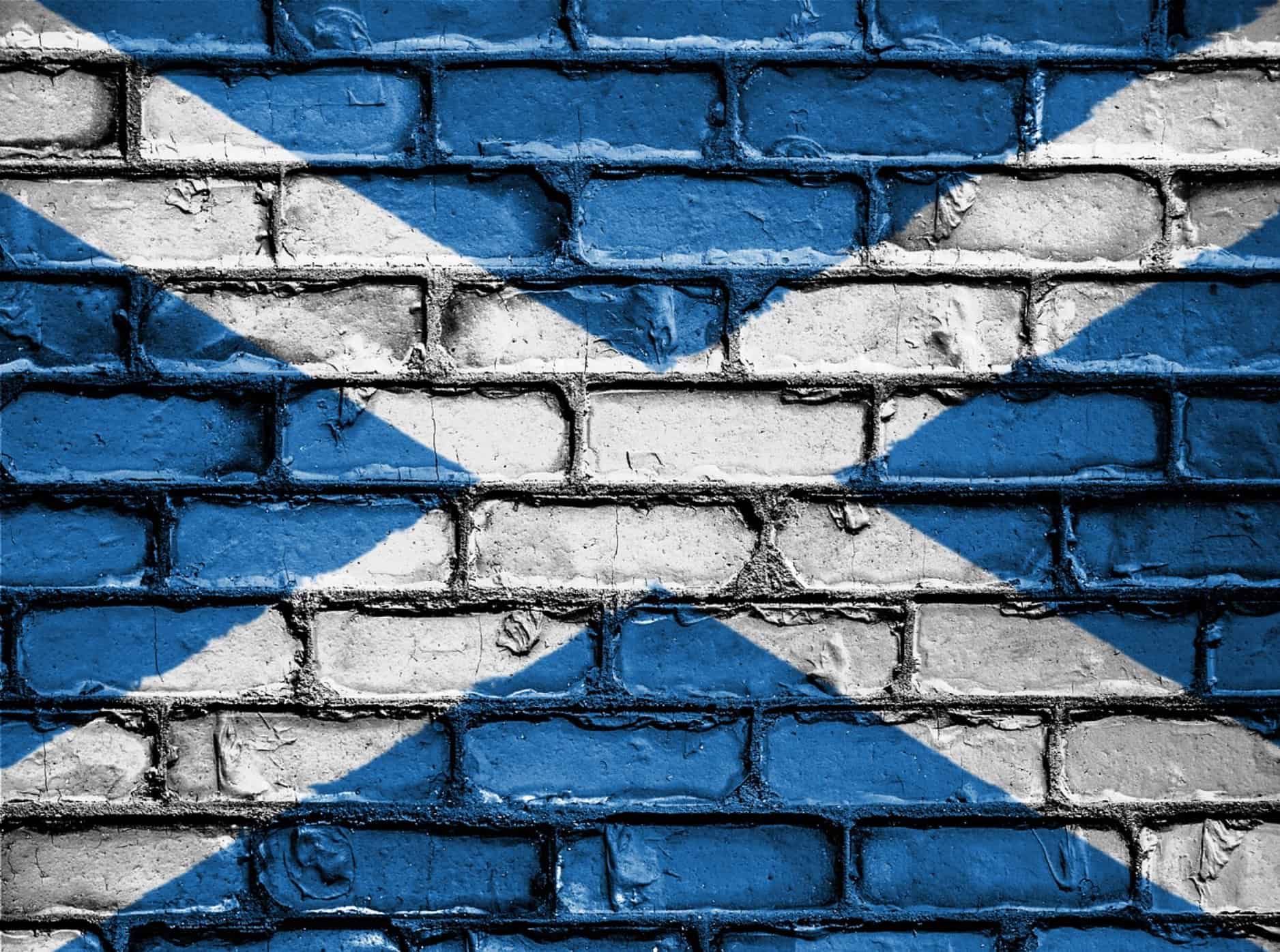 Across the world, there is increasing concern about the degree to which governments track their citizens' online activity. This has led to a recent surge in public interest around privacy technology such as VPNs. The people who should be most concerned about the security of their Internet browsing are those living in countries that participate in international surveillance pacts. The most infamous such pact is the Five Eyes agreement between the UK, US, Australia, New Zealand and Canada. Since Scotland is part of the UK and will remain so unless there is an independence referendum following Brexit, Scottish readers should be aware that their country is spying on their browsing activities.
Don't leave your right to privacy online in anyone's hands but your own, take back control with these VPNs:
NordVPN – Best for Scotland – NordVPN has your back when your faith in the government is in doubt. Secure your access to the free and open Internet with the world's most powerful encrypted network, courtesy of the cutting-edge NordLynx protocol.
Surfshark – A new VPN with advanced anti-censorship methods, which can be had on the cheap.
ExpressVPN – Less cheap, but offers even more speed with its turbo-charged Lightway protocol.
CyberGhost – The easiest way to get access to tons of servers and advanced protections. Just click "surf anonymously" and you're completely hidden online.
PrivateVPN – An easy recommendation to tinkerers and power users who love to minmax encryption settings by hand.
This article will help you stay safe and anonymous online. Read on to find out how to choose a VPN from a crowded marketplace, which VPN to download, and additional information on surveillance agencies in Scotland.
30-days money back guarantee
What's in a good VPN?
When determining which VPN to use, consider the following criteria:
What about free VPNs?
When you first look for a VPN provider, it might seem like a good idea to use a free VPN provider to save money. However, we highly recommend avoiding this. Free VPNs have weaker encryption than paid VPNs. Worse, they have a reputation of selling off user data. Think about it: they have to make their money from somewhere, right? The VPNs we recommend below feature military-grade encryption and will never sell off your data.
Most secure VPNs for private Internet in Scotland
We now present the top VPNs guaranteed to enhances your internet privacy in Scotland and beyond: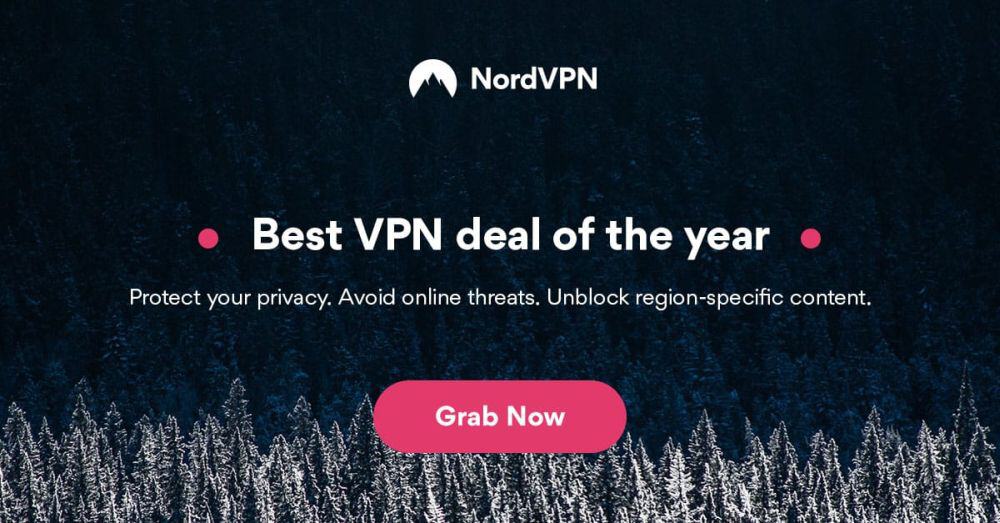 NordVPN is renowned throughout the VPN industry for providing one of the most comprehensive server networks anywhere. To date, there are well over 5,500 servers in 59 countries, providing you with unprecedented levels of choice in selecting your IP address. What's more, NordVPN offers specialty servers optimized for a variety of use-cases, including anti-DDoS, onion over VPN, double VPN, P2P, obfuscation, and more. Whatever you want to do online, you can do it more safely with NordVPN guarding your connection.
Based in Panama, NordVPN is not affiliated with the Five and Fourteen Eyes Intelligence Alliances in any way. In fact, behind a wall of unbreakable 256-bit AES encryption and one of the industry's most complete no-logging policies, you'll be hard-pressed to find a better shield against government surveillance than NordVPN.
Of course, all this protection doesn't come at the cost of usability. NordVPN posted some impressive benchmarks in our speed tests, with connections more than good enough for streaming, downloading, and browsing without a hitch. New users can rest easy, too–all this utility comes neatly wrapped up in extremely intuitive software that doesn't require an advanced degree in computer science to use and understand.
Read our full NordVPN review.
Pros
Very affordable plans
Extensive server park of over 5,400 different servers
256-bit AES encryption with perfect forward secrecy
Strict zero logs policy on both traffic and metadata
24/7 Customer Service.
Cons
Sometimes slow in procesing refunds (but always do).

Surfshark was built to offer security in uncertain times, offering all the tools you need to combat UK government overreach and abusive ISP practices like throttling. Its core offering is 256-AES-GCM encryption, used to shield tunnels via OpenVPN, IKEv2/IPSec, or WireGuard to over 3200 servers in 65 countries. This gives you tremendous ability to anonymously switch out your IP address for a false one, while blocking out any attempts to spy on the contents of your traffic.
What's more, Surfshark offers obfuscation and smart DNS functionality for getting past the ever-more-common VPN blocking efforts of sites like Netflix. And if you find yourself traveling to truly restrictive countries like Turkey or Russia, you'll appreciate the NoBorders anti-censorship mode.
Additional provisions include CleanWeb blocking of malware links, pop ups, and ad trackers, plus a kill switch, IP/DNS/WebRTC leak protection, and a strong no-logging policy. Overall, this is a strong choice for Scottish users on its own, made even better by dirt-cheap monthly fees.
Pros
Break through harsh censorship to securely access social media and foreign news sites
Server selection is dead simple and quick
DNS leak and kill switch protection keep your defenses up even when your connection drops
VPN home jurisdiction in British Virgin Islands is ideal for privacy
Helpful 24/7 live chat with an actual human being.
Cons
Connection speeds won't impress users of other high-end VPNs
Apps may be too simplistic for power users.
Read our full Surfshark review.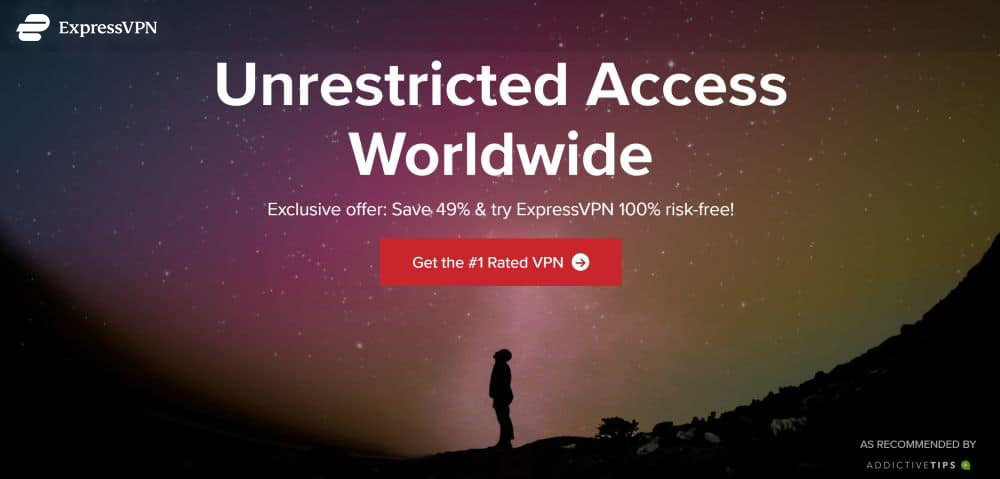 ExpressVPN offers the perfect mix of speed, security and usability for virtually any user. Posting some of the VPN industry's fastest benchmarks, you'll enjoy seamless streaming, downloading, gaming and VoIP calls whenever you connect. ExpressVPN's outstanding performance is due in equal parts to its sophisticated encryption methods (which wrap your data stream inside of impenetrable 256-bit AES encryption) and powerful proxy server network (featuring more than 3,000 nodes in 90+ countries worldwide, each fine-tuned for reliability and speed). DNS leak protection, an automatic kill switch, and VPN split tunneling round out ExpressVPN's considerable utility as a privacy-enabling tool.
Underpinning these core offerings is an impressive no-logging policy, which promises never to record users' traffic, DNS requests, and IP addresses. This is especially important in Scotland, where the Five Eyes agreement can force companies to hand over any logs they may keep.
ExpressVPN's slick user interface makes it easy to access these privacy provisions with just a click or two. Dedicated, lightweight software is available for all major operating systems, and even some niche platforms.
Read our full ExpressVPN review.
Pros
Unblocks American Netflix, iPlayer, Hulu
Superfast servers (minimal speed loss)
AES-256 encryption
No personal information logs kept
Customer Service (24/7 Chat).
Cons
High cost for month-to-month users.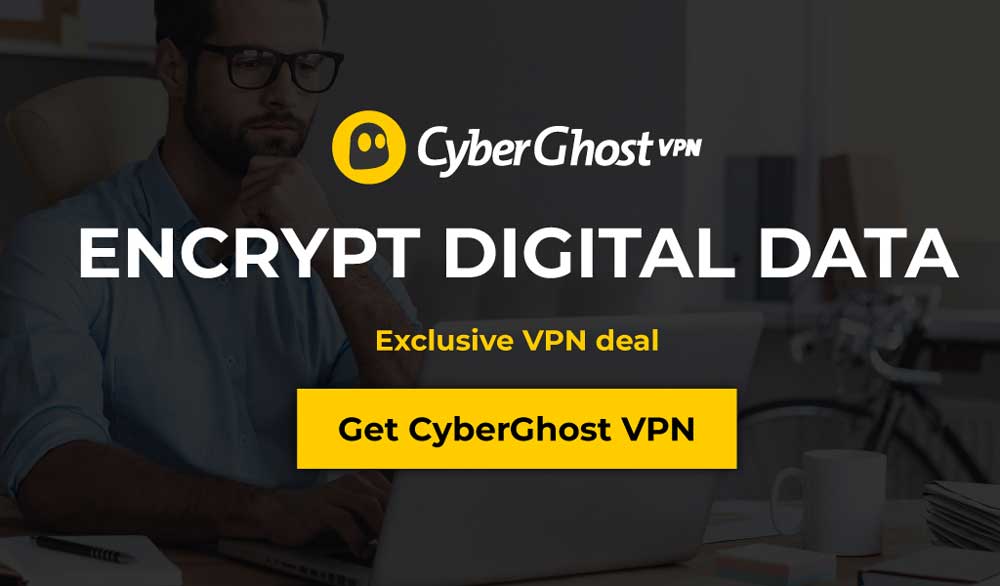 CyberGhost offers perhaps the best balance of protection and user-friendliness. Simply open the app, choose from a list what you'd like it to help you do online, and simply let the software take care of configuration automatically. Options in that list include: torrenting anonymously, unblocking sites and protect your Wi-Fi connection. If you don't have a lot of experience with VPNs, this offers a simple way to a more secure browsing experience. There's even a friendly live support chat if you get stuck.
With 256-bit AES encryption, MD5 HMAC authentication and IP leak protection, CyberGhost keeps your browsing completely private. These features are backed by an impressive no-logging policy, which disallows the storing of even the email addresses used to sign up. If you'd prefer to choose your own proxy server, it's surprisingly simple to do, even with more than 5,900 servers in 90 countries to choose from. Further customization is available in the form of toggles for blocking malicious websites, ads, and online tracking; data compression; and even automated HTTPS redirects.
CyberGhost puts on a friendly face to its users, but goes tough on privacy, making it a perfect VPN for users of all experience levels.
Read our full CyberGhost review.
Pros
Unblocks US Netflix, BBC iPlayer, YouTube
Great user experience and easy installation
2,048-bit RSA keys and SHA256 authentication
No log files
Reliable and knowledgeable 24/7 live chat support.
Cons
Can't unblock some other streaming sites.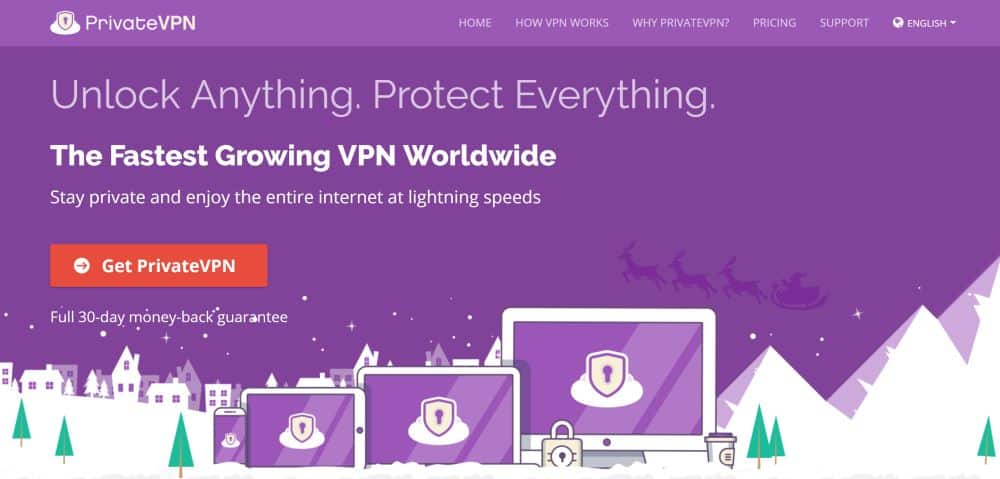 If streaming is your top priority, PrivateVPN has perhaps the strongest offering on the market. After all, the company bills its software as being purpose-built to unblock the international content catalogues of sites like Netflix, Hulu, BBC iPlayer, and so many more. In our testing, we indeed found connections to be reliable, speedy, and dead-simple to establish.
Of course, PrivateVPN is good for much more than just entertainment. Heavy-duty 256-bit encryption locks down each data packet leaving your device in a nearly invulnerable layer of cryptography–perfect for keeping hackers, ISPs and even the UK government out of your business when browsing online. A solid no-logging policy further guarantees that you'll never leave any tracks behind to trace your identity, essentially rendering your internet usage completely invisible.
PrivateVPN's server network spans over 150 servers in 60+ countries, so you'll never have trouble getting a useful IP address for accessing the free and open internet. Dedicated software is available on all major platforms.
Why you need a VPN in Scotland
There are many valid reasons to use a VPN in Scotland, even though it boasts a high internet freedom score. Here are a few of the most pressing issues:
The Five Eyes
Because Scotland is in the UK, you may be familiar with the Five Eyes surveillance pact. This pact involves the sharing a broad range of intelligence data across five countries: the UK, US, Canada, Australia, and New Zealand. Five Eyes has given birth to many of the most notable privacy scandals in recent years, including PRISM, XKeyscore, and Tempora.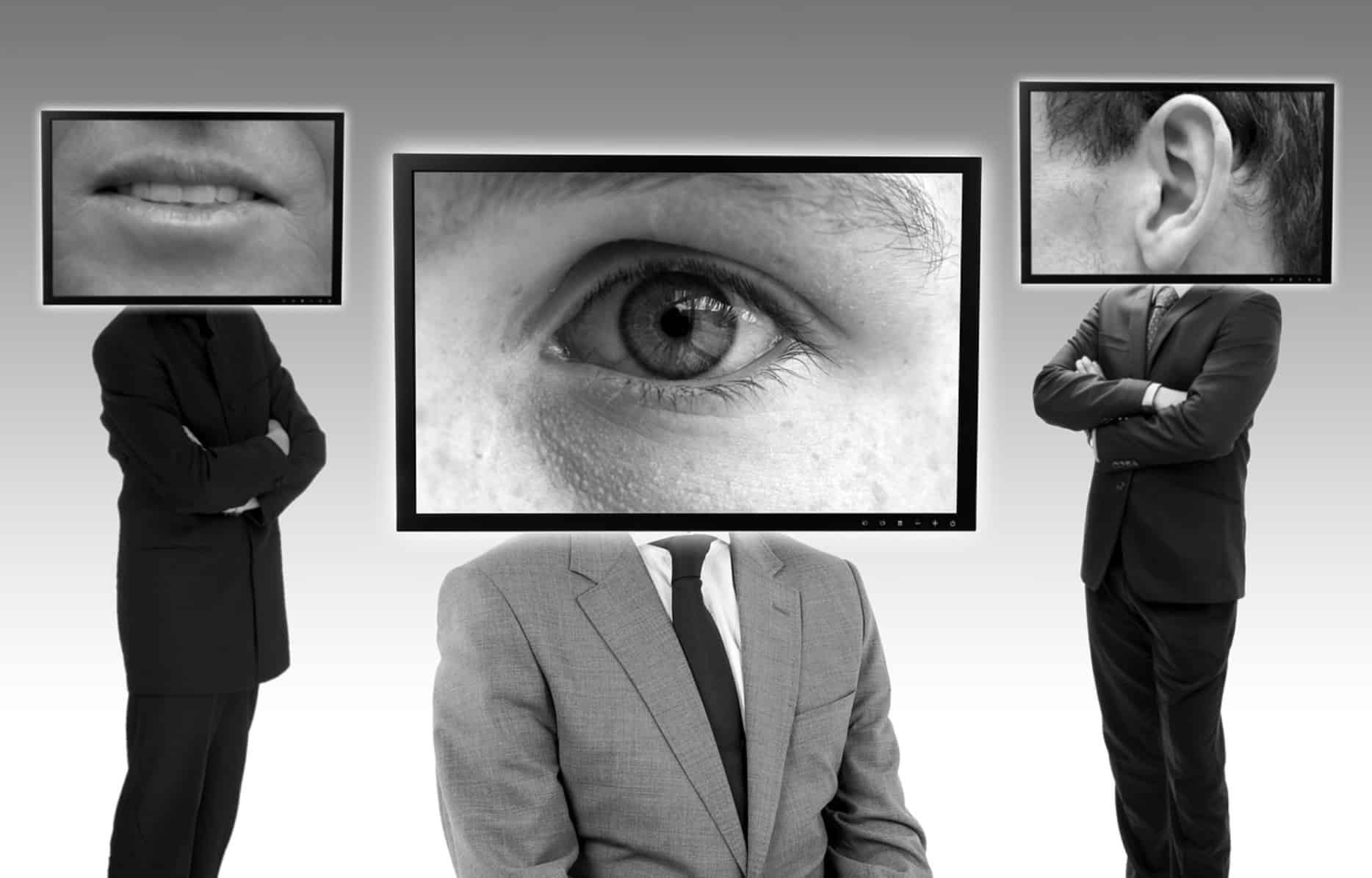 Between them, the Five Eyes have huge, wide-ranging power on the Internet. According to the Electronic Frontier Foundation, the five governments can force any "communications service provider" (including ISPs, social media platforms, email providers, cell phone networks, and more) to:
Insert malware on its users' devices
Ignore existing laws in pursuit of Five Eyes directives
Interfere with user experience
Provide governments with new product designs in advance
Provide user information as requested in secret warrants
The Five Eyes have surveillance technology that allows each country to spy on its Internet users. When using a VPN to avoid surveillance, you'll want to make sure the origin of the VPN provider is not within a Five Eyes country, or at the very least has a strict no-logging policy. If you are in Scotland and want to make sure you are anonymous online and not being spied upon, you should download and install one of the recommended VPNs above.
The NSA and FBI
The National Security Agency (NSA) and the Federal Bureau of Investigation (FBI) are two agencies that continuously make headlines for the wrong reasons: mass surveillance and online spying. In recent years, leaked documents have proved just how extensively both agencies collect data — causing Internet users to question their online security. Ostensibly, these agencies are supposed to use government intelligence and surveillance efforts to stop organized crime and prevent terrorism. But in practice, the laws around both agencies are written in vague language so as to allow the bending of the rules to the agencies' advantage. Regardless of their efforts to keep the world safe from crime and terrorism, many have proclaimed the FBI and NSA to be invasive.
A Virtual Private Network will keep your online identity and online activity protected from surveillance agencies. VPNs are fast, easy to use, reliable and effective. If you want to stay safe and anonymous online, install one of the recommended VPNs above.
Conclusion
Fact: given the UK's participation in the Five Eyes agreement, if you live in Scotland, you need a VPN. But finding the best VPN can be difficult when there is a market flooded with hundreds of different providers.
We suggest considering what criteria are important to you as an individual Internet user in Scotland. Once you've established your needs, choose the VPN from the list above that best fits what you're looking for.
Which VPN will you choose, and why? Let us know in the comments below.