We are reader supported and may earn a commission when you buy through links on our site.
Learn more
Taiwan VPNs: What's the Best VPN for Taiwan in 2021?
With China flexing its geopolitical muscles, Internet users in Taiwan need to ensure their privacy online. Armed with the best VPN for Taiwan, which we will be discussing in today's in depth article, you'll be able to make informed decisions about your Internet security, beat regional blocks, and guarantee your anonymity online.
Taiwan nowadays has pretty good internet freedom – one of the best in Asia, according to independent advocacy group Freedom House. This is a big improvement on where the country was in 1987, when the country was under authoritarian rule and censorship of news, media, and entertainment was strict. These days the right to free speech is protected in the constitution of Twaian and there are no official restrictions on access to the internet. Internet availability is good and the country enjoys some of the fastest internet speeds in the region.
Chinese influence on Taiwanese ISP is growing, take control of your privacy online with these VPNs:
NordVPN – Best VPN for Taiwan – NordVPN offers peerless encryption, a massive network, smart DNS site unblocking, plus the impenetrable NordLynx protocol to guarantee Taiwanese users' access to the free and open Internet.
Surfshark – A modern VPN for modern times, with advanced anti-censorship methods that defeat restrictions before you even notice them.
ExpressVPN – One of the fastest VPNs, with dynamic rotating IPS, Lightway encryption, and a kill switch for foolproof security.
IPVanish – Commonly used by streamers, torrenters, and gamers due to its balance of performance and privacy.
VyprVPN – Time-tested solution to tunnel through China's Great Firewall, with its unique Chameleon protocol.
However, even with this internet freedom there are still reasons why people in Taiwan might want to use a VPN when browsing the internet. Attempts to legislate against websites which host copyrighted material are frequent, and in the political arena some Taiwanese people are concerned about the influence that China will have over internet policy in the future. For reasons ranging from privacy to security to freedom, a VPN is a useful tool for any internet user.
30-days money back guarantee
Choosing The Best VPN For Taiwan
All of this makes it clear why users in Taiwan might want a VPN. But choosing a VPN can be a challenge as there are so many providers out there. To help you select the right VPN for your needs, these are the factors that you should keep in mind:
Fast connections. No one likes slow internet, and a VPN will necessarily slow down your internet to some degree. But a great VPN will offer connections so fast that you don't even notice they're there, letting you use the internet as quickly as you did before.
Servers in many different countries. In order to get around region locks, you need access to servers all around the world. Look for a VPN provider with a large network of servers in many different countries for maximum flexibility.
Strong security measures. A VPN should keep your data safe with strong encryption and a no logging policy to ensure the provider keeps no records of your internet use.
Good software. You'll use your VPN provider's software to connect to servers, so this software should be well made and easy to use, have use features, and support a variety of platforms so you can protect all of your devices with one account.
We have reviewed a range of VPN providers and based on these factors we have identified the best services for users in Taiwan: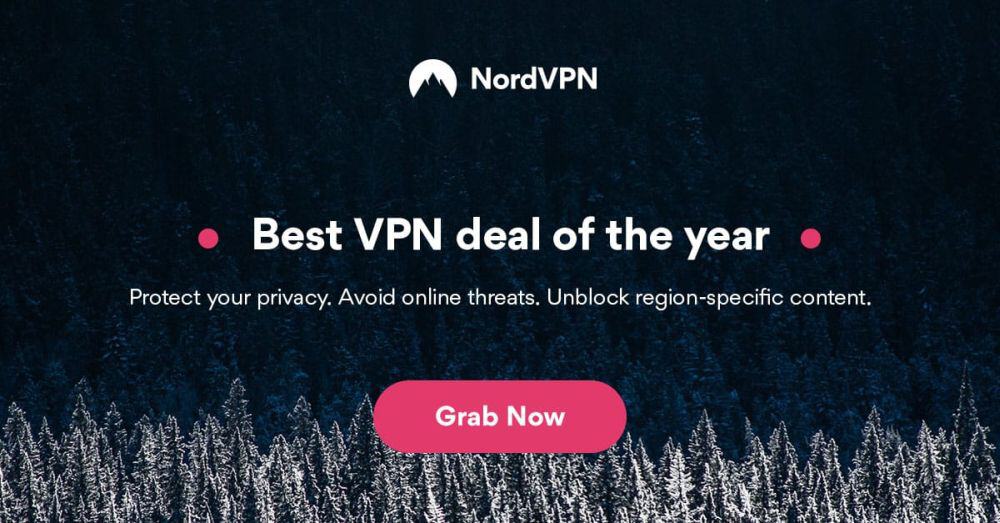 When you're concerned about security and you want to be sure that your internet activity will be hidden from the government and from other outside observers, we recommend NordVPN. This company has a killer feature in its double encryption service, in which your data is encrypted once, then sent to a server where is it encrypted again, before going to another server for decryption and onward to its destination. These two layers of encryption are almost impossible to crack for your ultimate security and peace of mind, and the service has a no logging policy too.
The server network available is large, with over 5,700 servers in 60 different countries so it will meet all of your location spoofing needs. The software can be used on a range of platforms including Windows, Mac OS, Linux, iOS, Chrome OS, Android, and Windows Phone.
Read our full NordVPN review.
Pros
Unblocks US Netflix, iPlayer, Amazon Prime and other streaming services
Most VPN servers with different IP addresses
No IP/DNS leaks found
Retains no metadata of your browsing
30-day money back guarantee.
Cons
Not much
Sometimes slow in procesing refunds (but always do).

Surfshark represents the best of a new breed of VPNs tailor-made to counter increasingly authoritarian policies towards Internet freedom. While Taiwan still enjoys ready access to the free and open Internet, you owe it to yourself to secure your connection with a good VPN. Surfshark allows you to do this, without paying an arm and a leg.
With 256-AES-GCM encryption as its baseline, Surfshark is an incredibly powerful privacy solution. You can connect to over 3200 servers in 65 countries, enabling you to spoof past an entire world of geoblocked content. There are never any logs with Surfshark, and their RAM-only network wipes any trace of your activity behind you.
Perhaps most importanting for Taiwanese users, Surfshark offers obfuscation and NoBorders anti-censorship on every server. Should you travel to China or a similarly restricted country, you'll find Surfshark "just works" to get through, courtesy of these automatic countermeasures.
Pros
Reliably unblocks Netflix US, UK, Japan, and more
All 800+ servers are P2P-friendly, with private DNS and obfuscation
DNS leak and kill switch protection keep your defenses up even when your connection drops
Logging policy independently audited and verified
Get help any time of day via email, phone, or live chat.
Cons
Speeds occasionally suffer a noticeable drop
Relatively young VPN still has to prove itself trustworthy over the long haul.
Read our full Surfshark review.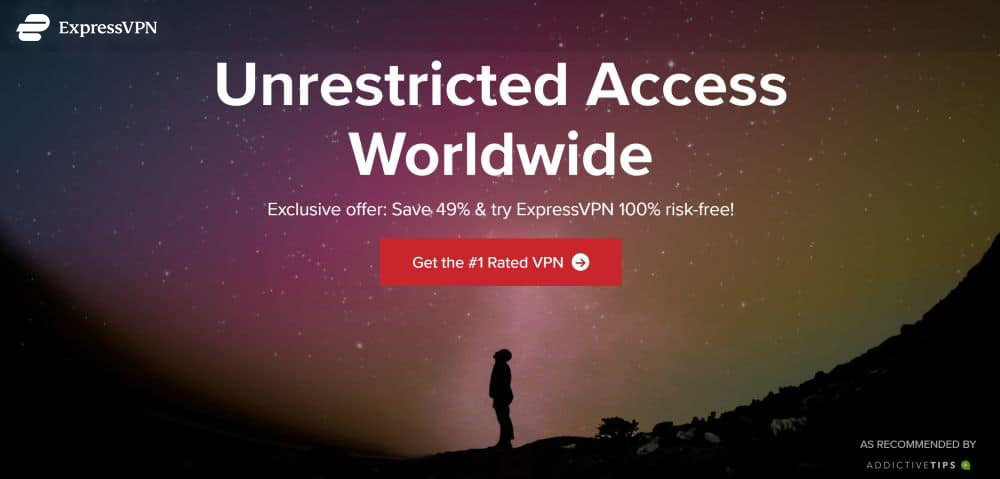 ExpressVPN is a popular choice among serious internet users. For those who want only the best in terms of speed, security, reliability, and flexibility, this is to go to choice. With all these strengths, as you can imagine, the cost of this VPN is somewhat higher than others. But it's money well spent if you want top of the line in all areas.
The server network on offer is massive, with more than 3000 servers in 145 locations in 94 different countries which means it's no problem for you to get around regional locks and find the content you want. The security of the network is also good, with strong 256-bit AES encryption and a no logging policy so you ca know that you data will be kept private.
The modern, easy to use software has handy features like a kill switch and a speed test, and is available on many version of Windows (including Windows RT, Windows XP, Widows Vista, and Windows 7, 8, and 10), plus Mac OS, Linux, and Android.
Read our full ExpressVPN review.
Pros
Unblocking Netflix USA, iPlayer, Amazon Prime
Fastest servers we have tested
Torrenting/P2P allowed
No logs for personal data
Live Chat Support.
Cons
Expensive month-to-month plan.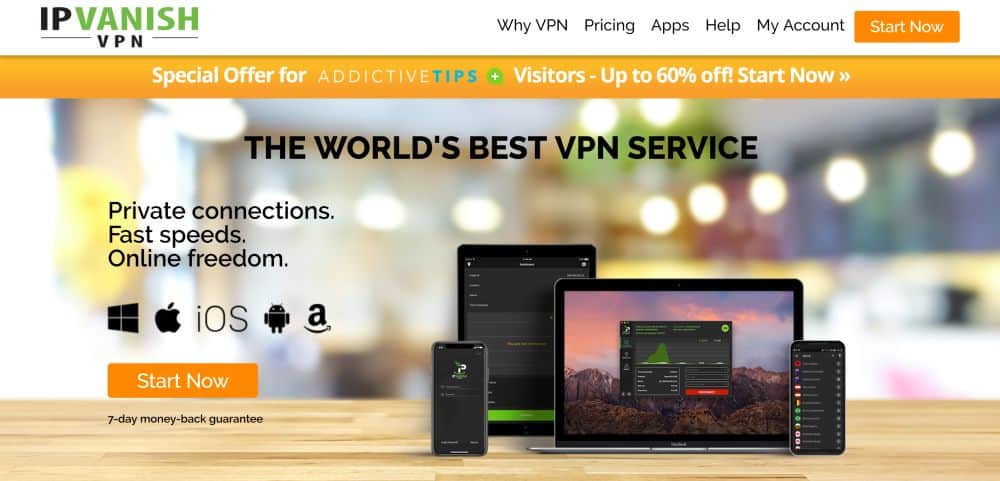 When what you're after is the fastest VPN in the game, look into IPVanish for lightning fast connections that will make your internet a joy to use with no slowdown. As well as this excellent high speed, the security is also strong, with 256-bit encryption and a no logging policy.
The server network is not the largest of all, but with 1,300 servers in more than 60 countries, there are still plenty of options to find servers to connect to. You can use the clean, informative software on a variety of platforms including Windows, Mac OS, Linux, and Android.
Read our full IPVanish review.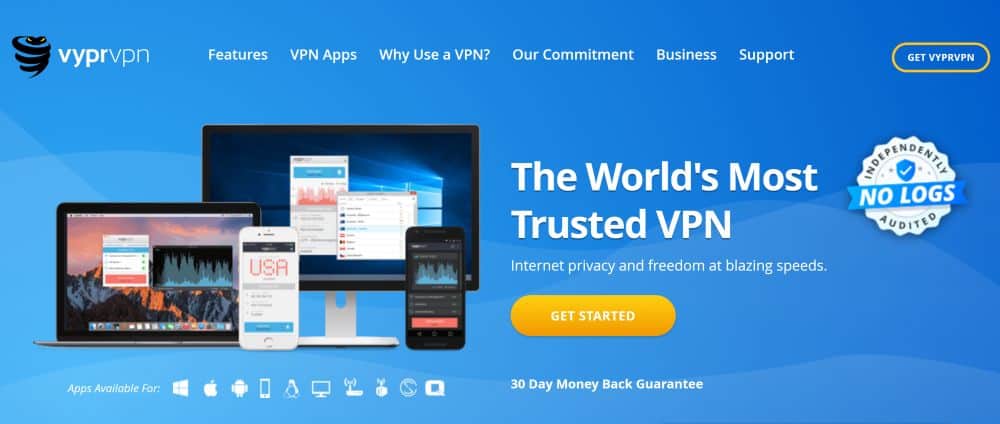 If you travel to China for business or for pleasure then you'll know how restricted the internet is there. The Great Firewall not only cuts off access to huge swaths of the internet, but it is also common to find VPN detection software on internet networks which prevent you from using a VPN to get around these restrictions.
If this is a worry for you, you should try VyprVPN. This company has a special feature called the Chameleon protocol which hides the fact you are using a VPN, so that you can use the service even when you're on a network with VPN detection. It achieves this by encrypting not only your data, but also the metadata – that is, information about the data such as its origin and location. Because the metadata is encrypted, it is almost impossible to tell that you are using a VPN and so you can use the service even on restricted networks.
As well as this key feature, VyprVPN has a no logging policy and strong encryption. Their provider-owned server network covers more than 700 servers in 70 different counties so you'll have sufficient options to get around region locks, and the software supports Windows, Mac OS, iOS, and Android.
Read our full VyprVPN review.
Download In Safety With A VPN
Plenty of people like to download the latest movies or music to enjoy on their computer, but this can be a risky practice. Legislation against copyright infringement is getting more strict around the world, including in Taiwan. It used to be that downloading was small and new enough that copyright holders neither noticed nor cared if a few people used the internet to download material illegally, but these days as downloading has become so popular, the same copyright holders and becoming more and more aggressive about identifying and punishing downloaders.
If you're downloading content illegally, especially if you're using a peer to peer protocol such as BitTorrent, then it's incredibly easy for your ISP to track what you're doing and to provide your details to the copyright holder or to law enforcement. If you're caught downloading copyrighted material, you could be liable for prosecution or for a steep fine.
RELATED READING: How to Hide Your IP Address When Downloading
While we at Addictive Tips do not condone breaking the laws of your country, we are staunch privacy advocates, so we always recommend you to use a VPN to keep yourself safe.
A VPN works by installing a small piece of software onto the device you're using to download, such as your computer, tablet, or phone. This software then encrypts all of the data that your device sends over the network, and this encryption means that no one can see the contents of this data unless they have the key to decrypt the data. Even your ISP can't see what sites you are visiting or what files you might be downloading – they can only see the amount of data that you use. All of this makes it effectively impossible for your ISP to know that you are downloading, or for them to collect any evidence of your downloading. This will keep you safe from law enforcement and over-zealous copyright holders.
Get Around Region Locks And Access Blocked Sites With A VPN
Another reason you might want to use a VPN in Taiwan is to get around region locks or to access blocked sites. You might have noticed that many websites have different versions that are displayed depending on where you access them from.
If you visit google.com from Taiwan, for example, you'll be redirected to the Taiwanese version of the site, google.com.tw, whereas if you visit from the UK you'll be redirected to the British site at google.co.uk. In the case of Google, this doesn't matter much as you can just type in a different domain to access a version of the site from another country. But for other sites like Netflix or Hulu, there's no way to view different versions of the site. If you visit these sites from Taiwan, they'll show you the Taiwanese and only the Taiwanese version of the site.
SEE ALSO: How To Change The Country On Your Netflix Account
This is a problem as the catalogue of movies and TV shows that are available on these sites differs in each country. Because licensing agreements have to be worked out for each movie and TV show individually, there is some content which isn't available in particular countries. This is called region locking, as the availability of content is locked to a particular geographic region.
Understanding IP Addresses
So what do you do if you're in Taiwan and you want to watch a show which is available on, say, the US version of Netflix but not the Taiwanese version? You can use a VPN for this too. To understand how this works, you first have to understand how an IP address works. An IP address is simply a unique string of numbers which is assigned to any device which is connected to a network. When you connect to the internet, your device is automatically assigned an IP address by your ISP.
The thing about IP addresses is that they contain geographic information. Because ranges of IP addresses are allocated to particular countries, a website can read your IP address and see which country you are visiting from. It's then simple to serve you a version of the website adjusted based on your location.
To get around region locks, you need an IP address from another country. With a US IP address you can easily access websites which are only available in the US and force sites to serve you their US version. And you can use this same method to access content from any other country too.
With a VPN, when you connect you can select a server in the country of your choice to connect to. Because your encrypted data is decrypted at that server, you are assigned an IP address in that server's country and your data appears to originate from that country too (in a process known as "spoofing". When you want to get around region locks, you just need to use your VPN to connect to a server in a country which does have access, and you can use the site freely. This works for sites which are blocked too – you can connect to a server elsewhere in the world and then access the blocked site from there.
Avoid Third-Party Observation With A VPN
Finally, plenty of people are concerned about the government keeping tabs on their internet use. Despite the fact that Taiwan is not known for having an aggressive internet surveillance program (here are some countries that do), it's still advisable to be careful if you want to protect your privacy. When you use a VPN, the same encryption which stops your ISP from seeing if you're downloading also prevents the government from monitoring or recording your internet use or electronic communications. As a matter of principal, it's a good idea to use a VPN at all times to prevent any unwanted snooping into your online activities.
It's also worth mentioning that Taiwan is a hub for economic activity, and as such attracts the attention of all sorts of cybercriminals. Fierce competition from mainland China warrants stepping up security measures when doing business or traveling through Taiwan. Using a VPN is an effective countermeasure against theft of your business's trade secrets and secret information.
Conclusion
Internet freedom in Taiwan is pretty good, but given concerns like increasingly strict anti-piracy legislation, the potential for government observation of communications, and the possibility of Chinese internet restrictions making their way into China, security and privacy are still major issues for internet users.
To protect yourself from observation and to get around region locks, you can use a VPN to take the fullest advantage of the internet. Any of the VPNs that we have recommended are great choices for services which are safe, reliable, and trustworthy.
What's your favourite VPN for use in Taiwan? Or is there another method that you prefer to protect your privacy online? Let us know your thoughts in the comments below!