We are reader supported and may earn a commission when you buy through links on our site.
Learn more
Best VPNs for US Expats to Protect Privacy Everywhere
US expats: if you're not using a VPN while abroad, your Internet privacy is at risk. Today, we cover the best VPN providers in terms of encryption, logging policies, jurisdiction and more, so you can be sure that you are complete hidden online, no matter where in the world you live or travel.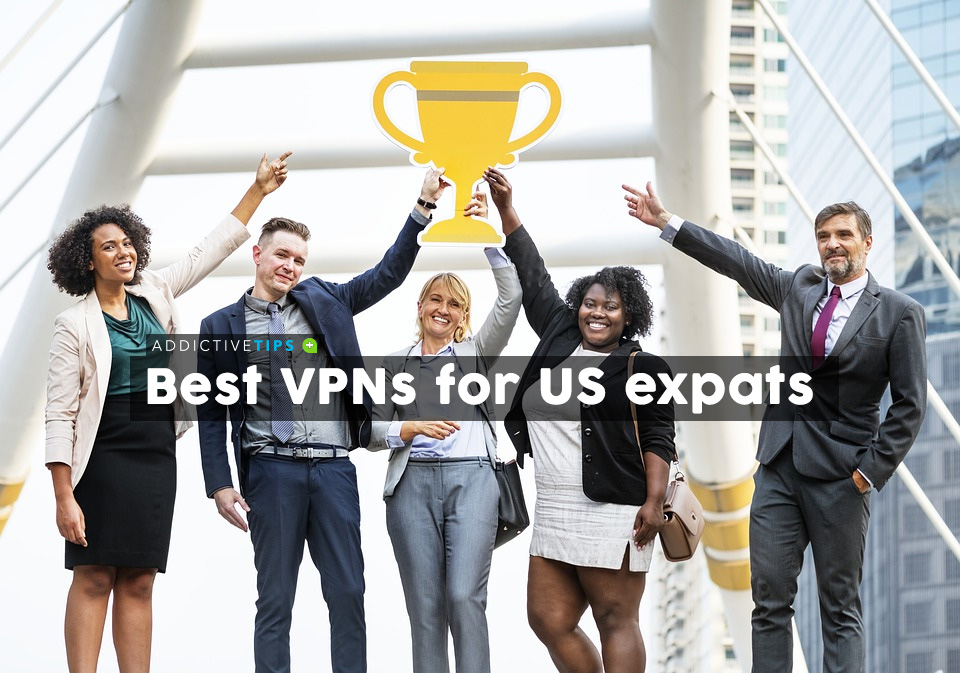 Living abroad comes with all sorts of unknown challenges and risks. When you're an ocean away from your home country living the life of an expat or digital nomad, you need to take extra precautions to make sure your information stays secure. All it takes is one compromised public hotspot and your bank account, e-mail address, or personal identity could be hacked.
Whether you've established your home away from home or travel frequently outside the US, take control of your privacy online with these secure, expat-friendly VPNs:
NordVPN – Best Expat VPN – NordVPN has a tool for any task, enabling you to travel the globe and relocate as you please without fear of losing access to your basic right to privacy online. Anonymize your Internet connection with unbreakable, super-fast NordLynx encryption.
Surfshark – An affordable VPN with plenty of advanced features that make life abroad a lot more predictable and secure.
ExpressVPN – Tunnels through the harshest government censorship, yet still provides some of the fastest VPN speeds you'll find anywhere.
CyberGhost – Easy access to thousands of servers worldwide courtesy of one the industry's best-designed VPN user interfaces.
PrivateVPN – Offers a ton of spoofing utility thanks to flexible encryption settings.
PureVPN – A powerful privacy solution with quite a few cybersecurity extras not commonly found in standard VPN packages.
If you're a U.S. expat living abroad, you should always use a virtual private network (VPN). It doesn't matter which Wi-Fi network you're using or how you connect to the internet, your data is never truly secure unless every packet is encrypted by default. VPNs provide just the right amount of security to help keep U.S. expats secure while abroad, making traveling away from home a lot less risky than it was before.
30-days money back guarantee
Choosing the Best VPN for U.S. Expats
There are hundreds of VPNs on the markets, each promising the fastest speeds, the most secure connection, and the widest range of features. How can you tell which ones are legit and which ones are just trying to steal your data? There are a few criteria you can focus on to ensure your VPN actually keeps you safe.
Most Important VPN Features
Finding the right VPN for your expat needs requires a lot of research. We've streamlined the process below with the most important features you should consider when evaluating a potential VPN.
Device support – Do you use an Android smartphone? Macbook? iOS device? All three? Make sure your VPN supports your hardware, otherwise you can't stay safe.
Fast download speeds – VPNs can be slower than an unencrypted internet connection. A good VPN service compensates for this, enabling fast downloads and smooth streams.
Large server network – The more servers a VPN runs, the more options are at your disposal. You'll especially need a lot of servers located within the U.S., as well.
Unlimited bandwidth – Some lower quality VPNs restrict how much bandwidth you can use, which is never a good thing. This is particularly bad when torrenting or streaming.
Zero-logging policy – VPNs can log activity just like any ISP. Ensure your data stays safe by using a service with a zero-logging policy.
Top 6 Best VPNs for U.S. Expats
Once you've looked over the important features and done a little bit of research, it's time to choose a VPN. We've picked several of the top services on the market that can protect any U.S. expat from any threat to their privacy. Check out the VPNs below, and stay safe out there.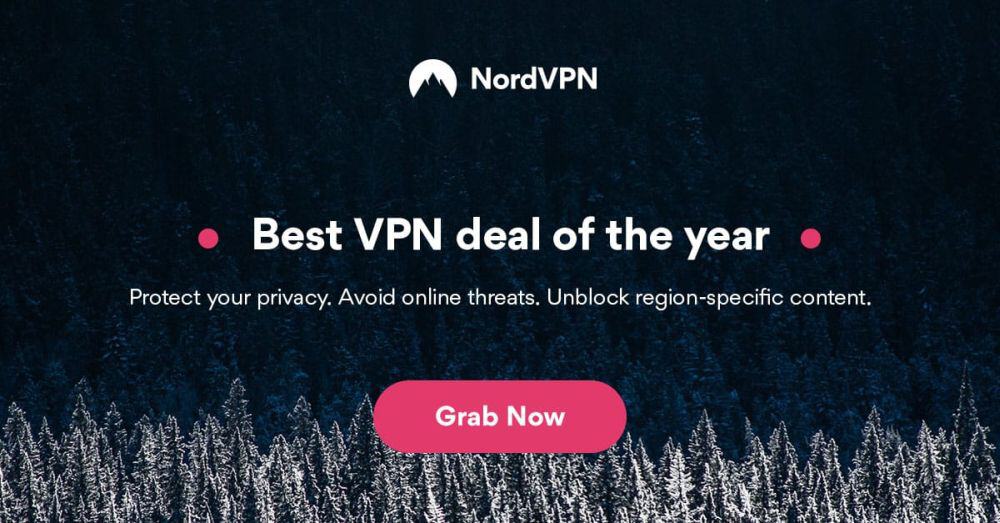 NordVPN hits the sweet spot when it comes to features and overall speeds. The most impressive part of the service is the size of its proxy network. The list is constantly growing, but at the time of writing NordVPN users have access to over 5,500 servers in 59 countries, more than twice the amount of many competitors. This means you'll always have access to a reliable and fast connection anywhere in the world. You'll also get exclusive features such as P2P downloads, DDoS protection, and double encryption servers.
NordVPN provides a wide range of privacy features that keep you safe online. It starts with a zero-logging policy that covers everything from bandwidth to time stamps, traffic to IP addresses. Your activity is never recorded or shared with third parties while using NordVPN. Backing these features is 256-bit AES encryption on all data, an automatic kill switch, DNS leak protection, and a host of customizable encryption features.
Nearly half of NordVPN's network is housed in the Americas. Of those 2,000 or so servers, an astounding 1,600+ are located in the United States, making this one of the best VPNs for expats to use abroad.
Read our full NordVPN review.
Pros
SPECIAL OFFER: 2-yr plan (68% off - link below)
Most VPN servers with different IP addresses
256-bit AES encryption with perfect forward secrecy
No logs and encrypted connections for total privacy
Customer Service (24/7 Chat).
Cons
Some servers can be slow and unreliable
Apps can be a bit cumbersome to use.

Expat life is challenging enough without having to keep track of local Internet laws. Surfshark eliminates this burden by parting the waters towards the free and open Internet, no matter where you connect from. And, it's affordable enough even for expats and nomads on a budget.
Connect to over 3200 servers in 65 countries and spoof a virtual IP from any corner of the globe, protected by the unbreakable 256-AES-GCM encryption cipher. If you run into trouble from sites like Netflix which block VPN traffic, Surfshark auto-configures smart DNS settings and obfuscation (available on every server) to bypass the block and regain access.
Surfshark also offers split tunneling, which allows you to stay protected even when using certain apps (like banking apps) which normally don't play nice with VPNs. However you choose to use Surfshark, rest easy knowing they never keep identifiable logs of your activity.
Pros
Unblock VoIP in oppressive regimes like WhatsApp, Skype, Discord, and more
Diskless server network ensures you leave no trace behind
Wide app availability on desktop, mobile, consoles, smart TVs and more
Based in the British Virgin Islands, where there are no data retention laws
Helpful 24/7 live chat with an actual human being.
Cons
Growing network doesn't have same coverage as more mature VPNs
New-kid-on-the-block status may not instill same trust as larger providers.
Read our full Surfshark review.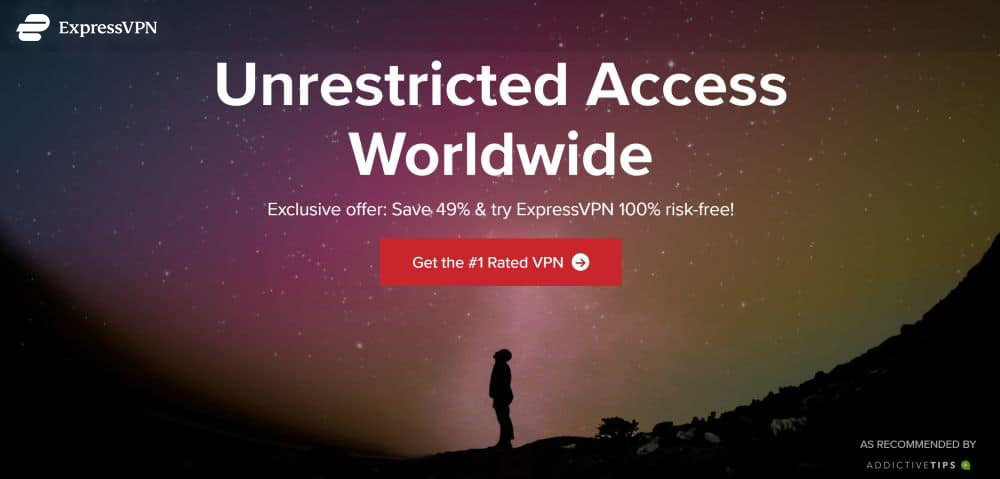 ExpressVPN is an incredibly fast VPN that puts a high priority on ease of use. The company runs a network of over 3,000 servers in 94 different countries located across the globe, each one delivering lightning fast speeds no matter where you're connecting from. You can log in and start streaming HD videos or watch live sports with ease. This is made simple thanks to ExpressVPN's incredibly intuitive software and apps. Launch the program and you're automatically connected to the fastest server, then you're free to enjoy the internet without limits.
The provider's privacy features are perfect for online security. Data is protected with 256-bit AES encryption and backed by a zero-logging policy on traffic, DNS requests, and IP addresses. DNS leak protection and an automatic kill switch also provide a reliable safety net in case of an accidental disconnect or other internet issue.
ExpressVPN offers server locations scattered across the globe. U.S. expats will be pleased to see a ton of servers in America, representing almost 30 cities on both coasts and throughout the midwest.
Read our full ExpressVPN review.
Pros
Unblocks US Netflix, BBC iPlayer, Hulu and Amazon Prime
Super fast, reliable connection
Secure encryption & VPN protocols
No personal information logs kept
Great support (24/7 chat).
Cons
High cost for month-to-month users.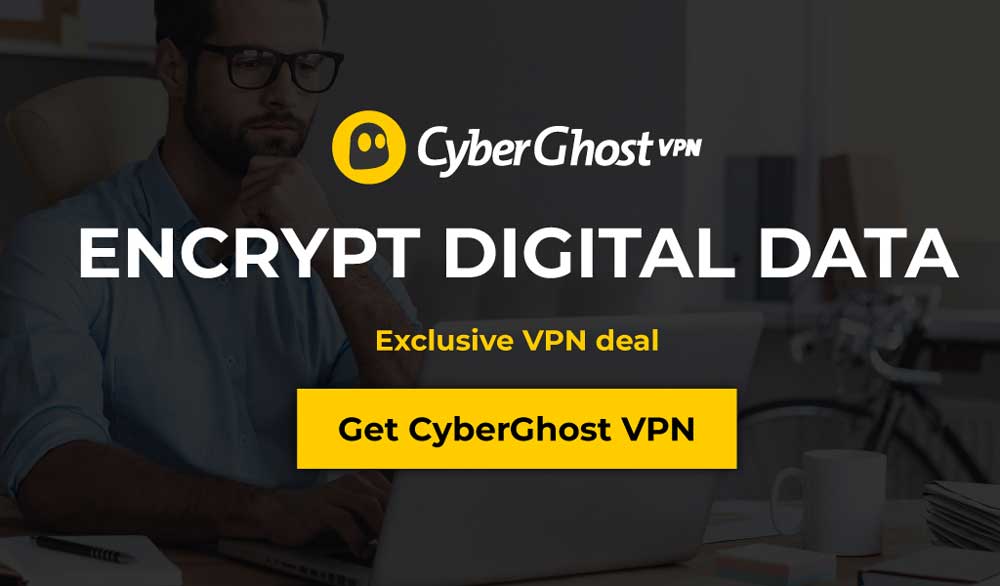 Speed, usability, and security are the core features offered by CyberGhost, one of the more reliable VPNs on the market. The service delivers excellent connection speeds no matter where you travel to, giving unlimited access to a network of over 5,900 servers in 90 countries. CyberGhost's smartphone and desktop apps are also incredibly easy to use, featuring just the right mix of fast, one-click options and powerful configuration settings to customize your experience to meet your expat needs.
CyberGhost's privacy offerings center around 256-bit AES encryption on all data along with a zero-logging policy on traffic, time stamps, and IP address. DNS leak protection and an automatic kill switch come standard with the software to ensure no identifying information ever leaves your device.
CyberGhost maintains an impressive 1,000+ servers online throughout the U.S., with new locations added almost every day.
Read our full CyberGhost review.
Pros
Unblocks US Netflix + BBC iPlayer
3,600+ servers in 55+ countries
Versatile and user-friendly
Private: Strong no logs policy
Money-back guarantee.
Cons
WebRTC IPv6 leak in macOS
Doesn't unblock all streaming services.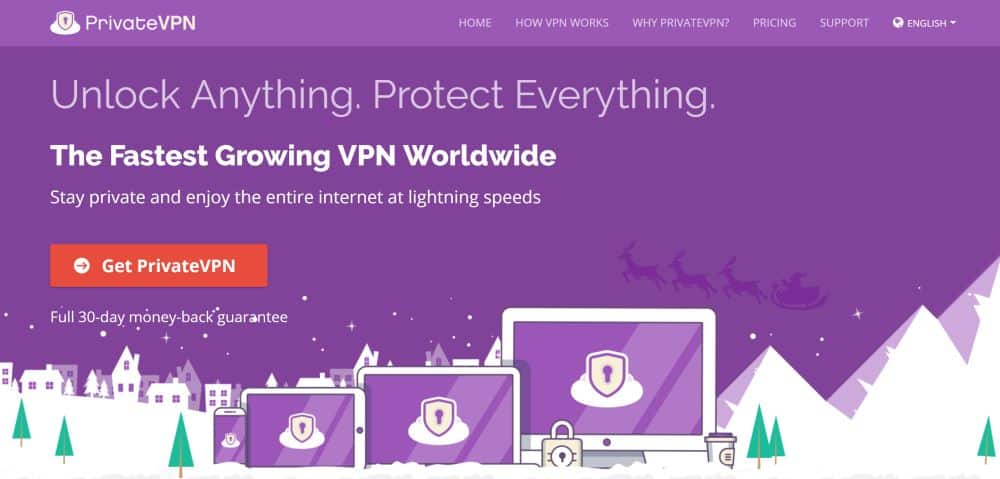 Like most VPNs, PrivateVPN focuses on a balanced offering of speed and security. This service provides both in ample supply, allowing you to stay secure anywhere in the world while surfing, streaming, checking social media, and much more. PrivateVPN works perfectly on smartphones, desktop PCs, and even Fire TV, all with a lightweight and easy to deploy interface. This makes it an excellent choice for anyone who wants the benefits of a VPN but isn't interested in all the hassle of configuring or using one on a daily basis.
This provider runs a small but strong network of around 150 servers in 60+ countries, enough to offer significant speed and location variety for expats. It locks down data with 256-bit AES encryption, keeps your connection safe with an automatic kill switch and DNS leak protection, and it features a zero logging policy on all traffic for the perfect privacy foundation.
PrivateVPN offers servers in nine different locations scattered across the U.S., providing plenty of options for an American IP address for all of your expat streaming needs.
PureVPN delivers more than just encryption and location variability. This is an all-in-one security suite service that can keep your devices safe from a variety of dangers. With PureVPN you get anti-virus protection, malware shields, app blocking features, and DNS website filtering, all packaged together in a single unified interface. Simply sign into PureVPN's easy to use app software and you're safe.
PureVPN provides plenty of incredible privacy features, as well. It starts with a zero-logging policy on all traffic, an automatic kill switch, solid 256-bit AES encryption on all data, and DNS leak protection. These work perfectly with the company's self-owned network of 2,000+ servers in 140+ countries, providing a ton of options for fast, safe, and secure connections.
PureVPN's privacy suite and VPN service works with its entire network of servers. The company offers hundreds of nodes in 13 different U.S. cities spread across the continent for excellent connection options no matter your location.
Read our full PureVPN review.
Why U.S. Expats Need a VPN
Expat life often sounds more glamorous than it actually is. There are some very real dangers to your digital life as you travel another country. No matter how familiar you are with your new home, there's always the chance you'll stumble across something unexpected. Below are the top reasons why every U.S. expat should consider using a VPN on all of their devices.
1 – To Protect against Censorship
Net neutrality and censorship are a growing concern in countries around the world. Laws have been passed by the European Union and other organizations to protect certain rights of the internet user, but service providers and wireless carriers are doing everything they can to circumvent these limitations. Wherever you live, there's a chance you could be negatively impacted by censorship firewalls or anti-neutrality practices.
RELATED READING: Understanding Net Neutrality and Internet Fast Lanes
You can avoid most of these issues busing a strong VPN. Encryption helps lock down your data so no one can tell what you're trying to access. If a website or service is blocked in your expat country, you can simply switch on a VPN to restore access, no problem. VPNs also help keep your identity as anonymous as possible, just in case the local government is watching.
2 – To Stay Safe on Public Hotspots
If you're an expat, chances are you like to travel. Public internet can be extremely convenient when you're out and about, even if it's just a jaunt over to the cafe for coffee. These hotspots can be some of the most dangerous ways to use the internet, unfortunately. They're simply not secure, and they're frequented by hackers looking for easy targets.
If you rely on public Wi-Fi, using a VPN is an absolute must. It's the only way to ensure your data and identity can't be stolen by a malicious third party attack. By locking down your smartphone, tablet, or laptop, you can prevent personal information from leaking into the world. Some VPNs can also stop attacks from penetrating your device.
3 – To Watch Geo-Restricted Movies and TV
Do you ever miss your old TV shows from the U.S.? Maybe there's a channel you liked having on in the background as a kid, or maybe your expat country just doesn't have the local selection of films you'd like to see. Whether it's accessing Sling TV abroad or watching your favorite Netflix movies from America, a good VPN can provide just the right bridge to worldwide content, and all you have to do is click, connect, and enjoy.
4 – To Get Unrestricted VoIP Access
VoIP services like Skype and WhatsApp are perfect for keeping in touch with friends, family, and colleagues around the world. Unfortunately, many of them are blocked in certain countries, especially throughout the Middle East. U.S. expats looking to keep in touch with folks in the states may have to resort to using the locally-owned VoIP programs, which can be unfairly expensive and dangerous to your privacy.
Once again, a good VPN can save the day. Restrictive VoIP practices are easily avoided with the right encryption and security plan. All you have to do is turn on the VPN to mask your identity, then launch your favorite VoIP service and chat away.
Want more tips on using a VPN as an expat? How about more smart reasons why a VPN is a vital piece of your digital nomad inventory? Check out our expat VPN guide.
Conclusion
Life as a U.S. expat has its ups and downs. When it comes to the downs, your top priority should be keeping your identity and digital information secure. With a good VPN on all of your devices, you can safely use the internet in any country and not have to worry about sacrificing your privacy or identity. Then you're free to enjoy the expat life.
Got any other tips for maintaining the security and convenience you're used to back home while on the road? Share your expat stories and experiences below.