We are reader supported and may earn a commission when you buy through links on our site.
Learn more
Does ExpressVPN Work With The American Netflix (Tested, 2021)
The sad fact is that most VPNs don't work with Netflix, leading many to question whether ExpressVPN can bypass the streaming giant's VPN blocks. We'll explore this topic in depth in today's guide, teaching you about how Netflix detects VPN and proxy users to enforce geo-blocks.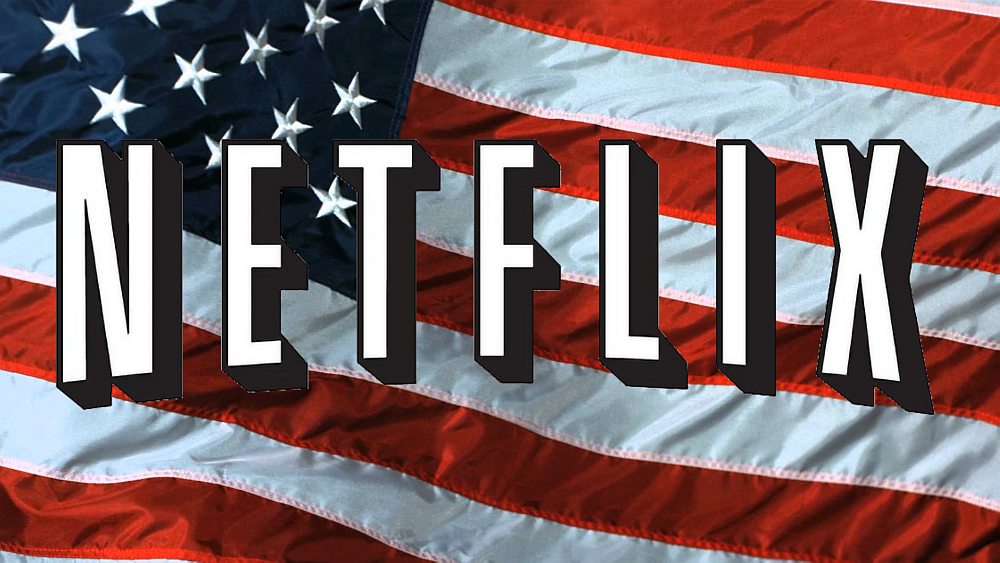 Netflix certainly needs no introduction as it seems like everyone knows this immensely popular streaming service. It's no surprise since the service is available in 190 countries. Nevertheless, it's the American Netflix that's the one everyone wants to watch. Unfortunately, the American Netflix only allows connections from the USA.
Virtual Private Networks have been advertised for a while as an excellent means of bypassing that type of geographic restriction. But it seems like Netflix has gotten better than ever at detecting and blocking connections from VPNs. Nowadays, not all VPNs will let you connect to Netflix. If you're an ExpressVPN user or you're thinking of subscribing to the service, you're probably asking yourself: "Does ExpressVPN work with the American Netflix?"
In this article, we'll do our best to answer this burning question. We'll start off with a general introduction Netflix and discuss its history. We'll also mention Netflix Originals, TV shows and movies produced by Netflix. We will then discuss the why and how of the service's geo-blocking efforts. Next, we'll tell you how Virtual Private Networks can help you bypass most geographic restrictions; why they don't always work with Netflix; and how Netflix manages to block connections coming from VPNs. Finally, we'll finish our discussion with a short review of the ExpressVPN service (or, check out our full-length ExpressVPN review), one of the few that do work with American Netflix.
30-days money back guarantee
Netflix In A Nutshell
Netflix was founded in 1997 by Reed Hastings and Marc Randolph. What the pair had in mind back then was only an online DVD rental business. By 2005 the service had more 4 million users and was flourishing. In 2007, after 10 years of renting DVDs throughout the US, Netflix introduced its streaming service. This was the start of a new era where users could watch movies and TV shows instantly on their computer– no need to go to the video store or wait for the rented DVD to be shipped. In the following few years, Netflix entered partnerships with television set, game console, and media player manufacturers to stream its online content directly to their platforms. Users now had other options than just watching Netflix on their computers.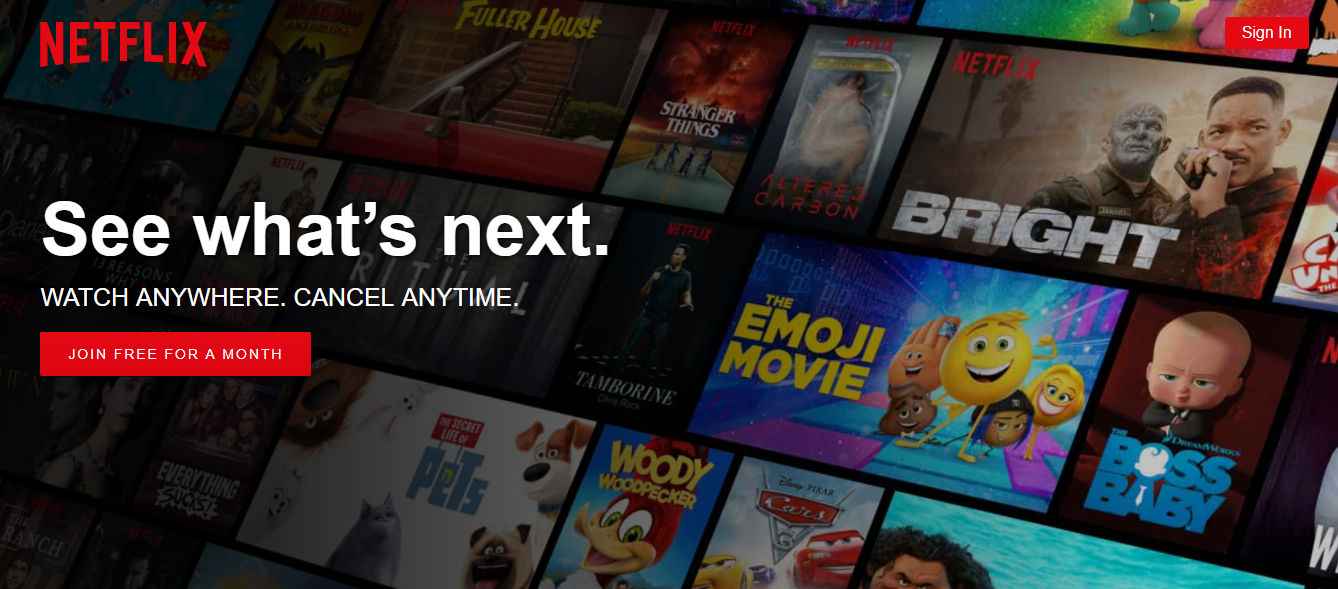 Netflix's growth never stopped. It is still growing today and it is available on virtually every smart TV, media player, major game console, Android and iOS smartphone and tablet. Although no official figures have been released, it is believed that Netflix has now close to 120 million users worldwide. And this number still keeps increasing, with Netflix now reaching users in 190 some countries.
About Netflix Originals
Netflix is in constant evolution and its managers are always trying to renew the offering. Since 2013, Netflix is also a content producer of the Netflix Originals, as they are called. These are TV shows or movies produced–or co-produced–by Netflix. Most titles are available solely on Netflix, though some are available on broadcast TV. Netflix Original shows are often highly regarded and some of them are amongst the most popular TV shows. Riverdale, airing on the CW, Orange is the new black, Stranger Things, House of cards, The Crown, Arrested Development, and Marvel superhero series Jessica Jones, Daredevil, The Punisher, Iron Fist, Luke Cage and Defenders are only a few examples to give you an idea of the general quality and/or popularity of the Netflix Originals.
Accessing The American Netflix From Outside The USA
Netflix often has to enforce some form of distribution restrictions. For instance, the producer of a movie might have already entered an exclusive distribution deal in a specific region and would therefore not allow Netflix to distribute it is that region.
Think of the NBC show The Big Bang Theory, for example. It's not available on Netflix in the US but it is on some European versions of the service. This might not be the best example, though, as the American and Japanese Netflix are usually the ones with the most content. This particular show is one of many exceptions. Likewise, some Netflix original content is often available in some markets on broadcast TV through distribution agreements that forbid Netflix from making it available in these markets. Riverdale is a good example of a Netflix Original that is not available but is broadcast on The CW.
To enforce these restrictions, Netflix primarily uses a technique called geo-blocking. It ensures that users can only access their service local service. A user in the US, for example, can only access the American version of Netflix while one in Canada can access the Canadian version but not the American one.
As a consequence of these distribution restrictions, what's available on Netflix varies from region to region. Some content might not be available on your local Netflix while it is in the next country. The American Netflix is the one that's the most sought after, the one many non-US users would like to watch.
But this geo-blocking can also become an issue for some US residents. Are you, for example, a US citizen traveling abroad? You can't watch your Netflix. At least, not until you find a way to bypass the geographic blocking.
How Geo-blocking Is Accomplished
Geo-blocking is almost always accomplished by allowing or denying traffic based on source IP address. An IP address is a unique identifier assigned to every computer connected to the Internet. It is used to route data to and from different Internet-connected computers. Any request you send to Netflix's servers is marked with your IP address. This is what we refer to as the source IP address. You can think of the source IP address as the return address on an envelope. This is how Netflix's servers will know where to send the video stream you requested.
Like with postal addresses, there is a direct correlation between IP addresses and physical location. Netflix deduces the user's location by cross-referencing your IP address with a database of locations and addresses and blocks requests it finds to be originating from an authorized location.
How A VPN Can Help
The primary and original use of VPNs was to provide added security and privacy and allow remote access to corporate networks. As a side effect of their mode of operation, they can help you connect to Netflix from anywhere in the world. Here's how:
A VPN builds a virtual tunnel between a device running a VPN client and a VPN server in a remote location. All data in and out of the client device is forced through the tunnel after being encrypted with strong algorithms that make it virtually impossible to crack. When data from the client device arrives at the VPN server, it is decrypted before being sent out on the Internet.
This is how the VPN helps you access Netflix. When the decrypted data leaves the VPN server, its source IP address is no longer that of your device but, instead, that of the VPN server. Netflix, therefore, will "think" that the client device is located wherever the VPN server is. In summary, accessing the American Netflix from outside the US should just require that you connect to a VPN server located in the US. Unfortunately, it doesn't always work.
Netflix's VPN Detection And Blocking
Netflix goes to great lengths to protect its content licensing agreements and seeks to block connections coming from VPN servers. Through some type of ongoing reverse-engineering, Netflix manages to learn the IP addresses of as many VPN servers as they could and log them into a database. They know a lot of VPN server IP addresses and their number keeps increasing.
To avoid being detected by Netflix as a VPN user, you need to carefully pick your VPN provider. And even then, there's no guarantee that Netflix won't eventually learn their IP addresses and block them. The top providers use various techniques (for example, using virtual IP addresses that are constantly changing on their servers) to try to prevent that from happening.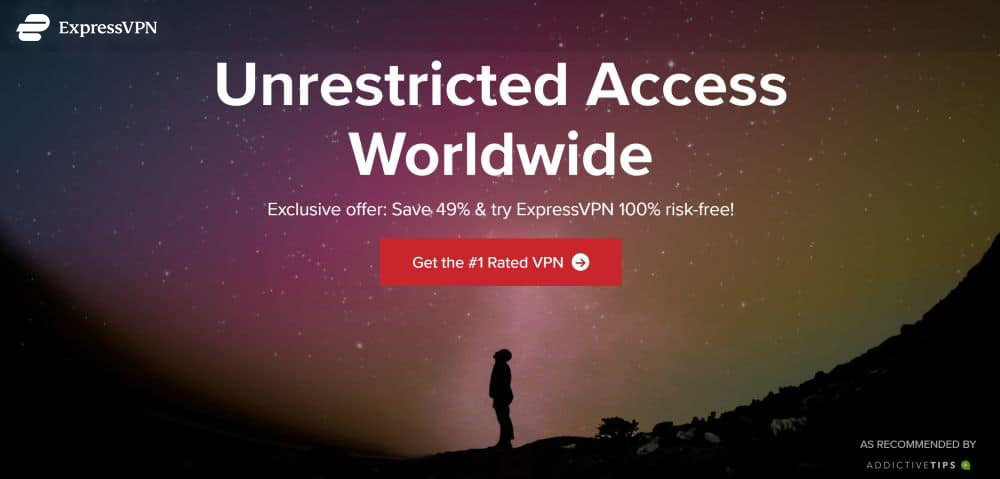 ExpressVPN is best known for its strong encryption protocols, the blazing speeds of its servers, and its huge worldwide network of more than 3,000 servers spread across 94 countries. The provider is headquartered in the British Virgin Islands, a country with no data retention laws. As the company points out, any request for user information would have to be issued by a local court, and the company's network is designed so that it cannot match users to IP addresses. And as pointed out by a company spokesperson, the British Virgin Islands are not part of the 14 Eyes intelligence alliance.
Read our full ExpressVPN review.
Pros
SPECIAL OFFER: 3 months free (49% off - link below)
Fastest servers we have tested
Torrenting/P2P allowed
No personal information logs kept
24/7 Customer Service.
Cons
Limited configuration options
High cost for month-to-month users.
Main Features Of ExpressVPN
Like most modern VPNs, ExpressVPN uses the OpenVPN protocol with 256-bit AES and perfect forward secrecy as a default. Furthermore, its 4,096-bit DHE-RSA keys are protected by an SHA-512 hashing algorithm. For extra peace of mind, the service has a Network Lock feature which will block all internet traffic in the unlikely event that the VPN connection drops.
One of the provider's drawback is its partial logging policy. However, the only data they keep are the servers users connect to and the dates which they do so. ExpressVPN does not log any of its user's online activities.
The ExpressVPN subscription grants access to three devices simultaneously. clients are available for Windows, MacOS, and Linux and there are apps for Android and iOS. If you'd rather protect your whole house from a single point, routers preloaded with ExpressVPN software are available, thanks to a partnership with FlashRouters. If you prefer,  you also can follow ExpressVPN's instructions and install the software on a router yourself.
Plans And Pricing
ExpressVPN only has one plan but there are three different pricing tiers. The different prices are based on the length of your engagement. You can opt to pay $12.95 on a monthly basis. If you want to save some cash, you can opt to pay $59.95 every six months. And for the best deal, there's the yearly subscription at $99.95, bringing the monthly cost down to $8.32.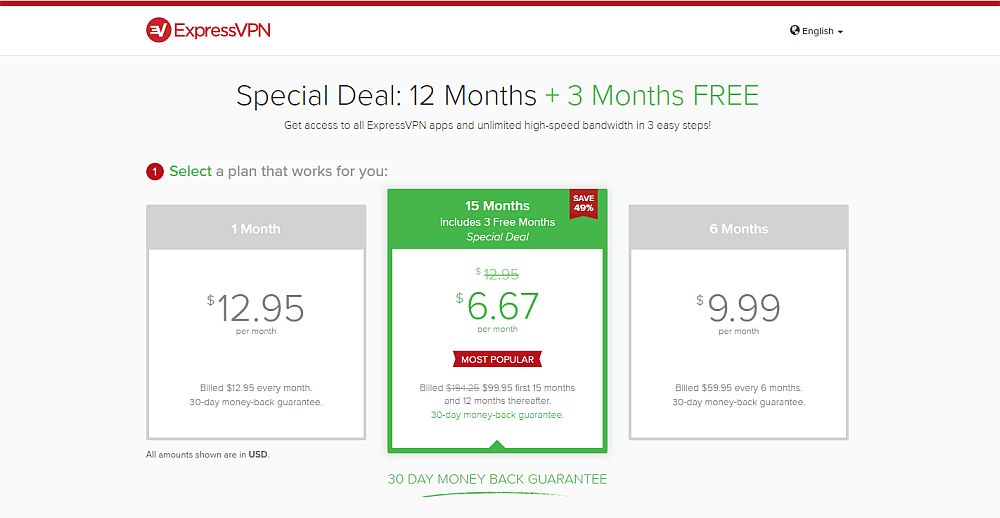 And if you're on the lookout for some special deals, chances are you can get an even better pricing on the yearly package.
The ExpressVPN Desktop Client
The simplicity of the desktop client application will most probably strike you. The basic user interface has a big "power" button right in the middle of the window. By default, clicking the button launches the VPN and connects you the best available server. This is what ExpressVPN refers to as a "Smart Location"
If you prefer to select a location–and you might when trying to access the American Netflix–you click the Choose Location button. It is at the bottom right of the ExpressVPN window. This opens a secondary window where you can pick a country and, optionally, a specific city within the selecte country.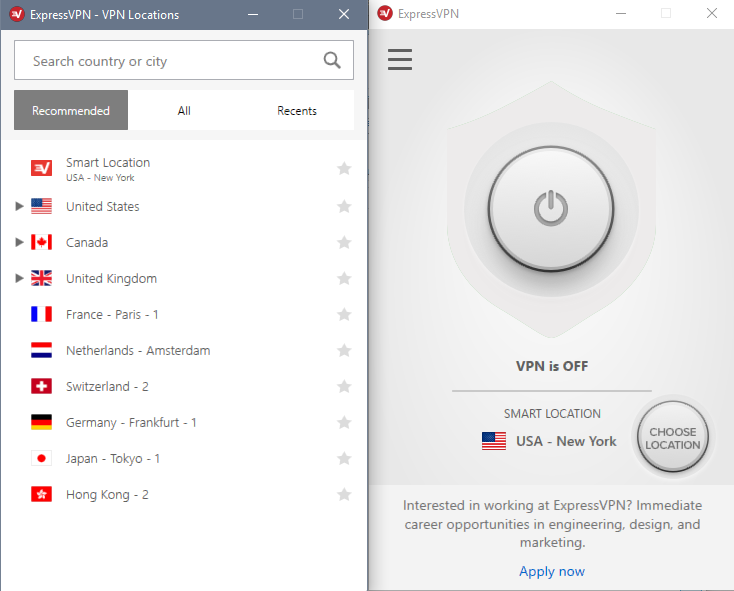 The client application also has a few options that can be accessed by clicking the menu button–the three horizontal bars–at the top left. You can, for instance, set the client application to launch automatically when Windows starts. You can also opt to have the client automatically connect to your last-used server when it is launched.
One last feature of the client that is worth mentioning is the availability of browser extensions for Google Chrome and Mozilla Firefox. The extensions don't do much more than let you connect and disconnect the VPN directly from your browser but they can also be set to automatically connect the VPN whenever the browser starts. This might be a better option than the auto-connection feature of the stand-alone client. And finally, there's an option–that's enabled by default–to block WebRTC in your browser. WebRTC, if you didn't know is a potentially dangerous API that websites can use to communicate with your browser.
FULL GUIDE: WebRTC Leaks Vulnerability SOLVED for All Browsers
In Summary
ExpressVPN is most certainly one of the best options to unblock and access the American Netflix from anywhere in the world. Whether it works because Netflix hasn't yet learned the IP addresses of the US ExpressVPN server or because of some stealth techniques used by ExpressVPN is irrelevant. What's important is that it works and it lets you access the American Netflix from anywhere.