We are reader supported and may earn a commission when you buy through links on our site.
Learn more
How to Get a French IP Address from Any Country
A French IP address is highly desired by netizens around the world, yet normally inaccessible. However, by using a VPN to spoof your virtual location into France, you can unlock all the same online freedoms enjoyed by French residents. Today's guide shows you how to get started in just a few easy steps.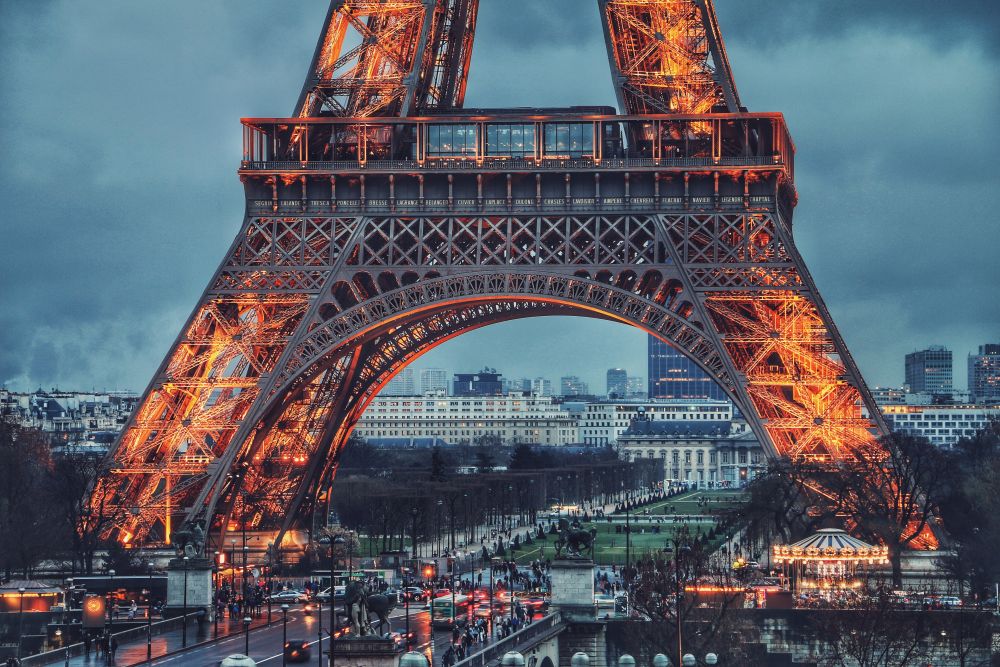 Getting a French IP address is the perfect way to access French media while abroad. You can travel anywhere in the world and still watch live TV and on-demand movies as if you were sitting in the middle of Paris. You can even access live sports channels like Ligue 1. While there are multiple ways to obtain a French IP address from anywhere, the best and most reliable is to use a good VPN.
Ditch the proxy; Snag a French IP address from anywhere in the world with these secure-spoofing VPNs:
NordVPN – Best for French IP – NordVPN is the world's premier spoofing service, with heavily encrypted connections to tens of thousands of IPs in countries including France.
Surfshark – Offers both standard and multi-hop connections to French servers. Affordable, easy to use.
ExpressVPN – Gets more mileage out servers in France by rotating IPs, confounding VPN blacklists like Netflix's.
CyberGhost – A top contender for largest server network, with a ton of options across France.
PureVPN – Offers IPs in more countries than any other. Includes web filtering and adblocking.
IPVanish – Solid all-rounder with a good balance of speed, security, and affordability.
30-days money back guarantee
Using a VPN to Get a French IP Address
If you're traveling away from France and want to watch TV shows from home, or if you're just a foreign fan of French cinema, getting an IP address from France is the best way to access content from within the country. Deploying a good virtual private network (VPN) lets you do just that, and best of all, they're fast, safe, and extremely easy to use.
VPNs vs Proxies
Proxy services are another popular method of getting IP addresses from other countries. Proxies act as a relay point between your device and the internet. When you go online your local IP address simply gets swapped with one from the proxy network. If you connect to a French proxy server, then, you'll get a French IP address, just like that.
VPNs work in much the same way as proxies, only they provide a wealth of added features. Encryption is the number one benefit of using a VPN over a proxy. This process creates a safe tunnel between you and the internet, allowing you to surf, stream, and browse in complete privacy. No one can tell what you're downloading when a VPN is active, keeping you safe from dangers lurking online.
VPNs are also more reliable than proxies and are less likely to be blocked by streaming services such as Netflix or YouTube. This gives them a clear advantage over the competition, making VPNs our top choice for getting French IP addresses anywhere in the world.
LEARN MORE: VPNs vs. proxies compared head to head
Choosing a VPN Provider
Getting the right VPN takes a little time and a lot of research. We've done most of the work for you by providing the top criteria you should focus on to ensure you have the best experience possible.
Best VPNs for French IP Addresses
Below are our recommendations for the best VPNs to use for obtaining a French IP address.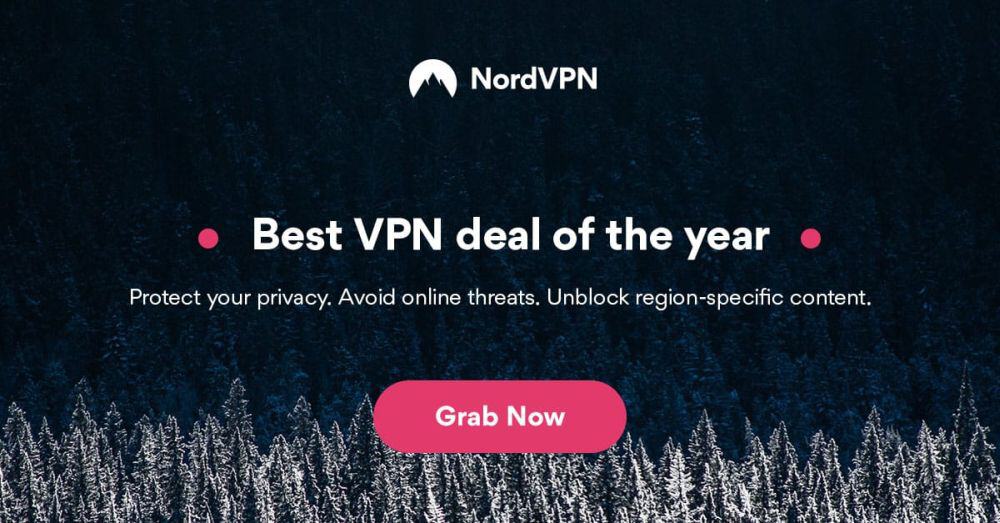 NordVPN stands out thanks to the incredible size of its server network. The list is constantly growing, but at the time of writing the company offers over 5,300 servers in 59 different countries, all of which are lightning fast and safe to use. This huge selection gives you unique features other VPN's can't offer, including double encryption, onion over VPN routing, and DDoS protection. For French IP addresses, NordVPN offers an amazing 211 servers inside the country, including many of the company's special features like P2P connections and double encryption.
NordVPN has a fantastic reputation among the community, along with a thorough zero-logging policy that covers bandwidth, traffic, time stamps, and DNS access. This is in addition to automatic kill switch and DNS leak protection features and 256-bit AES encryption on all data that leaves your device.
Read our full NordVPN review.
Pros
Optimized servers for unblocking Netflix
Extensive server park of over 5,400 different servers
Allows up to 6 devices to be connected at once
Based in Panama
Live Chat Support.
Cons
Not much
Apps can be a bit cumbersome to use.

Surfshark burst onto the VPN market in 2019, loaded with some of the most advanced privacy provisions seen up to that point. Since then, they've rapidly expanded their offering to encompass over 3200 servers in 65 countries, with nodes in France located in Paris, Bordeaux, and Marseille.
Seekers of the almighty French IP will delight not only at the unbreakable 256-AES-GCM encryption that comes with it, but the fact that there is also a multi-hop connection which first routes through the UK, then ends in France. This effectively doubles the encryption cipher, making it not even theoretically possible to crack through with brute force.
Other provisions include obfuscation, anti-malware and adblocking, a kill switch, split tunneling (great for banking apps that don't play nice with VPNs), and even IP/DNS/WebRTC leak protection. Tie it all together with Surfshark's outstanding no-logging policy, and you have one of the most versatile and secure solutions to your French IP problem.
Pros
Unblock VoIP in oppressive regimes like WhatsApp, Skype, Discord, and more
Unblock Netflix on any server, no more picking and choosing
DNS leak and kill switch protection keep your defenses up even when your connection drops
Logging policy independently audited and verified
24/7 live chat ensures maximum uptime.
Cons
Overall, not much to complain about
Young VPN still has plenty of room to grow in terms of advanced functionality.
Read our full Surfshark review.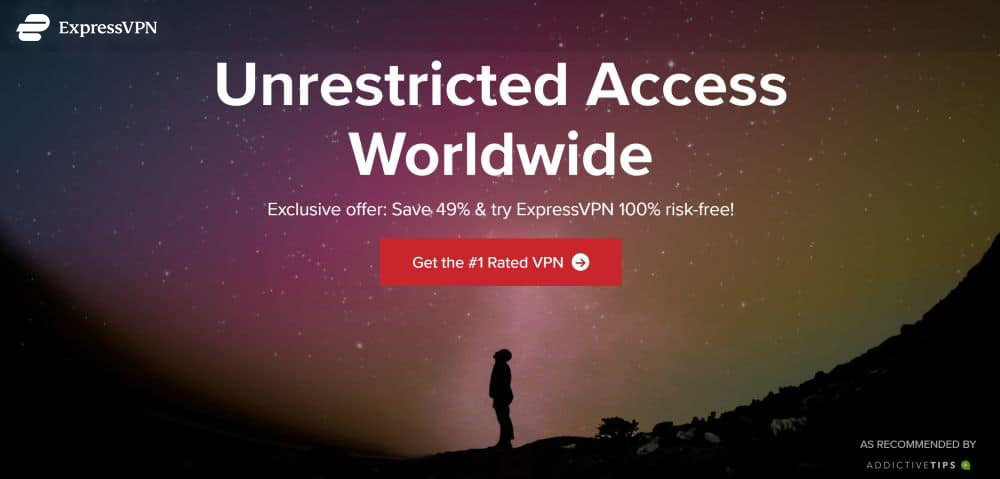 ExpressVPN is an incredibly fast VPN with all the right features to help you stay safe online. The company runs a dedicated network of 3,000+ servers that cover 94 countries around the world, with many located in Paris and Strasbourg. If you ever feel like your VPN connection is lagging, ExpressVPN offers a built-in speed test you can use to verify your connection and find a faster server whenever you like.
ExpressVPN offers 256-bit AES encryption on all data to keep your information secure, along with a zero-logging policy on traffic, DNS requests, and IP addresses. Custom apps and software for multiple device platforms come with DNS leak protection and automatic kill switch features to ensure your identity never escapes.
Read our full ExpressVPN review.
Pros
Unblocks US Netflix, BBC iPlayer, Hulu and Amazon Prime
Fastest servers we have tested
Torrenting/P2P allowed
No personal information logs kept
Customer Service (24/7 Chat).
Cons
High cost for month-to-month users.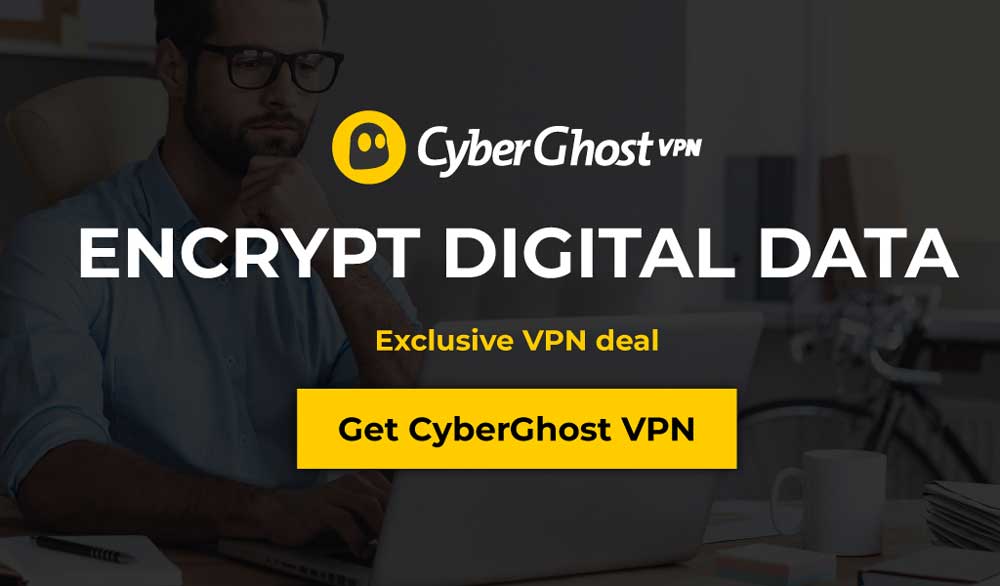 CyberGhost combines speed, security, and incredible privacy features all in one. The company runs a large network of 5,700 servers, covering 90 countries for superb connection speeds and fresh IP addresses from around the world. To get a French IP address, you'll be able to choose between a staggering 416 servers inside France (split between Marseille and Paris), far more than most other VPNs offer.
CyberGhost also delivers 256-bit AES encryption on all data, a zero-logging policy on traffic, time stamps, and IP address, and both DNS leak protection and an automatic kill switch bundled with its easy to use custom software. It's a fast and secure way to get a French IP address, and to stay safe while you surf the internet!
Read our full CyberGhost review.
Pros
SPECIAL OFFER: 79%OFF
P2P allowed on any server except in US and Russia
Jurisdiction in Romania
No log files
24/7 Live Chat Support.
Cons
WebRTC IPv6 leak in macOS
Doesn't work well in China.
PureVPN is a strong VPN company that offers a variety of extra features that makes it an all-around incredible service. Have you ever wanted virus protection on your device? How about malware shields, app blocking, or DNS website filters? With PureVPN you can get all of these features built into your VPN software, accessible with just a few clicks. It's the best way to keep your device as safe as possible from external threats, and it's so easy to use it happens in just a few clicks.
PureVPN runs a large network that covers over 140 countries with 2,000+ servers worldwide. 36 of these servers are in France alone, including options in both Paris and Roubaix. Data that passes through the network is constantly secured with 256-bit encryption and kept safe by a zero-logging policy on traffic. PureVPN also includes DNS leak protection and an automatic kill switch in every version of its software for amazing online privacy.
Read our full PureVPN review.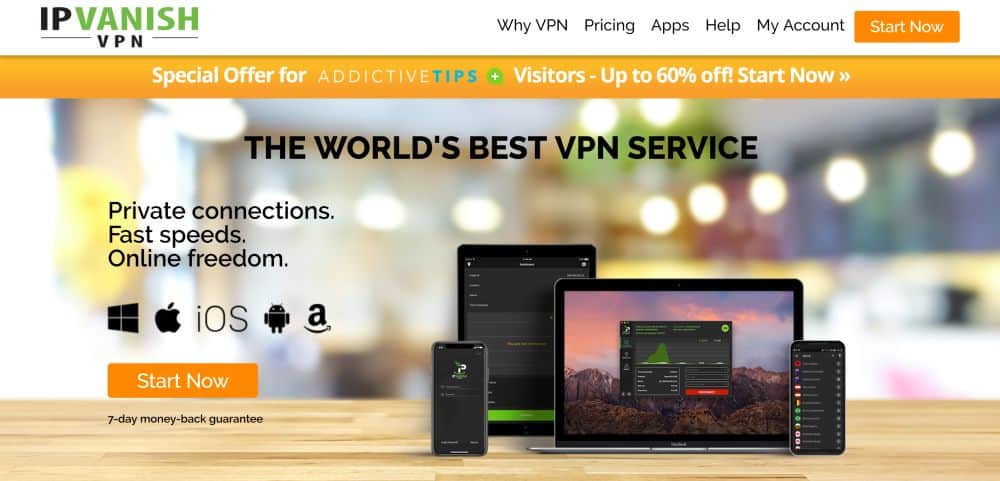 IPVanish combines some of the best features offered by any VPN service and offers them in one simple, easy to use package. IPVanish runs a network of over 1,300 servers in 60 different countries, giving you access to a great variety IP addresses around the world. For getting a French IP address, you'll be able to choose between 26 different servers inside the country, all located within Paris. IPVanish doesn't limit how often you can switch servers, either, meaning you'll always be able to choose the fastest one.
IPVanish comes with DNS leak protection and an automatic kill switch feature on every device, including Windows, Mac, iOS, and Android. Data is secured with 256-bit AES encryption and a zero-logging policy on traffic, providing complete information security at all times. IPVanish also doesn't feature any bandwidth limitations or blocks on torrents or P2P networks, allowing you to download anything you want from the world wide web.
Read our full IPVanish review.
More Benefits of Using a VPN
Getting a French IP address is a great way to watch French TV and movies while traveling abroad. VPNs also give you a wide variety of extra features that help you enjoy a safe and protected internet. Below are some of the best benefits you'll gain when using a good VPN.
Unblock Netflix
One of the biggest reasons people turn to VPNs is to access streaming content from other countries. In fact, if you're looking for a French IP address, this might be the reason you're reading this! VPNs can help you stream videos from Netflix, Hulu, BBC iPlayer, YouTube, and more, all without worrying about country limitations or similar geo-restrictions. All you have to do is launch the VPN and choose your server, the rest happens automatically.
Mobile Privacy
Smartphones carry an enormous amount of private data. Using them on public networks can put that data at risk, as open hotspots are some of the most dangerous ways to connect to the internet. When using untrusted Wi-Fi, you can help keep your data secure by running a VPN in the background. The encryption provided by the app will ensure your data remains indecipherable to third parties so information doesn't fall into the wrong hands.
Defeat Throttling
ISP throttling is a problem in countries around the world. France itself doesn't suffer severely from it, but if you travel to Russia, Iran, Saudi Arabia, or dozens of other places, you may find your speeds slow to a crawl for no apparent reason. VPNs can defeat ISP throttling in an instant thanks to packet encryption, making them an indespensable tool for worldwide traveling.
Keep Your VPN Running Fast
One of the disadvantages of using a French IP address when you aren't located inside the country is that your download speeds may suffer. You won't likely notice anything during your day to day browsing, but as soon as you start streaming an HD movie, the endless buffering screens will start appearing. There are a few tricks you can employ to keep your VPN running as fast as possible, even while using a server located across the world.
Use a Reliable VPN
The number one factor in a VPNs overall speed is the quality of the provider. Many companies claim fast speed test results but fail to provide the data to back it up. Others utilize shady tactics to artificially increase speeds for certain activities, leaving you to suffer when it comes time to download torrents or P2P content. If you stick with a trusted, reliable provider, however, you can avoid these pitfalls with ease. Top quality VPNs deliver the best speeds in the industry and can be relied on for years to come.
Switch Servers
When accessing a French IP address you do need to be connected to a server located inside the country. However, most VPNs offer multiple connection options in each country, often with a dozen or more servers sitting in multiple cities. It doesn't matter which French server you connect to, all the IP addresses will work the same. If your connection seems slower than usual, open your VPN software, refresh the server listing, and try another location inside France.
Decrease Encryption Strength
Encryption alone adds a lot of overhead to your data packets, sometimes slowing things down as much as 20%. To remedy this, some VPNs offer configuration options that let you tweak the strength of the cryptography. The industry standard is 256-bit AES, which provides a good balance between speed and security. You can go as low as 128-bit for a boost in performance, though dropping below that can affect your online privacy.
LEARN MORE: VPN Protocols Explained
Check Your Connection
VPNs can be slow, but it's not always the service's fault. Sometimes your ISP is experiencing lag, your hardware may be struggling, or you could have background processes running that are sucking up bandwidth. Finding the root cause of local slowdown issues requires trial and error. The quick tips below should help you narrow down the list in just a few minutes.
Disable programs on your device that may be eating up bandwidth.
Restart your modem and router to reset your home network.
Use a wired connection instead of Wi-Fi.
Try a different browser.
Check to see if your ISP is throttling your connection.
Avoid Free VPNs
Free VPNs sound like a good deal on the surface. In reality, though, almost none of them deliver on their promises. No-cost VPNs tend to be unreliable, feature limited server options, and can be much, much slower than even the lowest quality paid VPN. In addition to speed issues, free VPNs are also known to collect and sell user data, turning your seemingly private connection into a very real risk!
There are dozens of trustworthy and reliable VPNs on the market that provide fast service and strong security. The costs associated with a paid VPN are minimal, as well, and absolutely worth it in the long run.
Conclusion
Getting a French IP address from anywhere in the world is surprisingly easy. VPNs make it happen safely and quietly, all you have to do is find a reliable service, connect, and enjoy.