We are reader supported and may earn a commission when you buy through links on our site.
Learn more
How to Get a Singaporean IP Address from Any Country
Yes, it's possible to get a Singaporean IP address while you're in another country, but you'll need the right VPN to do it. Today, we show you how to get started with a provider that maintains encrypted VPN servers in Singapore, plus how to use it to unblock websites and bypass censorship and surveillance.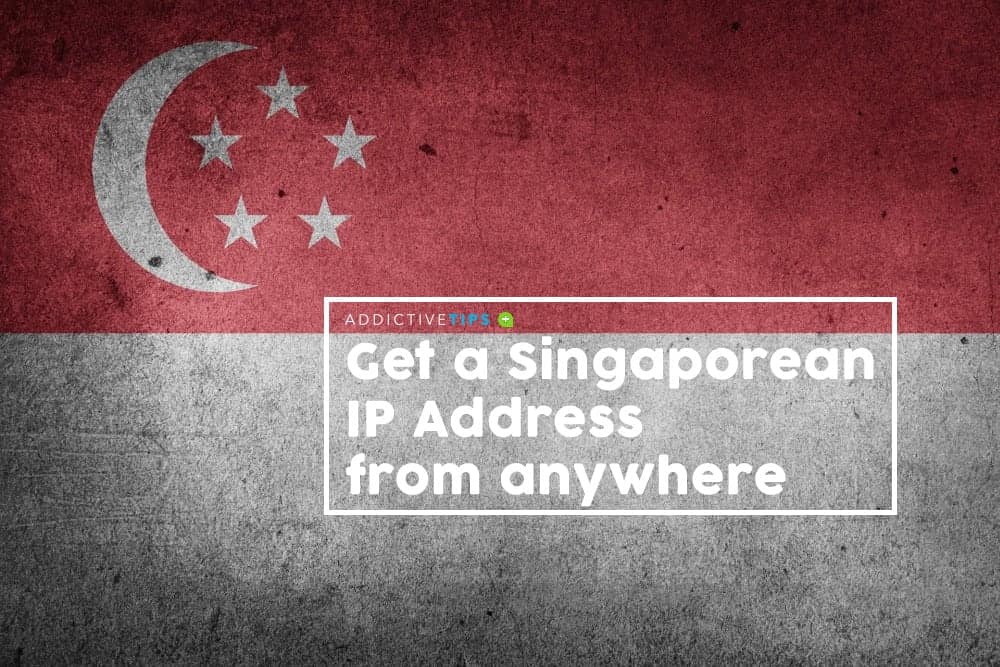 Region locks, geo-restriction barriers, and Netflix proxy errors are frustrating. One minute you're watching your favorite shows on the train, the next you find the content has been restricted, all because you crossed an imaginary border on the map. Despite the term "world wide web", international content laws force movies and TV shows to only be available in certain regions. This means you can't watch videos from Canada if you're in Singapore, and vice versa.
Not every VPN offers servers in Singapore, but the ones that do are among the very best in the industry:
NordVPN – Best Singaporean Spoofer – NordVPN's massive network sets the standard by which other VPNs are judged. It includes standard, NordLynx-encrypted–along with P2P and obfuscated–servers in Singapore.
Surfshark – A close second on our list, with static IP and double VPN connections to Singaporean IP addresses.
ExpressVPN – One of the fastest VPNs is also a solid spoofer, with a stable network and unbreakable Lightway encryption.
CyberGhost – Stupidly large server count. Offers user-friendly configuration options like "torrent anonymously" and "protect Wi-Fi" to make things easy.
It doesn't matter what kind of location-based or streaming problems are involved, a virtual private network can save the day. If you are looking for a Singaporean IP address to access live sports or other content from Singapore, all you need to do is select the right VPN server, connect, and enjoy the internet like a local. With a VPN, you can use IP addresses from all over the world, opening a completely new realm of content to stream and enjoy. Below we discuss how to get a Singaporean IP address using the safest and most reliable method around, VPNs.
30-days money back guarantee
Choosing the Best VPN for a Singaporean IP Address
The benefits to using a VPN are enormous, stretching far beyond simply getting an IP address from Singapore. Most of these extras come from a VPN's added security measures, including data encryption, privacy policies, and built-in app features. Speed factors into things, too, as a VPN is only good as its server network.
Before diving in and getting a VPN, it's a good idea to do some research. Making sense of everything can be time consuming, though, which is why we've provided several important evaluation criteria below, followed by recommended VPNs you can use for an IP address from Singapore.
How to Pick the Right VPN
VPN providers do everything they can to make sure their apps are easy to use. You can often connect to a server in Singapore with just a few clicks, then start surfing and browsing moments later. To get the best VPN, all you need to do is prioritize the following features. These are the same criteria we used to choose the recommended VPNs in the next section, ensuring you have a fast, secure, and reliable VPN at your disposal.
Best VPNs for Singaporean IP Addresses
Let's cut straight to the chase. Below are the recommended services that rank as the best VPNs for getting an IP address from Singapore. All of them are fast, secure, and reliable, making each one perfect for everyday surfing, movie streaming, and more.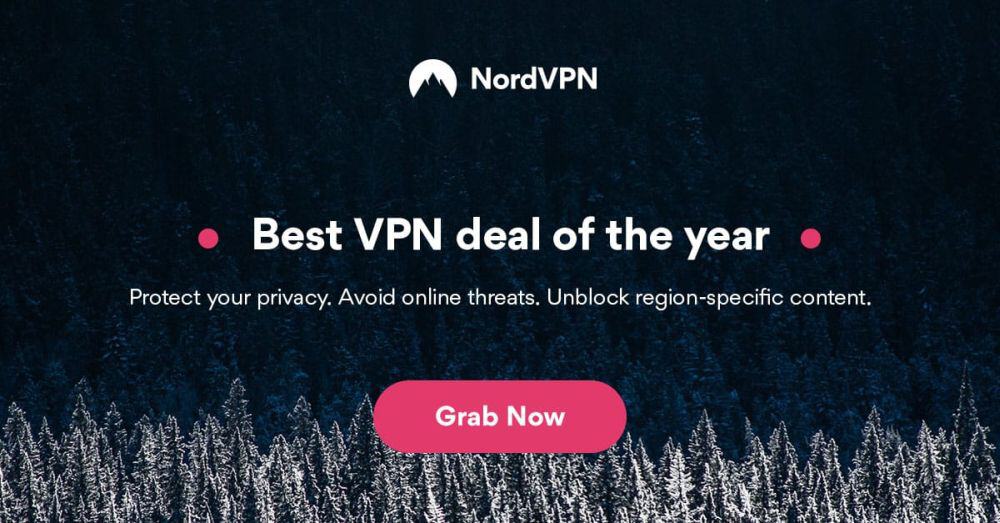 NordVPN is a trusted VPN service that's recognized around the world as one of the best VPNs for speed and security. NordVPN's network is one of the company's most promising features, currently sitting at over 5,500 servers in 59 countries. There is a wealth of unique services through this server network, including double encryption, location obfuscation, dedicated IP addresses, and anti-DDoS.
Rest easier with NordVPN's thorough zero-logging policy that covers everything from bandwidth to time stamps, traffic to IP addresses, knowing your activity is never recorded or shared with third parties. Backing this is 256-bit AES encryption on all data, an automatic kill switch, DNS leak protection, and a host of customizable encryption features to keep you safe online.
NordVPN runs 182 servers in Singapore, all of which are lightning fast. It's easily one of the best VPNs to use to get a Singaporean IP address.
Read our full NordVPN review.
Pros
Works with Netflix, BBC iPlayer without breaking a sweat
Mind-boggling number of servers
Strong security features
No logs and encrypted connections for total privacy
Money back guarantee policy.
Cons
Sometimes slow in procesing refunds (but always do).

Surfshark stands tall amongst the world's best VPNs, and it's only been around since 2019. While it still has room to grow, it has already rolled out over 3200 servers in 65 countries, with plenty of options for spoofing a Singaporean IP. In fact, it is one of the best-represented locations in Surfshark's catalogue, with multiple choices for static IPs and multi-hop routing in Singapore.
If your ISP would frown upon such spoofing, tell them to get lost with Surfshark's powerful 256-AES-GCM encryption. Combined with blanket obfuscation, smart DNS, and NoBorders anti-censorship, there's not a network block nor form of government censorship that can keep you from spoofing the content you want.
Surfshark never keeps logs of your activity, barring themselves from doing so with an independently audited no-logging policy. This is further made credible by their RAM-only server network, which is physically incapable of long-term storage of your identifiable usage metadata.
Pros
Break through harsh censorship to securely access social media and foreign news sites
Torrent safely on any server, no guesswork required
Trial in confidence with a 30-day money back guarantee
Independently audited privacy practices
Responsive customer support available 24/7.
Cons
Overall, not much to complain about
New-kid-on-the-block status may not instill same trust as larger providers.
Read our full Surfshark review.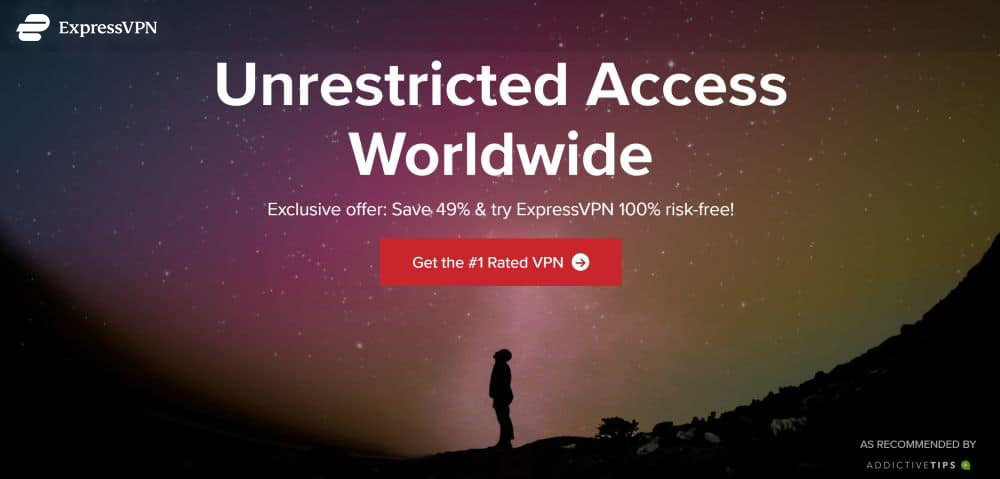 We never hesitate to recommend ExpressVPN, one of the fastest, most reliable, and highest-rated VPNs on the market. The company delivers incredible download speeds without sacrificing privacy, creating the perfect environment for a secure online experience. ExpressVPN does this while operating a network of over 3,000 servers in 94 different countries, ensuring no matter where you live, you'll have a lag free connection every time. There's even built-in speed test options to help you verify ratings and switch to a faster server, just in case you feel like things are a bit sluggish.
ExpressVPN uses 256-bit AES encryption to protect your data, locking down information to keep prying eyes away. Data that passes through their servers is also protected by a zero-logging policy on traffic, DNS requests, and IP addresses. Apps come with DNS leak protection and an automatic kill switch, too, both of which are designed to keep your identity hidden should your internet connection suddenly disappear.
ExpressVPN offers multiple server locations in Singapore. You'll be able to find a fast connection with secure encryption options with ease.
Read our full ExpressVPN review.
Pros
Unblocks US Netflix, BBC iPlayer and other streaming services
3,000+ super fast servers
No DNS/IP leaks found
Strict no-logs policy for personal information
24/7 Live Chat.
Cons
Slightly pricier than competition.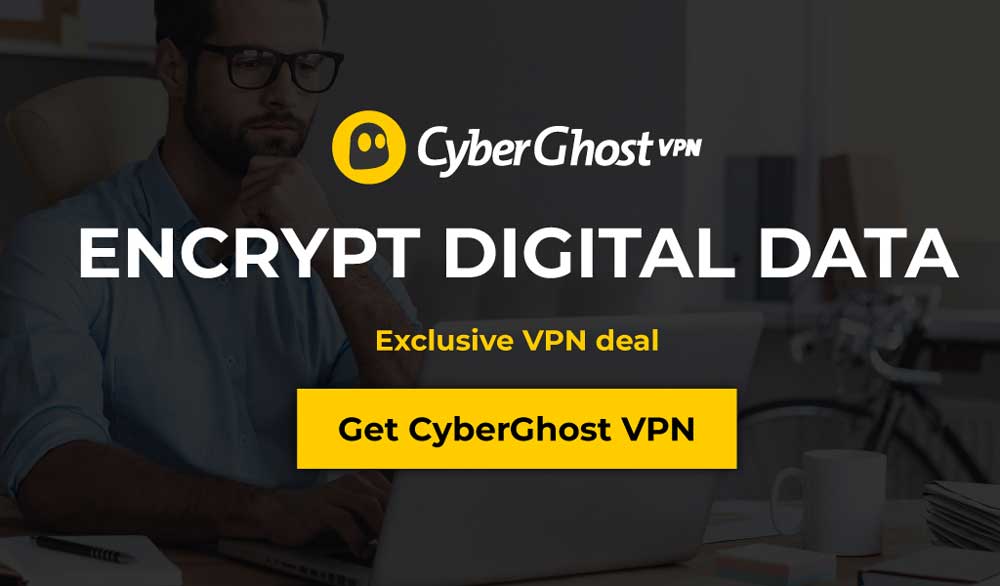 Need speed, ease of use, and strong security, but you aren't willing to skimp on privacy? CyberGhost is the way to go. The highly-rated VPN service delivers all the right features you need to stay safe online, complete with speedy connections and plenty of options for IP address around the world. CyberGhost users also have unlimited access to over 5,900 servers in 90 countries, along with some of the best and easiest to use custom VPN apps on the market.
CyberGhost's privacy features are centered around 256-bit AES encryption on all data and a zero-logging policy on traffic, time stamps, and IP address. DNS leak protection and an automatic kill switch come standard with the company's software to ensure no identifying information ever leaves your device, as well.
CyberGhost features 48 servers in Singapore, delivering a wide variety of IP addresses you can access at blazing fast speeds.
Read our full CyberGhost review.
Pros
LOW PRICE: 6 EXTRA free months (79% off - link below)
3,600+ servers, 55+ countries
7 simultaneous connections
No logs policy
Reliable and knowledgeable 24/7 live chat support.
Cons
WebRTC leak detected
Some streaming sites cannot be unblocked.
How to Get a Singaporean IP Address
The process of researching, selecting, and signing up for a VPN is the hard part. Now that you've got the tools in place, all you need to do is put them to use. After choosing one of our recommended VPNs from the section above, all you have to do is follow the guide below to connect to a Singaporean server for a Singaporean IP address and use it to safely surf the web.
First, open a web browser on your PC, go to your VPN's website and sign in. Then download the right app for your operating system (Windows, Mac, Linux, etc.). If you want to use the VPN on a mobile device, you may need to visit an app marketplace to download the app. Your VPN will provide instructions on how and where to obtain the correct software, in case you get lost.
Install the VPN app on your device. Launch the software and sign in using your VPN credentials. Most apps will automatically connect to the fastest server as soon as you launch, which is usually fine. It most likely won't be in Singapore, though, so we'll need to switch servers in order to get the right IP address.
Open the server browser and find a connection in Singapore by browsing a list or world map, depending on what your service offers. The VPN will resolve the connection after a few moments, during which you won't be able to access the web. Once it's complete, you'll be online and safely connected.
Now you should test your IP address to make sure everything is working correctly. This is an optional step, but it's a good idea if you're new to VPNs or are using a new service, as it helps make sure you stay safe and secure with the right invisible IP.While your VPN is active and connected to a Singaporean server, open a web browser on the same device and visit ipleak.net. The page will load and run an IP address lookup. When it completes, you should see a box near the top that says "Your IP addresses". Just below that it should show Singapore. If it does, that means you have a Singaporean IP address.
After you've completed these steps, you're free to use your Singaporean IP address for anything you like. And if you're not sure what you can do, check out the suggestions below.
Why Use a VPN to Get a Singaporean IP Address?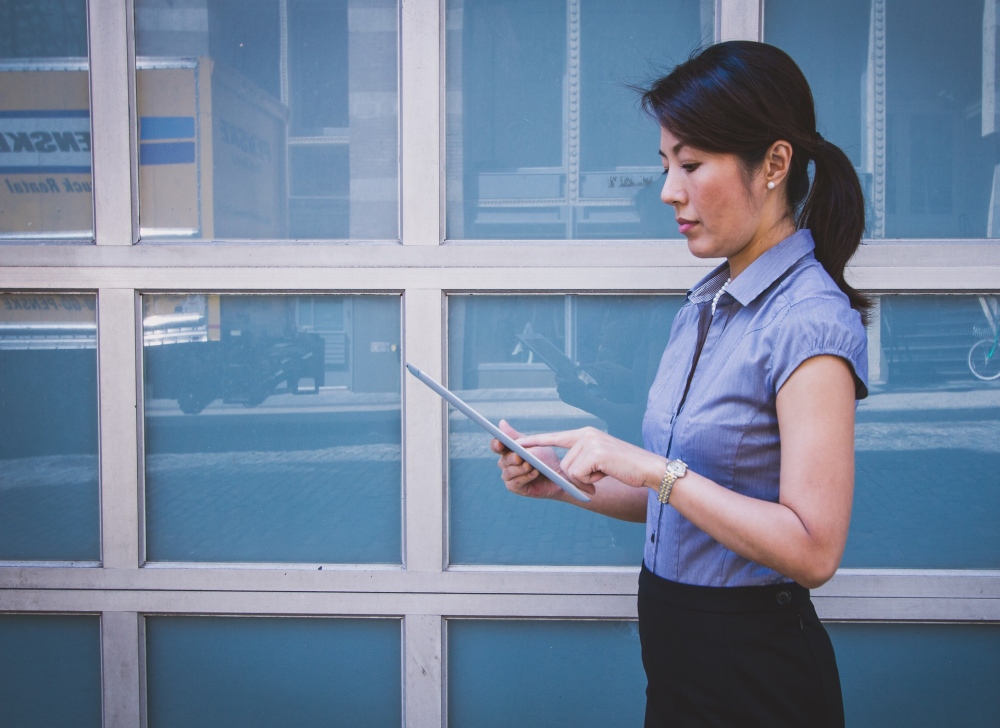 There are multiple ways to get an IP address from Singapore. Proxies and web services are some of the most common and popular. They can be slow and unreliable, though, and they're known to be packed with viruses and malware. With a reliable VPN you can be sure your data is secured each time you connect. Proxies and web services simply can't give you this kind of protection.
Below are just a few benefits you can enjoy while getting an IP address from Singapore using a VPN.
VPNs Let You Access Home Accounts
Everyone has a few accounts in their home country. If you live or work in Singapore, for example, you probably have access to a bank or credit card account located nearby. Accessing these services from outside the country can sometimes be a pain. Many of them deploy IP filters to prevent foreign transactions. It's a good safety measure in theory, but it's frustrating if you travel and want to check in on your finances.
VPNs can fix this problem in an instant. All you have to do is launch the app, sign in, choose a Singaporean IP address, then access your accounts as you normally would. Virtual IP addresses combined with data encryption make it so you can use home services from anywhere in the world with complete privacy and security.
Watch Videos from Singapore with a VPN
Online video streaming like Netflix, Hulu, BBC iPlayer, and YouTube change which movies you can watch based on location. It doesn't matter if you have a Singaporean Netflix account, if you sign in using a Canadian IP address, you get Canadian videos, plain and simple. International content laws prevent globalized content distribution, but with a good VPN you can circumvent those issues to watch anything from anywhere, regardless of your actual location.
VPNs bypass geo-restrictions with encryption and non-local IP addresses, locking down your identity while making it easy to switch your virtual location. Want to watch TV shows or live sports from Singapore? Get a Singaporean IP address with a VPN, visit a website or streaming service, and let the fun begin.
VPNs Can Bypass Censorship Blocks
An open and free internet is beneficial to everyone, especially in an age where privacy and net neutrality are constantly under threat. Governments and ISPs continually attempt to control what people can see on the internet. In many places sites like Google, Facebook, Twitter, and Wikipedia are completely unavailable. This form of restriction is generally considered outright censorship, and many people are starting to fight back through the use of VPNs.
With a good VPN, you can protect yourself from all these invasions of privacy, breaking through censorship barriers to access an open internet once again. All you have to do is switch to the right IP address and you're set. VPNs encrypt data to make it impossible to decipher, which allows everything to pass through firewalls with ease.
Remember, VPNs Don't Make You Invincible
There are plenty of good reasons why you should use a VPN, but keep in mind they aren't bulletproof solutions for all of your online woes. VPNs keep your identity safe and help cut through geo-restrictions and censorship barriers. They have a few drawbacks you should be aware of, though, especially if you're surfing in a country where internet freedoms are limited.
Mobile devices can be hacked, even with a good VPN – VPNs protect data that leaves your device. They don't change or protect content stored on them, however. You can still fight against hacks by encrypting your device manually. See our guides on how to encrypt your Android phone or encrypt your iPhone.
VPNs are often blocked or restricted – Some countries and websites actively block VPNs, forcing you to turn them off before you can proceed. VPNs constantly fight back to maintain full access, but there are moments when you have to give in and disable the VPN temporarily.
VPNs can't protect you from viruses – Viruses and malware slip right through most VPN protections. Adblockers, anti-tracking extensions, firewalls, and anti-virus software are still important for online safety.
VPNs won't make you completely anonymous – Are you planning on accessing the deep web or dark web? You'll need more than just a VPN to keep your identity hidden and your data safe. Don't go charging off into dangerous waters without doing more research.
Conclusion
It may seem like a complicated task, but once you get down to it, it's surprisingly easy to get a Singaporean IP address. VPNs make online security as easy as running an app in the background. Their location variability features allow you to quickly choose IP addresses in foreign countries, offering up fast, safe, and secure Singaporean IP addresses at the click of the mouse.
What are some hidden perks of using a Singaporean IP address we didn't cover? Leave your suggestion in the comments below.