How to change download folder location in Microsoft Teams
Microsoft Teams is for collaboration. It's built so that it can be used by small and large teams alike with features that complement the size of a team.
Among its many collaboration features is the ability to share files. Microsoft Teams integrates Microsft 365 files seamlessly making it a great way to share or work on these types of files.
Download folder in Microsoft Teams
Files that are shared over Microsoft Teams are uploaded online to a Sharepoint folder. These files remain there for a certain period of time and can be downloaded to the desktop.
When you download a file shared over Microsoft Teams, you do not get to select where you want to save it. Microsoft Teams will save the files to the Downloads folder, no questions asked. If you go into the app's settings you will find you cannot change where a file is downloaded.
Select download location in Microsoft Teams
If you want to be able to choose where a file is downloaded when you save it from Microsoft Teams, you're going to have to change how you download the files.
Open Microsoft Teams.
Select a Team or a chat thread.
Look for the file you want to download.
Click the more options (three dots) button.
Select Open in Browser from the context menu.
A new tab will open in your browser and you will see a 'Save as' dialog box open shortly after.
Select where you want to save the file and it will be saved there instead of in the default download location.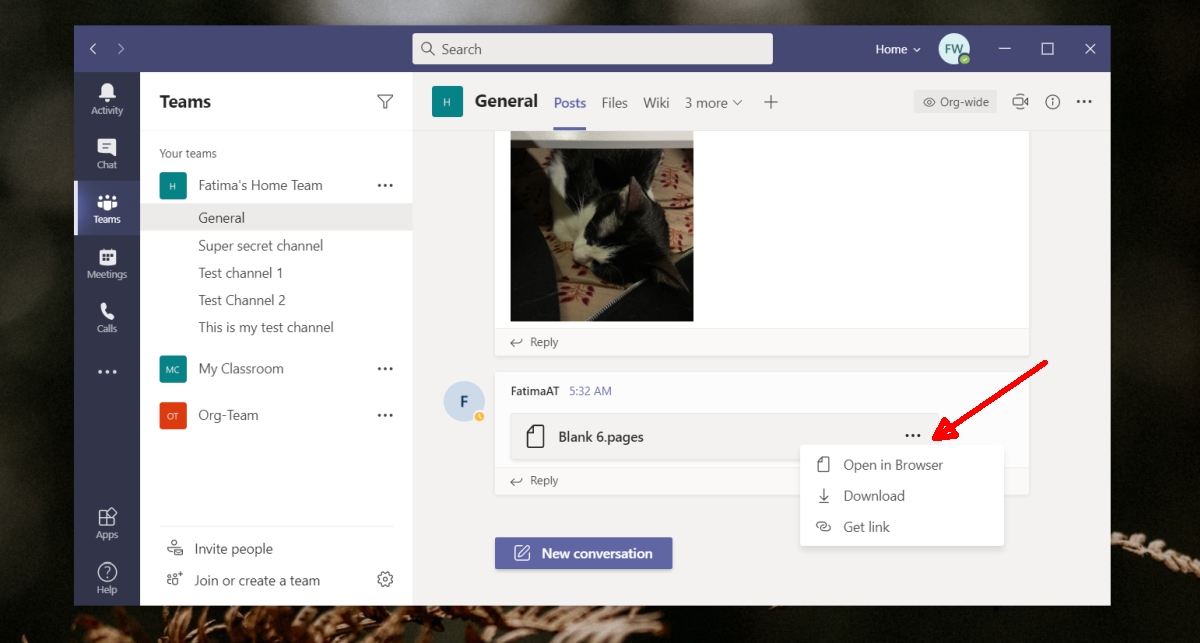 Limitation
This trick works for all files except for images. Images can be previewed directly in Microsoft Teams and this is perhaps why the option to open them in a browser never appears.
For all other file types, you can redirect the download through the browser and select a custom save location each time.
This process is slightly lengthy in terms of how many clicks you have to perform in order to download a single file.
Conclusion
Users have been asking for a way to change the default download location in Microsoft Teams for well over three years now. It is astounding that an app as big as Teams has this shortcoming. More importantly, it doesn't have an option to allow the user to pick where a file is saved each time it is downloaded. Saving all files to the same folder creates clutter which is why users much prefer to save a file to the right folder when they save it instead of going back to fix/clean things later.