3 Ways To Bypass The Options Menu And Access Chrome Pages Faster
Something that I absolutely love about Firefox and am constantly annoyed about in Chrome is how I access the extensions. In Firefox, I can hit Ctrl+Shift+a and the about:addons page opens in a new tab. With Chrome, I have to access the options menu, and go through the Tools menu to get to Extensions. This is bothersome because I need to access them frequently enough and it gets annoying. The extensions page isn't the only Chrome page that needs to be accessed; you have the Settings page chrome://settings/ which doesn't have a shortcut either so here's three ways to access any one of these pages more easily.

Using an extension
An extension is the obvious and easy way to go; and you can download and install a different extension for each page you want to access but it will add to the clutter next to the URL bar and, you may not be able to find a dedicated extension for all pages. What you can do instead is use an all-in-one extension like Mega Button 

Using a hotkey
You can open the extensions page, or any other page using a keyboard short, just like in Firefox but to do so, you need an extension. We recommend Shortcut Manager. It's very popular and comes with presets for accessing the extensions' page. You can add any shortcut you want using the Open My Favorite Page in a new tab action. You can add several shortcuts this way for as many different pages you need to access. There is a slight limitation to this method though; the shortcuts don't work on the New Tab page and on Chrome Web Store pages.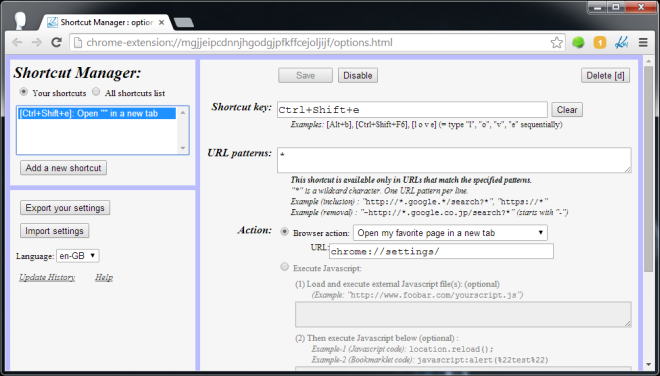 Bookmark It
The folks at Lifehacker suggest you bookmark the page you access frequently so you don't have to go through the options menu. The advantage that comes with using this method is that it will work on the New Tab page and Chrome Web Store pages as well. The disadvantage is that if you like to keep the bookmarks bar hidden until you need it, you will first have to hit Control+Shift+B and then access the page from the bookmarks bar. If you usually keep it visible, this is a pretty good solution.
Bonus For Mac Users
Mac users can opt for any of the above methods but for them there is a fourth option; using the the built-in keyboard shortcuts manager. Head over to preferences and click the Keyboard preference. Under Keyboard Shortcuts, set up a shortcut to access a Chrome page.