How To Add Windows Defender Protection To Chrome
Windows 10 has a built-in anti-virus that periodically scans your system for malicious apps, scripts, files, and processes. When you're not using your system, Windows Defender utilizes the time to scan it. It also actively scans the websites you visit in Microsoft Edge, and the files you download via the browser. That said, we'd be kidding if we pretended that Microsoft Edge has massive appeal. It's doing better than Internet Explorer but it's not the same as Chrome. That may be why Microsoft has an extension that can add Windows Defender protection to Chrome.
It's a simple Chrome extension that you can install to extend Windows Defender's protection to Chrome.
Windows Defender Protection In Chrome
Install the Windows Defender Browser Protection extension. It will add an icon next to the URL bar which you don't need. You can hide it if you want. The icon opens a menu and that has an On/Off switch for when you want to enable or disable it on the fly.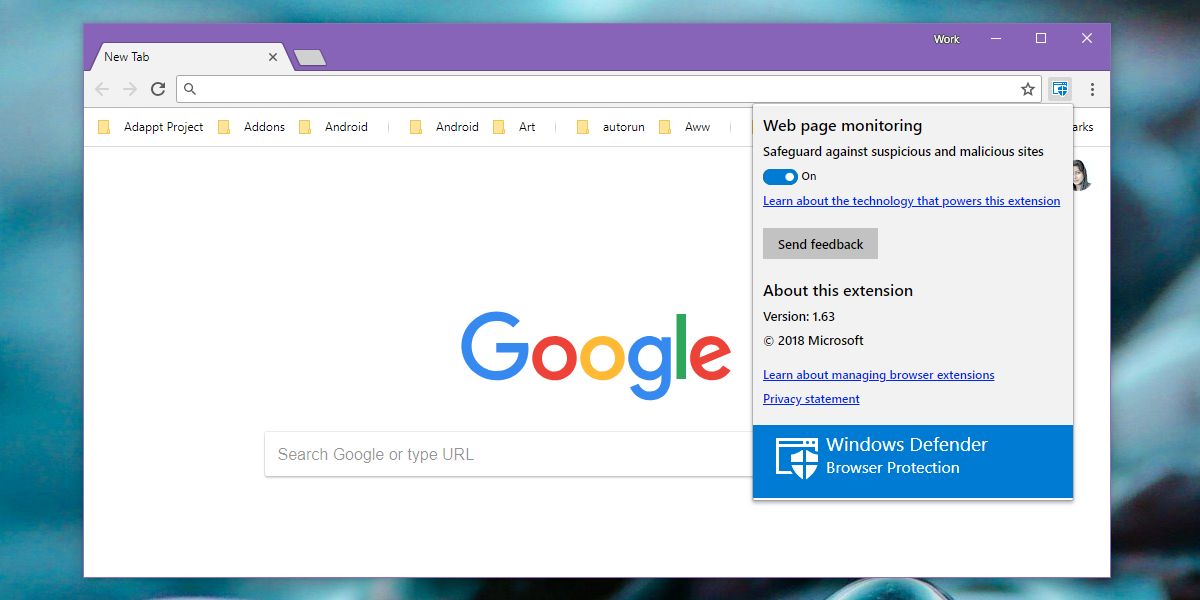 Windows Defender is fairly robust so your browsing isn't going to slow down after installing the extension. Chrome itself has a built-in antivirus that will flag potentially dangerous files that you're trying to download, or dangerous links that you might be trying to visit. If you find that Chrome isn't as diligent as it ought to be, you can add the protection of Windows Defender to Chrome. There's no way to turn off Chrome's own built-in protection so if you choose to use this extension, you will have two different services keeping you safe online.
Microsoft doesn't have a Firefox add-on for Windows Defender which is odd. Firefox may not have the same number of users that Chrome does but it still has more users than Edge. Microsoft claims that it offers better protection than both Chrome and Firefox but it has neglected to offer the same protection to Firefox users.
It goes without saying that the extension will have access to your browsing history. It may be a cause for concern if you're still suspicious of Microsoft for its data gathering antics a few years ago but the data isn't being stored. The extension needs you history so that it can check the links you visit against a list of dangerous links that it has in its database. If it finds you're visiting one of the potentially malicious links, it will stop you. It happens in real time so while the extension knows which websites you're visiting, it isn't going to keep it forever.