Block TV Show, Movie, And Sports Spoilers On Facebook & Twitter [Chrome]
This post contains no spoilers. If you're a Game of Thrones fan you might have been walking on egg shells browsing the internet yesterday because you had yet to see the first episode of season 6 that would answer one major cliff hanger. In no less than 24 hours, the internet was quickly posting about the episode. Many people were careful to preempt a post with a spoiler tag, but now that 48 hours have passed since the episode aired, all bets are off. Game of Thrones is not the only show you'll ever watch, or want to avoid spoilers for and it's a fact that the internet will spoil TV shows, sporting events, and movie endings just because it can. It's also fact that you can't avoid the internet forever or until you can catch up on your yet-to-watch list. Spoiler Shield is a Chrome extension that helps you tread social media without having to worry about spoilers. It lets you choose what spoilers you're trying to avoid and then blocks them.
Install Spoiler Shield and connect your Facebook and Twitter accounts. The extension will need to access your timeline. Once you've connected the accounts, click the extension's button and you'll see a 'Set Shields' button. Click it and select what type of shield you want to add. You can add shields for TV show spoilers, movies, sporting events, and celebrity news.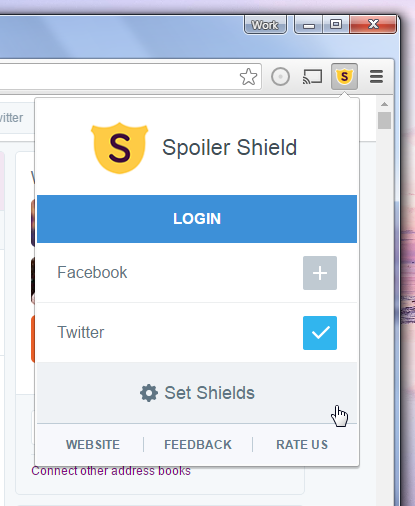 Once the shields have been set, you can browse Facebook and Twitter without having to worry about accidentally reading a spoiler. The spoiler posts are hidden with a mask added by the extension. It tells you what shield (of the many that you set) is in action. If you want to see the spoiler post, position your cursor over it and wait for the 'Reveal the Post' button to appear. Click it and you're free to read.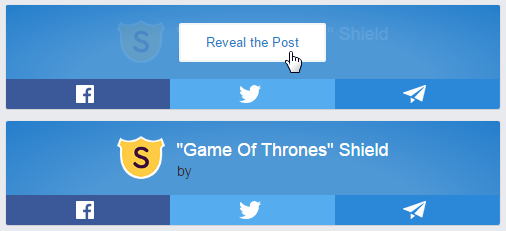 Spoiler Shield has an iOS and Android app that you can use to browse Facebook and Twitter while avoiding spoilers. Unfortunately, the app was unable to successfully connect to both Facebook and Twitter. It might have to do with the Spoiler Shield's API communicating over the HTTP protocol instead of the HTTPS protocol but we're speculating here as to the cause. The mobile apps simply refuse to sign in but the  extension works fine.
Install Spoiler Shield From The Chrome Web Store