Block Certain Channels From Appearing In YouTube Suggestions List [Chrome]
While listening to music or watching our favorite videos on YouTube, we often get distracted by the related or suggested videos in the sidebar. While we can always choose to ignore those, there might be one persistent enough to make you lose focus and skip to that video instead of what you were watching. While getting distracted is not as big of a nuisance, if you get tired of misleading thumbnails or titles, then RE:Channel Blocker, a Chrome extension, is what you need. This neat utility lets you block videos from unwanted channels of your choice hat keep appearing in the Suggestions list. It gives you a nice way to filter out videos from particular channels that can ruin your YouTube experience.
After the extension is installed, whenever you come across a video that you don't like, simply hover your mouse over the thumbnail, click the block option, and hit the Yes button when the confirmation pop-up appears. The video will automatically be added to the list of blocked channels, and all videos from that particular channel will stop showing up altogether in the Related list.
You can then manage your block lists by accessing the Options page, and unblock any channels whenever you want.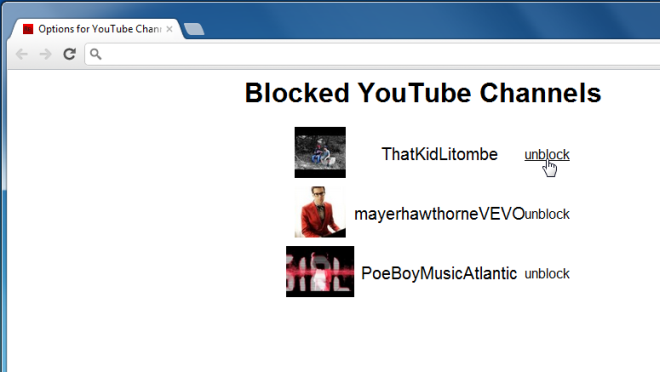 The extension is pretty good for weeding out irrelevant suggestions in the related videos section but if it could extend the functionality to search results that would actually be more helpful. The related videos help us find more content to watch as per our interests and they are easily manipulated by YouTube channels but the impact they have on search results is much bigger. The extension can further be improved by adding additional filters for weeding out unnecessary results. The rating of a video, i.e. number of likes/dislikes, could also be a good parameter for filtering results and blocking both videos and channels. YouTube doesn't have a lot search filters of its own so anything that could improve it or help narrow the videos down to more relevant ones would be a great addition.
RE: Channel Blocker is quite a handy extension that improves your YouTube video watching experience. This nifty little tool not only hides annoying videos that keep showing up in the lists, but also blocks the channels for these videos. You can install the extension from the link below.
Install RE:Channel Blocker For Google Chrome
If you liked this extension, you might also want to take a look at the other Chrome extensions we've reviewed so far.