Bubbles: Create, Edit & Share Your Thoughts via Personalized Letters
Ever felt the need to send handwritten personalized notes to someone on the internet? Usually, you would write a document, scan it and send the documents using your favorite email service, as an attachment. For sharing, you would turn towards an appropriate social media website to create an impact. Bubbles, an online application, lets you achieve all this with just a click. Just choose the privacy level of your document, draft, letter etc., and from the comfort of your browser, you can publish rich documents with pictures, drawings, signatures or collages. In addition, you can associate yourself with like-minded people to share, plan and organize ideas, connected to their respective organizations with easier access details.
You can either create a new account using your Facebook login or any alternative email account details. With this ease of access, you will be prompted regarding the desired privacy level.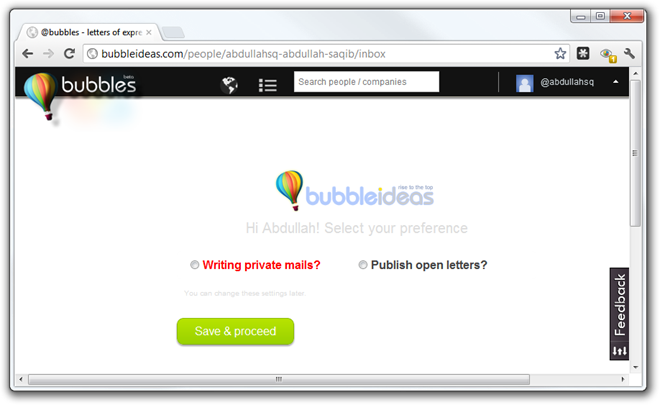 Selecting the Publish Open letters would lead you to a handy write pad with basic word processing features as well as painting, image scaling, sticky notes and drawing tools. Here, you can freely materialize ideas with freedom on this virtual paper.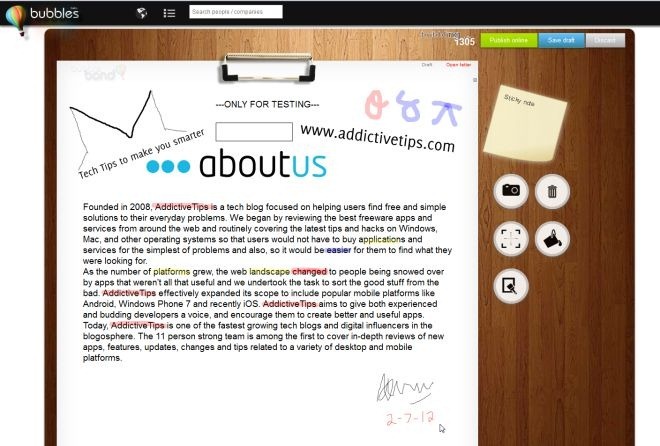 You can easily modify, delete and enhance features on your note including importing pictures directly from webpages. Bubbles, automatically, saves the current work state as draft with the word count and displays the status on the top of the active window. In addition, the buttons on the top right corner of the window allow you to save, publish or discard the note.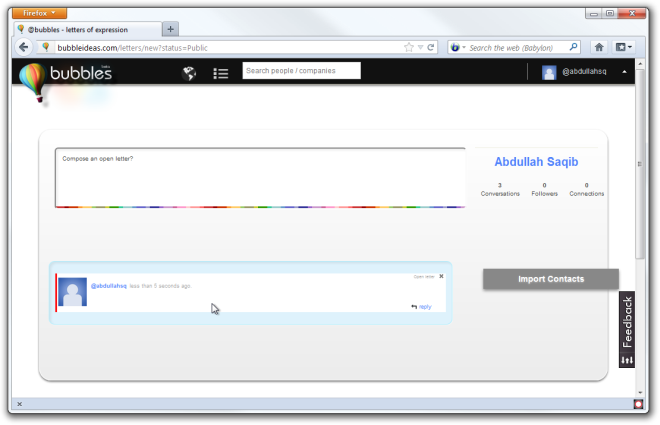 Upon publishing, the dashboard updates itself accordingly with the screen partitioned into the space for future work and the space to access previous posts. You can import your contacts via popular email service providers like Hotmail, Gmail and Yahoo. Furthermore, your 'letters of expression' can directly be sent via email to a specified recipient.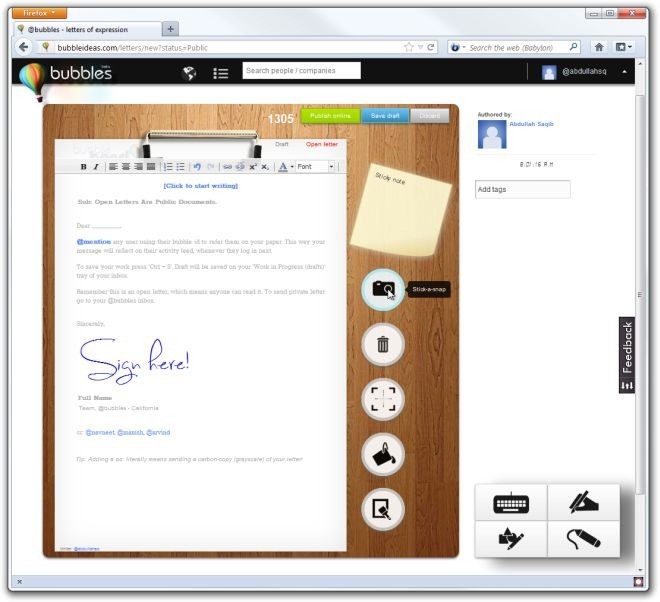 After finishing the letter body, tags can be added for better organization from the right sidebar.You can easily switch between the word editor, color pencil, ink pen or shapes modes by selecting the relevant buttons on the bottom right corner.
It must be noted that Bubbles is based on HTML 5 and runs on HTML5 supported browsers like Google Chrome, Mozilla Firefox and the like. Moreover, make sure that more than a reasonable amount of tabs aren't active in your browser to avoid excessive load on the system memory, which may hinder the application performance. You can start using Bubbles by hitting up the link below.