Bundle & Share A Group Of Links As One Webpage With FatURL
Imagine for a moment that you're a web designer and a client asks to see some examples of great websites you admire. Over the top of your head, you remember ten or twelve sites and start copy-pasting their URLs to send one by one, over and over again…awkward, isn't it? It's also really inconvenient. Well, if you'd like to keep that client around, how about sending them just one charming little FatURL that bundles together all your other links? All the recipient has to do is click it, and they're led to an ordered page with its own table of contents, and different tabs guiding them smoothly from site to site. You will, in effect, "Say more with less [links]", to quote the developer's own service mark.
Let's take a quick peek at the website. You'll mostly intuit how FatURL works by just looking at it; copy/paste a URL, give a space, and type a caption for the link. You can add up to three dozen URLs for each FatURL. Next, click the scissors icon, and – ta da! – the service has created your very own FatURL to share. You'll actually see a list of links, but don't worry; they're all the same – just pick whichever URL you fancy.
Let me put in a word about the options here. Click the little wrench icon on the side and a panel drops  down.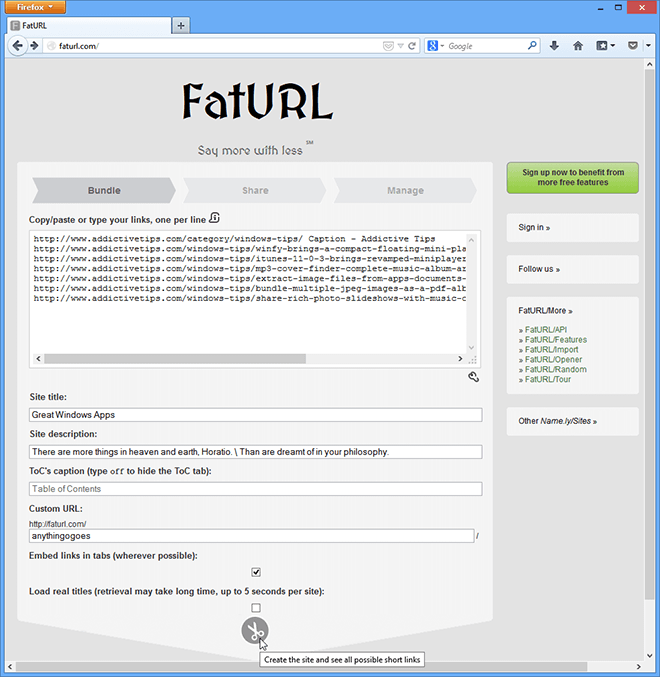 FatURL basically creates miniature 'websites' for you, the content of which are other links. From these setting, you can – among other things – add a title your site, write a brief description, and even customize its FatURL that you'll then hand out to people. There are some more cool, free features to try, such as managing your site and reviewing its viewership analytics, that are supposed to become available after you sign up for the service. Though in my testing, the registration process didn't seem to work. If any of you get past the Captcha successfully to register an account, do let us know in the comments below!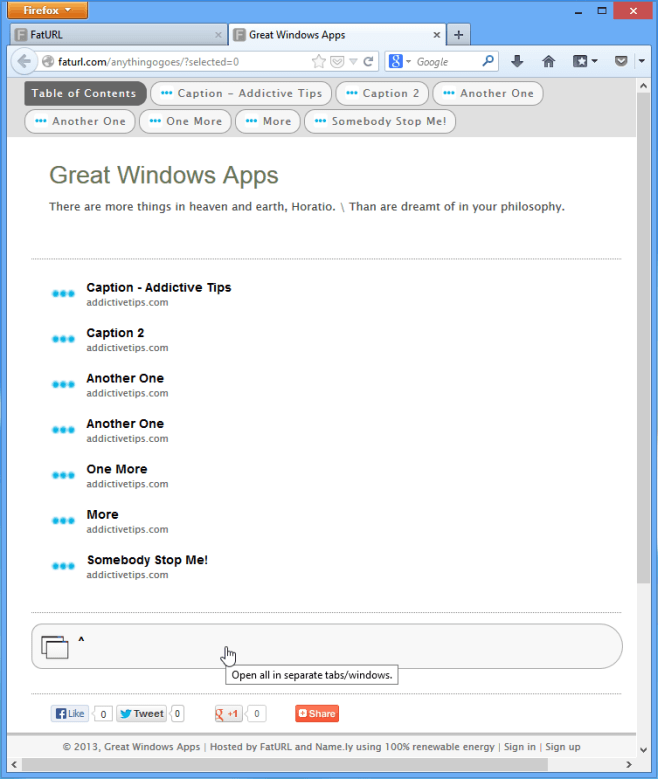 So here's what FatURL's results look like when you or the person you gave the link to visit it. You have your site's title and description above, and all the links listed below, with neat captions and icons. Click any link to open it in the same tab. To open them all in separate tabs, use the button below them (the one with the mouse cursor over it in the above screenshot).
At its heart, FatURL is nothing more than a link-sharing service that bundles up 30+ long or different URLs into one snappy little link. But it beats out the competition by offering gimmicks like link editing & rerouting, instant switching between shared sites, and even bulk link opening, as shown below.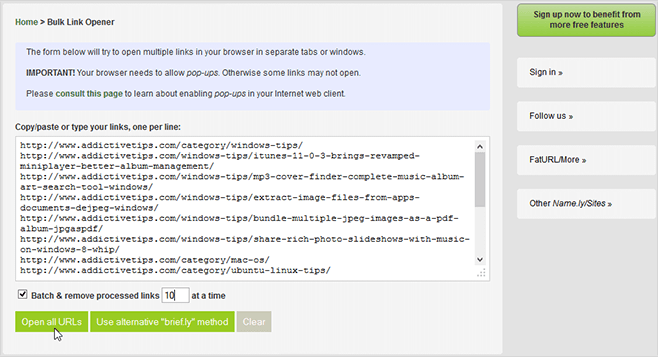 You can find the Bulk Link Opener feature under 'FatURL/More'. It basically provides you with a way to open a list of multiple links in their own tabs or windows, without having to manually open tabs for each of them and copy-paste the links into them individually. You can open these URLs one at a time or all together. If you want to take it easy and open, let's say, ten links at a time out of thirty, check 'Batch & remove processed links' and type 10 in the text field. The first ten links will then open when you click 'Open all URLs', and will automatically be removed from the list. When you're ready for ten more, simply click 'Open all URLs' again.
One final nugget of interest in FaURL: you can import any number of the most recent Atom/RSS/XML feed items for any site with one click via the import screen. This can be really useful if the links you want to share are all recent posts on the same site, in which case this feature will save you the hassle of even having to manually enter them into the list. While importing, four radio buttons give you more control over what to do with the links after importing, like creating shortlinks, editing the list, taking a snapshot etc.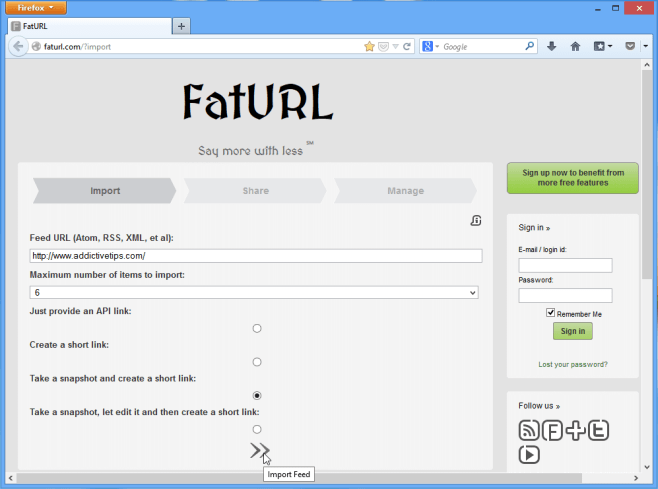 To sum it up, FatURL is a great and hassle-free way to quickly create and share a list of links with anyone and allow them to open them conveniently, without having to send them multiple links manually.
[via Lifehacker]