BurnNote: Send Private Messages That Are Auto-Deleted After A Defined Time [Web]
Not long ago, we covered DUE.IM, a text message service that allowed you to send one-time readable, private messages to others. BurnNote is a similar web application that offers you the same functionality, but with additional options. The service lets you send private messages to others that can only be viewed once and are deleted after a set amount of time. Deleted burn notes are completely erased from the BurnNote servers, so it is impossible for anyone to retrieve them. All you have to do is enter your message (password, number, link, note etc), and the service will instantly generate a private URL that you can share with your buddies. Once the message has been read by the recipient, BurnNote will automatically 'burn' it, ensuring that it remains private. That's how simple it is!
To start off, type your private message, set the timer, enter a password (optional) and hit the Send button. The "type" of your note can be defined through a drop-down menu, which includes Plain text (copying OK), Short phrases (no copying) and Spyglass (no copying).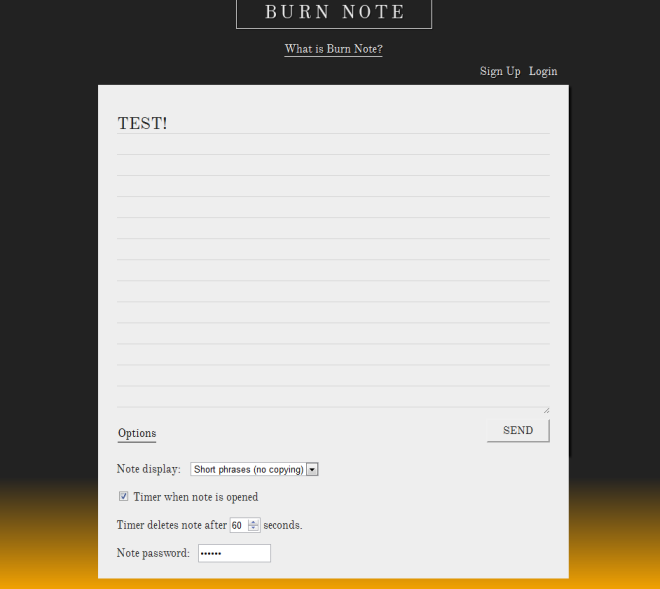 BurnNote will instantly generate a unique URL, which you can copy to the clipboard by clicking the Copy Link button.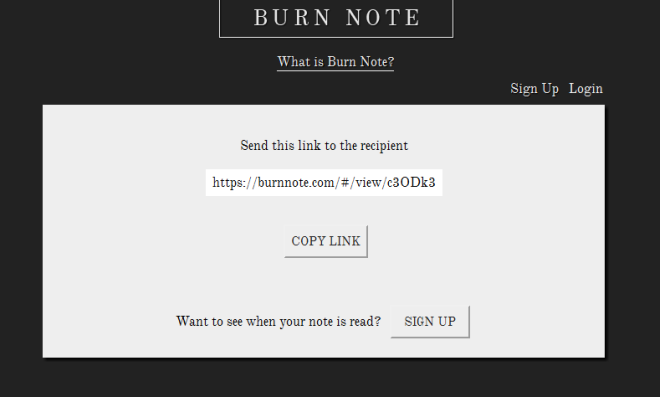 When the recipient receives the message, the timer will be displayed at the top of the page. Once the time is up, the message will automatically be deleted from the server. Note that when the URL is clicked a second time, a 'There is no note here' message is displayed.
The service does not require any registration or login, and has a simple interface that lets you quickly send private messages. If you want to share secret messages with your friends, and privacy is a concern, then BurnNote can be a handy tool for you.
If you liked this app, you might also want to look through the other web applications that we've covered so far.