CaptureToCloud: Save, Share & Organize Online Content, Convert It To Google Documents [Web]
CaptureToCloud is a clever cloud application that integrates some of the major Google apps and Chrome bookmarks, as well as DropBox, and is optimized to work seamlessly with all of them. It will enable you to capture, share and organize all kinds of digital media, including websites, images, articles, links, bookmarks, files etc. The web app makes sure that important information is always accessible from any internet connected device. Your captured media can either be shared with your colleagues, or you can post it to Facebook, Twitter or email. Moreover, saved media can be converted to a Google Document or even viewed in a clutter-free layout. CaptureToCloud will also monitor specific URLs for any changes and support uploading Chrome bookmarks to the cloud. Content may be saved to the service from your browser's toolbar or the right-click context menu. More after the jump.
You can use the Chrome extension or Firefox add-on to capture all types of content, like web pages, images, articles, selected text, video links, maps and URLs. These are then stored in the cloud, and you can access them later from any device. The pop-up allows you to save an entire Web page, URL Only or Selected Content. CaptureToCloud keeps the website in its original format, and all the links and images in the page are preserved. Once you've captured your desired content, you will be able to access it by clicking the Library option displayed to the top left corner of the pop-up. Alternatively, you will be able to access all the capture options from the right-click context menu.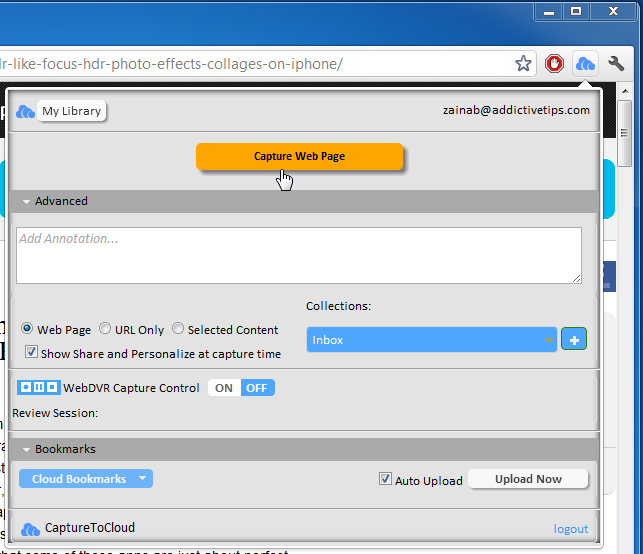 Next, you will be able to access all your saved content from your Inbox. Note that new collections can also be added by right-clicking the library option, and once they have been created, you can drag & drop individual items from one collection to another. Moreover, all your Chrome bookmarks can be uploaded to CaptureToCLoud and accessed from any internet connected device. Additionally, it lets you view all your Google Doc documents and is integrated with Dropbox, which allows you to access all your files right from within the app's interface.

The app has two collapsible sidebars on both sides. The one on the right allows you to view all your added files or items for Google Docs or Dropbox, whereas the one on the left lets you switch between the integrated services. Each individual item that you add to CaptureToCloud comes with a drop-down arrow, which, when clicked, lets you perform multiple actions, like convert documents to Google Docs, view articles in a clutter-free interface, monitor URLs for changed content, find similar content on the web, post items to a stream and much more.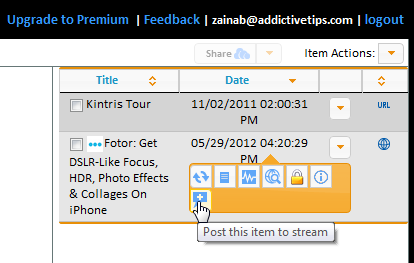 The CleanView changes content to a more readable format without ads, sidebars and other clutter.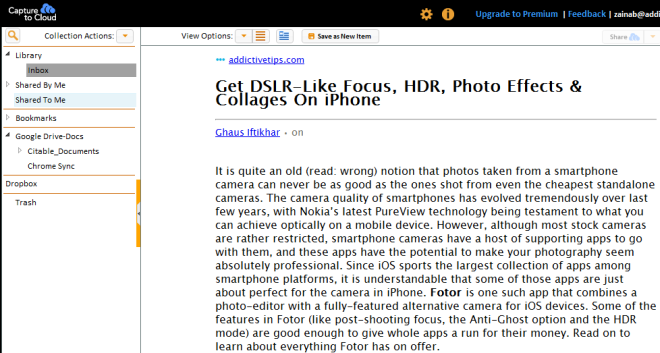 CaptureToCloud functionalities just don't end here; the WebDVR feature lets you capture content continuously, so you don't have to stop at each point to save important content. This can specially be useful when you're busy researching a topic or browsing something important that you would like to check out later. The app is free, and you can sign into it via your Google account.  Visit the link below to build a library of your favorite items, which you can access later from anywhere and share with anyone.
Install CaptureToCloud Extension For Google Chrome
Install CaptureToCloud Add-On For Firefox
Liked this app? You might also want to look through our showcase of web applications reviewed so far.