10 Great Chrome Extensions For Twitter
Twitter is a very engaging network; you can open your timeline and before you know it, you've spent the better part of an hour reading links or conversing (read: debating trolls). For this and several other reasons, many users prefer Twitter clients over the web interface. Most Twitter clients not only have better features, but also support notifications for your @mentions, direct messages etc. At the same time, they give you control over the content you see, ensuring that only important things disrupt your work. The problem is that Twitter likes to axe the abilities of third-party Twitter clients by restricting its API, and many users have to turn to its web interface whether they like it or not. It's situations like this when extensions can be very handy. Provided you have the right ones installed, your browser can act like an impressive Twitter client itself, and we've compiled a list of extensions for Chrome that will help you do just that.

Classic Retweet
On Twitter for web, you cannot edit a tweet before retweeting it. The absence of this feature on the web interface is puzzling, since it is there in its mobile apps. It's the number one reason I've always retweeted from my phone rather than from my desktop, but Classic Retweet takes care of that by adding a 'Classic RT' option to Twitter's web interface that lets you edit tweets before they are retweeted in the good old RT style.

Previeweet
Tweets that link to images or news stories are likely what more time is wasted on. Not only do we compulsively click on links to see what they are, but we also tend to spend time reading and then sharing many of them. If you would like to – at the very least – be able to preview images shared on your timeline, Previeweet is what you need. The extension adds a small thumbnail next to tweets containing links to images hosted on Twitter's servers, Dribbble, Instagram, Photobucket, Facebook, Apple, Yfrog, Twitpic, Twitvid, Flickr, and Imgur. The previews load automatically with the tweets.

Tweeter: App.net client inside Twitter
If you recall our review of Kiwi, an App.net client for OS X, you will remember that it is strikingly similar to most Twitter clients. If the similarities ever made you wish you could combine your Twitter and App.net feed, stop looking – Tweeter: App.net client inside Twitter is an extension that will do just that. You will need to sign in with your App.net account and authorize it to connect with the extension. You can choose to view updates by all users or just by the ones that you follow.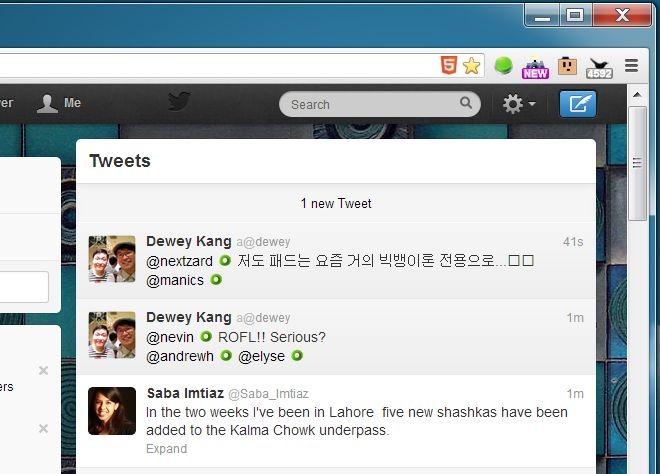 Notifier for Twitter
One of the primary reasons why many people prefer third-party Twitter clients is notifications. Though if you've wanted a way to get notifications for your @mentions and DMs, Notifier for Twitter is an extension worth giving a try. It's actually more of an in-browser Twitter client in a popup, from which you can view your timeline and tweet. However, if you aren't a fan of these clients, you can still install Notifier for Twitter solely because of its desktop notifications. You can specify which activity you will receive them for and set alerts for Direct Messages and Mentions as sticky. The extension even works with Growl for OS X to streamline notifications.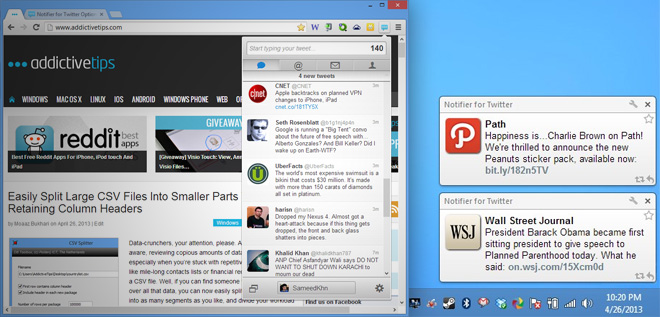 'Notifier For Twitter' For Chrome
Open Tweet Filter
Twitter trends are not always worth keeping up with but if you follow the right crowd, you might never have to read the many tweets that contribute to annoying trends. If Twitter trends aren't the only thing you would like to filter from your timeline, you can use Open Tweet Filter. It allows you to block tweets containing certain keywords, or tweets from a particular user. To view the filter popup, click the cog wheel next to the compose tweet button on Twitter for web and select the newly added 'Filters' option.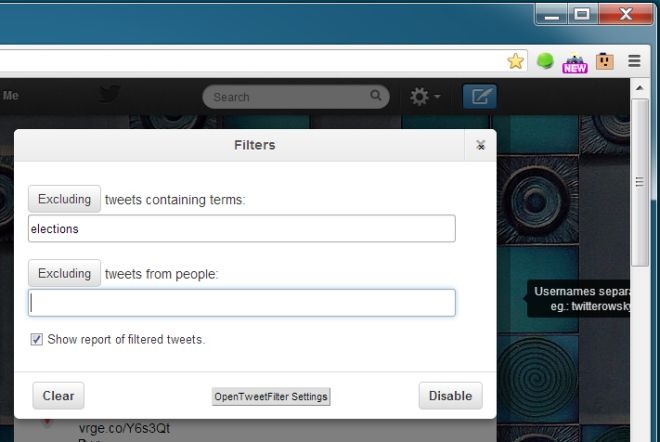 'Open Tweet Filter' For Chrome
Twipster
If you've ever wanted a very clean and minimal interface for your Twitter timeline, you're looking for Twipster. It removes the 'who to follow' suggestions from Twitter, as well as the list of trending topics and the compose tweet box. The interface is wholly taken over by your timeline on a plain white background overriding all other backgrounds. The only remnants of the original Twitter interface is the black bar at the top. It's very minimal, very clean, and very hipster (we're kidding, normal people can use it too).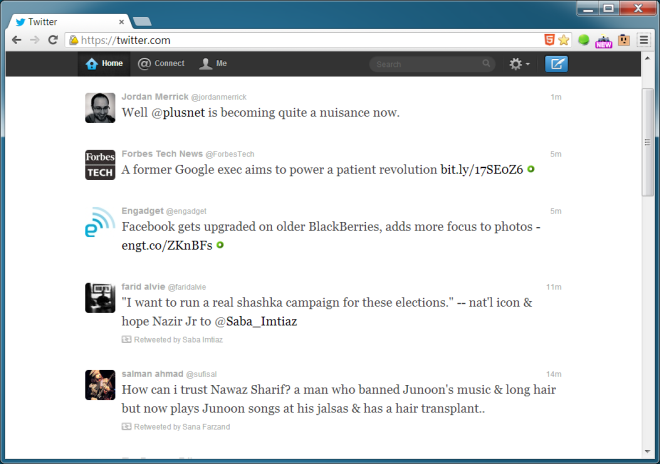 Chromnitweet
In the absence of a Twitter client, the only way to tweet without visiting Twitter is to install one of the many extensions that open a popup that you can compose your tweets in. Chromnitweet does things differently; it lets you tweet right from the Omnibar itself! Type tw in the Omnibar, hit space and type in your tweet. Hitting enter will send the tweet. The only flaw with this method is that you cannot see how many characters you have used.

Twitter Omnibox
While we're on the topic of Chrome extensions for Twitter and the Omnibox, Twitter Omnibox allows you to open any user's Twitter profile without having to type in the complete URL. Type @ in the Omnibar, hit space and type anyone's Twitter handle. When you hit enter, you'll be taken directly to the user's Twitter profile if a user with that handle exists.

TweetRight
When sharing links on Twitter from your browser, you're either copying URLs or using Tweet buttons that have been added to the web page. In either case, you have to tweet the entire page or nothing. TweetRight lets you microtweet i.e.tweet everything from a single image to selected text on a web page. You're no longer tied down to URLs or sharing buttons; TweetRight adds a 'Tweet' option to the right-click context menu that you can use to tweet an image, a link, an entire page, or selected text. TweetRight also adds a button in the URL bar to let you quickly compose your own tweets.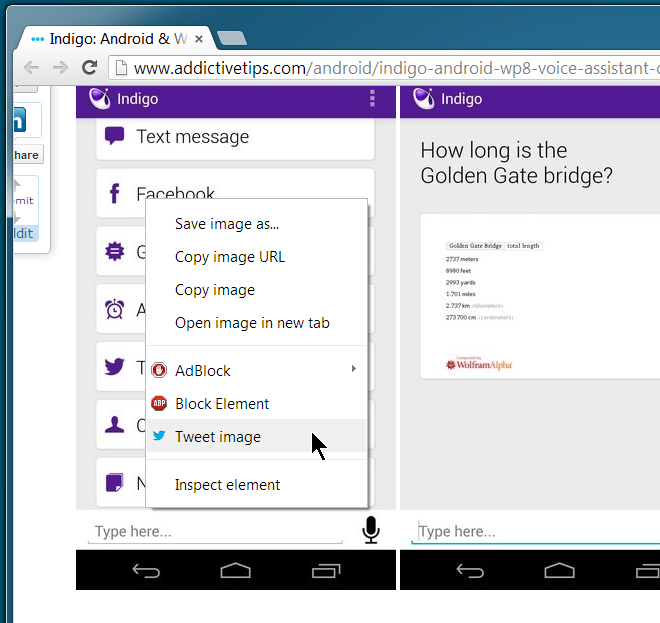 InstaTwit
We have already featured InstaTwit on our list of extensions that improve your image viewing experience on Twitter. This handy extension basically allows you to view Instagram images in Twitter's web interface once again. All you have to do is click 'Expand' in any tweet with an Instagram link, and the extension will load up the preview in a way similar to how Twitter itself used to do before the Instagram integration became broken.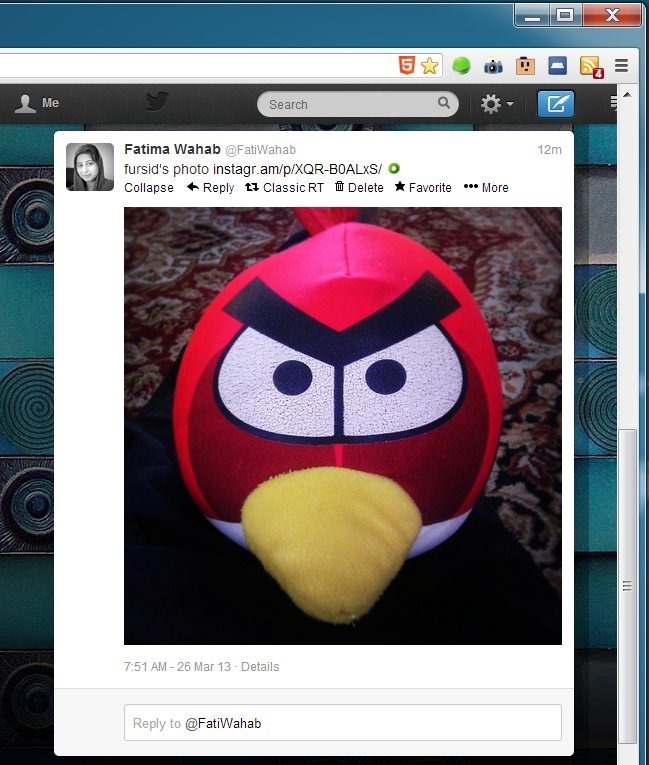 If you know any other great extensions that make it easier to use Twitter's web interface or let you do more with your browser, let us know in the comments.