View Recent Bookmarks Sorted By Date & Time In Google Chrome
Bookmarks can be divided into two types: those for sites you want to refer back to in the immediate future, and those for sites you want to keep around pretty much forever. Now, common sense dictates that older bookmarks, the ones you're storing, should appear at the bottom and newer, more recent ones that you're probably going to view earlier, should appear nearer the top, for ease of access. Firefox has the coveted "Recently Bookmarked" viewer in its bookmarks panel, but not Chrome. That is, not until Recent Bookmarks for Chrome, an extension that adds a button for quickly viewing your latest bookmarks in a list divided by day and date.
Recent Bookmarks isn't a replacement for the old bookmarks. It's basically a complementary function that isn't meant to be a bookmark manager like Bookmark# or Bookmark Tree; you can't add or delete new bookmarks or categorize them into sub-folders using this extension. You can only view bookmarks you've recently added. Up to a maximum of 25 sites can be on the list before the last ones are no longer considered "recently bookmarked".
After you've installed the extension from the Chrome Web Store, you'll notice a golden star add itself to the right-hand side of the URL bar. Click it and you'll get a pop-up menu of all your recent bookmarks, neatly ordered by the time they were added, with the current day's bookmarks at the top. Hover over an entry to see what time it was added.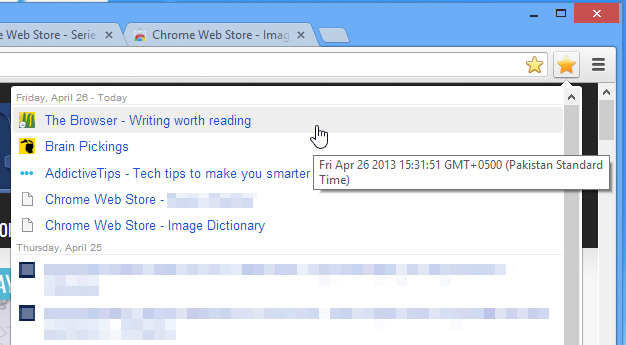 One little thing about the extension: when you click a bookmark, it opens it in a new tab instead of the tab you're currently on, which is what most users will prefer.
Right-click the extension's toolbar icon to open its options page in a new tab. You can do only one thing there, select the number of bookmarks you want the pop-up to contain. You choose , 10, 15 or 25 bookmarks to be visible in the list. As you add new bookmarks, all the ones older than the latest bookmarks within the set limit disappear from the list.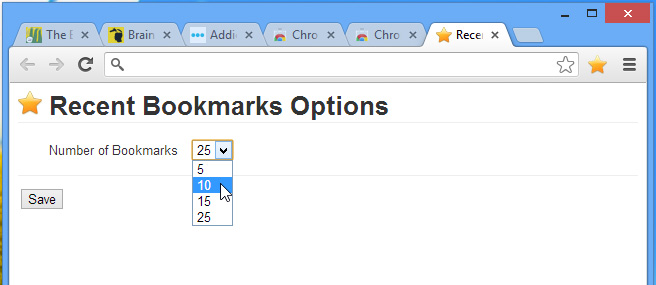 The feature Recent Bookmarks adds to Chrome might be of a simple nature, but it is one that, as most would agree, should have been a part of the browser by default. For that, and for being such a considerate, time-saving little helper, the extension gets a little gold star from us, and a permanent place next to my URL address bar.
Download Recent Bookmarks from Chrome Web Store