SndLatr Compose Gmail Messages Now And Send Them Later [Chrome]
Email has become fairly essential these days. Almost anyone who owns a computer or smartphone has an email account. And when it comes to email services, Gmail is our favorite one here at Addictivetips, but truth be told, there are a few things we wish we could add. For instance, if you're anything like me, you'll receive a huge number of emails each day. But sometimes I have to reply to certain emails only at a particular time. If you have ever wanted to write a message in Gmail now but send it a later date and time then SndLatr will come as immensely useful. This amazing Google Chrome extension has been designed to take control out of the hands of Gmail and place it back under your command by letting you schedule emails however you please. What's more, it allows you to create custom text snippets and use them on the fly.
To get started, visit the link given at the end of this review and download SndLatr extension to Chrome. After installing the extension, sign in to your Gmail account and you will be immediately presented with a message demonstrated below. You simply need to provide access to your Gmail account by clicking 'Grant Access' button.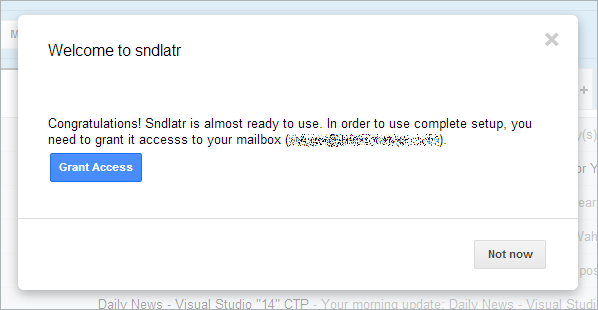 Once that is done, you will find a 'Send later' button and a snippet icon have been added in your compose mail window. Using the schedule feature is easy; simply compose the message that you would like to be delivered later by entering your recipient's email, a subject, and main message, and when ready to schedule, click 'Send later'.  You will find some predefined time profiles placed in a small window. Here you can pick a date & time, for instance, "Sunday at 12 noon" or ''"tomorrow at 1 am" (without quotations) etc. to specify delivery time.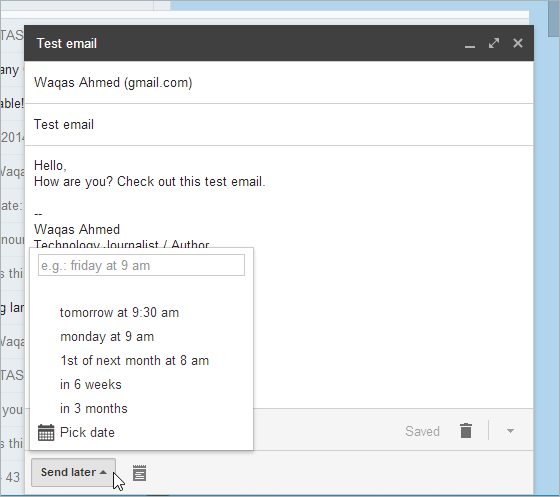 Alternatively, you can click also 'Pick date' and choose one from the integrated calendar. Select any date from the calendar and then manually insert time before clicking the 'Send Later' button again to complete the process.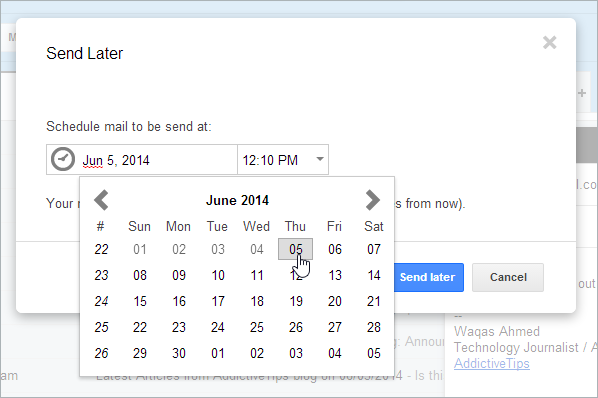 Another interesting feature about SndLatr is the ability to set message reminders. The extension can remind you of a conversation at a given time. To do that, open the message and click the clock button at the top, and enter the schedule time. The conversation will be back in your inbox on the selected time.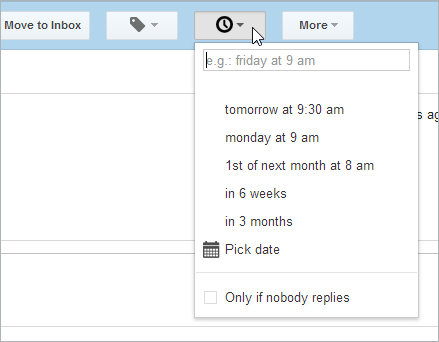 Lastly, SndLatr enables you to add snippets complete with full subject and message text. You can then use these snippets to quicky reply to a conversation or when composing a new message from scratch. When you want to use an existing snippet, click snippet and then select the snippet that you want to insert in your mail. You will be asked if you want to add the snippet to the existing message or want to remove the message text completely and add the snippet.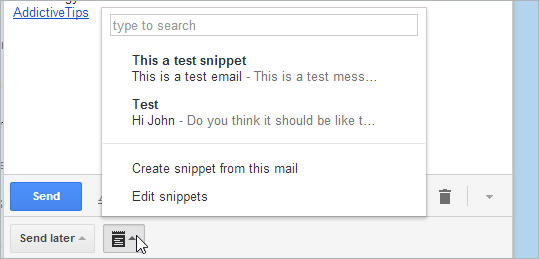 All in all SndLatr is a handy extension that lets you schedule emails and set up reminders for important conversations in your inbox.
Install SndLatr for Google Chrome