Testing for COVID-19: Screening tool to help decide when to get tested
One of the most important tools in the fight against COVID-19 is testing. Tests need to be conducted on the general population, and the more tests that are done, the better the pandemic can be controlled. Unfortunately, this isn't easy. This is a brand new virus and test kits for it have had to be developed. In the 3-4 months since the virus has spread, there has been significant improvement in how efficient a test is, and production has been ramped up. While there are more testing kits available today than there were a month ago, the world is collectively short. As such, the tests are only being conducted when there is a high chance of someone being infected.
This begs the question of when to get tested for COVID-19. Apple has released an online tool that helps you determine whether or not you should get tested. If you're worried you're showing symptoms, try the tool out.
About the tool
Apple's COVID-19 tool is an online tool which means anyone, on any sort of device, can use it. The suggestions give you a course of action on whether or not you should get tested, or if you should self-isolate, among other things. They are consistent with what the CDC in USA recommends. If you live in a country where mass tests are being done, and everyone is being encouraged to get tested, you should follow your local guidelines over this tool's suggestions. Get tested if a test is available.
Apple COVID-19 screening tool
Visit the tool in any web browser. It is optimized for mobile browsers. Click the 'Start Screening' button.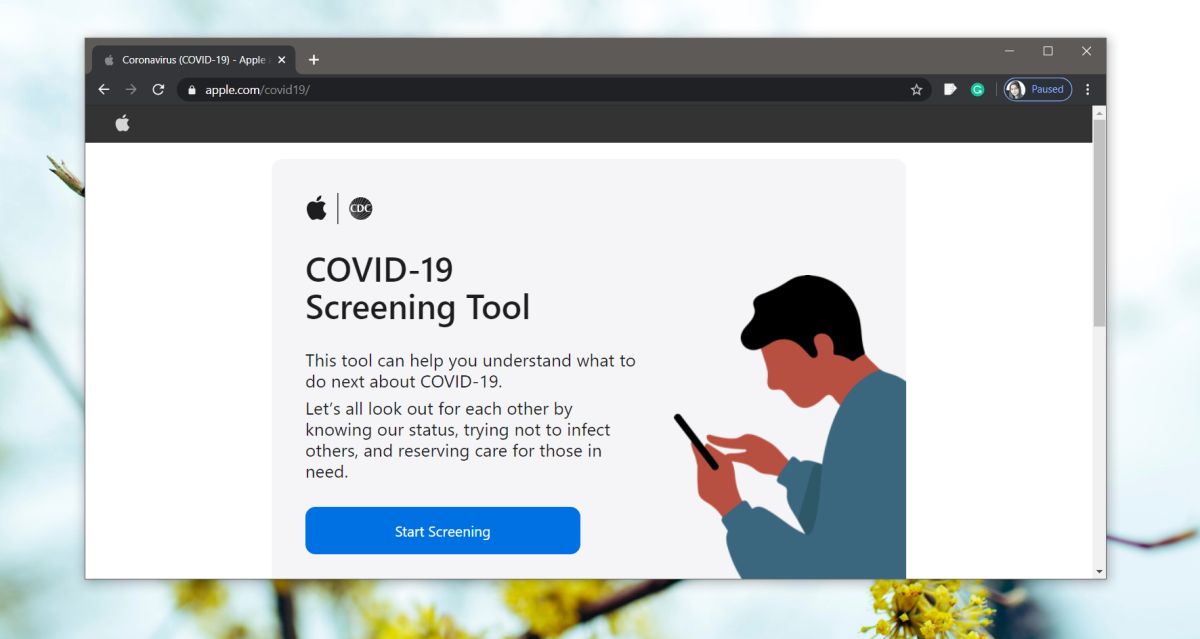 The tool will ask you a series of questions. These questions are the same type of questions that you will be asked if you were to call the national COVID-19 helpline in your area.
Specifically, the tool asks if you or someone else has one of the five advanced stage symptoms in which case you're encouraged to call for help immediately. If not, it will ask,
What age demographic you fall under
If you're experiencing other symptoms such as a sore throat, aches, fever, etc.
If you have any pre-existing conditions
If you have traveled internationally
If in the last 14 days, you have been in an area where COVID-19 is widespread
If you live with or have been near someone with COVID-19 i.e., if you've been exposed to it directly
If you work in a health care facility or a similar
Once you've gone through the questions, the tool will advise you on what the best course of action is. You can still call your local helpline or hospital. They will likely ask you these same questions and provide a similar course of action.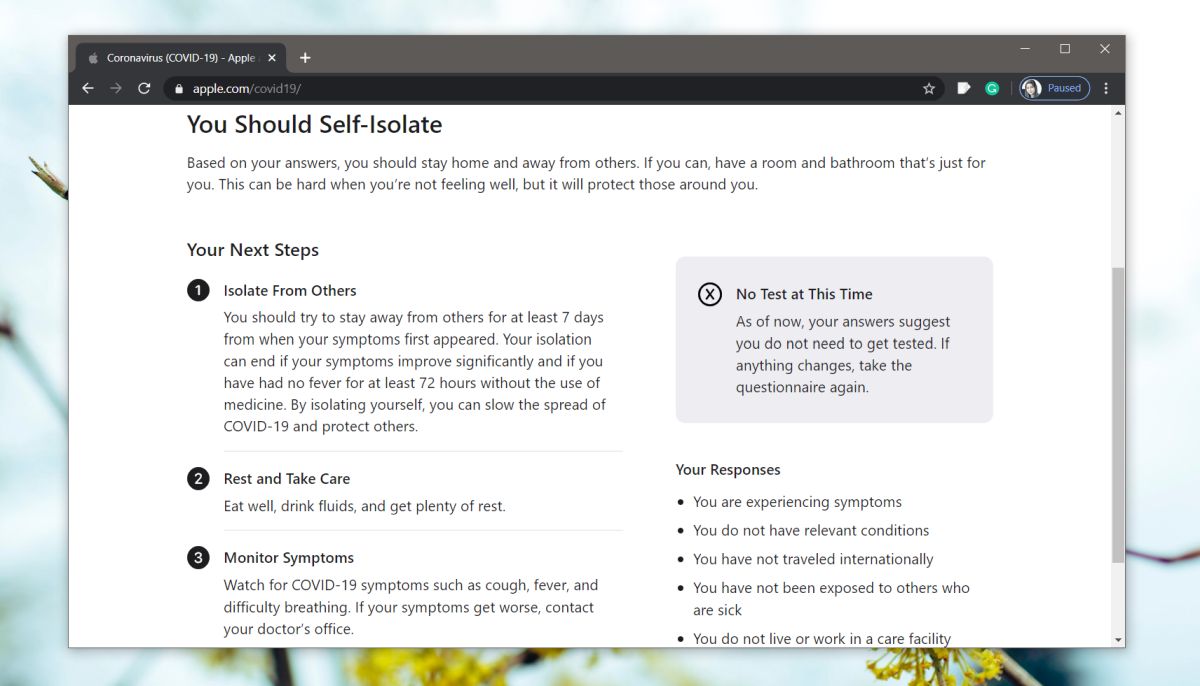 Remember that even if you are not eligible for a test, you still need to remain in lockdown and socially distance yourself. You may not be sick but you could be a carrier nevertheless and you might infect others who are more vulnerable to the disease. Wash your hands regularly, and use hand sanitizer when soap and water aren't available.