Create & Save Online Code Snippets With Tagging Support [Web]
SnipSave is a simple yet useful web application that can be used to create code snippets, which can be saved and used in the future for various projects or purposes. These code snippets let you save time and can be especially useful when you have to use the same code for numerous projects. The app allows easy tracking, storage and management for all types of codes. SnipSave lets you tag your code snippets and enter a title for each one. SnipSave allows you to search for code by entering queries in a search box displayed at the top of the page. While you can save code in lots of ways, SnipSave will let you edit the code and save the changes you make to it. The app requires a simple sign up and has an easy-to-use interface.
SnipSave has a basic-looking interface that lets you access your profile and quickly create snippets. Click your profile button displayed at the top right of the page, select My Snippets option and hit the Create New button. You can then enter a title, type or paste the code and add tags for it. Once done, hit the Create Snippet button displayed at the bottom of the page, and you're good to go.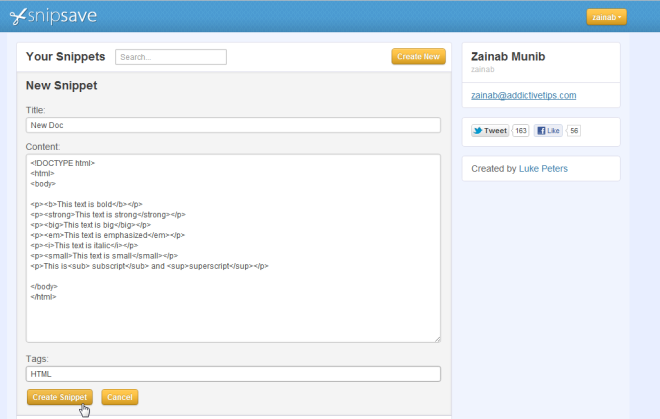 Once a snippet is saved, it is listed under Your Snippets with the title and the first few lines of it. The snippet can be expanded to reveal all of it. Two buttons at the top of each snippet let you edit or delete it. Once a snippet is saved, SnipSave detects the different elements of the code and color codes them accordingly.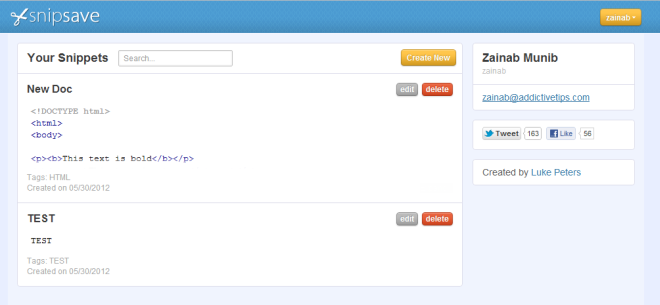 The web app itself works fine but there is ambiguity as to which coding languages it can support. HTML is obviously supported and the tags are correctly identified but there is no resource available on the site to see which coding languages can be saved to it as well. Additionally, in the event that you save a language that the app does not support, there is still the question as to whether it will be editable as plain text or not.
SnipSave is useful if you often find yourself working on different systems and needing to use the same code repeatedly. Since it has a search feature, it's also a fairly good way of building your very own library of useful codes. SnipSave is a handy utility for web developers who work on multiple coding projects and often have to re-use the same code. The app is free and only requires a simple sign up.