Defence Driving's Road Planning Tool Has Playlists, Apps, And More For Your Trip
Road trips can be extremely fun or they can be exceptionally torturous. Either outcome depends on how well you planned the trip. Some people might assume that it's easier to plan a road trip if it's just adults going but that isn't necessarily the case. Defence Driving  is a useful website with a road trip planning tool that helps you put together music, food, games, and safety supplies for the trip. If you were thinking this was a way to plan a trip i.e. where you would get fuel, stop to spend the night, or use the bathroom, then this is not the tool you were looking for. It does however, have a dedicated 'Apps' section that lists apps for just such a purpose.
The tool has five tabs; Food, Games, Apps, Music, and Safety and each label is self-explanatory. The Music tab is by far the best followed of course by the Apps tab. Music comprises of ready playlists from Spotify and at this point only has three playlists so  we have to hope they will add more.
The Apps tab is divided into two sections; utilities and games. Both sections feature apps for Android as well as iOS. The utilities apps listed there help you find places to eat and fill up on gas among other things. Then there are the Food, Games, and Safety tabs. The Games tab has games you can play with your group sans any device being involved. Games for both adults and kids are listed. The Food tab lists commonly available foods to take with you. These foods are filling, easy to store, and the road trip planner tells you how to store them for the trip. Lastly, there is the Safety tab that tells a few common and well known things about staying safe when on a road trip.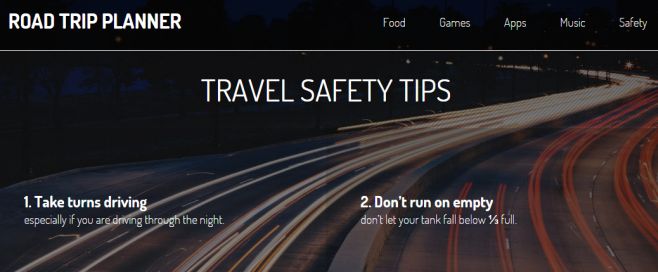 To say that the road trip planner is limited would be accurate. With just about everything from music, food, to safety tips, the tool isn't giving a lot of advice or content. It is however, giving you the essentials. The tool isn't bad to get started on planning a trip and at the very least, it can serve as a checklist of things you should have before going on an adventure.
While I can't think of a feature that I would want, I could definitely do with more content and more playlists. The Food section can do with improvement too with the addition of a section that can help people with food allergies decide what they can take with them to snack on.
Visit Road Trip Planner By Defence Driving