DuckDuckGo Zero-Click Info Adds Instant Answers To Google Search [Chrome]
If you have heard of Knowledge Graph already, it's a new feature being worked on by Google that enables you to search for things, people or places  relevant to your query. If Google is your favorite search engine and you want something similar to Knowledge Graph before it becomes available, then you might want to try out a Chrome extension called DuckDuckGo Zero-Click Info. The extension uses DuckDuckGo's methodology of grabbing information from crowd-sourced websites (e.g., Wikipedia) to augment traditional results with auto-generated content and improved relevance.  The extension offers you zero-click information boxes that are automatically integrated at the top of Google search results for your queries, just like DuckDuckGo. These boxes generally display multiple meanings  for your query, and provide direct links to the main article pages, so you don't have scroll and click around to find what you're looking for.
To start off, simply type a search term into Google, and DuckDuckGo Zero-Click Info will provide instant and relevant results for your query. Answers are displayed in a slick box at the top of the regular search results. Additionally, you will find multiple categories for your search, such as Companies, Television, Music, People, Places, Technology etc. These quick results work for various types of queries, and are not limited like Google's Knowledge Graph information.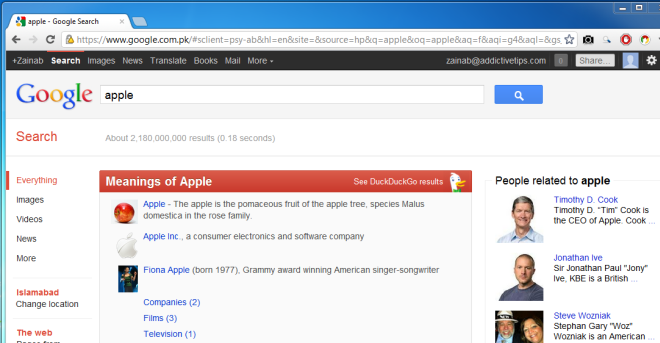 DuckDuckGo Zero-Click Info is a handy extension that gives you fast search capabilities with instant results. With it, you will never have to click multiple links to get quick answers. Install the extension from the link below, try it out and let us know what you think.
Install DuckDuck Zero-Click Info For Google Chrome
Liked this extension? You might also want to take a look at the other Chrome extensions we've reviewed so far.