Easily Change Font Face For Any Or All Websites In Google Chrome
Have you ever come across a website infested by eye-searing fonts? Are you simply tired of Arial, or not satisfied with the default font of your Facebook profile? How about improving your web experience dramatically by changing the font on any web page to your heart's content with Font Changer, a neat Google Chrome extension that lets you change the font styles of your favorite websites such as YouTube, Twitter or Wikipedia by defining your own custom settings. The extension lets you select the type of font you want to apply, and houses over 500 typefaces from Google Web Fonts for the purpose. All you have to do is click the extension's button, pick a target font and hit Done to replace the current one with that of your choice in one click. Read on for more details.
What's really nice about Font Changer is that while viewing a website in its default font, you can apply your new settings and the page will be rendered automatically in the selected typeface. This saves time of reloading the webpage every time you decide to change its existing font. Installing and setting up the extension is a straightforward process, and you can download it via the link provided at the end of this review.
Once installed, Font Changer places an FC icon near the address bar, clicking which allows you to tinker with quite a few different font settings in a minuscule popup.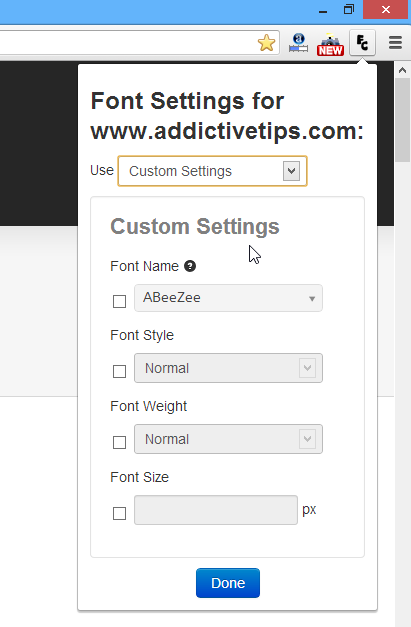 Another useful feature that's worth mentioning is that users can apply new settings to either all websites using Global Settings, or only specific ones using Custom Settings. There's also a No Settings option to resets everything back to the default state. You can select your desired choice from the drop down menu by simply checkmarking the font parameters you want to change. The following settings can be applied:
Name
Style (Normal, Italic, Oblique)
Weight (Normal, Bold, Bolder, Light)
Size (in px)
Once done, hit the Done button and your current settings will be applied to the current website or all websites according to your choice. To revert back your changes, select No Settings under the Use drop down menu, followed by clicking Done again.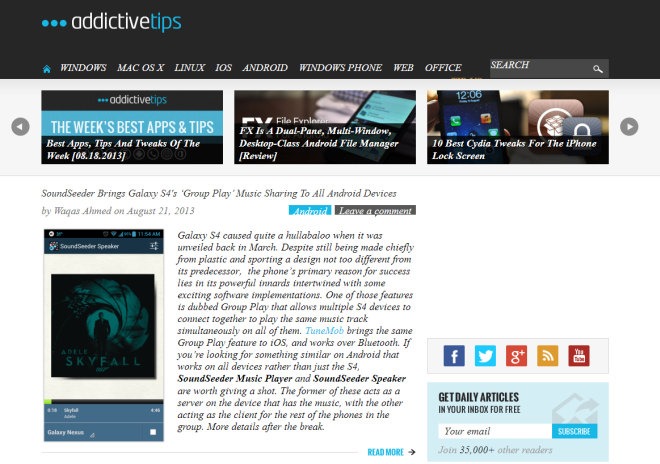 The extension is available for free at Google Chrome Web Store. Firefox users are out of luck for now, but we're hoping some developer picks up on the idea and brings the same feature to Mozilla's browser as well.
Install Font Changer From Chrome Web Store