Easily Create & Conduct Dot Voting Polls Online With dotvoting.org
We have all come across scenarios where we were asked to vote for or select our favorite item from a list, and we couldn't decide which to choose because of having multiple favorites there. What if – in contrast to normal voting – each participant is given a fixed number of votes, and is able to freely assign them to to emphasize favor for one or more items according to their priority level? Dot Voting, of 'dotmocracy' fame, is a method used to do just that, by letting voters identify things of interest out of a set of topics. This concept now has a web service of its own that lets anyone conduct an online dot voting poll for free in a few easy steps. Participants don't need to register for the service in order to cast their votes, and you can view and visualize the results any time during or after the poll.
The website has an appealing spartan layout, with distraction-free, to-the-point functionality. It is, in other words, the online version of a standard ballot box augmented with the concept of dot voting. You can set up your poll in a few simple steps, with no registration required!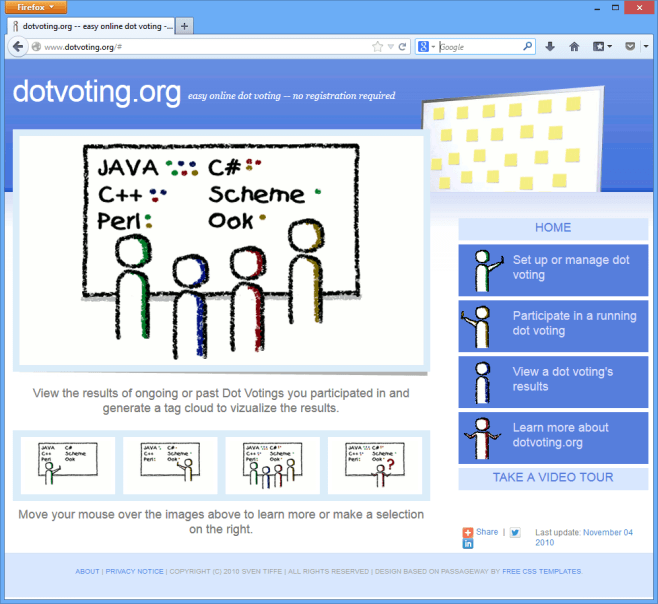 The three ways you can interact with a Dot Voting is to start a new one, take part in one that's already underway, or else view the results as voting progresses. Let's first take a look at creating your own poll. Click 'Set up or manage dot voting'. Here you can choose between beginning a new Dot Vote, or managing one or more Dot Votes you previously created by entering its code.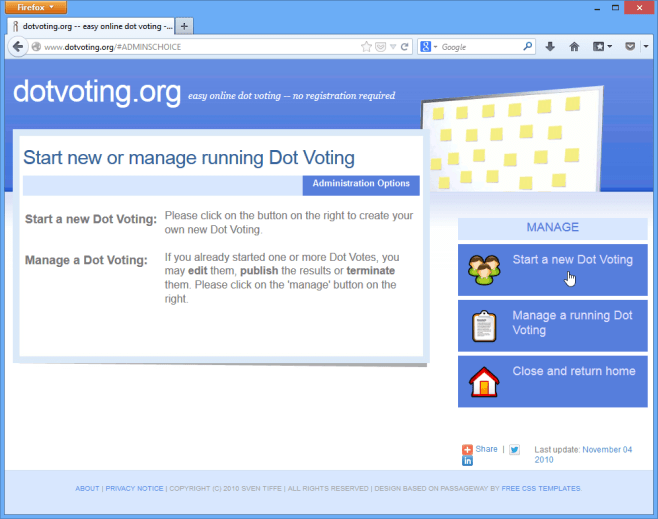 You'll need to go through a few steps when creating your Dot Voting, specifying what type of poll you want. It can be an open poll where you broadly distribute an access code and participation is open for anyone, or a restricted one where you predetermine which individuals can participate. You also get to decide whether the results will be public for anyone with the access code to see, or restricted and visible only to you till you decide to publish them.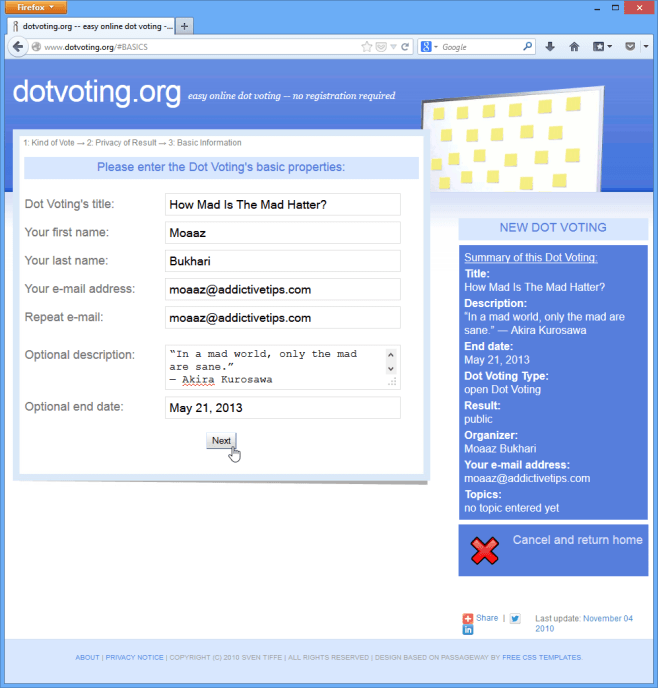 Before you're ready to launch your poll, you need to fill in some basic information about yourself and the poll, and how long you want it to run. Next, enter at least two topics along with their brief descriptions, and define the number of dots (votes) available per participant. If you chose a restricted Dot Voting, you'll need to enter a list of participants' email addresses (up to 50). And…you're done!
You'll promptly receive a confirmation e-mail containing a link that you will need to click in order to activate this Dot Voting. This link is for you, the organizer, and it's important to not share it with any participant. Once your Dot Voting has been activated, you'll get a second e-mail with the public access token that can be forwarded to participants. If you selected a restricted vote, the web app will instead send individual e-mails with unique tokens to the participants automatically.
The participants will simply need to visit the Dot Voting website, click 'Participate in a running dot voting', enter the code, and get voting! In case of private polls, all they need to do is click the link they received in their mailbox to start voting.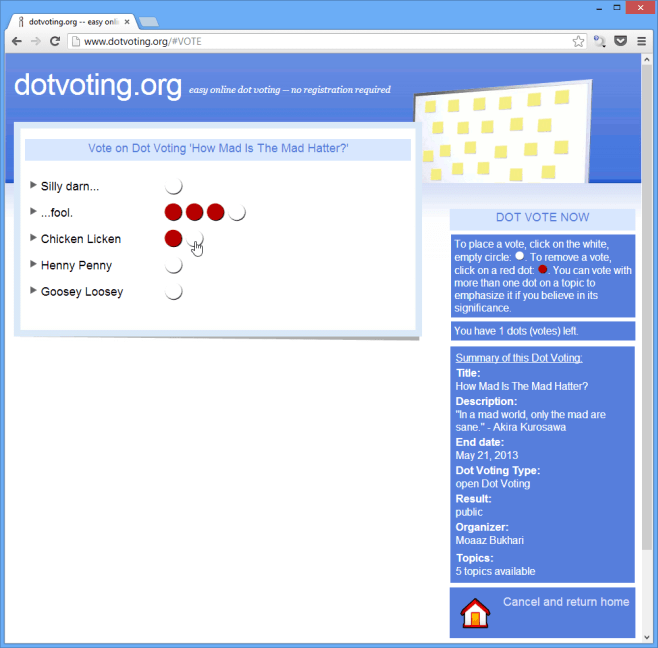 After voting by assigning your available dots to the poll options any way you see fit, just click the green tick-mark that appears in order to save your results, which are then automatically submitted to the server. To view the results, the participants will need another access code, unless you've already restricted the results from being seen till you publish them first. You can also share the results over social media using the buttons available at the bottom.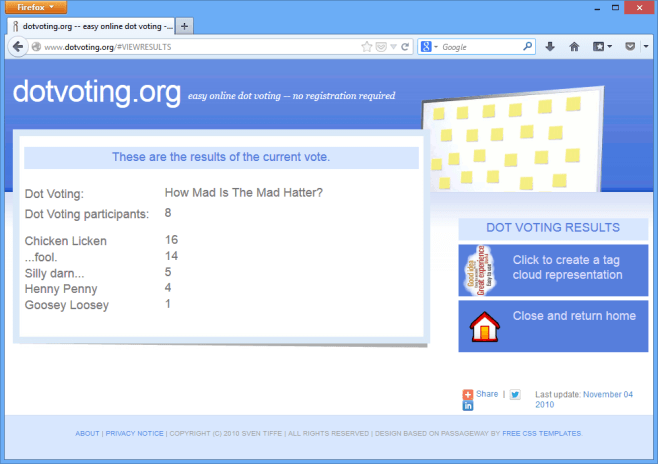 The idea of dot voting is definitely a novel concept and can be useful to get more accurate poll results by letting participants weigh in on all the available options, rather than having to select just one. Also, comments on all Dot Votes are anonymous, providing a further insight on the feedback from the participants. Moreover, it's not possible for an organizer to see which participant voted for what. So the next time you need to conduct a poll, give Dot Voting a shot by heading to the link provided below.