Easily Design Custom Tabs With Media Content For Facebook Pages
Facebook Pages are so common that everyone and their cat seems to have one. Though easy to create, they can prove to be somewhat difficult to customize for the average Joe, especially when it comes to tasks like adding multimedia to a tab. Tab Creator is a Facebook app that gives you an excellent tab creator and editor for your Facebook Pages. It allows you to create new tabs and provides built-in templates for Pages related to music, photography, artists, restaurants, online shops, and real estate. You can also create a blank tab, and use Tab Creator's excellent editor to add elements to it. Taking hint from Photoshop, each element that you add to a Page represents a layer, and layers can be organized any way you want. Read on for more information.
To use Tab Creator, you must first have a Facebook Page. Tab Creator only creates tabs, so you still have to create a Page first if you don't already have one. If you own or administer several pages, Tab Creator will ask you to select one for adding the tab. We tested the app out with the Music template and it allows us to add images, media placeholders for YouTube and Vimeo videos, and an audio placeholder for embedding sounds from SoundCloud. Other available elements include text fields, solid color boxes, and images.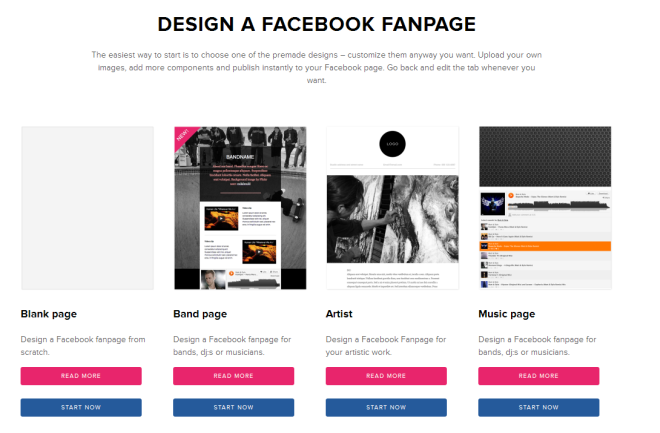 Connect Tab Creator with your Facebook account and choose the template you want to use. You can always go back and change the kind of template. Next, wait for the app to load. The left side is your work area and the right side is where you have your controls i.e. the elements that you can add to your tab.  The controls column is divided into three tabs. The Info tab gives you information about the dimensions of an element, which you can customize to your liking. The 'Objects' tab lists all elements that can be added to a Page. Drag and drop an element on to the work area and it will be added as a layer. Select it to resize it or click the plus sign to access its customization options. Layers can be hidden or locked the same way it's done in Photoshop. The 'Social' tab allows you to add and mange the 'Like' and 'Comment' box for your Page.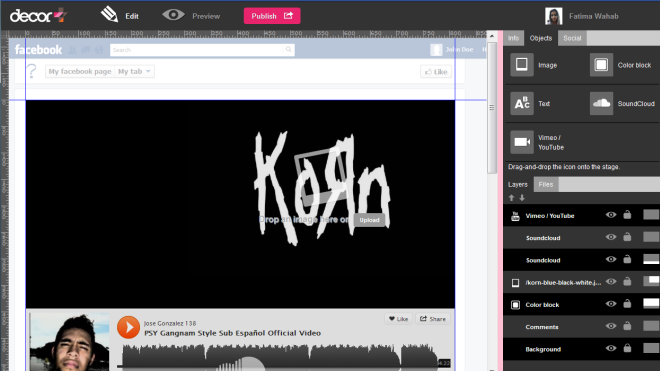 The image frame will let you crop an image. Text can also be customized. To add audio from SoundCloud, drag & drop the 'SoundCLoud' layer and paste the URL of a SoundCloud sound. The app will load the song itself and show the SoundCloud player automatically. You can similarly add a YouTube or Vimeo video using the Vimeo/YouTube layer.
To rearrange layers, select a layer on the right and use the up/down arrows just above the layers list to move them. The eye icon on a layer toggles its visibility, while the padlock icon locks/unlocks it. Once you've got your Page looking the way you want in the editor, click 'Preview' (the eye icon at the top) to see what it looks like when browsing. Satisfied with everything? Click 'Publish' and select the Page to which you want to publish this tab.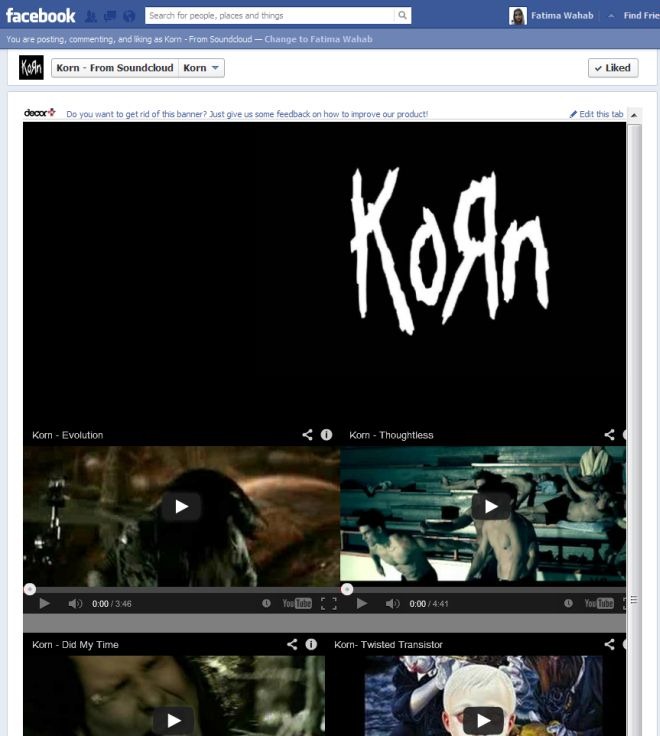 Tab Creator adds a thin watermark just above the tab, though it's barely noticeable. At the right of the tab, you have an option to edit it in Tab Creator. You can visit the app again to edit a tab that you've created, and also select any other template to create a new tab. For Page admins who like to have custom tabs on their Pages for different type of content, Tab Creator is excellent.