Invite Others To Upload To Your Dropbox Or Google Drive Storage With EntourageBox
When you choose to move your files to the cloud or keep the important ones synced with it, it is likely that you will find one good service that does it, and stick to it. You might also use more than one service depending on its features; for example, I use Google Drive, Dropbox, and Jumpshare. One of my key concerns about using a cloud service is that while I may be able to share files easily (and privately), I cannot receive them from friends through the service without forcing them to sign up for it as well. Under these circumstances, I turn to Google Drive because most of them – if not all – have a Google account. EntourageBox is a web app that fixes this problem; it acts as a bridge between your friends and your cloud drive, and allows them to upload files to a folder of your choice. Currently, it works with Google Drive, Dropbox, and Amazon cloud storage.
EntourageBox connects with your Amazon, Google Drive, or Dropbox account. It then asks you to create a folder that you would like to allow your friends to upload files to, and gives you a link to share with them. When your friends receive the link, all they have to do is to agree with EntourageBox's terms of service, and they can then start uploading files to the folder you selected. Your storage space is used for the purpose, but your friends are not given free access to all the files in that particular folder. They will be able to view the files they've just uploaded, but should they navigate away from the link you sent them, or even refresh it, they will no longer be able to see those files or delete them.
To start using the service, begin by connecting one of your cloud storage accounts.

Next, create a folder that your friends will upload files to, accept the terms of service, and you're good to go. EntourageBox will show you a popup with the link to share with your friends. The link will also be emailed to you, so don't worry about losing it. In the email from EntourageBox, there is a deactivation link that you can use to stop your friends from uploading more files via the link you've shared.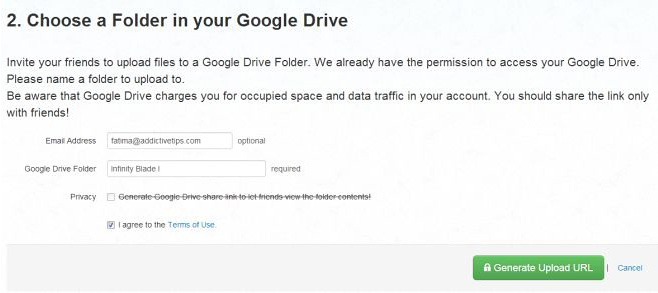 On the recipient's side, EntourageBox's terms of service have to be accepted. They can then proceed to uploading files either by dragging & dropping them, or by selecting them from the 'Add Files' button. The files are only listed at first, so they can review which ones have been added, and remove any that they might not want to upload. Files can be uploaded individually from the ones they've added by clicking the 'Start Upload' button in front of each file,  or they can simply click the 'Start Upload' button at the top to begin uploading all files. The upload process can be cancelled any time as well.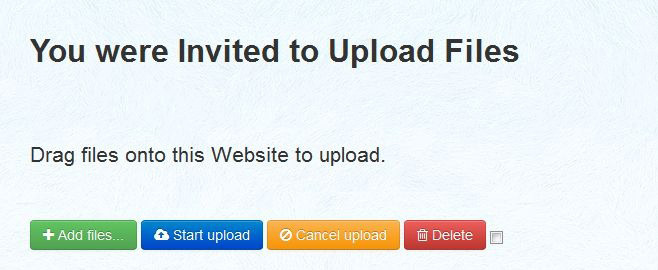 Upon starting the upload process, users will be able to see upload progress for each file as well as the collective upload progress for all files on the same page. A link will be generated for each file, and clicking it will open that file in the browser.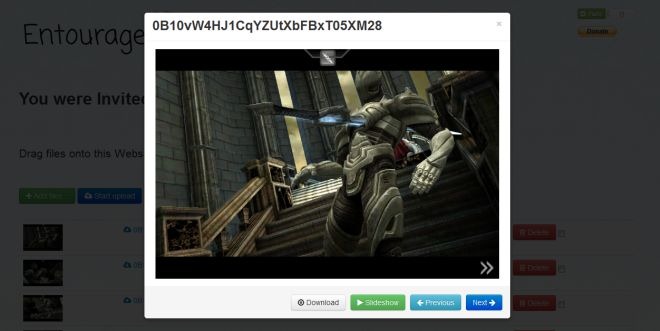 If the recipient refreshes the page, their list of uploads will be lost. So long as the link is active, your friends will still be able to use it to upload more files. Though be careful with sharing the link, since all files that are uploaded by anyone using that link will be eating up your storage space on the could service.