How To Export Your Netflix Watch List In Firefox
You can share your Netflix account with multiple people if you have the right subscription plan. There's support for multiple profiles, and a dedicated kids profile that you can use parental controls on. While it's easy to share a Netflix account, it's not as easy to share your watch list. Netflix List Exporter is a Firefox add-on that lets you export your Netflix watch list. Your watch list is maintained by Netflix so it's already there. All you need is this add-on to export it in plain text format.
The Netflix watch list is a list of shows you intend to watch, not shows that you have already seen. That's the 'watched' list and this add-on unfortunately cannot export it.
Export Your Netflix Watch List
This add-on should work regardless if you use a VPN for Netflix or not. If some shows do not show up in your Watch list, make sure your VPN is running. If Netflix detects the wrong region, it may choose to hide a show even if it is on your watch list.
Download Netflix List Exporter. Visit Netflix and sign in. Select the profile you want to export the watch list from. Go to the My List tab at the top and you will see a 'Copy list' button next to it. Click the button.
Netflix List Exporter copies the name of the shows in your list to your clipboard. It's a pretty basic way to copy the list but it's simple for the average user so we can't complain. Once you click Copy List, open Notepad and use the Ctrl+V keyboard shortcut to export the list of shows and movies you intend to watch later. It's up to you to decide how you share it.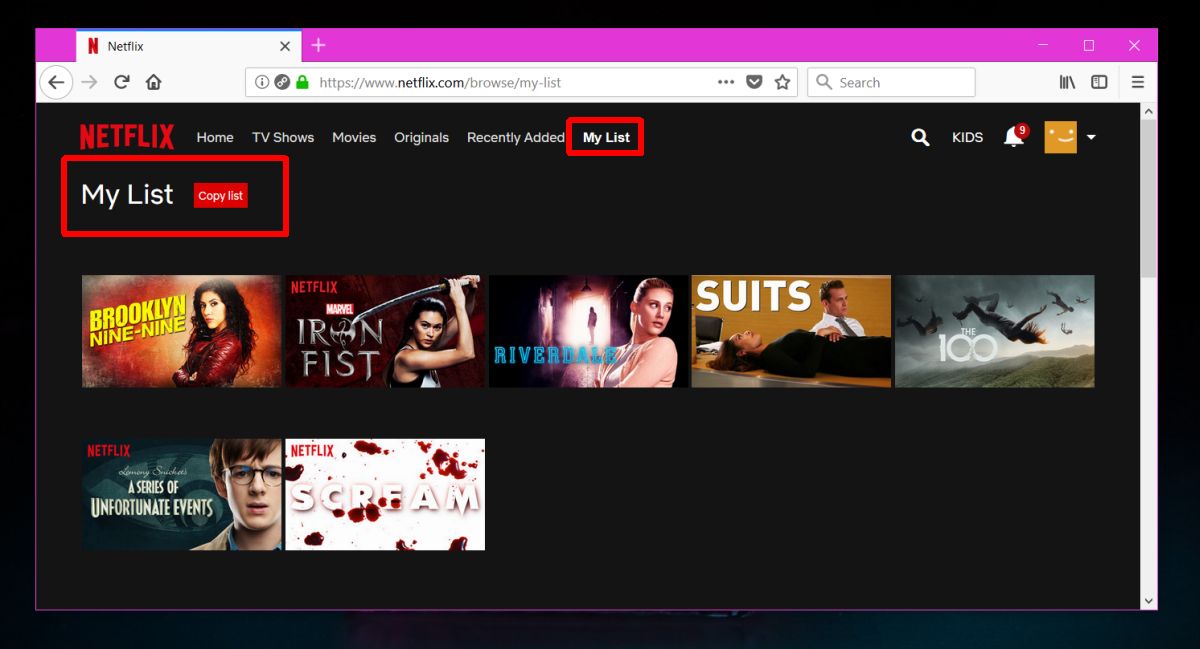 If you don't use Firefox, you can switch over to it for a few minutes to export your list. The add-on isn't something you're going to use in routine. Any time you refresh your list of shows to watch, and need to export them, you can use Firefox with this add-on.
Netflix List Exporter is great but it can stand some improvement i.e. support more lists. The one list it could add support for is the list of shows and movies that a user has already watched. It's odd that Netflix doesn't let you recommend shows to other profiles that are configured under the same account. It's a great way for users to share what they're watching, and for Netflix to get more people to watch a show.