Find Nutritional Information For Food Measured In Teaspoons, Cups, & Single Pieces
The quantity of a food item is important when you're trying to determine how many calories there are in what you're eating, or the ingredients you're using to cook. Looking up nutritional information is easy enough since there are so many websites with extensive databases on food and nutrition available. The only problem with the information is that it's always given for a set quantity and you have to then estimate, divide and multiply, to get an approximate nutritional value. Spelt is a web app that will give you detailed information for food measured in teaspoons, cups, or even single pieces.
Visit Spelt and enter whatever quantity of a food you're going to use. It can be a single potato, two potatoes, a teaspoon of sugar, a cup of rice, anything.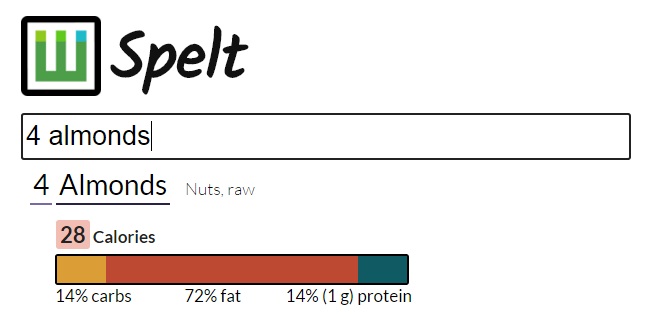 Spelt gives you a total calorie count for the food in whatever quantity you entered it in, and then it breaks the nutritional value down into percentages to show how much is fat, carbs, protein, etc.
What is great about Spelt is that you can give it as large or as small a quantity as you like. Try looking up calories and nutritional value in a teaspoon of rice and it will give it to you. The app takes guessing and any calculations you might have to do to determine nutritional value and calorie count out of your hands. The units it supports, i.e., cups, teaspoons, or single pieces of vegetable and fruit are helpful because those are what recipes use to a great extent. In the event you don't have a set of kitchen scales available, the app becomes all the more useful.