Get Desktop Notifications For Facebook Even When Chrome Is Closed
Facebook has provided millions of people with an awesome way of staying connected with their friends and family. But how often do you keep your Facebook tab open in your web browser? If it isn't all the time and you still want to keep an eye on your notifications whenever they arrive, Fruumo Notifier is a handy Chrome extension worth giving a shot. The extension is designed to show you desktop notifications for all your Facebook notifications right when they arrive, for instance when a friend likes your photo, comments on a status update, post on your timeline, even when your browser is closed. The developer cites that even though the extension currently only supports Facebook, more services will be added later down the road.
The extension is highly simple to use and setting it up is pretty straightforward. It does require that Chrome runs in background even when no browser window is open. Upon installation, Fruumo automatically integrates itself to your Facebook account if you're currently signed in. Otherwise, you will need to log in first in order to get the extension fully functional. Once ready, it displays a notification toggle page from where you can easily turn desktop notifications on and off anytime. This page can be later accessed from Tools > Extensions > Fruumo Notifier > Options.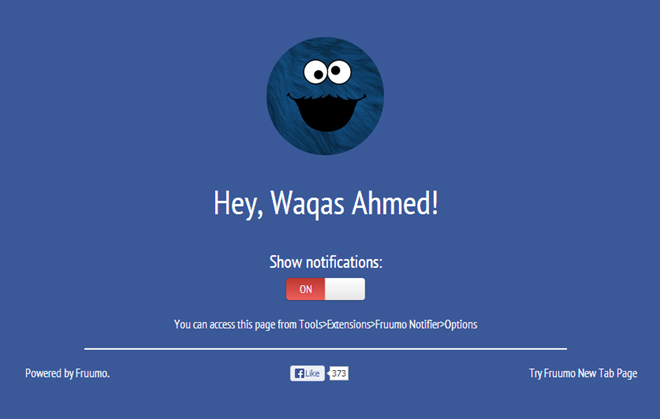 Once all set, no effort is required from your side afterwards, as the the extension handles everything on its own.Fruumo creates a notifications icon in your system tray area and instantly notifies you about new Facebook activity in real time via Chrome's built-in desktop notification system. Each notification carries your contact's display picture, name and the type of interaction they made with your account. You can click this bubble to open the notification in your browser, or simply close the popup with the cross button.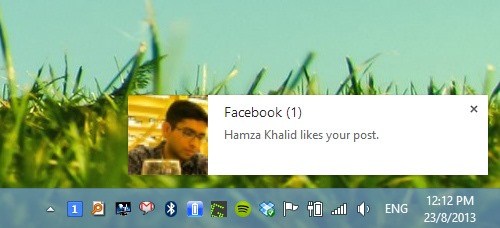 The system tray icon also displays the number of pending notifications that you haven't yet attended. Right-clicking this icon reveals a context menu from where you can switch to Quiet mode that temporarily suppress Fruumo Notifier without permanently disabling or removing the extension. Quiet mode can be set for one hour, one day or indefinitely till you disable it manually.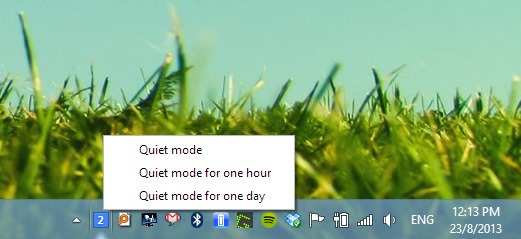 Overall, Fruumo Notifier is a fantastic extension that, besides being light on system resources, does a great job in letting you keep an eye on all your Facebook notifications in the background. Its works on all Chrome web browser versions, and you can download it via the link provided below.
Install Fruumo Notifier From Chrome Web Store