Easily Find, Close, Pin, Refresh & Move Chrome Tabs To Another Window With Fruumo Tab Manager
Tabs make surfing the web more intuitive and fun; you don't have to jump between a truckload of windows to spot your desired site. But if you're like me who usually has a metric ton of browser tabs opened simultaneously, then you'd already be aware of how frustrating managing them becomes. On Google Chrome, organizing the tabs has always been limited to re-ordering them in one way or the other, or pinning some of them to the tab bar. If you want to enhance your tabbed browsing experience beyond that under one Chrome window, Fruumo Tab Manager from the creators of Fruumo and Fruumo Notifier  can help. Fruumo's Tab Manager extension takes a novel approach to organizing things. How? Find out just after the jump.
When installed, Fruumo Tab Manager places its icon on address bar, clicking which will display an entire list of your tabs, complete with their favicons and site titles. The interface is simple yet very functional, and carries a search bar at the top and a group of four buttons next to each tab's entry. From left to right, here's what these miniscule buttons do: close the tab, pin the tab to the tab bar, refresh the tab and lastly, move the tab to a separate window.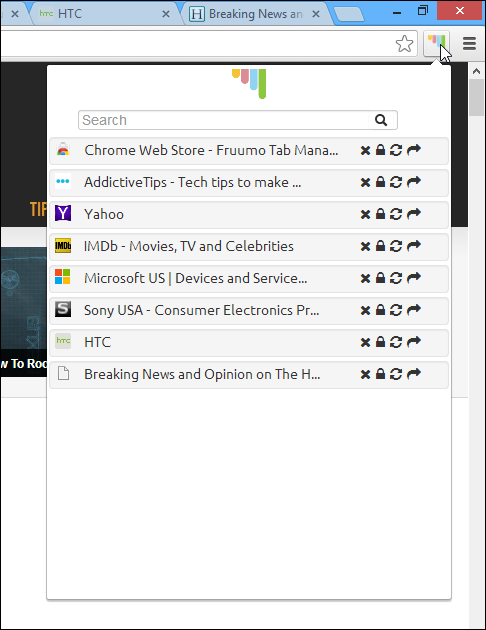 The search bar feature will come in handy for those who have a hard time quickly switching back and forth between similar tabs. Just start type any phrase, keywords or part of a tab's title, and Fruumo will automatically filter the tabs containing that. The results are instantly filtered, and there's no need to press Return for the purpose.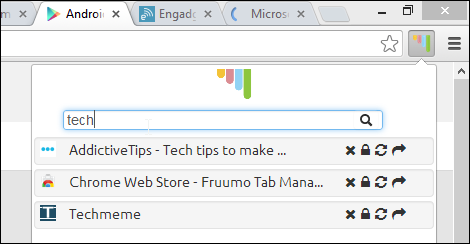 The current feature set of Fruumo Tab Manager may seem limited, but the developers cite that more features are to be expected in future updates, such as the ability to color code tabs, save tab sessions so you may quickly continue your task later on, as well as cross-device synching.
Fruumo Tab Manager can be grabbed from Chrome Web Store. The download link is provided below.
Install Fruumo Tab Manager For Chrome